Crimson and Queens — the Gender + Equality Center's annual drag show — was canceled in 2020 due to the pandemic. But the spirit of glam, gender bending, artistry and community is returning back and better than ever — and in HD. 
This year's lineup of eight drag artists includes OU students as well as drag performers from the community. They were invited to a professional video shoot in March to film their portion of this year's show, which is co-hosted by the Union Programming Board. The eight segments will air together both in person and online Thursday, all hosted by renowned drag queen and "RuPaul's Drag Race" contestant Shangela. 
2021's performers represent diversity across gender identities, aesthetics, decades and styles, but they share a common theme — genuine self-expression. 
---
"This is me. This is drag."
- Summer Rain
---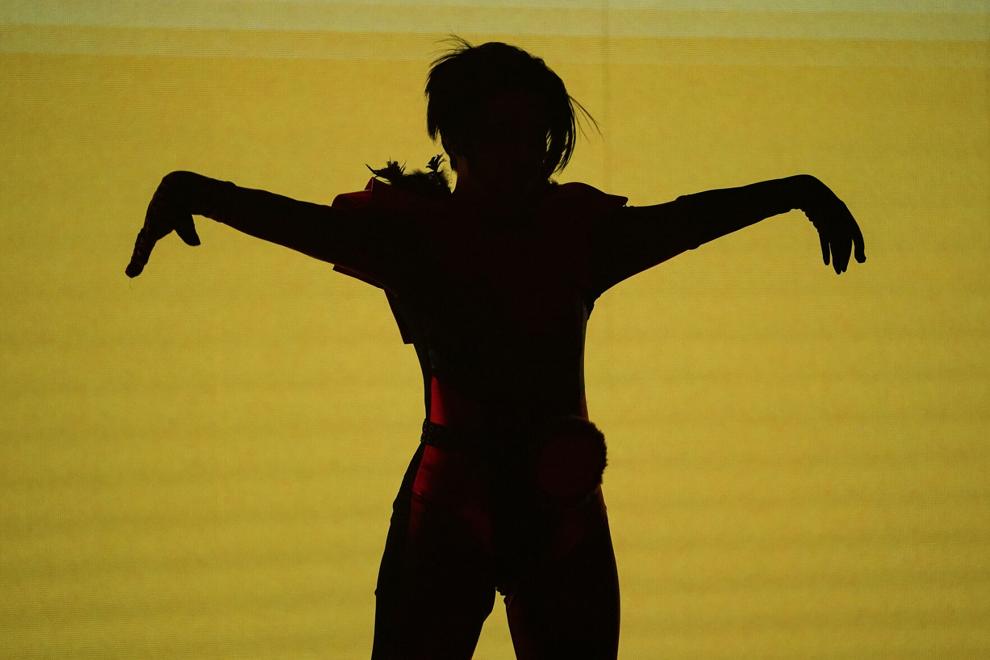 Mica Membrane is a self-described time traveler. Known as the "Glitter King of Oklahoma City," Membrane brings rhinestones, glam and nostalgia to masculinity through a combination of sparkle and rock music from ages past.
By day, MJ Combs is a graphic designer. But by night, they become the glitzy and confident person they were afraid to be when they were growing up in Enid, Oklahoma — Mica Membrane.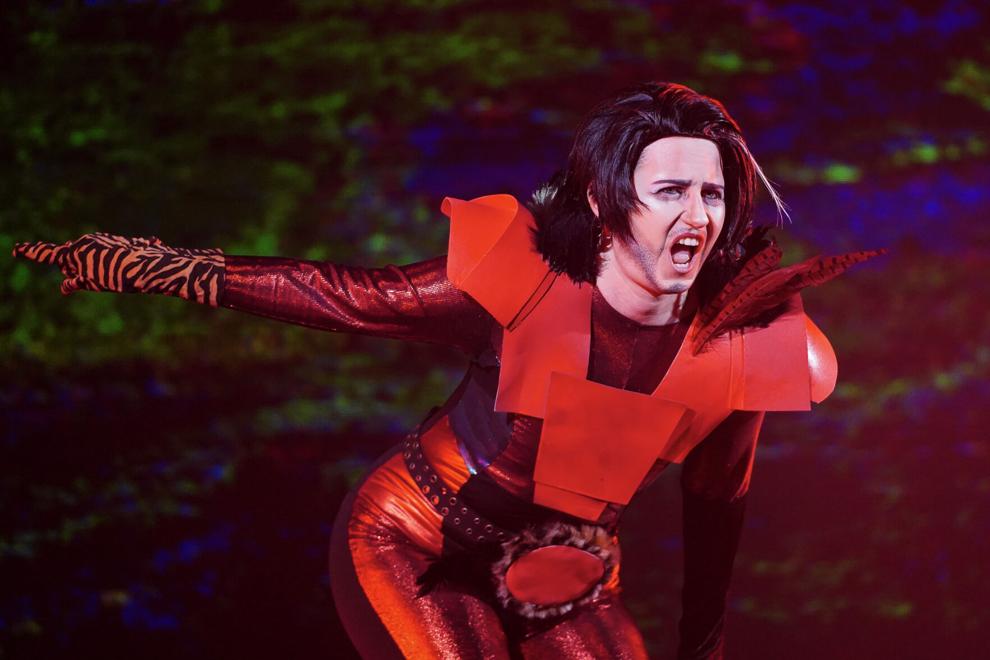 "I put rhinestones on my stuff, and I put glitter on my face, and I dance super hard to songs from the mid-2000s because I wasn't brave enough to do that when I was in high school and college. … It's just kind of giving myself another opportunity to be what I've always wanted to be," Membrane said. 
Membrane's brave and bold persona is influenced by the music they listened to growing up in the '90s and early 2000s. Their Crimson and Queens performance reflects a brash and upbeat style with Adam Lambert-inspired masculinity that doesn't take itself too seriously. 
"I don't have the time for toxic masculinity," Membrane said. "I want to be glittery." 
Membrane has a classical background in ballet and tap that they incorporate into their performance. 
"There aren't very many kings or (male impersonators) out there who do turns and pirouettes and things like that, and cover themselves in glitter," Membrane said. 
Membrane said as a gender non-conforming person, getting their foot in the door as a performer — even in queer spaces like the drag community — is hard for people who don't identify as cisgender. But, the community they've been able to build has helped them overcome some of the anxiety they've dealt with over the years.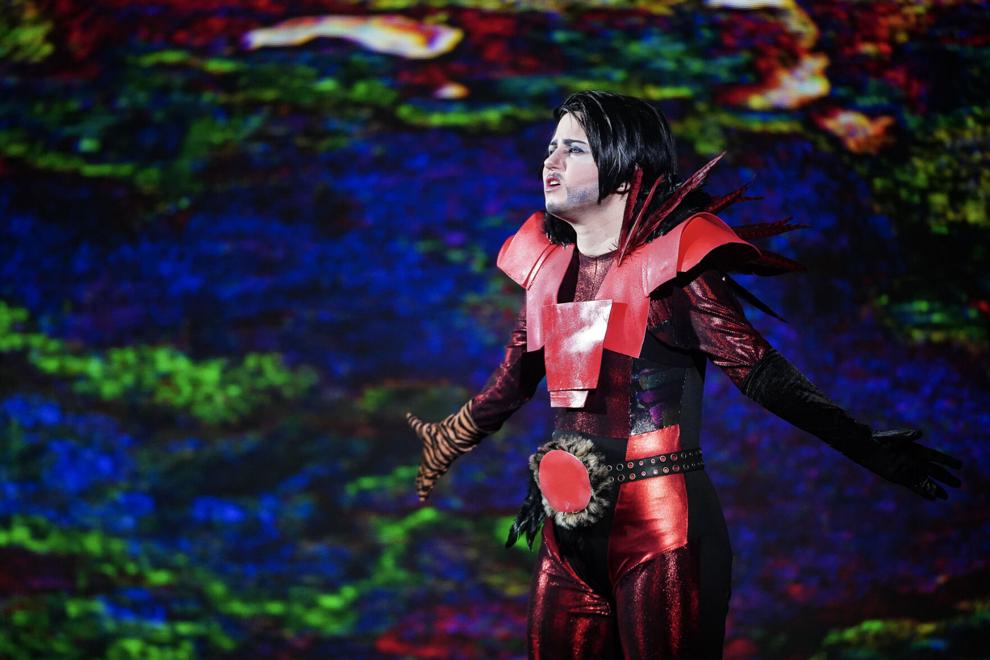 "If you would have asked me like two years ago about the COVID situation, I'd be like, 'Do you promise I don't have to go anywhere or talk to anybody?' Like, that sounds ideal, but now I have friends. … (Drag) opened up my world, and I've met more people in the last year than I have in the last 10 years," Membrane said.
For Membrane, the goal is to show younger people that being an LGBTQ+ adult is possible, even in Oklahoma. 
"I grew up in a small town here in Oklahoma. I was really the only LGBT+ person that I knew of," Membrane said. "It's really important for safe, responsible adults to be out and proud so that our youth can see that ... it's okay to be who you are."
---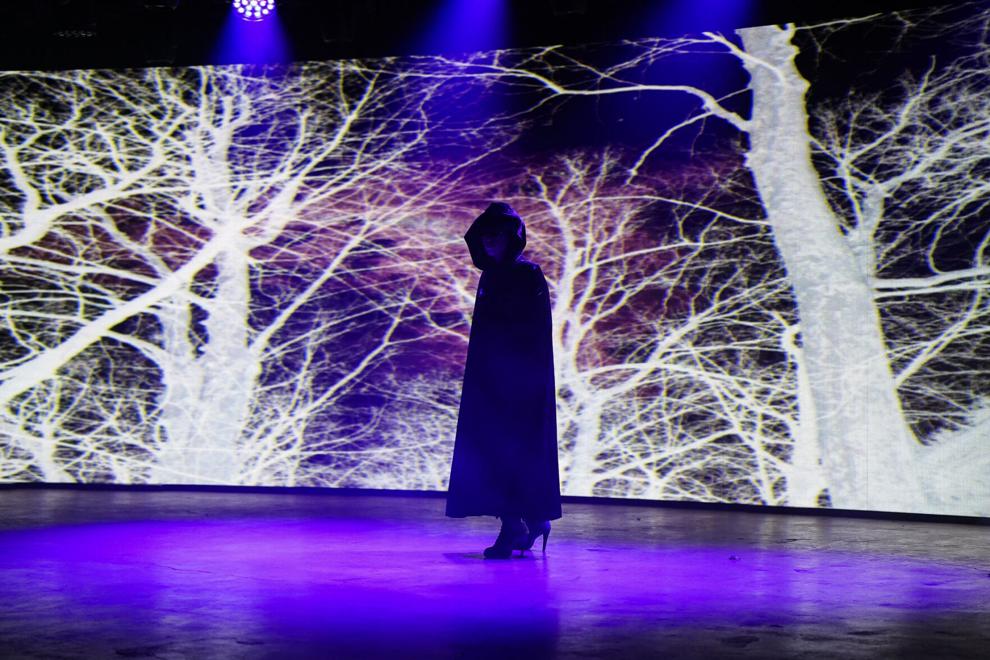 L.L. Killjoy is a drag "monster," bringing a hair-raising edge to the art form.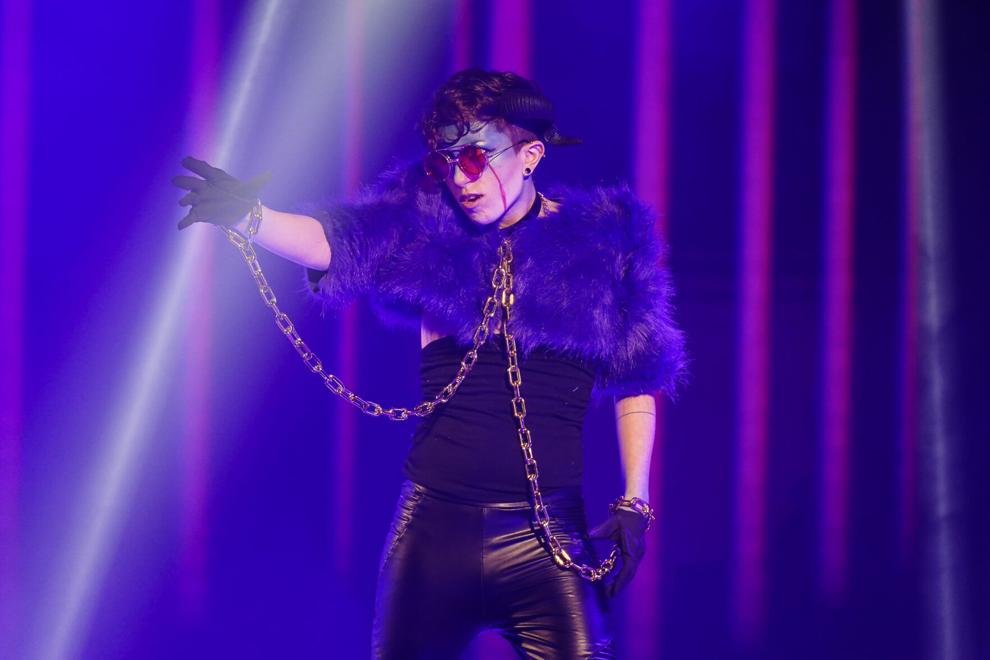 "Traditional (drag), I always call it half-stripper, half-clown, and I love it. I love watching a good drag queen. You gotta pad, you gotta put boobs on, you gotta look a certain way. … Alternative (drag) kind of just flips that on its head and says, 'We do whatever we want,'" Killjoy said. 
Killjoy's look for Crimson and Queens showcases a dark side of their persona, which has ranged in the past from "emo slasher" to "9 to 5" by Dolly Parton — complete with black horns, gold chains, purple fur and fangs.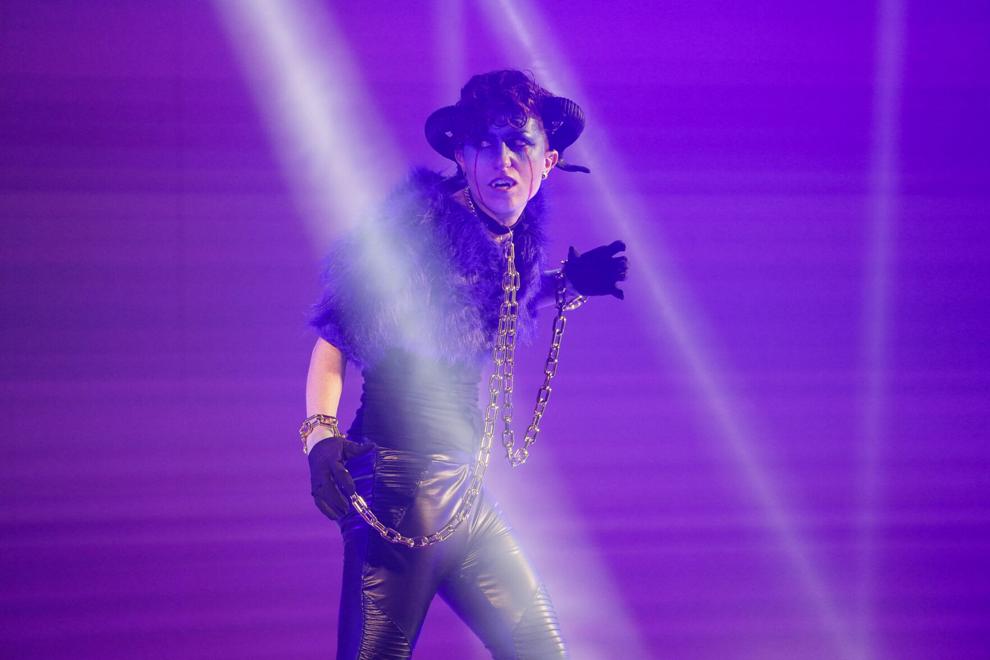 Killjoy, a costumer and graphic designer by day, said their drag persona is a gender "chameleon" that explores femininity and masculinity and pushes outside the boundaries of both. Their inspiration comes in part from musicians they consider to be monstrous — rapper and musician Lil Nas X and Canadian country musician Orville Peck. 
Killjoy said while their drag is intentionally chilling, drag isn't scary. 
"You don't have to hide your children from (drag). ... It's not inherently sexual. It's not inherently bad or disgusting," Killyjoy said. "I try to be inherently bad and disgusting, but in general, it's not."  
---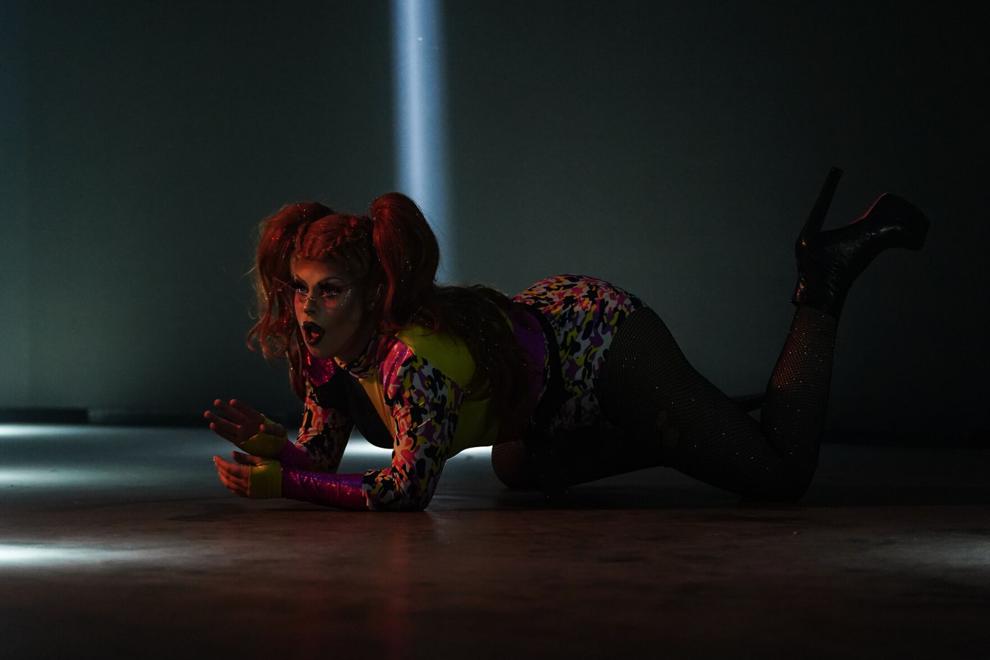 Misty Slim is "a punk rock bad bitch" donning an infinite mix of prints, patterns and colors. 
"Misty kind of started as a completely different person. She was just wanting to be beautiful, pretty, gorgeous — like that very pageant girl. But I came to realize that that's really not me," Slim said.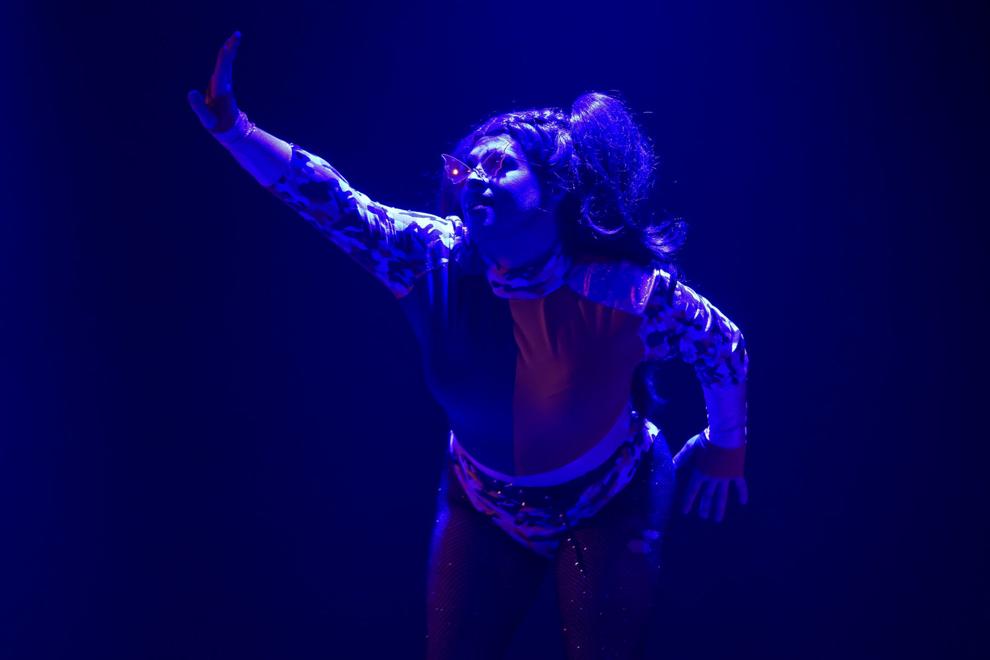 Slim said her look is a culmination of styles inspired by her icon, Miley Cyrus, and the fun, outlandish aesthetics of Jem and the Holograms — an '80s cartoon about band frontwoman Jem and her colorful life. 
Slim's influences combined with glam and alternative styles culminate in a style all her own — something she finds special in Oklahoma. 
"What (drag) adds to (Oklahoma) is just diversity. In Oklahoma … you see a lot of the same stuff. It's either 'businessman or woman,' or just that family-oriented person. But being a drag queen or performer or drag king is just completely different," Slim said. "You get to showcase that whole other side that not everyone here in this whole town sees. You can just be who you are and show that it's okay to be something completely out of the ordinary."
For Slim, the drag community provides family. 
"For our community at least, we either have our family or we choose our family, so being in this situation of being a performer and a drag artist, I get to choose the people that I want to be with and be around. … It's really changed who I am — and my whole life, really," Slim said. 
Outside of drag, Slim said she's more of an introvert, but her community has helped her step outside of that comfort zone. 
"I am kind of just a whole different person. I am not afraid to go out. ... I used to not ever want to go out, like at all. And now I'm okay, like, 'Let's go hang out, let's go have fun.' ... I'm kind of like an introverted extrovert now," Slim said. "It's kind of showed me that I don't always have to be by myself." 
---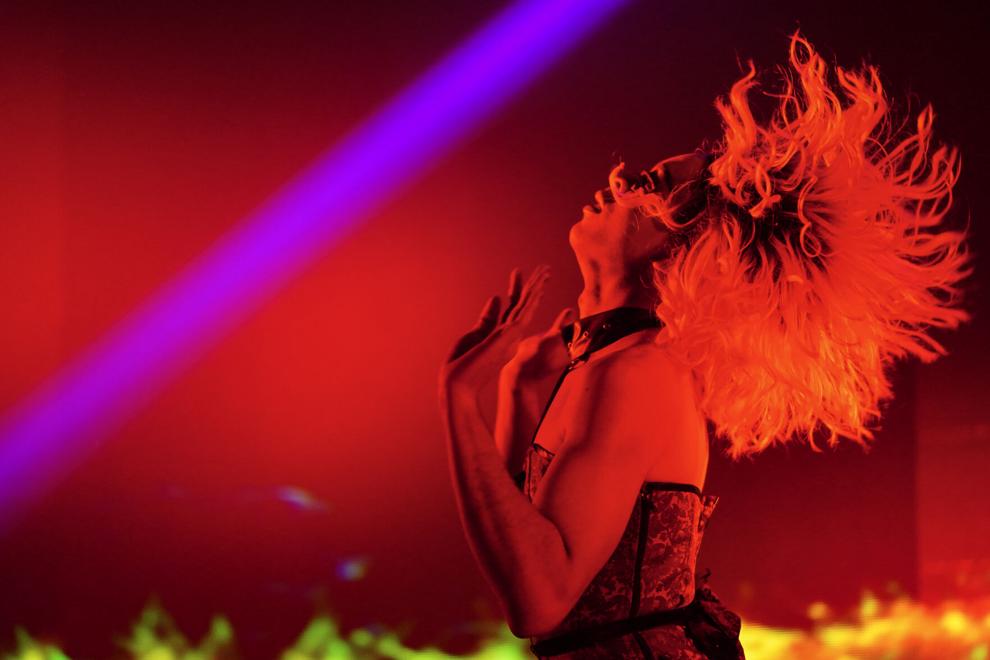 Blacc Cherry is Justin Norris's — former SGA president and vocal performance and marketing senior — exploration of what it means to be queer, Black and proud. Cherry was first developed in the halls of Adams Tower during his freshman year in preparation for Crimson and Queens, Cherry said.
"I didn't really know how to do makeup, I didn't know what I was doing," Cherry said. "It was about the experience for me. But as soon as I hit the stage, it was like all my fears went away."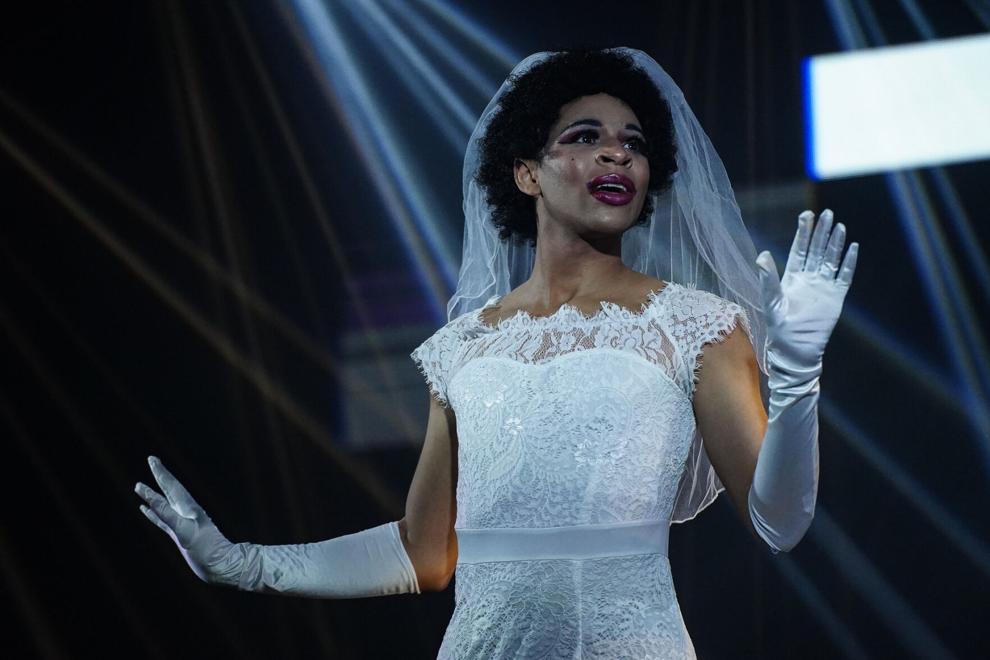 Cherry's personality is focused on being "unapologetic," he said. Cherry wanted to create a character that featured ideals he wanted to see in himself. Eventually, he learned that he already was portraying those ideals, Cherry said.
"(Cherry) was a combination of everything that I dreamed I could be," Cherry said. "Then, soon, I found I was those things."
Cherry's outfit for the 2021 Crimson and Queens is inspired by the push he experienced through his life to get married, Cherry said. Donning a wedding dress, Cherry will perform a power ballad inspired by wedding vows. Cherry, however, will be focusing on a humorous take on marriage, he said.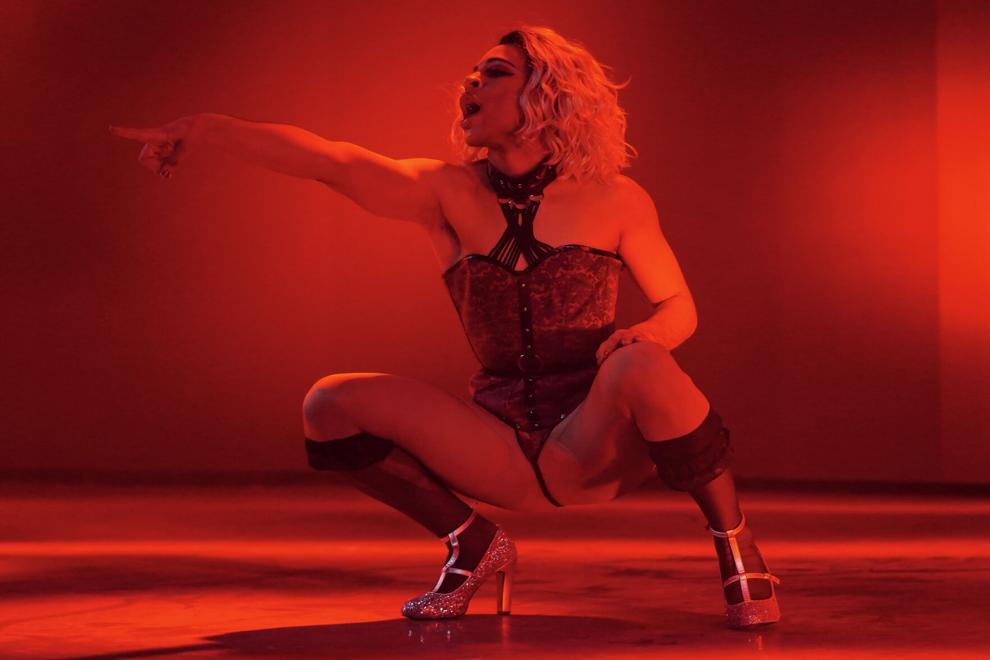 "It's like a homage to my Catholic past," Cherry said. "But I love making things funny, so … playing up the fact that sometimes people who want to get married are afraid of the sexual impact."
Cherry, who has participated in the OU drag scene for the past four years, found a community he did not expect to find on campus, he said. He came in with the knowledge that OU is located in a "landlocked … red state." He knew drag wasn't just for queer people, but Cherry did not expect an event as big as Crimson and Queens, he said.
"To just know that on this campus you're going to be safe because we're putting queer people on a pedestal and making them feel like stars," Cherry said. "It's remarkable."
---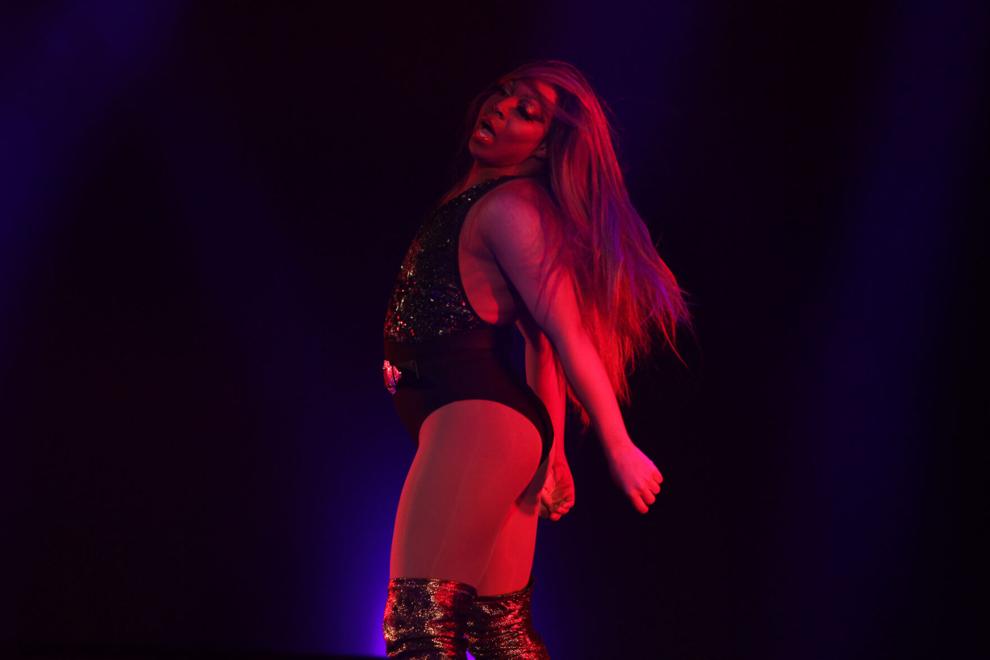 Nikita Iman, a nursing junior, began performing drag by starting with makeup around the end of 2020, Iman said. Beginning during the pandemic has presented unique challenges, marking the 2021 Crimson and Queens as his first live performance. 
"It's been all about adjusting and adaptation," Iman said. "When I found out I was doing Crimson and Queens, though, I screamed."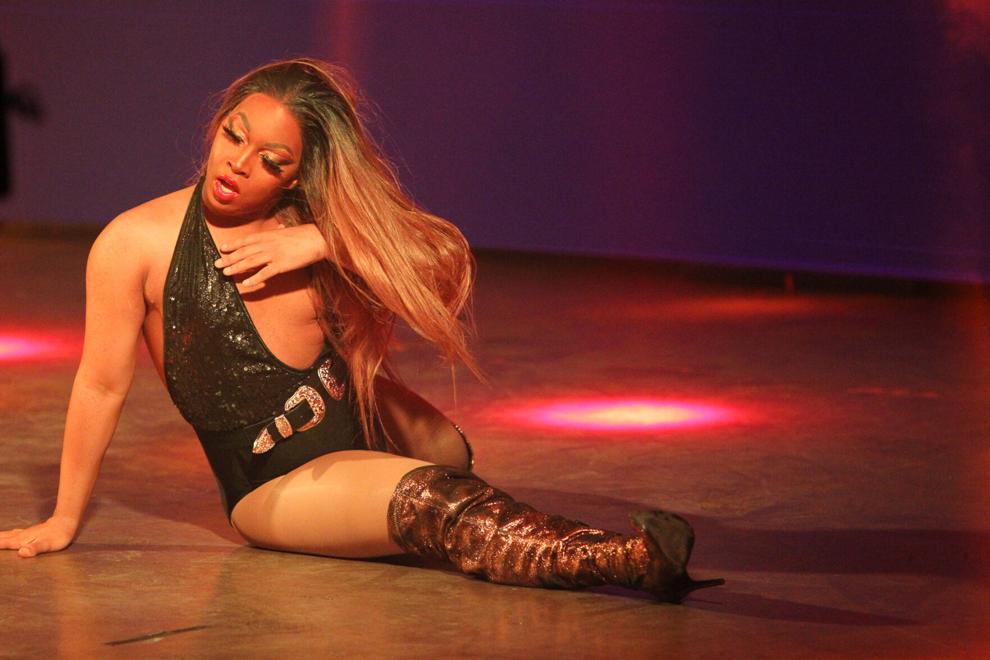 In developing his drag persona, Iman said he focused on Beyoncé. Iman was in love with the popular performer's "aura and power on stage."
"Besides, who doesn't love Beyoncé?" Iman said.
Iman said he wanted to be sure his persona was about confidence, sticking out in the crowd and surprising people. He wants to surprise people each time he goes on stage.
"The magic of drag is being able to do the unpredictable," Iman said.
Iman's journey into drag has been focused on both playing with gender and empowering women, Iman said.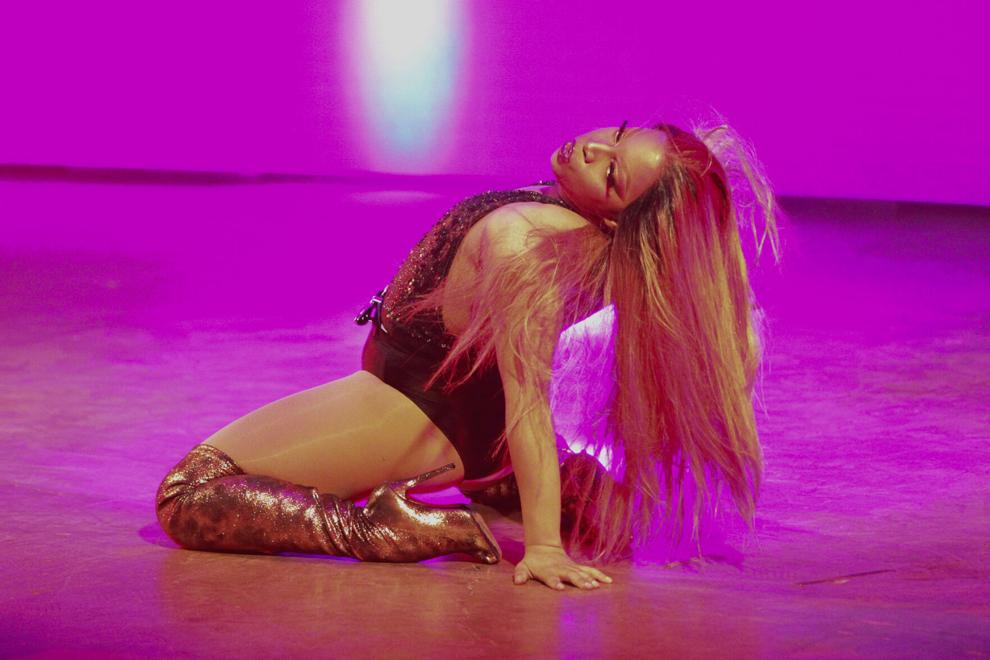 "I try to appreciate femininity and powerful women in general with my drag," Iman said. "I view drag as a tribute."
Iman said he encourages people looking to go into drag to give it a shot. It promotes an environment for learning about others in a fun way.
"I've learned a lot about myself through Nikita," Iman said. "She is that girl. She is everything I was too scared to be."
---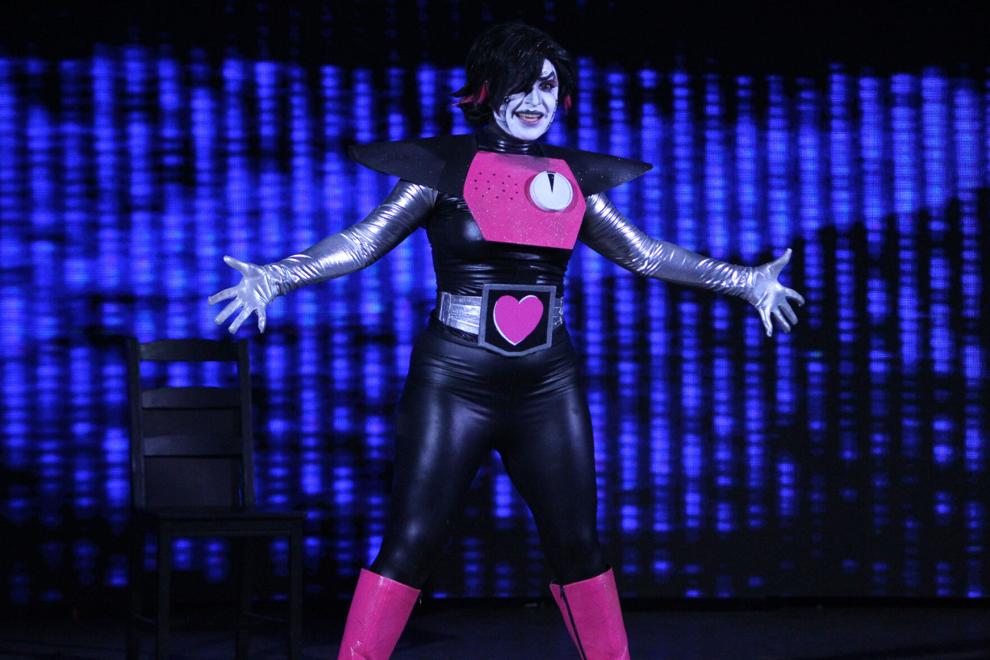 Summer Rain, played by OU academic advisor Samantha Raines, brings fictional characters to life through extensive costume building, makeup and performance preparation.
Rain said they started off in the world of cosplay — the art of dressing up as a character from popular media. Their first cosplay — Loki of Asgard from the popular Marvel movies — pushed them to explore their gender and fandom.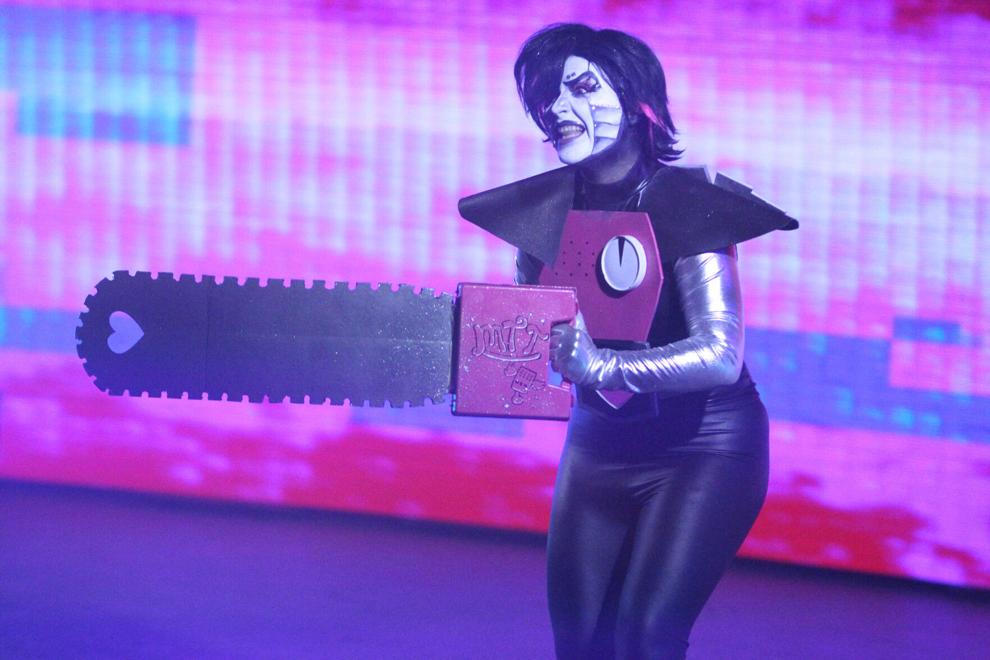 When Rain first performed as Mettaton EX from the video game Undertale, they realized where they wanted to take their cosplay next, Rain said.
"It was a moment where I was playing Mettaton and I thought, 'Oh, this is Summer. This is me,'" Rain said. "This is drag."
As an academic advisor for the OU biology department, Rain comes into contact with many different kinds of students and other faculty members. While they don't "broadcast their identity," they do find that some people pick up on it, Rain said.
"Other queer students will pick up on little cues, like my double undercut or the flags in my office," Rain said. "When they do, I get to connect with them a little deeper. And sometimes, I am the first resource for students when they don't know where else to go. That fills my bucket."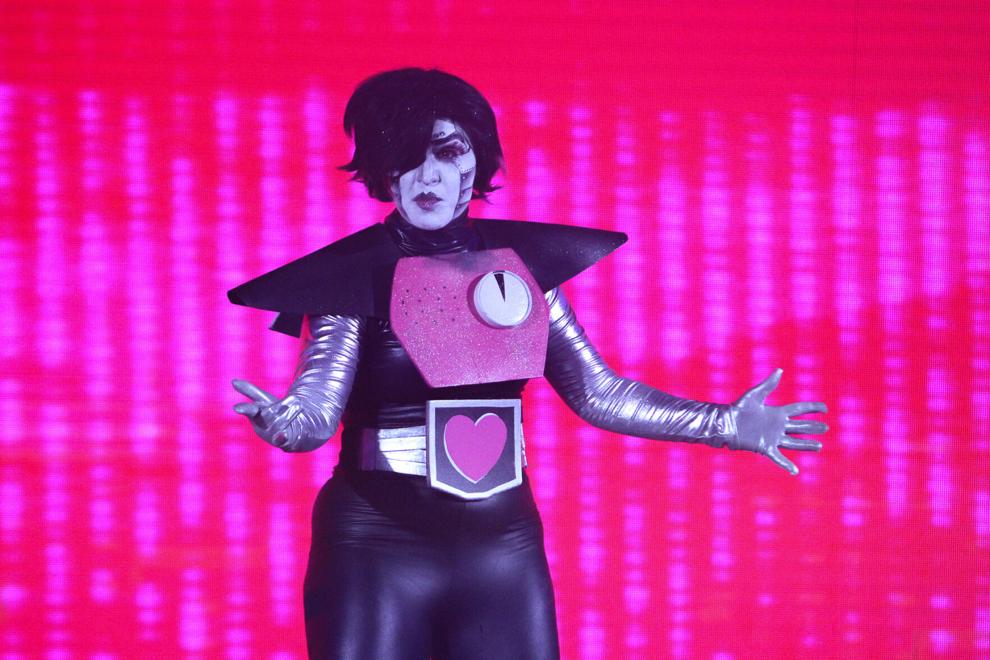 While Rain spends the weekdays acting as an academic advisor, they work on costumes and performances to post on Facebook and Instagram at night and on the weekends.
"You don't have to stop doing this if you aren't a student. You don't have to stop doing this if you aren't going into the performance arts," Rain said. "You don't have to be ashamed about it."
---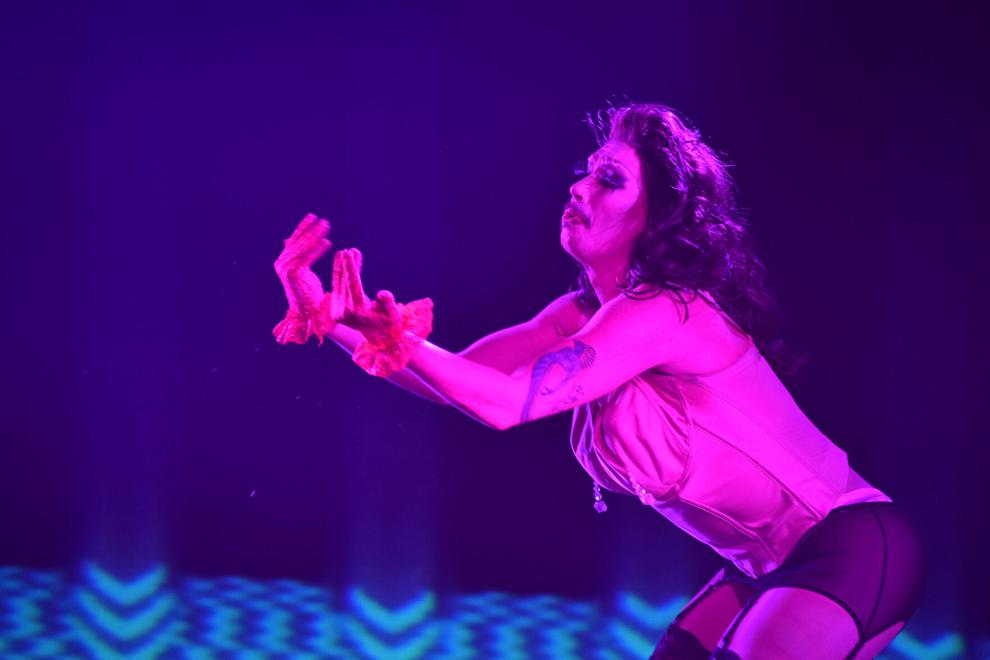 Jewels Van Guard, played by costume design senior Jules DeSchryver, is "equal parts '80s MILF, punk babydoll and kooky comedy queen," Van Guard said. "I wanted to be an '80s mom you walk in on who happens to have a mustache."
Van Guard first started drag with his friend and fellow 2021 Crimson and Queens performer Taylor Ratliff, who performs as Plasma LaRose. "I was studying costume design, and drag felt like the natural next step," Van Guard said. "I'm a queer artist that loves to do art."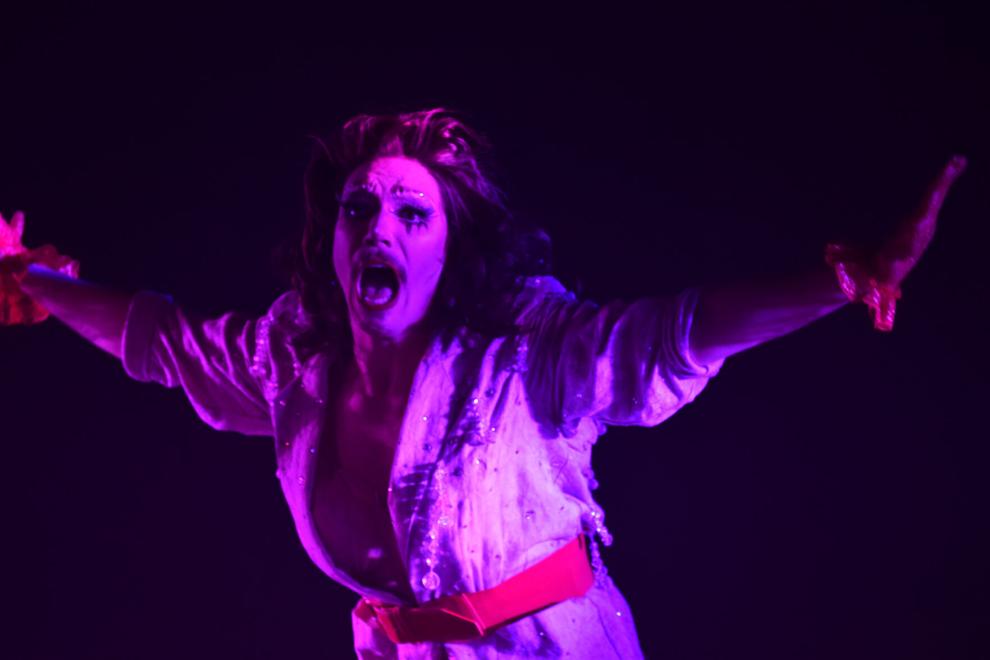 At one of Van Guard's first performances, they did an "'80s power song." It did not go well, Van Guard said.
"This year, I'm doing that same song," Van Guard said. "I can redo my first song in drag, but better."
Before 2021 Crimson and Queens, Van Guard had not done a lot of drag performances. He said the pandemic drained him and everything felt shut down.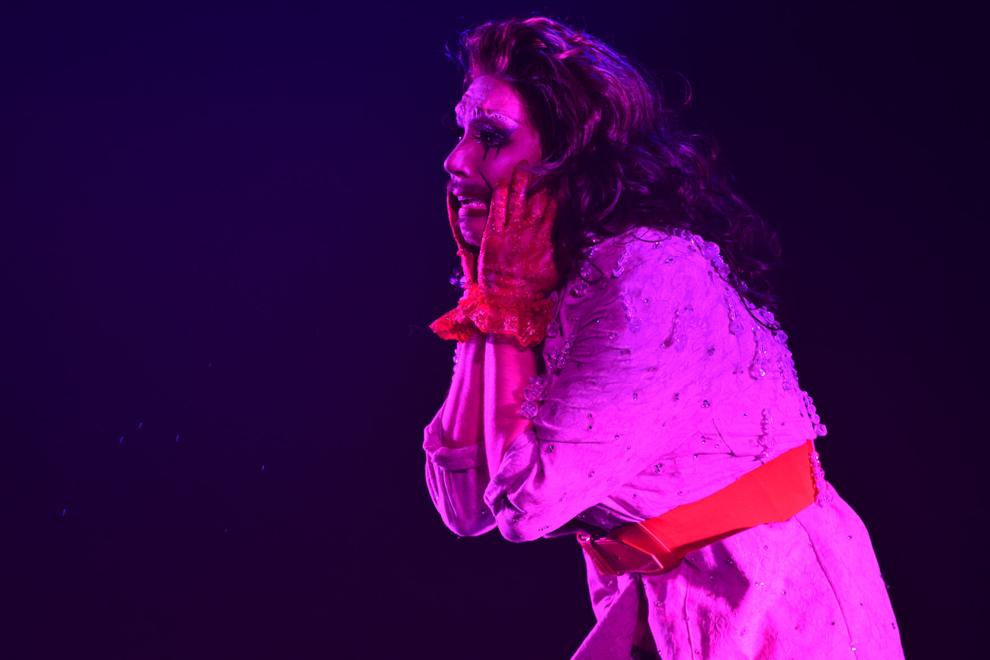 "It felt like everything was piling on top of me," Van Guard said. "When I got the email that Crimson and Queens was happening, it was a relief."
While developing their drag persona, Van Guard realized that drag was becoming an important part of not just his gender expression, but his entire personality, they said.
"Jewels is just an extension of me," Van Guard said. "I feel like I don't have to apologize for being myself in drag."
---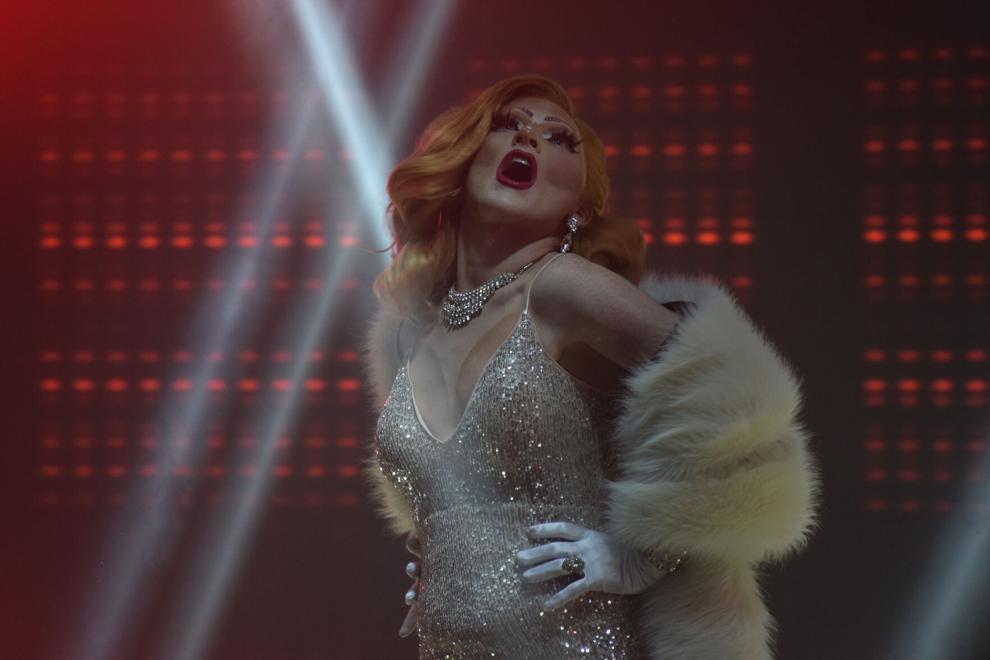 Plasma LaRose, played by musical theatre senior Taylor Ratliff, has been a part of the OU drag community for years. 
LaRose's drag persona is heavily inspired by women like Marilyn Monroe and Audrey Hepburn, LaRose said. He wanted to focus on the age where women walking the red carpet were "revered as goddesses."
"I got my start through the OU School of Drama," LaRose said. "When I signed up for this Crimson and Queens, I got this gut feeling it was going to be my last drag performance at OU."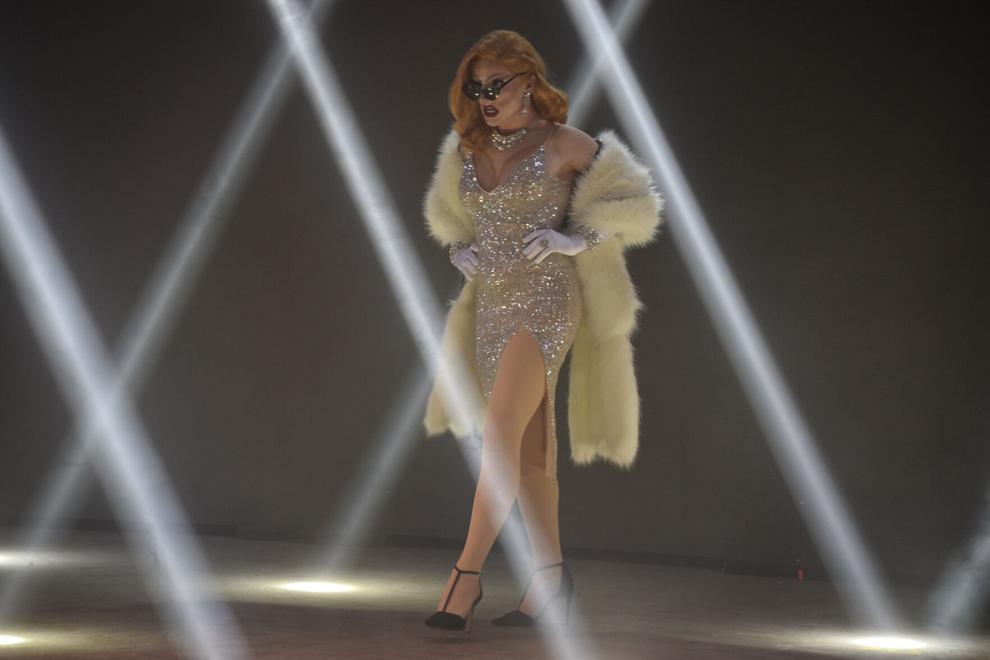 LaRose is viewing this performance as his "final huzzah," he said. He's decided to "boil Plasma down to her essence," focusing on the original idea of glamour and showbiz that his persona was born to represent. 
"I spent a lot of time planning how I'd want this performance to look," LaRose said. "I started even before I was told I'd be a part of it."
LaRose has also been spending his time in Jak'kay Monroe's Drag Idol, an Oklahoma drag competition on Instagram. On April 18, LaRose won the competition.
"Winning the idol competition and getting to be a part of Crimson and Queens makes me feel so grateful," LaRose said. "It means that art can persist in my life."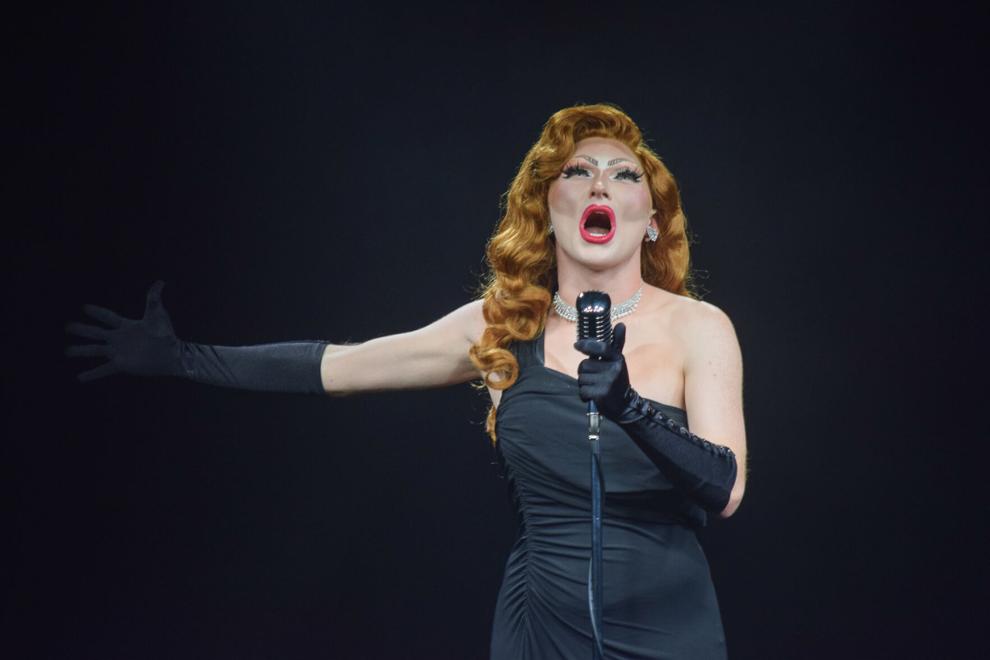 In preparation for graduating this year, LaRose has been thinking about the drag queens at OU that helped him along the way.
"The performers here have given me and other young queens the connections and knowledge and humility they need," LaRose said. "I'm really excited about my next chapter." 
---
"She is that girl. She is everything I was too scared to be."
- Nikita Iman
---
The 2021 Crimson and Queens will be at 8 p.m. Thursday. The event will be streamed over Twitch and Zoom, both requiring registration.
Correction: This story was corrected at 1:01 p.m. April 27 to reflect the correct spelling of the performers' names and Union Programming Board's involvement in the show.