Faith in healing: The taboo of mental health in the black community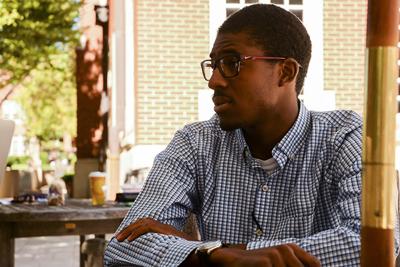 J.D. Baker chokes up and pauses to reflect for a moment.
"It's not easy," Baker, a public relations junior who is also running for Student Government Association president, said as he spoke of the toll of dealing with mental illness alongside the daily micro-aggressions he faces as a black man. 
"You really question the value of life or how other people value your humanity," Baker said. "It has a deep, deep, deep toll on the whole black community."
Despite dealing with regular rates of mental illness, the black community faces a lack of discussion or awareness concerning mental health and illness.
According to the National Alliance on Mental Illness, while African-Americans are just as likely to deal with a serious mental illness as the rest of the population, only 25 percent of African-Americans seek help for mental illness compared to 40 percent of white Americans. 
Additionally, according to research released in July 2015 by the Journal of American Medical Association Network, the suicide rate for black children has nearly doubled since 1993, and black youth are significantly "less likely to seek help for depression, suicidal ideation and suicide attempts."  
This lack of discussion despite the prevalence of mental illness is nothing new at OU, said Jabar Shumate, the vice president for the university community. 
"I can remember from my time here as a student and even today, you know, not being able to consider and not being able to understand what might be mental health issues and then not seeking the appropriate help," Shumate said. "If you don't understand those things, if you don't understand your experiences and what you're going through, then it is very, very difficult to seek help."
But the silence at OU is not unique. This absence of conversation in the black community stems from an intersection of racial stigmas and mental health stigmas and has several contributing factors on a nationwide scale, Baker said.
The black church is among those factors, Baker said, and can shut down the discussion about mental illness for African-Americans.
"A lot of people say, 'Oh, pray it away,' you know, 'Pray the depression away, God can heal you,' and everything," Baker said. "God can heal you, and you can pray it away, but sometimes God sends people, sends solutions and sends therapists and counselors. People, they want to say it's like a magical fix, and it's like, 'OK, I've been praying, and I'm still depressed."'
Shumate also spoke to the role of faith in black communities' understanding of mental illness.
"I can remember my grandmother saying to me, 'What are you talking about?' when I might say something as a child as innocent as, 'I feel like I'm depressed,' or, 'I have friends going through depression,' and that being a conversation — 'You just need to pray about that,'" Shumate said.
Rodney Bates, a Walker Center coordinator and Gateway class instructor, said while faith can play a large role in the lack of discussion, so can the historic demands for the black community to show strength.
"I think black students have a lot of resiliency," Bates said. "I think that's a historical thing as well, like you have to be tough. My parents, and my mom raised me that I have to be extra tough, and not just like strong, but mentally tough, because she knew that I was about to go into a world that wasn't really going to accept me 100 percent of the way."
Baker said this emphasis on African-American strength can further serve to tell black students that their feelings are not valid. 
"We've always been taught that we're supposed to be strong, you know, especially through slavery and oppression and the civil rights movement," Baker said. "All that stuff, it takes a toll on you like I said. So you have to understand that this is real. This is real, and it's very authentic." 
While the black community has not openly discussed mental illness or solutions, black mental health issues are further compounded by everyday occurrences of racism and micro-aggressions, Baker said. 
"It's not easy seeing those videos all the time on social media," Baker said in reference to videos of police shootings circulating on the internet. "I've heard people say, 'I refuse to watch another video, another thing,' and then they still end up watching it, and it has impact. 
"Those videos, you could consider them micro-aggressions because you see them one after the other," Baker said. "All that accumulates, and that all sticks with you."
Police violence and micro-aggressions have hit especially close to home for Shumate. Shumate was a friend of Terence Crutcher, who was killed by police on Sept. 16 in Tulsa. 
"I grew up with Terence, so it's still a very difficult thing for me because we grew up in the same church," Shumate said.
Bates said this lack of discussion yet constant buildup of violence or micro-aggression can sit heavily with students of color and black students.
"They internalize that oppression, and then they oppress themselves, and it's just a constant cycle of them oppressing themselves," Bates said. 
However, there are murmurs in the black community that are beginning to bring up the mental health discussion, Baker said.
A major step in the right direction for discussion and awareness has been the voices of black celebrities and artists speaking on mental health, Shumate said.
Kid Cudi is among the most recent black artists to vocalize mental health struggles. In an Oct. 4 Facebook post, the hip hop artist talked about his long battle with anxiety, depression and suicidal urges, as well as his decision to seek help through rehab. Cudi's statement produced a Twitter hashtag called #yougoodman encouraging black men to check in on one another's mental health and have discussions on the subject. 
As national discussion progresses, Baker said the voices of students of color at OU are growing stronger on the subject of mental health.
"It's a growing group," Baker said. "It's still hard, and not a lot of people understand, and there's a lot of knowledge that needs to go around, but I do, there's some students that I can talk to." 
Baker and Shumate are involved with Developing Black Males, a new student organization focusing on support and community for black male students. Baker led a discussion on mental health in one of Developing Black Males' most recent meetings on Oct. 16.
OU Developing Black Males study tonight and dialogue. Tonight's discussion is about Black (Men)tall Health #Yougoodman pic.twitter.com/q3tjeXK0RG

— OU Community Office (@OuCommunity) October 16, 2016 
Delta Sigma Theta sorority is trying to start the discussion, as well. The sorority will host "Don't Hurt Yourself," an event with speakers and open discussion on mental illness and suicide in the black community, at 7 p.m. Nov. 2 in the Henderson-Tolson Cultural Center.
Alexis Hall, a mechanical engineering senior and the event organizer, said the topic is both close to home personally and important within the OU community.
"This past summer, personally, one of my friends that I've grown up with my entire life committed suicide. So that's why I have a personal interest in prevention and awareness because you hear about things, and you aren't really aware what's actually going on until it hits close to home," Hall said.
"I've been doing some research on some statistics on, especially within the black community, how often we overlook mental health issues," Hall said. "It's a huge taboo, and I think we're starting to uncover that within the black community, so it's important to me that I kind of shed light on that."
Hall said she will share her personal story at the event, then attendees will hear from a former Goddard counselor and a student speaker. 
"I kind of want it to be an open dialogue for people to give their story if they feel comfortable," Hall said. 
"I would encourage students to attend because it's always important to understand your being as a whole," Hall said. "I think all health, whether it be physical, spiritual or emotional, needs to kind of be doctored. It's important to kind of seek that help if you need it before it's too late."
Another way forward at OU, Shumate said, is to ensure that the university is hiring a diverse faculty and staff that can relate to the needs of marginalized student groups, as well as educating existing staff to be culturally competent.
"I think that what is really important to help particularly students of color is they've got to be able on the staff to see people that look like them, to feel comfortable enough that they know they see someone who might have had shared experiences to open up and talk to," Shumate said.
Baker said this solution should particularly focus on staff and counselors at OU's Counseling Center, and students should be able to find people to speak with who reflect their situations and life experiences.
"You'd rather be telling it to a blank wall if you're talking to a counselor who does not understand your experience," Baker said. "You know, you'd rather be talking to yourself."
Bates said he believes OU could challenge and change the stigmas around mental health care if the university puts in the time and resources to educate students on mental health. 
"We definitely need to build education and literature around mental health, so that when students get here who have been conditioned to believe that mental health services are bad, we need to have a system in place that says, 'Actually, no, it's good, and here's the study that says if you go get this, you're more likely to graduate or be successful,'" Bates said.
"There's ways for (that narrative) to turn around if we put the resources in and to tell people that it doesn't have to be a stigma, it doesn't have to be negative," Bates said.
A more personally practical step forward for African-American students is practicing self-care when walking through mental illness and micro-aggressions, Baker said. 
"You have to take care of yourself, and you also have to understand the mental impact of all these events and all these instances it takes on you, because it can — if you focus too much in on it and let it take its toll on you, it can mess you up," Baker said.
"And so it's all about having the right coping skills, taking care of yourself by sleeping and eating and just — even for me, it's meditation," Baker said. "I do different things that remind me, like, I do have value, I do have worth despite what people say. What I experience is valid, and it is real, and it's my reality."