Ninety days.
That's how long sisters Ivana and Carmen Corley had to play tennis. And as 7-year-old Ivana looked across the court in the hot New Mexico sun to 5-year-old Carmen, she could tell they were thinking the same thing.
It could not end soon enough.
The Corley sisters, now both at OU, had always been competitive. From ballet to karate, they had tried it all, but nothing seemed to stick. They would try it, their parents would buy the equipment and then they would become bored with it.
So, when Ivana and Carmen came home one day intent on trying tennis, their mother offered them a deal. The equipment would be bought and the girls could play, but they had to stick with the sport for 90 days, no matter what. The sisters agreed.
"They absolutely hated it," said the girls' mother, Maria. "I would pick them up from school and we'd head on down to tennis, and they would just start crying in the car. … It was a long three months, but they stuck with it." 
After one month, the girls were ready to be done with tennis forever. After the second, they no longer hated it but did not plan to pursue it going forward. However, by the end of the Corley sisters' 90-day trial period for tennis, they were hooked. 
From a young age, the Corley sisters had been taught to have a strong work ethic in anything they did. After a year of play, Ivana and Carmen started to see that hard work pay off. As the girls started winning matches, their love for the game only grew. However, even at a young age, the sisters knew not to be content. They continued to work every day to improve. Ninety days turned into an instant in the scope of the Corleys' tennis careers. They grew up playing against older age groups, having to prove themselves in the bigger game, developing quickly.
That development has led to great success for the duo including a 28-2 record in doubles play for OU and an ITA Central Region Championship. The girls have had individual success as well, with Ivana being selected to the Academic All-Big 12 Rookie Team in 2019 and Academic All-Big 12 First Team in 2020 and Carmen being a two-time Big 12 Player of the Week this season. 
The Sooners are currently ranked No. 32 in the nation with a 8-2 record, both of their losses being tight 4-3 contests with No. 25 Arizona State and No. 2 Texas, proving OU is ready to compete with the best in the postseason.
There are a handful of sisters on Power Five rosters, including Utah's Lamoreaux sisters, Illinois' Duongs and Nebraska's Kuckelmans. However, no other sister pair in Power Five tennis competes regularly in doubles play, let alone dominates the doubles court like the Corleys.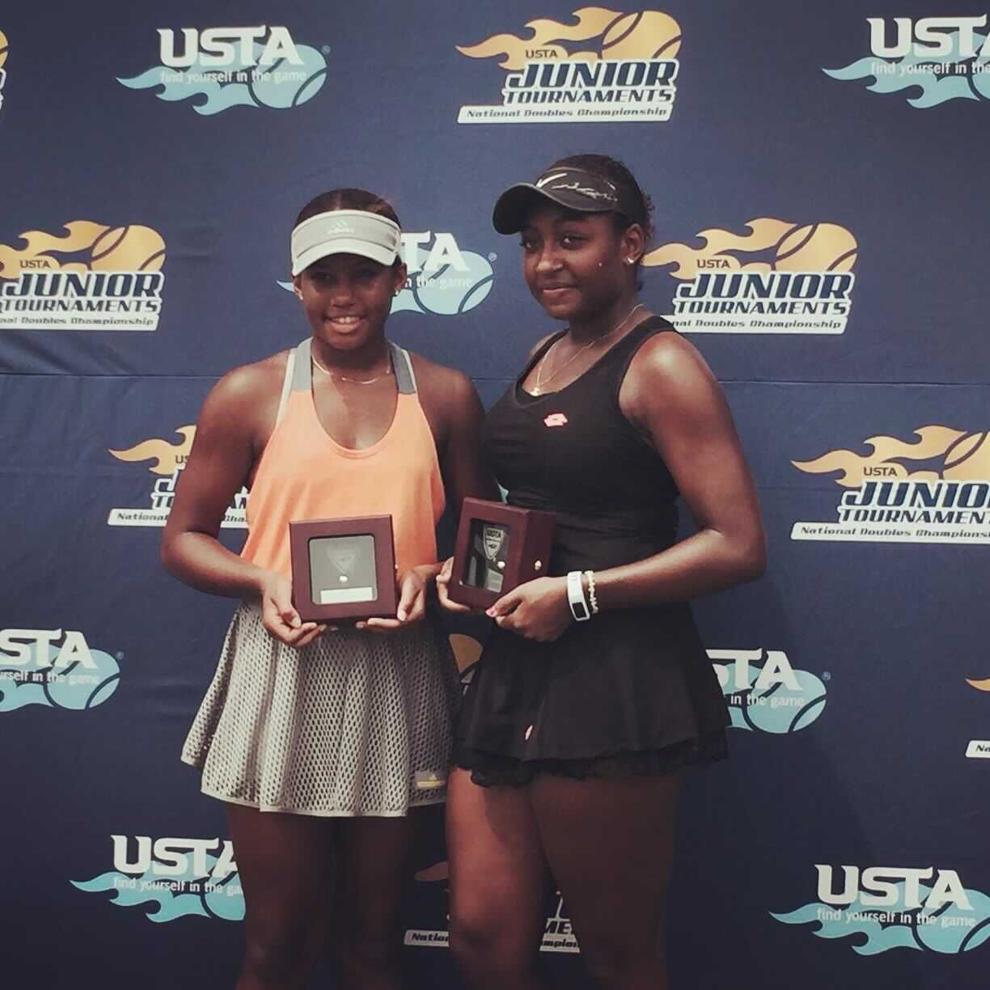 'They weren't going to get lazy'
New Mexico's tennis exposure is limited, and the Corleys often found themselves driving or flying hours to compete in tournaments. To make travel easier, the sisters were home-schooled, learning to manage their time and assignments, and preparing for the responsibilities of college.
With Ivana and Carmen both being fierce competitors, their rare bouts with each other were spectacles. Their father, Eddie Corley Jr. of Corley Automotive Group, recalls an electric match that pitted the 6- and 8-year-old girls head-to-head in a tournament.
"They met up in the draw, and Ivana had always beat Carmen, and Carmen had pretty much yielded to Ivana over the years, but this particular one, Carmen felt like she could win," Eddie said. "They played and they played, and they went into a tiebreaker and all I could do was watch. … On the match point, not only did Carmen beat Ivana, but somehow Ivana dropped her racket. It was almost like they were in a sword fight and she unguarded her."
Around middle school, the girls started playing in national tournaments and taking the game more seriously, realizing they had the potential to play at the highest level. In 2011, they met Johnny Kowalski, a former University of New Mexico player and professional trainer. Kowalski immediately recognized the girls' talents, but what stood out most was the Corley sisters' maturity.
"That was a sign that they weren't going to get lazy," Kowalski said. "They knew how to practice, keep improving and understood how things work. … They knew what their goals were, and they really stuck with it. They just did a good job of managing their game and their career."
Wanting to do their own thing, the girls were at first hesitant to become regular doubles partners. Whenever they shared the court, they sometimes butted heads, neither willing to drop their guard and be guided by the other. As they matured and improved individually, Ivana and Carmen became more trusting and fluid when playing together, realizing they had the potential to be a great doubles duo.
Though they attended classes online, the Corley sisters were able to play for Eldorado High School. While playing for the Eagles, Carmen won the singles state championship and Ivana won the doubles title. The same year, Eldorado won the New Mexico Class 6A state championship.
'It made perfect sense'
Ivana, being the oldest, was the first to be recruited. Coming out of high school a five-star recruit, ranked No. 1 in New Mexico and No. 22 in the nation, she could play tennis wherever she chose. 
Ivana and her family sat down and created a decision matrix based on a college's tennis history, coaching staff, campus life and business school. The family then narrowed it to five schools — OU was not on that list.
However, OU assistant coach Amy Sargeant had trained Ivana through a critical time in her junior career, acting as a private coach and attending international tournaments in her corner. Sargeant, who came to OU in 2016 after assistant coaching at New Mexico but is no longer with the Sooners, persuaded the Corley family to tour the university.
Initially visiting Norman only as a favor to Sargeant, the Corleys were blown away by OU's campus, history, pride, facilities and staff. Ivana narrowed her decision to three schools: Arizona State, Texas Tech and OU. Sooner head coach Audra Cohen was the X-factor in her choice.
"Even in my recruiting process, Audra pushed me, and I think that that showed a lot about her character and what she was going to do as a coach for me," Ivana said. "I think in the recruiting process it's really easy for a lot of coaches to just tell you what you want to hear. … Audra pushed me to really try to work on something before she actually offered me. … I wanted to prove to her that I could do it."
Ivana's connection with Cohen, coupled with the university's options outside of tennis, made the decision all too easy. She committed to Oklahoma on March 2, 2017.
Two years later, ranked No. 1 in New Mexico and No. 7 in the nation for her recruiting class, Carmen also had her choice of schools.
Having been told by friends and family she would end up at OU, Carmen did not want to pick Oklahoma simply because it was the easiest choice. With the same careful consideration of her sister, Carmen narrowed her college search to OU, Michigan and Arizona. Ultimately, Carmen could not resist the opportunity to play alongside her sister, and she committed to OU on July 25, 2019.
"I already had Ivana there," Carmen said. "I already knew the girls pretty well and I knew the coaches pretty well. … I knew that if I could play doubles with Ivana it would be really special. … Audra did a great job of recruiting and the girls were very welcoming, so it made perfect sense."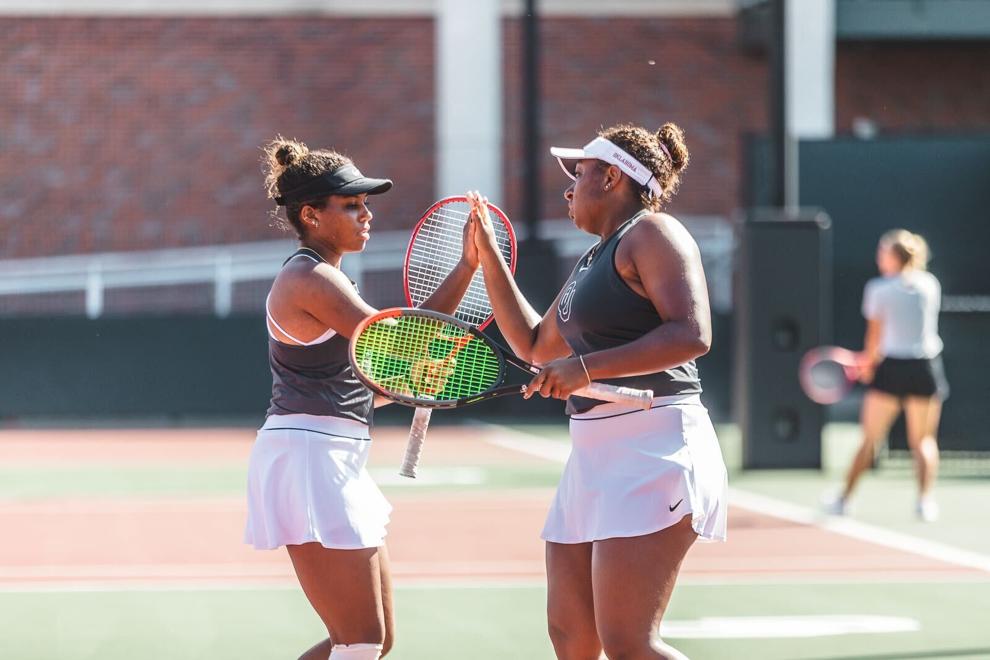 'Stay hungry and stay humble'
Following Carmen's early graduation and arrival at OU, the Corleys paired up Jan. 25, 2020, for their first doubles match for OU. Few could predict the unprecedented 21-0, 289-day winning streak that followed. After barely making it through a mere 90 days of tennis initially, the Corleys found themselves undefeated in college competition over three times as long. 
And when COVID-19 prevented athletes from traditional training, the sisters were able to maintain a steady regimen by working in isolation and remotely with trainers like Kowalski over video conference.
"I think you're seeing the results of them working hard," Kowalski said. "Last spring, this summer, all the way through, they never stopped training and getting better. … With where they're playing in the lineup and their results so far, they've definitely improved compared to last spring."
Kowalski also said not every player in Division I has the drive Ivana and Carmen display. In many cases, gifted athletes can become complacent and begin to coast. From the beginning, it was apparent the Corley sisters had talent, but also the work ethic to succeed. The will to succeed is something that Maria and Eddie have always emphasized with their children.
"I never want them to forget to be humble," Maria said. "I think sometimes you can have some early success and it goes to your head and you think you've arrived. … I always wanted them to be humble, remember where they came from, remember all the people who helped them to get to where they were and never take things for granted."
The Corleys have demonstrated that work ethic throughout their 28-2 run, helping the No. 32 Sooners to a 8-2 record this season. However, Ivana and Carmen pay no attention to numbers or a record. They approach each match with the same lively mentality now that they did at 0-0, considering the pressure a privilege. 
The Corley sisters have great ambition, too. Ivana and Carmen have expressed interest in going pro after their college careers. However, their ambition now is set toward one goal — leaving a lasting impact at OU. Before the sisters paired up in January of 2020, the Sooners' win percentage was .654. With the Corleys, that number has jumped to .762.
"Our motto for this year is to stay hungry and stay humble, and I think that that's really what we're trying to live by," Ivana said. "Our goal as a team is to try to build a legacy at OU, specifically with tennis. A lot of sports at OU traditionally are very strong and have a really good background, and I think all of us on the team want to be the first ones to start that for OU tennis."
Correction: This article has been updated at 1:53 p.m. March 18. to update OU's record and Arizona State's rank.