As the volleyball plummeted toward Megan Wilson, she instinctively slid to the floor and kicked it over the net.
The referees scored a point for Wilson's Mustangs in the game at Houston's Kingwood High School. Wilson's move, while unorthodox, was legal — and to her natural. 
Before joining a club volleyball team as a high school sophomore, Wilson had played soccer for 10 years and was being recruited by Alabama, Oregon, Texas A&M, Kansas and Arkansas. Wilson appeared bound for a Division I soccer program until her best friend since fifth grade pried her away from the sport. 
"We weren't going to let her do two club sports at the same time," Wilson's father, Greg, said. "Finally, we gave in and said, 'but you can't do soccer at the same time, and just know that if you take a year off of soccer... it's going to be harder to make up that ground.'" 
Not caring, Wilson joined the Texas Advantage Volleyball club circuit in Houston that spring. Two years later, Wilson is one of Big 12 Conference's top freshmen and one of the best players for Oklahoma (10-15), which has lost six straight games. 
This season, the freshman outside hitter/middle blocker has been one of the sole offensive weapons for the Sooners. She leads OU in kills (370), points (418), total attempts (1,064) and is fifth on the team in blocks (45). She's also tallied three Big 12 Rookie of the Week accolades and a Player of the Week award. 
After picking up the game speedily, Wilson has become a key building block for four-year OU coach Lindsey Gray-Walton. Against Kansas on Oct. 29, Wilson triumphantly high-fived her teammates after garnering a career-high 22 kills. Her effort sparked the Sooners to a 3-2 victory over the Jayhawks, showcasing leadership over a promising young core that has superseded injuries and natural disasters; tough losses and psychological struggles.
In Gray-Walton's first year coaching, Oklahoma went 19-9 and lost to Rice in the first round of the 2019 NCAA tournament. Since then, however, Gray-Walton has a collective 14-29 record the past two seasons. With her job potentially on the line Oklahoma's head coach is banking on the late-arrival of this young core — with Wilson at its hart — to propel the Sooners to a tournament berth in 2022.
As Wilson concludes her freshman season, her continued development has her primed to become one of the Sooners' greatest stars in recent memory.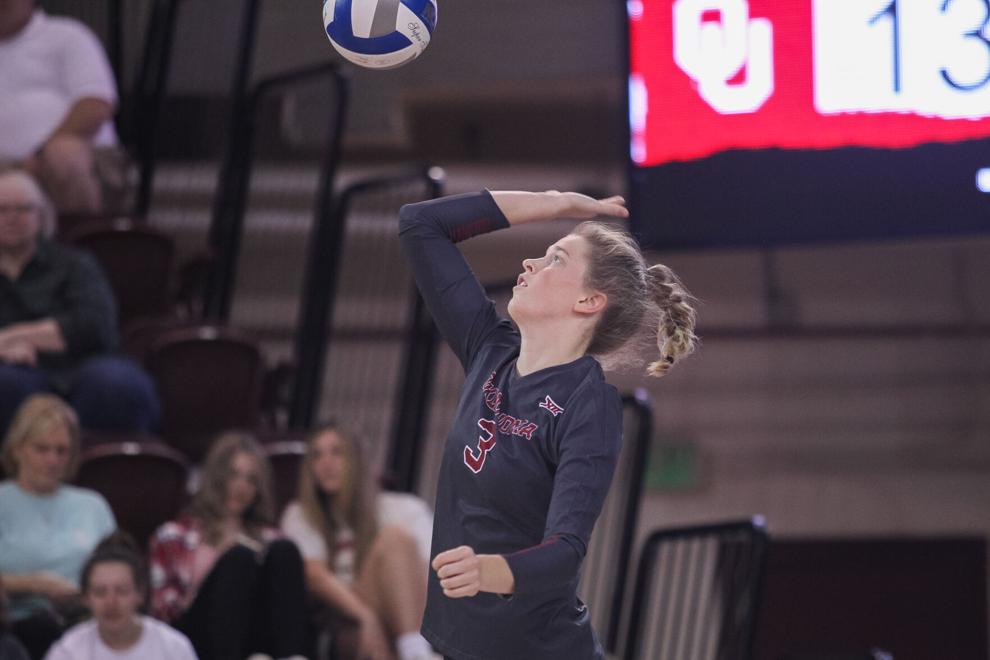 'A weird dynamic for us' 
Greg and Cheryl Wilson had low expectations for their daughter's transition to volleyball. Already surprised by Wilson's decision to quit soccer, they were about to be blindsided again. 
When Wilson walked into her first Texas Advantage Volleyball practice, Branden Smeltzer was excited because a 6-foot-4 athlete had just been 'giftwrapped' to him out of nowhere. 
Smeltzer, a director at Texas Advantage Volleyball in Houston and head coach for the club's top 17-year-old team, and college recruiters across the nation began to tell Greg and Cheryl that Wilson "had a real opportunity to be special," only a month into club volleyball. 
"It was a very weird dynamic for us to get used to," Greg said. "I wouldn't have had a hard time believing that at soccer. She was so new (to volleyball) in the recruiting process, we're like, 'maybe you don't know your sport very well.'" 
Wilson began on the lowest circuit 16-year-old team, but Smeltzer quickly elevated her to the 17 age group nationals roster as the starting left outside hitter. It quickly became clear Wilson had the moxie and intangibles — a 6-foot-11 wingspan and an incredible swing on kills — that fit the sport naturally.
For the next two seasons, she dominated the national club and high school ranks, tallying a team-high 658 kills and 131 blocks for Kingwood, alongside 478 kills on a .489 hitting percentage with Texas Advantage. Wilson also led her club team to 27-16 and 20-3 records in her junior and senior years, respectively.  Her presence on the floor elicited  Division I offers from top programs including Penn State, UCLA, USC, Baylor and Minnesota. 
Penn State head coach Russ Rose personally traveled to several games to recruit Wilson. Compared to Oklahoma, which was one of Wilson's final options, Rose had the glitz and glory of Penn State's seven national championships, the most recent in 2014 over BYU in Oklahoma City. Penn State's resume was much more glamorous than that of the Sooners, whose best finish came in 2006 following a 28-6 record and a Sweet 16 appearance.
During a Texas Advantage Volleyball game, one of Cheryl Wilson's friends thought Rose was a grandfather there to see one of the Houston club team's players. Upon approaching Rose, she asked, "Are you here to see one of the players?" 
Rose replied, "I'm here to see one player, and one player only." 
Wilson, of course.
As enticing as the Penn State offer was, however, no one had what the Sooners and Gray-Walton could offer  — the chance for Wilson to play immediately and build her own foundation.
When the COVID-19 pandemic raged across the nation in March 2020 and kept Wilson cooped up, she grew concerned. Feeling pressure to improve quickly, given her late arrival to the sport, she wanted to do something to increase her progress.
When Smeltzer opened Houston's Texas Advantage's Competitive Edge Sports gym for three players, Wilson was there nearly six hours a day, five days a week. At times, it was her only escape from the pandemic. 
"She lives with an internal clock that says, 'I'm behind, and I need to catch up,'" Greg said.  "And I think, with the COVID-19 lockdown, it created a space for her that she could just go release."
After spending five to six hours in the gym, Wilson came home and started watching video for two to four hours every day. Smelzter, who logged every hour of video watched by his players, said Wilson tallied hundreds during the lockdown. 
"You know it's just funny, because most kids I think are gonna go watch Netflix or something," Greg said. "Oftentimes when we think that she's up in a room watching Netflix, we'd walk in there and she'd be watching game films. That's just her… she becomes obsessive."
That investment in video work had presented itself before. During Wilson's junior year, a freshman teammate landed on her foot, spraining it during summer training camp. Wilson was only out for two months, and as she recovered, Wilson watched video during lunch with teammates, including Sophie Ocampo.
"That's kind of how I got into watching film," Ocampo said. "She was the one who kind of brought that into my life, and I didn't even think about watching it."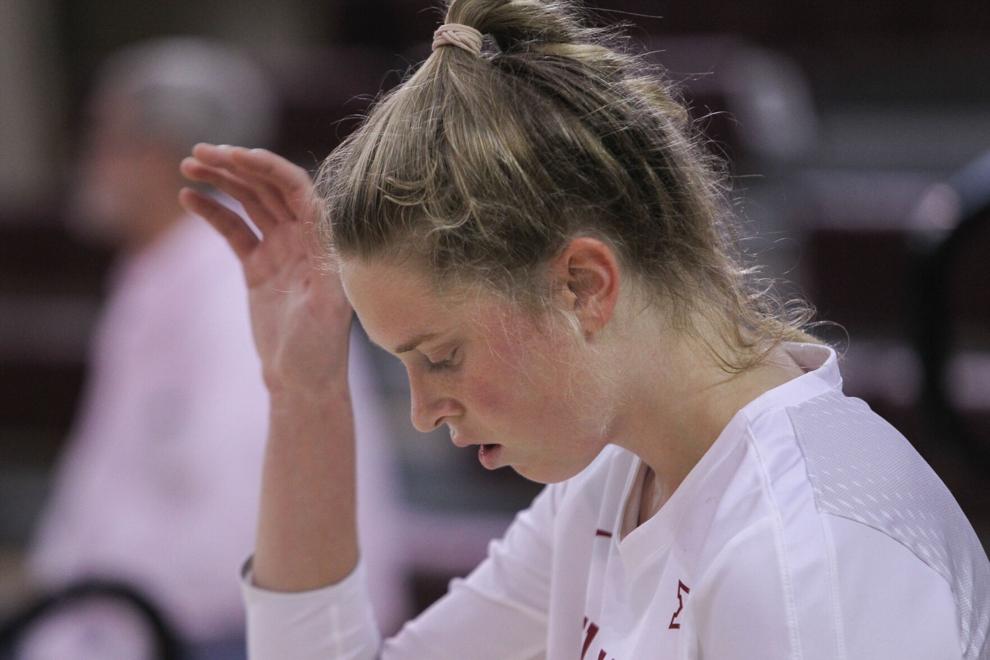 'We needed to rely on someone' 
During Wilson's freshman year of high school, Hurricane Harvey made landfall on the Houston coast as a Category 4 storm in August 2017. In its path, nearly 26 miles north of downtown Houston, sat Kingwood High.
Hey @CodyJohnsonBand how many rt for you to come perform at Kingwood High School's coming home celebration for the re opening of our high school that was destroyed by the floodwaters of Hurricane Harvey #kingwoodstrong pic.twitter.com/d9RVsgUtVP

— Jacob Swerdloff (@Jacobswerd) December 7, 2017
I toured KHS today. The floods waters were powerful and the outcome to our @HumbleISD_KHS is 💔but we are strong together! @HumbleISD pic.twitter.com/h5NTGX4QZa

— Liz Celania-Fagen (@ElizabethFagen) September 1, 2017
Harvey's floods came within four feet from entering Wilson's house. Her community suffered catastrophic damage. Nearly $60 million in federal funds were needed to repair the issues from flooding at Kingwood High.
Almost two weeks after the hurricane, Wilson and her Mustangs teammates returned to practice in a small gym. Afterward, the team, which had players with damaged homes, traveled to Wilson's house to make sandwiches and fill up coolers with drinks. They loaded the provisions in the back of a truck, and traveled the streets of their neighborhoods to provide nourishment to their neighbors. 
Such selflessness is, teammates say, representative of Wilson's demeanor off the floor. She is an energetic, charismatic and galvanizing leader that carries the burdens of a team on her shoulders.
"She would always show us what we needed to do to be successful," said Hannah Lewis, one of Wilson's high school teammates. "She's never nervous. You can never see any nerves on her. She always kind of held the team together and kept all of us calm… I mean we were so close with her, and she's just such a genuine person on and off the court that I think it's hard to not pick up on the energy."
During Wilson's senior year, when the Mustangs lost to a team they hadn't fallen to in three years, her leadership was needed again. With emotions running high in the locker room afterward, multiple players cried due to their subpar performances. 
That game, Wilson had a team-high 15 kills on a .379 hitting percentage. The rest of the team, however, combined for only 17 kills. Wilson gathered her teammates in the middle of the locker room and said, "We play them twice, it's OK. Now we're gonna go work our butts off in practice." 
"It was rough for a little bit," Ocampo said. "We needed to rely on someone. We needed someone to say those positive words and motivational words, and I think the fact that she did that really helped us when we needed her most."
Kingwood subsequently went on a 14-game winning streak to finish as the first seed in its district entering the playoffs. In that run, the Mustangs faced Atascocita a second time, winning 3-1. 
Wilson, who carried the Mustangs in the previous game, showed out again with a team-leading 29 kills and .453 hitting percentage. Ocampo, after scoring only six kills in the previous matchup, dropped 18 in the win.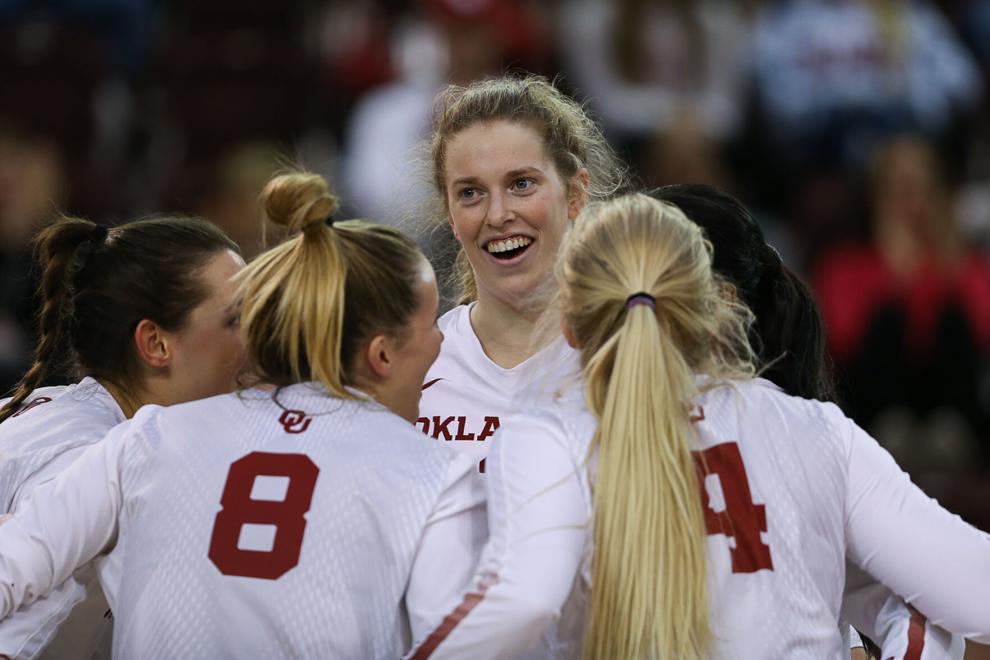 'Competitive on the national landscape'
Former Oklahoma assistant and recruiting coordinator Jake Barreau, now with Illinois State, pushed hard for Wilson. The Sooners structured their pitch around setter Peyton Dunn, outside hitter Kristen Birmingham and libero Callie Kemohah — high school All-Americans who could build a powerful young core with Wilson in the mix. 
Gray-Walton traveled to Wilson's high school, took her to dinner and even introduced her to football coach Lincoln Riley when she came to Norman. 
Norman was close to Kingwood and made sense for Wilson's family because they could attend every game, but Wilson was still overwhelmed by the magnitude of her final decision. She called Smeltzer to talk it through. Smeltzer, who was sitting at a Hong Kong airport for a volleyball tournament, unexpectedly heard his phone buzz in his pocket.
"I just don't want to take any more phone calls," Wilson told the coach who once felt she was a gift-wrapped novice to the sport.
Smeltzer and Wilson walked through each step of the process, weighing the best options for Wilson and her family.
"She felt like OU kind of checked all the boxes because she wants to play and contribute," Smeltzer said. "She also liked the location, so it's kind of far enough from home to be a true college experience, but it's close enough to where Greg and Cheryl can get on a plane or they can go drive, or they can go watch her play and you still have that comfort of home kind of being close."
As the end of her freshman season nears, Wilson faces new challenges on the squad where she has quickly picked up a leadership role alongside fellow freshmen Dunn, Birmingham and Kemohah.
At first, Wilson viewed leadership as intimidating because she's one of the youngest players on the Sooners' roster, but redshirt seniors Sarah Sanders and Paige Anderson have made the process easier as role models. As the season has unfolded, Wilson has slowly eased into the role at Oklahoma.
This season, OU has shown glimpses of developing a successful core. Dunn leads the Sooners with 946 assists and four Big 12 Rookie of the Week selections. Alongside her, Birmingham has tallied 246 kills and Kemohah has a team-leading 418 digs. While she has struggled at times, Wilson has found ways to guide the young, blooming Sooners.
On off days, Wilson hangs out with her freshmen teammates, building chemistry and an off-court bond. On the floor, however, Wilson still feels like she needs to improve more as a vocal leader. 
"I wouldn't say I've necessarily grown into it fully," Wilson said. "I still have moments where I'm kind of quiet, but that's just me also as a person. But yeah, I think I'm growing into it. I really like looking at the seniors right now as role models, and I'm just trying to learn from them before they leave."
Now, as Wilson enters the final games of her freshman season, she wants to improve as a full-rotation hitter and server while working on her mental health. Often this season, Wilson saw herself becoming too emotionally invested in the offensive responsibilities handed to her.
Almost immediately, Gray-Walton cemented Wilson, alongside redshirt senior Savannah Davison, as the sole offensive hitter on the left side before the beginning of the season. That increased the pressure on Wilson, as she was quickly expected to perform at a high level every match.
"I think the biggest thing for me is getting in my head and getting frustrated," Wilson said. "I think soccer started that for me a little… But, I have to understand that there's gonna be mistakes. You're gonna have a bad day, and I think just knowing that has helped me a lot."
If Wilson can fully control her emotions, she has a chance to lead the Sooners' blossoming young core to its maximum potential. And, while an NCAA tournament berth is out of the picture this season, Wilson and her squad have their sights set on one next season.
"She really bought into the fact that this could be a really special thing," Greg said. "She wanted to come in with this class, build a couple of years on it. Then by her junior and senior year, she wanted to be competitive on the national landscape."