OU President Joseph Harroz scanned the Robert M. Bird Library as OU Board of Regents chairman Michael Cawley polled the room. 
With Cawley to his right and OU athletics director Joe Castiglione to his left, the university president listened intently during a July 30 special meeting as board members committed to a decision that would impact the entire landscape of college athletics.
The decision for the Sooners to depart the Big 12 to join the SEC by 2025 was already months in the making, but once the concept became public, it unfolded quicker than one of OU head coach Lincoln Riley's trick plays.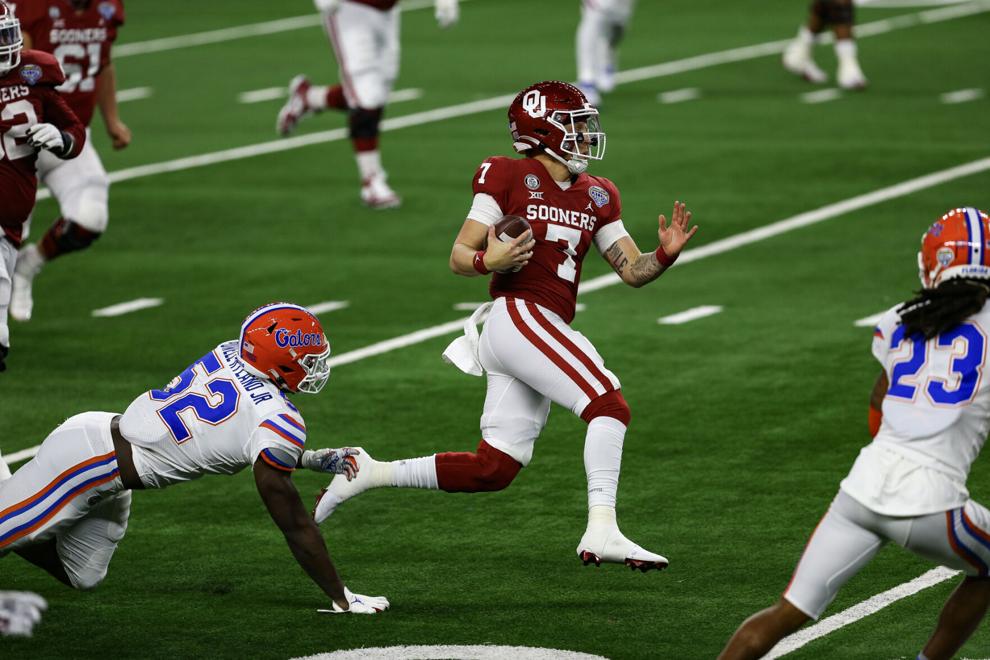 Reports surfaced about OU's desire to join the conference nine days earlier. After reports were confirmed, the school's board members were expected to unanimously vote in favor of the move. This came to fruition as each member — excluding Regent Frank Keating, who was absent but said to be supportive — responded with a resounding "aye" when asked who was in favor. The room remained dead silent after Cawley asked for those opposed.
"Motion carries," Cawley said once the vote concluded. "Welcome to the Southeastern Conference."
Here's the moment the #Sooners officially joined the SEC."Welcome to the Southeastern Conference." pic.twitter.com/nO8UaKCm9A

— Chandler E. (@ctengelbrecht) July 30, 2021
History was made. Alongside its biggest rival and fellow college football powerhouse Texas, OU set in motion joining the most powerful conference in the NCAA, leaving the Big 12 without its two most competitively and financially successful football programs. Though both schools consider the move best for their futures, the decision has come with criticism and praise from voices throughout college athletics. The decision has strained Oklahoma's relationship with Oklahoma State, and future legal ramifications remain plausible.
Oklahoma was a founding member of the Big 12 in 1996 and has won 14 conference championships since. After the conference lost Nebraska to the Big Ten, Colorado to the Pac-12, and Texas A&M and Missouri to the SEC by 2012, speculation around OU possibly leaving the conference grew. Nevertheless, the Sooners stayed with hopes of the conference rebuilding itself.
"What's changed between 2012 and today?" Harroz asked board members rhetorically. "The answer is everything."
The following is an oral history of OU's transition to the SEC from the viewpoint of 14 individuals directly impacted by the move.
---
'You're not going to be able to throw a dead cat without hitting a lawyer'
---
OU's decision to leave the Big 12 sent shockwaves through the college football world. Reactions ranged from elated to distraught.
Bob Stoops, OU coach 1999-2016: "I think it's going to be a big boost in recruiting. I don't think there's any question. Players are going to know they're going to play in some great and exciting games, and this gives us more of a presence in the Southeast where I think it's been proven through the years there's just a greater number of scholarship athletes that we can recruit in that area. So I think it's going to be a big plus for us."
Mike Leach, Mississippi State coach, OU offensive coordinator 1999: "It's probably going to have quite a ripple effect around the country. … You're not going to be able to throw a dead cat without hitting a lawyer on this subject."
Tommie Harris, OU defensive lineman 2001-03: "I don't care where we go. As long as we don't change our logo, we'll be fine."
Kayse Shrum, Oklahoma State president, on July 26: "This action was strategic, deliberate, and is the result of months of planning with the SEC. We believe these conversations, which developed over a long period of time, are in clear breach of the bylaws of the Big 12 Conference and broke a bond of trust between our universities in existence for decades."
Letter signed by 34 Oklahoma lawmakers on July 29: "We are disappointed in the lack of transparency and making decisions of such magnitude at a time when the Oklahoma legislature is out of session. It is our desire to see collaboration and parity for our state's two comprehensive institutions. Moving forward, we ask that you keep legislators and the public informed as this situation is of great importance to the state of Oklahoma."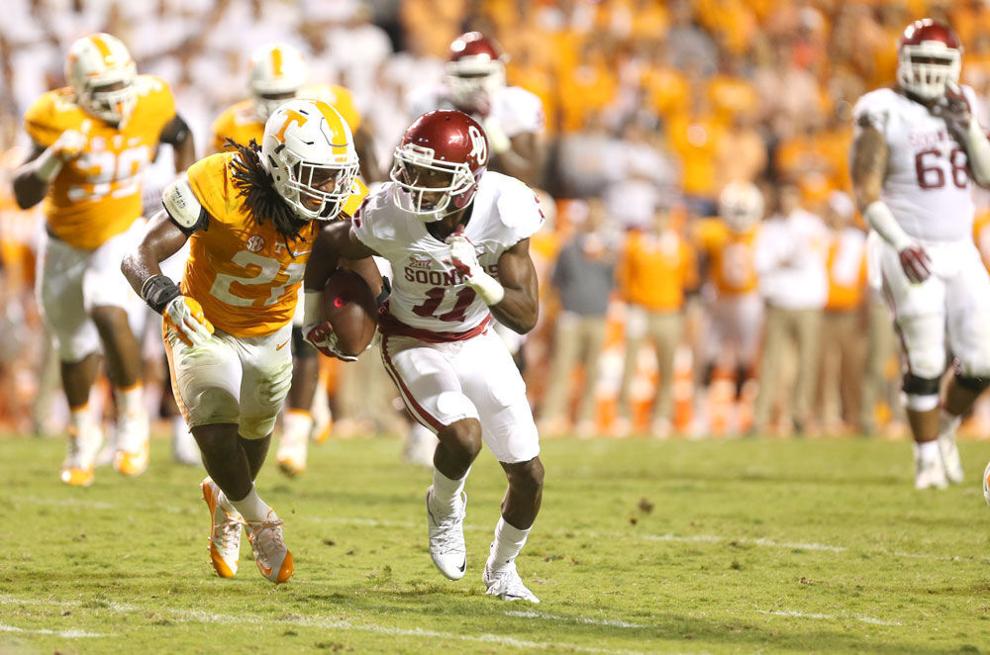 Trey Millard, OU fullback 2010-13: "As a move, it's good and bad. I kind of have split positions on it. Financially for the university, it seems like it makes just a ton of sense. Unfortunately, as much as we want college football to be an amateur sport, with (the NCAA's name, image and likeness policy), this deal and everything else that's coming out, it's moving away from that. And I agree with some of it, but it just kind of loses some of its pageantry. So it's kind of sad, some of the rivalries, and then just the geographical locations and breaking some of that stuff off, it's kind of sad."
Kirk Herbstreit, ESPN college football analyst in a SportsCenter segment on July 30: "What's becoming abundantly clear, and I hate to say this because I've always tried to fight it, is people are trying to stay at the top. They're trying to compete with the SEC, and it's all about money. It's no longer about tradition. It's no longer about the things that I think college football has always kind of tried to stand itself on top of and really look at and appreciate rivalries and tradition and things of that nature."
Michael Cawley, OU Board of Regents Chairman: "The entire university thrives when our athletics program thrives. The OU Board of Regents proudly stands behind this essential move to best position the University of Oklahoma and Sooner athletics for stability and excellence. We are confident that, by taking control of our own destiny and joining the SEC, OU will be in the best possible position to continue advancing our institution's overall mission."
---
'Being last in line has consequences'
---
Finances and logistics presented formidable tipping points in OU's decision. One of Oklahoma's greatest frustrations with the Big 12 has been the frequency of 11 a.m. kickoff times, which the Sooners are already scheduled for twice this season. By the end of the 2020 season, the Sooners kicked off in the morning television slot in 16 of their past 39 games.
That exasperation boiled over when OU's Sept. 18 game against Nebraska was set for 11 a.m. The nonconference matchup will revive the teams' historic rivalry while commemorating the 50th anniversary of their battle for the Big Eight title and the No. 1 national ranking during the 1971 Game of the Century.
Harroz: "It became clear that the Big 12 was last in line in terms of media negotiations. ... Being last in line has consequences.
"There are a lot of conversations about money. But there are also other critical factors. A big factor is which time slots are filled by those that negotiated before you. You've heard conversations with Joe Castiglione talking about not enjoying 11 a.m. kickoffs. … It impacts things in a material way, and it translates to disadvantages in recruiting the top talent, disadvantages for our student-athletes and a detriment to the fan experience."
Castiglione on May 27: "We are bitterly disappointed that the great Oklahoma-Nebraska rivalry, on the 50th anniversary of the Game of the Century, will kick off at 11 a.m. We tried every possible avenue to proactively make our case. The Big 12 Conference also supported our strenuous efforts to secure a more traditional time that would honor this game and our fans. However, in the end, our TV partner chose to exercise its full contractual rights and denied our requests."
Bob Bowlsby, Big 12 commissioner, at July 14 conference media days: "I think Joe's position on it was it was a marquee game, and he would have liked to have seen it played in prime time. He's entitled to that position, and we talked about it extensively in the time before he made his comments. Having said that, we all signed the TV contract, and we can change it the next time around if we want to change it, but we are going to live by our stipulations on the television agreements, and that's what we did on this occasion."
Instead of continually reaping those consequences, OU chose to jump to the SEC. There, the Sooners will be first in line for most media negotiations through the SEC Network and the conference's contract with ESPN. They'll also increase their average yearly television revenue earnings from $37 million to $60 million, according to CBS Sports' Dennis Dodd.
Harroz: "What does all of this tell us? What this tells us is the importance of the conference you are in and it being the one that best fits your institution's needs and landscape is greater than ever."
---
'We want the Bedlam rivalry to continue'
---
Oklahoma's decision to leave the Big 12 isn't without consequences. Some believe the conference will implode because of the Sooners' and Longhorns' departure. Additionally, the future of OU's historic Bedlam rivalry with Oklahoma State, which started in 1904, is now in limbo.
Harroz: "We've looked at solutions for us to move together, but that simply is not what the market we are pursuing allows. That was true then, and it's even more true in this changed landscape. We believe this move is not just best for OU, but we believe this move is best for our state. The opportunity was for one university. And if we didn't seize it, the opportunity would be for none."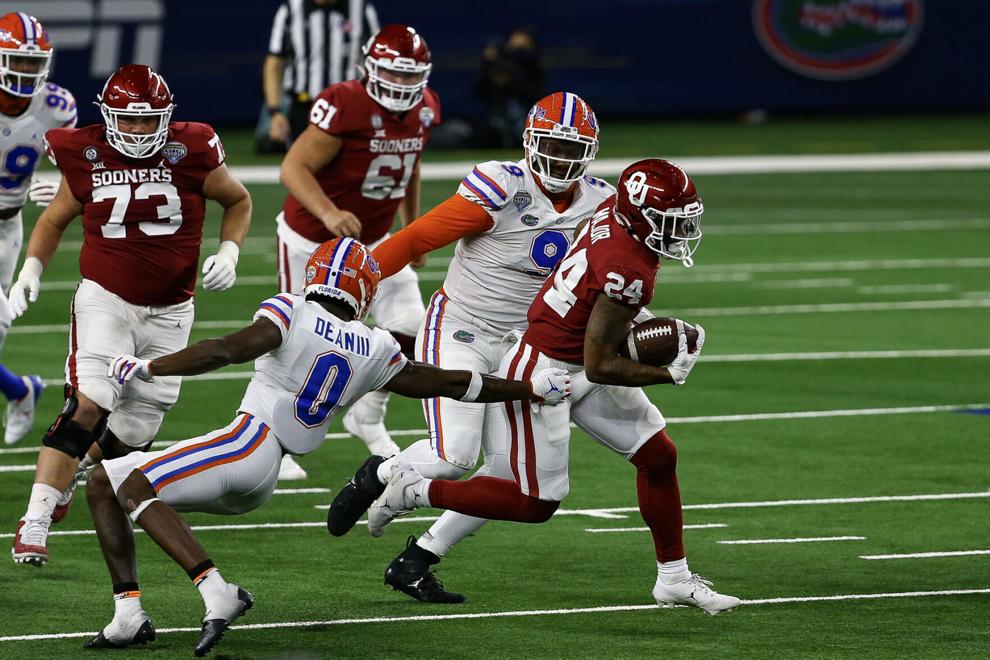 Shrum: "It is difficult to understand how an Oklahoma institution of higher education would follow the University of Texas to the detriment of the state of Oklahoma. Nevertheless, we are turning our eyes to the future and looking at what is best for Oklahoma State University. Over the last few days, I have received countless phone calls, texts and emails from high-ranking officials and members of the Cowboy family showing their support for OSU as we navigate the road ahead."
Stoops: "I hate that this will impact Oklahoma State, but in this instance, we didn't have a choice in the matter, and we didn't get to make all the decisions in how this was all going to unfold. They've got an excellent athletic program, they've got an excellent football team; hopefully we can still play, but who knows. One way or another, we'll see how it plays out."
Oklahoma Gov. Kevin Stitt in an Aug. 19 interview with Fox 23: "As governor for ... both schools and the state, obviously I'm torn. I'm concerned for Oklahoma State. I want to make sure the Big 12 finds a home or expands, and that's a concern going forward. But at the same time, I'm excited for the University of Oklahoma and the opportunities and the more money at that conference.
"I would love to see OU bring Oklahoma State, and both of those schools go together to the SEC. The SEC appears to have the most money and the most leverage with TV contracts. So, we're working behind the scenes to make sure Oklahoma State gets into a good spot, whether it's an expanded Big 12 or it's a merger with the Pac-12."
As unlikely as a future standing nonconference matchup seems, OU says it will be looking for ways to keep Bedlam alive and well.
Riley during Aug. 5 local media day: "Our leadership has made that clear, that we hope to be able to do that. (We) certainly respect the history of that game. It's been a lot of fun to compete against those guys, to play a game that means so much to this state and certainly, I think everybody here at OU, it's our hope that we can continue that. It has been a great game, great matchup, university (and) program that we have a lot of respect for and a lot of respect for the history and what it means for this state."
Harroz: "We want the Bedlam rivalry to continue well past the expiration of this media rights agreement. Even with this change, we want to play Oklahoma State in every sport and in every year.
"And we also know this — we know OSU will continue to grow and flourish. They have exceptional leadership. They're an excellent program, and they will do well."
---
'We'll have a strong presence in the SEC'
---
The SEC has a rich football history that includes 43 team national championships, led by Alabama's 18 titles. Oklahoma fits in well with seven NCAA titles and 30 bowl victories. Additionally, its .726 all-time winning percentage trails only the Crimson Tide among SEC schools.
Stoops: "I think that we bring a lot to the SEC in that you look at the number of national championships, conference championships and the overall success over the last 40 years. (We're) almost always a top 10 program if not top five. We fit well in the SEC, I don't think there's any question, and of any other league, that might've been a possibility, this fits us best. And I think it protects our long-term interest of best maintaining this rich tradition that we've had through the years."
Millard: "It goes a long way. There's not a lot of programs in that tier. You've got Alabama, Oklahoma, Texas, maybe USC, Georgia and Florida are close there too, but I think as far as perennials, not just in this generation, when we talk about the rich tradition, those are really the schools. … This makes that conference traditionally, and even how they look right now, the powerhouse of college football and what college football really means."
Eric Gray, current OU and former Tennessee running back, during Aug. 5 local media day: "Being in the SEC before, OU definitely fits that bill. Being here, it's just like being in the SEC. The SEC is a great conference. It's a great league to play in. This is a great school, a great program, great team, so (OU) definitely fits in that league.
"It's normal, it's just football wherever you go. This team is an SEC team. This program is one of the greatest programs ever built. The SEC is just a league — it's a great chance for them to join that league and be a great powerhouse in that league."
The competition OU will face in the SEC is considered better than the opponents it has dominated the last six years in the Big 12. The SEC has won 12 of the last 20 football national championships.
Leach: "The difference (between the SEC and Big 12) is at the bottom of the conferences. (The SEC) is just solid from top to bottom. When I was in the Big 12, the Big 12 South was the toughest division in all of college football. That was before the SEC West was (now). In the top of the (Big 12), there would be some combination of Oklahoma and Texas. Then there would be Nebraska, Kansas State and Texas A&M. Colorado, Missouri and Oklahoma State could get hot. … It was quite a war. The SEC is, too."
Millard: "OU fans are going to be in for a rude awakening of not winning six straight titles, and so there's going to be some differences there. But depending on what year we go in, I think they'll use what Lincoln's got going on, what (defensive coordinator Alex) Grinch has got going on, what they've been able to do on the recruiting trail here recently."
Although some, like former Florida linebacker James Houston IV said before facing the Sooners in the 2020 Cotton Bowl, believe OU isn't ready for SEC-level competition, those who have seen the Sooners at their best would beg to differ.
Stoops: "I don't know who would have ever said that. That's laughable. That would be the minority speaking there."
Millard: "I do think they are the best conference top to bottom in college football. I don't think it's necessarily as drastic sometimes as they make things sound, and it hasn't always been like that or to the extent that it has been, and so I definitely am kind of tired of hearing that. I hope we never chant the SEC chant.
"You can't really tell me that (the SEC is) so much better that (the Sooners) can't compete or anything. What OU did to Florida last year in the bowl game even shows that they're not good enough to just roll out there and not play some of their best players and be good. … And so you don't get beat that bad if it's not like that, so it'll be interesting to see in the SEC what OU can do week in and week out once you make that switch."
Harris: "When you look at Lincoln Riley, you're literally looking at the (Mark) Zuckerberg of football. People don't give him enough credit. Lincoln Riley's a genius. I'm talking about beyond football. He is literally taking over social media, all the internet. He knows what he's doing. So I believe if he goes (to the SEC), he's going to affect it the same way."
Perrion Winfrey, OU defensive lineman, at Aug. 5 local media day: "When I saw that it happened, I was honestly excited. Because I can't stand the noise saying that we're in the Big 12 and we can't handle the SEC. I honestly got excited because I can't wait to see my fellow alumni going against them and show how we can stack against them and actually prove to everybody else in the country that we can stand with them."
---
'Tell the OU story all across the country'
---
Ultimately, those who have OU's future in mind believe the move to the SEC is in the Sooners' best interest.
Millard: "We may not be in a better position than we have right now to compete and win at that stage. I think it's going to be bittersweet. There's pros and cons to both parts of it."
Stoops: "I really believe our leadership is just looking out for the long-term best interests for our university and our athletic programs. And then in football, let's face it, in the end, I think this is going to be a boon for the entire city of Norman and Oklahoma City. It's going to ensure our stadium capacity is filled for 85,000 people for years and decades to come with these exciting games. And, let's face it, the TV contract, you can't ignore. The money involved is a difference maker."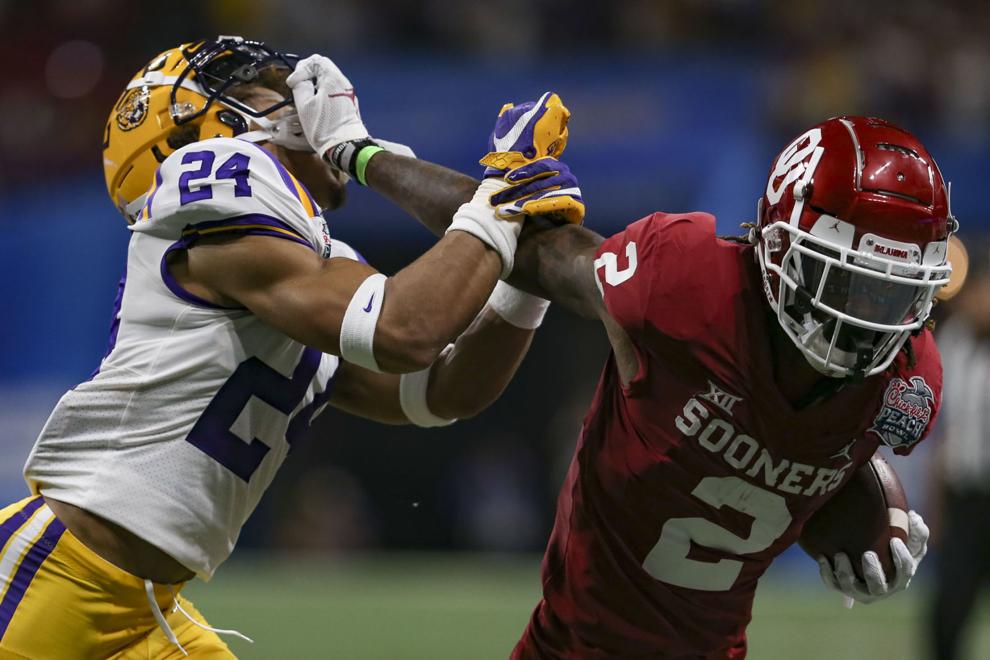 Castiglione: "This decision today allows us to ensure we're doing all we can to further OU's long-standing record of athletics excellence; attracting top student-athletes from across the country and giving this institution the exposure it deserves. The special history, energy and character OU will bring to the SEC will only make us and our new conference stronger."
Harroz: "We are confident that this transition will reap extraordinary success for our athletics program. We will be able to continue to attract top student-athlete talent from across the country. We'll provide an even greater world-class fan experience. All told, we'll set up our programs for even greater success and be able to better tell the life-changing OU story all across the country."
​​"We change lives, and the role of athletics plays a critical role in the life of a university. It is additive well beyond the playing fields."
Stoops: "Our President Harroz and Joe Castiglione realized if we don't take this opportunity right now, it may never be there again, and that would not be very positive for us moving forward in the next 10, 20, 30 years. You've got to protect that, and that's what they did. I really believe it was the wise move and the best move for our university."
Harroz: "The entire Sooner Nation and Oklahomans throughout the state stand to benefit from this move, and we're thrilled for a new platform to tell the OU story all across the country."
Austin Curtright contributed to this report.