Despite requirements from OU for fans to wear masks when at Gaylord Family-Oklahoma Memorial Stadium, safety measures against COVID-19 were largely ignored in certain areas of the stadium in Saturday night's game against Missouri State.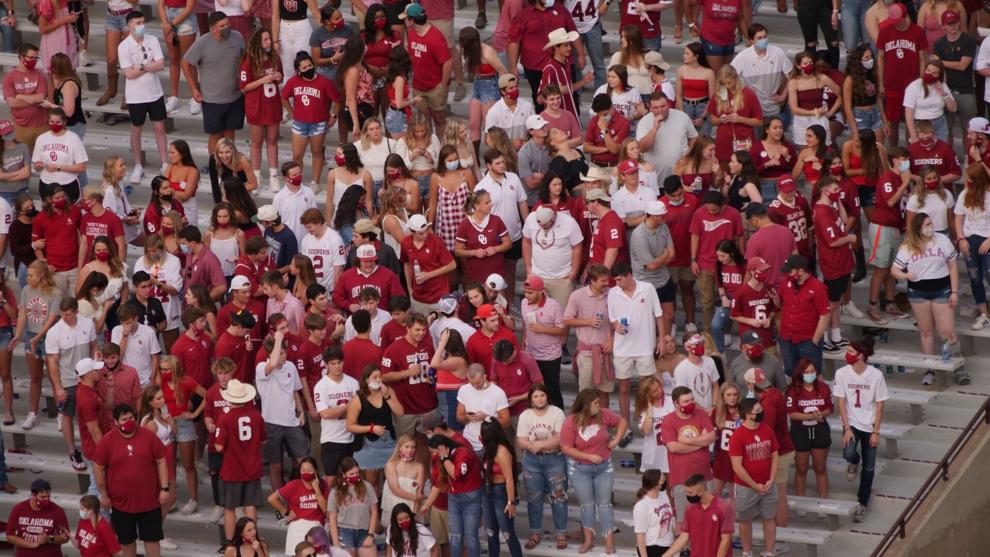 The mandate, implemented on Aug. 25, requires masks must be surgical-style, covering the nose and mouth. But it was easy to see that the requirement was barely followed. The OU Daily reached out to the Athletics Department for comment at half, but has not received a response through the third quarter.
In a broadcasted halftime interview, OU Vice President and Athletics Director Joe Castiglione praised OU's ability to play in the COVID-19 era.
"Actually, game day has gone as good as we could have hoped," OU Vice President and Athletics Director Joe Castiglione said in an interview at halftime. "Yeah, with a uniqueness of how we even got here it's a blessing to have the game."
OU's chief COVID officer Dr. Dale Bratzler was interviewed by Chris Plank on Friday, and talked about what needed to be seen at OU games to ensure safety in the venue. Bratzler's interview session was broadcasted again at halftime. 
"The stadium has been laid out with seating that will keep everybody physically distanced," Bratzler said, "even when you go to concession areas those areas will promote physical distancing to keep people safe...
"We know that your risk of getting this infection is greatest when you're in close proximity to somebody and you don't have a mask on," Bratzler continued. "When somebody else is speaking or even breathing, droplets are coming out of your mouth, so that's why we're so strongly encouraging the wearing of masks. The only time we're going to let people take masks off in the stadium is if they're drinking something or eating something, but people need to stay in their masks."
Castiglione said back in August masks were going to a be a requirement, and urged fans to follow suit in staying safe.
"If we're able to have fans and have a game, there's going to be a masking requirement," Castiglione said back in August. "To come into the stadium, and to stay in the stadium, you'll have to be wearing a mask for the entire experience. That's just the way it's going to be.
"I understand that might not be what people want to do. I respect that. I respect that they don't want to go to the game and wear a mask. But if you're going to come to the game in Oklahoma, it's going to be a requirement."