Dennis Simmons was exhausted.
Simmons, then the outside receivers coach for Washington State, had just returned to his office after meeting with a recruit from American Samoa. The Cougars held strong recruiting ties to the territory during Simmons' stint there from 2012-14, and he wanted the prospect to play in Pullman. After collecting himself, Simmons left his office and entered that of David Yost, then Washington State's inside receivers coach.
"I don't know if he speaks any English," Yost recalled Simmons, whom he shared a bond with beyond being office neighbors, saying of the recruit. "I just kept talking, and he just kept smiling and shaking his head while saying, 'Yes.' I don't know if he understood one word I said."
That response drew a chuckle from Yost, Texas Tech's offensive coordinator in 2020, but it was short lived. His nonchalant demeanor turned to one of surprise after realizing Simmons' meeting with the recruit lasted over 45 minutes. When Yost pointed that out, Simmons brushed it off. Ultimately, it reinforced one of Simmons' core traits: He doesn't care what barriers stand in front of him, he's all in whether in recruiting people or coaching up those he's persuaded to join him. 
Such perseverance led Simmons to the job he holds today as OU's assistant head coach, a promotion he earned in February. Hired as Oklahoma's outside receivers coach in February 2015, Simmons has overseen the development of CeeDee Lamb, Marquise Brown and Dede Westbrook, the Sooners' only Biletnikoff Award winner, during his tenure. He was ranked as Rivals' No. 22 best recruiter in 2019, and Oklahoma's offense ranks first nationally in scoring per game and yards per pass attempt since Simmons' arrival. Based on his accolades alone, all signs point to Simmons one day becoming a head coach himself — just like his close friend and confidant, Lincoln Riley. 
However, Simmons' current focus is sustained success in Norman.
"Right now, my aspiration is just to be the best receiver coach at the University of Oklahoma that I possibly can," Simmons said on Feb. 3 at OU's first press conference of the year. "In doing that, I'm a firm believer that God puts opportunities in your life at a particular time for a particular reason when you're ready. … I feel like when (a head coaching) opportunity presents itself that I will be ready for it."
Simmons wouldn't be the first to become the face of his own program after working under Riley. South Carolina hired Shane Beamer as head coach in December after he served as the Sooners' assistant head coach and tight ends coach for two seasons.
Those who know Simmons best think it's just a matter of time before such an opportunity comes along. After all, his resume increasingly checks all the boxes programs should want in their head football coach, on and off the field.
'He makes guys excited to play'
When Simmons began his coaching career, he was more focused on the administrative side of football. After obtaining his master's degree in educational leadership at BYU — where he played linebacker for three seasons — in 1999, Simmons was hired as the assistant athletic director at Cornell that year. 
Simmons also coached running backs for the Big Red but primarily worked in administration. In 2000, he was hired by then-Texas Tech head coach Mike Leach to work in the Red Raiders' front office — a job Leach personally sought him out for. Simmons also worked in a quality control role and became Leach's chief of staff in 2005. 
But, a few years later, Simmons' focus shifted more toward coaching. This led him to discuss finding a spot on Texas Tech's coaching staff with Leach, who was more than happy to find a place for him. Simmons was hired as the Red Raiders' receivers coach in 2008. 
That job first paired Simmons, 35, with a 25-year-old Riley, the then-inside wide receivers coach at Texas Tech. In their first year together, the duo helped star receiver Michael Crabtree earn All-America honors and his second consecutive Biletnikoff Award as Texas Tech finished with an 11-2 record. 
Helping to further develop Crabtree, the No. 10 selection in the 2009 NFL Draft by San Francisco, was the first sign of Simmons' ability to elevate players' skills. Crabtree had 231 catches for 3,127 yards and 41 touchdowns in two seasons with the Red Raiders before going on to play 11 seasons in the NFL.
"He's good at commanding his room," said Leach, now the head coach at Mississippi State. "He makes guys excited to play, and to lift and go to school, all the things that come along with (playing college football). … He's just a great, solid human being and I think that's where it starts. And then from there, once the course is set, he's really good at working with his guys to execute."
Simmons left Texas Tech to become East Carolina's outside receivers coach in 2010, reuniting with Riley, who'd left just a month earlier to become the Pirates' offensive coordinator. In two seasons at ECU, Simmons helped the Pirates secure Lance Lewis, who would become just their third 1,000 yard receiver. The day Simmons joined East Carolina was also when Justin Hardy signed with the Pirates. Hardy's 387 career receptions in four seasons rank second all-time in NCAA history.
Getting the most out of his personnel is what led Simmons to be hired by Hall of Fame coach Bob Stoops at OU, where he's since made the Sooners' receiving core among the country's best. His hire came weeks after Stoops brought in Riley.
"Dennis, day in and day out, is always working with (his receivers)," Yost said. "He's putting them on the tennis ball machine. Throwing them balls. He's working on the techniques, the fundamentals. And you see that now at Oklahoma. ... Now, he's able to consistently get the four and five stars, the best of the best. He's able to get them to come there, and he gets them to become the player that they're capable of being."
Simmons' coaching success could've been foreseen during his playing career. As he helped anchor BYU's defense in his final season, the Cougars' offense was boosted by new quarterback Steve Sarkisian. 
Sarkisian was hired as Texas' 31st head coach on Jan. 2, and the former BYU teammates will be on opposing sidelines when the Sooners and Longhorns meet Oct. 9. It won't be the first time Simmons and Sarkisian face off — they regularly met when Simmons was at Washington State and Sarkisian was the head coach at Washington and then USC — but it might be one of the last times the meeting isn't between two head coaches. 
"Dennis is a great coach," Sarkisian said at Big 12 Media Days on July 14. "He was a great teammate, an awesome family man. I know he and Lincoln have a great relationship. Dennis is a tremendous recruiter. I'm happy for him and his career and where it's headed. I know he started off with Coach Leach and worked his way up the profession. I wouldn't be surprised if he (became) a head coach in the short term."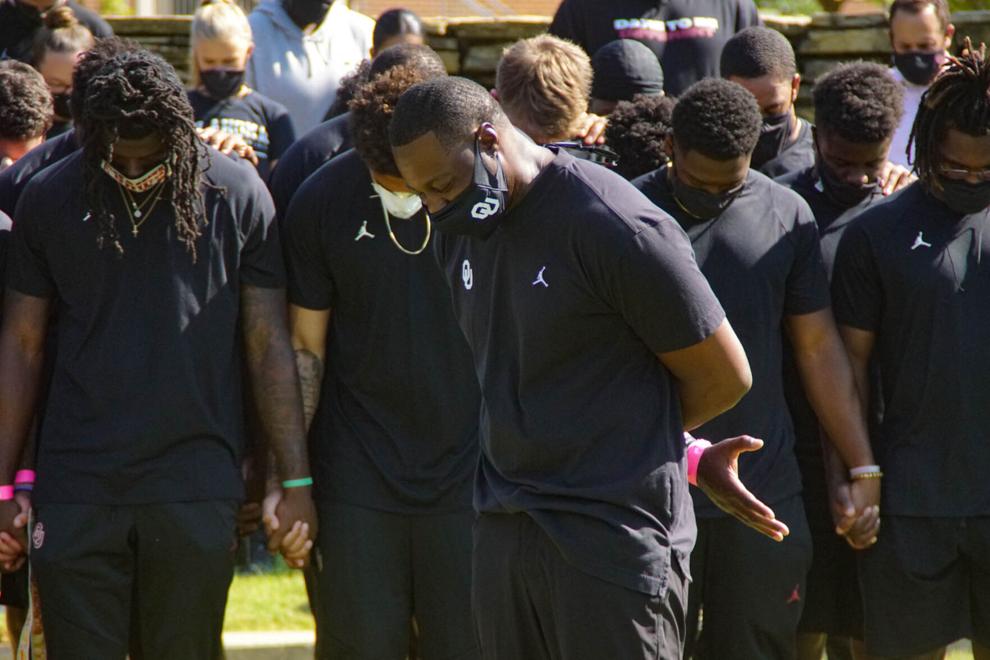 'One of the best people you're ever going to meet in this profession'
When Crabtree and the 49ers made it to Super Bowl XLVIII in 2012, he gave tickets to Simmons and his wife, Tosha. The tickets went to the Simmonses because, as Yost came to know during his time with Simmons, Crabtree views Dennis as more than a coach. He's a life mentor, or even part of the family. In fact, that's how many of his players view Simmons. The 47-year-old makes it a point of emphasis to help his players however he can.
"That's the relationship he builds with his guys," Yost said. "They're a forever kind of tight."
Simmons led by example while working in the athletic department at Texas Tech, overseeing player personnel issues and community service initiatives. At OU, he does the same as head of the Sooners' social justice task force and organizes leadership events for the team. 
It's a job Riley believes fits Simmons well. At OU's final spring press conference on May 6, Riley said he and Simmons have built a relationship where Riley can lean on him for anything. The responsibilities OU holds, Riley said, go "far beyond just coaching receivers" and Simmons makes the Sooners better by upholding those obligations. Simmons has also joined Riley, along with select other members of the team's coaching staff, on offseason vacations. This summer, the group visited Cabo for a fishing trip.
The bond Simmons creates with those around him is a key reason why Leach brought him to Washington State in 2012, the year he took over as the Cougars' head coach.
"He's got a tremendous personality," Leach said. "With the guys on campus, (he'll help) them work through and iron out any problems they may have. Everything from academics to dorms, the whole thing. … There's all the ups and downs you go through while coaching, and he's just a happy, optimistic guy (which makes) him great to work through all the things like that."
Yost found himself amid a downside of coaching when he took his job at WSU in February 2013. He accepted the school's offer after coaching at Missouri for over 10 seasons, and moving his family to the West Coast proved challenging.
Yost's wife and children couldn't join him in Washington until that summer due to work and school commitments. Yost opted to live in a hotel by himself for the first month and a half at Washington State, but that eventually became too much of a nuisance. Now looking for a new place to stay near campus, Yost started talking with WSU about moving into its graduate student housing — until he got a call from Simmons.
"I picked up the phone and Dennis was like, 'What are you gonna do?'" Yost said. "I go, 'Well, I'm trying to stay at these graduate housing things,' and he said, 'No you're not. You're staying in my basement.'
"I said I didn't want to impose on him and his wife, and he said, 'Nope. You don't have an option.'"
Yost moved into Simmons' basement, which he said had all he needed, a few days later and lived there for almost five months until his family moved to Pullman. While staying with the Simmonses, Yost fondly remembers watching TV in the basement with Dennis and Tosha, as the couple made the room a good place to unwind.
He'd also care for Simmons' two dogs when he needed to. On top of that, Simmons and Yost  often carpooled, and their connection in the workplace only benefited from the time spent away from it.
Yost believes Simmons' success is a direct result of his unbridled selflessness.
"He's one of the best people you're ever going to meet in this profession," Yost said. "As far as (being) genuine and real. He cares about the kids. He does all the stuff the right way. … He was going to be successful in life no matter what he did."
'It's who he is'
Simmons' mind raced as he walked off a team flight in spring 2019. Earlier that offseason, Oklahoma landed three five-star wide receiver commits in Jadon Haselwood, Theo Wease and Trejan Bridges. It was Simmons' deepest signing class yet, even topping when the Sooners landed four-stars Charleston Rambo, Brown and Lamb in 2017.
Interest in Simmons from other programs was growing. Some reached out to him with offensive coordinator openings, others wanted him as a wide receiver coach. With options on the table, Simmons reached out to Margin Hooks, his former BYU teammate and current CEO of the Sky's The Limit training camp.
Hooks, who views Simmons as a big brother, worked with Rambo, Brown and Lamb at Sky's The Limit and trains current and future OU receivers at the camp. Because of the two's history, Simmons wanted to get Hooks' opinion on his decision — which was to stay at Oklahoma.
"(Simmons) said, 'I got these kids that I just brought here with me,'" Hooks said. "'I told their parents I'm going to be here to take care of them. I'm not leaving them.' … When he told me that, I thought, 'Man, he's different.' Any other person would jump on (another job). But that's not him."
When Hooks went on his first visit to BYU, Simmons helped give him a tour of the Cougars' campus and facilities. Hooks later committed and was redshirted as Simmons played in his final season in 1996. Simmons then became a graduate assistant for a season before returning to school.
During their time together in college, Hooks took note of Simmons' intelligence. Hooks remembers him being the calm voice of reason in the locker room, always making sure the right things were being done. Hooks believes it's that same reason that Simmons is able to recruit at a high level.
"He's smart enough to know (he) better go get some kids that know what they're doing already," Hooks said. "That's what college football is. It's changed to where (coaches) don't go get the kid they have to recruit and develop — if that was the case I wouldn't have the business I have. … And he gets the recruits he has because of the type of person he is. Parents and kids trust him in recruiting. … He's there to help guide them, (make) them accountable and responsible."
Hooks knows Simmons wants to one day be a head coach. It's a conversation they've had before, and he believes it won't be too long before Simmons finds himself in that role. When that chance comes, it'll be one that breaks barriers.
Heading into the 2021 season, only 12 of 130 FBS Division I programs have Black head coaches. There are zero Black head coaches in the Big 12 and SEC. If Simmons gets his shot and those numbers go up, he wants it awarded to him because of his resume and talent.
"I don't want to just get that opportunity because of my skin color," Simmons said on Feb. 3. "I want to get it because someone feels like that I deserve that opportunity and that I'm worthy of it.
"When I do happen to get that opportunity, if it's meant for me, I want to make the best of that opportunity and not just be known as a good minority coach but, much like (Riley and Stoops), considered one of the best to have ever done it in the business."
Nonetheless, Simmons is ecstatic for this upcoming season, and his position group appears primed for another solid outing. OU returns Haselwood, Wease, sophomore Marvin Mims and redshirt junior Drake Stoops. The Sooners also add freshman Mario Williams, a five-star prospect and Rivals' No. 15 overall recruit in 2020, and Arkansas graduate transfer Mike Woods.
Time will tell how Simmons' current receiving core stacks up to his previous ones. It'll also tell how his current recruiting classes compare to those that housed five-stars and future NFL targets. And of course, only Simmons knows how much longer he'll be coaching those in an Oklahoma uniform.
But, Hooks believes if a top job doesn't come along, Simmons' end product of molding recruits into better players and people won't change.
"Wherever he goes," Hooks said, "people are going to come to him. They're going to flock to him. … I believe, with Simmons, it's not where he is. It's who he is that's attractive. Does it help to be at OU? Yes. 
"But he gets attention because of who he is."