The City of Norman held a groundbreaking for the Young Family Athletic Center, named after the family of former Oklahoma and current NBA guard Trae Young on Wednesday. 
The center is part of the Norman Forward Quality of Life Projects, a special sales tax initiative passed by voters in 2015. The 122,000 square foot building has an estimated cost of $36 million, and includes two 25-meter pools, eight basketball and 12 volleyball courts. It received a $4 million dollar donation toward construction cost on June 11 last year from him and his family. 
The Trae Young Family Foundation — created in 2019 — helps "inspire and create a positive impact for children and adults from all walks of life who suffer from mental health problems," according to its website.
Young spoke to the crowd in the city's University North Park outside the Embassy Suites near the eventual location, which is expected to be complete in 2023. The city broke ground 18 days after Young and the Atlanta Hawks fell in Game 6 of the Eastern Conference Finals to the Milwaukee Bucks, the eventual NBA Finals champions. 
"To be here in Norman, it's just special to me," said Young, a Norman North High School graduate. "That's all it's about. That's why I give back, and that's why this city and everything is so important to me."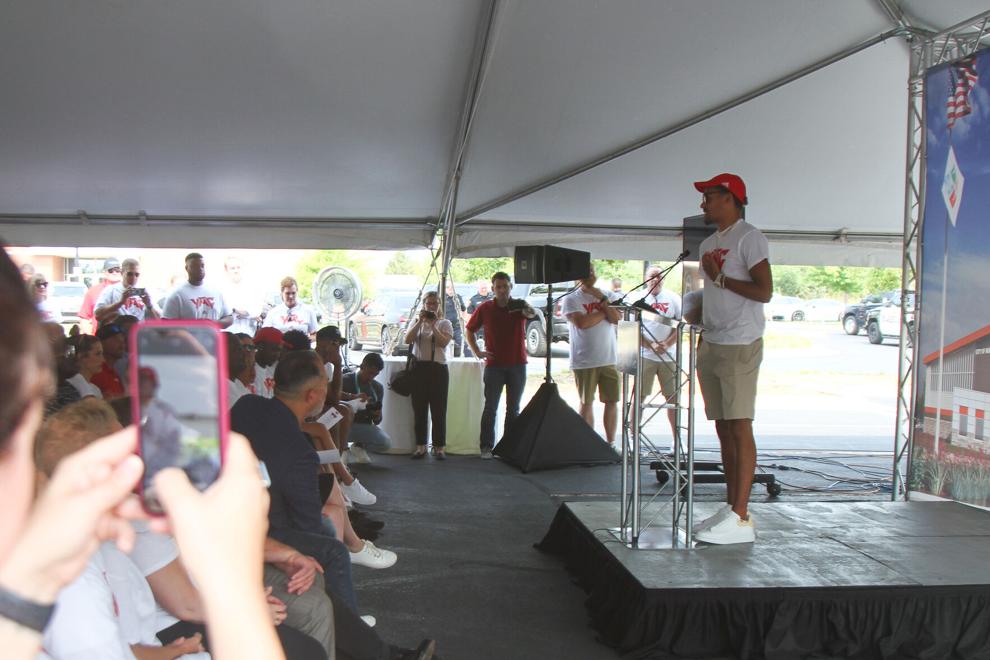 Young's dad, Rayford Young, said bringing a multi-event facility to Norman gives children a chance to be involved in highly-competitive basketball without traveling. 
"It was a journey," Rayford said of Young's experience traveling to compete as a child. "It was a journey driving to Tulsa every weekend just for practice. Driving to Dallas every weekend to practice and play in tournaments. … We're like, hopefully one day we can make a difference and just change that. We're just so blessed to be able to do this."
Rayford recalled speaking to Jason Olsen, an old friend of the family and Norman's director of parks and recreation, about the opportunity to donate money for the facility. He said Young was so excited, and he wanted to donate $20 million at the moment, which drew a laugh from the crowd. 
But Rayford told Young to start with $4 or $5 million first, leaving the door open for more charity in the future.
Rayford also said he is excited to hold tournaments in Norman, not only for what it could do for the city's economy, but also the avenue for college coaches to evaluate local talent as they compete for scholarships. 
"(The Youngs are) doing everything for all the right reasons … they want to give back to Norman." Olsen said. "This is not about having their name on the center, this is about giving back to the community that loves them … I would say Norman is truly lucky to have the Young family, but if you talk to the Young family, they would turn it back and say the Young family's truly lucky to have Norman."
For Young, Norman will always be his home. Despite his popularity ascending to new heights after becoming the youngest player with 25 or more points and 15 or more assists in the playoffs in his experience at 22 years old. 
Trae Young is the youngest player in NBA history with 25 points and 15 assists in a postseason game. pic.twitter.com/zCSSIAVfId

— ESPN Stats & Info (@ESPNStatsInfo) June 15, 2021
"I'm proud of him and how much he's done and how much he's wanted to come back home and give back," Rayford said.