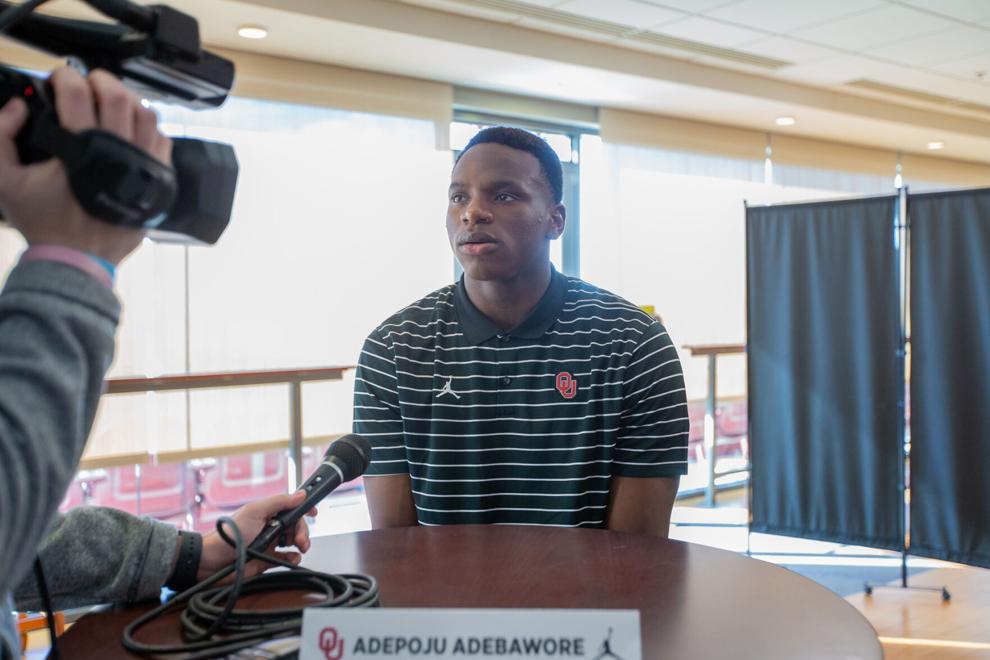 Adepoju "PJ" Adebawore found himself sitting inside Shelli Copas' office as he frequently did throughout his time as a student at North Kansas City High School.
Adebawore and Copas, one of the school's counselors for juniors and seniors, maintained a close relationship during his last three semesters.
Copas, an OU graduate, occasionally made appearances when Adebawore corresponded with the Sooners' coaching staff. Throughout the recruiting process, PJ developed a connection to a certain coach.
"He's FaceTiming me," Adebawore said.
The consensus five-star edge rusher prospect was receiving a call from Oklahoma defensive ends coach Miguel Chavis.
"Well, pick it up," Copas told him.
Chavis and the rest of the Sooners' coaching staff were in a meeting and passed the phone around so each could say hello to the coveted prospect, who eventually signed on Dec. 21 and could be a staple of and provide immediate help to coach Brent Venables' defense.
IM ALL IN‼️ B⭕️⭕️MER S⭕️⭕️NER‼️ pic.twitter.com/YHHV95PRi4

— Adepoju Adebawore (@PjBawore) July 10, 2022
Adebawore puts a premium on relationships. His link with Copas and Chavis' determination to lure him to Norman early was important to him.
PJ didn't play organized football until eighth grade and didn't weigh enough to line up on the defensive line until his junior year of high school. His swift development led to a meteoric rise up recruiting rankings before finishing as the No. 10, No. 11, No. 20 and No. 21 overall prospect on all four major recruiting services, respectively.
"He is good stuff," Copas told the OU Daily. "And I'm so proud of him and so excited because hardly anyone goes to OU from here. So I love that. Plus I always said I was part of his influence to go there. I see (North Kansas City football coach Leon Douglas) all the time and I'm like, 'He went to OU because he wanted to follow in my footsteps.'"
Those closest to him and Adebawore himself, credit his older brother, Adetomiwa "Tomi" Adebawore, a former Northwestern defensive lineman who is currently showcasing his talents at the NFL combine, with getting him into football. Tomi is also one of PJ's biggest influences off the field.
After leaving high school a semester early, Adebawore enrolled at Oklahoma and is adjusting to life as a collegiate athlete ahead of spring camp's start on March 22.
"It's been good, it's been fun," Adebawore said. "Tough for sure, but it's a grind that we all need. Being with (strength and conditioning coach Jerry Schmidt) mostly, he's been definitely working us but, it's good. He's good at what he does and I appreciate him. I've been able to build good relationships with everyone, everyone's very welcoming here, so it's been a good move so far."
His tight-knit bond with Copas, coupled with his admiration of both Venables' accolades and family environment, led Adebawore to this moment. And he has no plans to sit around and wait for his turn — he's here to compete and win.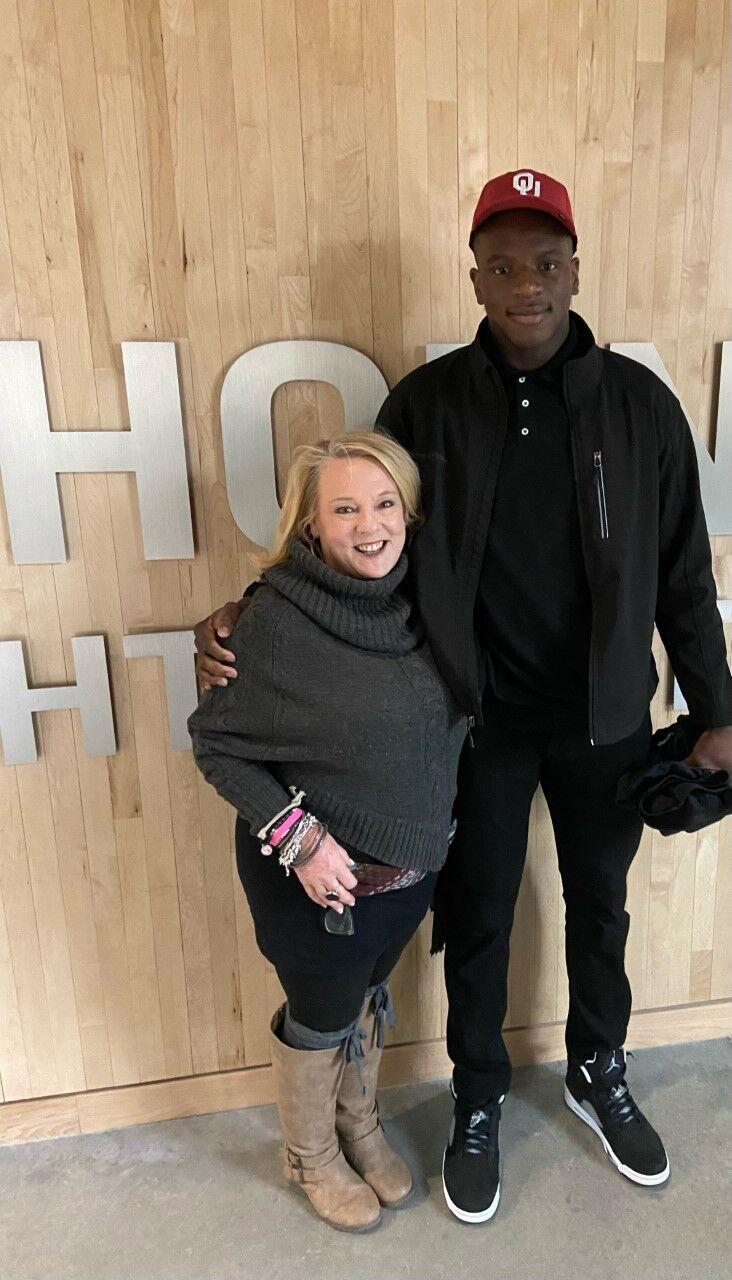 Growing up, PJ Adebawore was a hooper.
A lifelong fan of LeBron James, he didn't have an interest in football until middle school when he was amazed at Tomi's high school stardom, which led to scholarship offers.
"I saw him do that," Adebawore said. "And I was like, 'Basketball is done … I'm playing football.'"
After a brief attempt at wide receiver and two years at tight end, Douglas offered PJ a proposition. If he could bulk up to 230 pounds during the offseason before his junior year, he'd let him play defensive end.
Adebawore did it and excelled quickly at the position. In his first season playing defense, PJ accumulated 51 tackles, including 19 for loss and 10 sacks. The scholarship offers weren't slow to pile in and the next offseason, he chose Oklahoma over Georgia, LSU, Missouri and Northwestern. In 2022, he was an Under Armour All-American.
"He probably put on 30 pounds during (the COVID-19 pandemic)," Douglas told the Daily. "We really challenged him. He didn't come to school, he was all virtual. So he would come up, his parents would let him lift weights after school and he would get after it.
"He'd lift at home when his brother came back, with (Northwestern's) COVID protocols. So he really transitioned from a 190-pound wiry kid to 230 pounds. Like a kid who could easily be a five-technique or an outside linebacker."
PJ eventually got up to 245 pounds his senior year, according to Douglas, and OU now lists him at 240.
Relatively unknown due to his late-blooming, Adebawore and Douglas traveled around the country to various scouting camps. While he eventually impressed scouts at the Under Armour Combine, no one knew he had been to something similar previously with Douglas.
Before the switch to defense and without an invite, Douglas made Adebawore travel to the Indianapolis Rivals Combine to get comfortable with the setting. PJ sat in the stands in the rain, watched and soaked in knowledge that would prove valuable when he started receiving invites to camps.
"Nobody knew who or what he was," Douglas said. "He watched, he paid attention and learned. And then when he got his moment (at the Under Armour event), he really killed it. So I think there's something about having that, it's really a high level of being coachable and being able to trust the process. Like I think we've made that term so cliché, but we don't realize the time that is truly invested."
Just want to give a big thanks to @UnderArmour for allowing me to come and compete with the best of the best! pic.twitter.com/4JNI18g1F7

— Adepoju Adebawore (@PjBawore) January 5, 2023
With offers from dozens of top-tier programs, Douglas encouraged PJ to keep his options open. However, the determining factor in his decision to commit to Oklahoma, in addition to its national brand and Venables' defensive reputation, was his relationship with Chavis.
Great home visit with @MiguelChavis65 @CoachVenables pic.twitter.com/jK8YK3KDFq

— Adepoju Adebawore (@PjBawore) December 3, 2022
"He's big on relationships, like big," Douglas said. "I probably challenged him to open up and look at other programs more than anybody. Just because I thought that was a responsibility I had for him to understand where he'd really transitioned to in the (recruiting) landscape."
An opportunity to play in the SEC was another exciting aspect for Adebawore.
"I'm very excited," Adebawore said of OU joining the conference in 2024. "You always want to try to play for the best conference. It gives you a better look and your team a better look. It's just good overall. That's obviously the best conference (in the country)."
Sooner fans, like Copas, have Tomi to thank for Adebawore's initial attraction to football, which eventually led to OU landing one of its three five-star prospects in its highest-rated class of all time.
Copas was also close with Tomi and has now watched both brothers grow into Division I football players. As far as any advice from an Oklahoma alum, Copas told her pupil:
"You're going to have to work hard, obviously and prioritize your time," Copas said. "Enjoy every minute of it and have fun. Football's more of a job in college, obviously than it is in high school, but I still wanted you to get the full college experience and enjoy every minute that you've earned. You deserve to be here and I'm excited for you."
This story was edited by Austin Curtright.