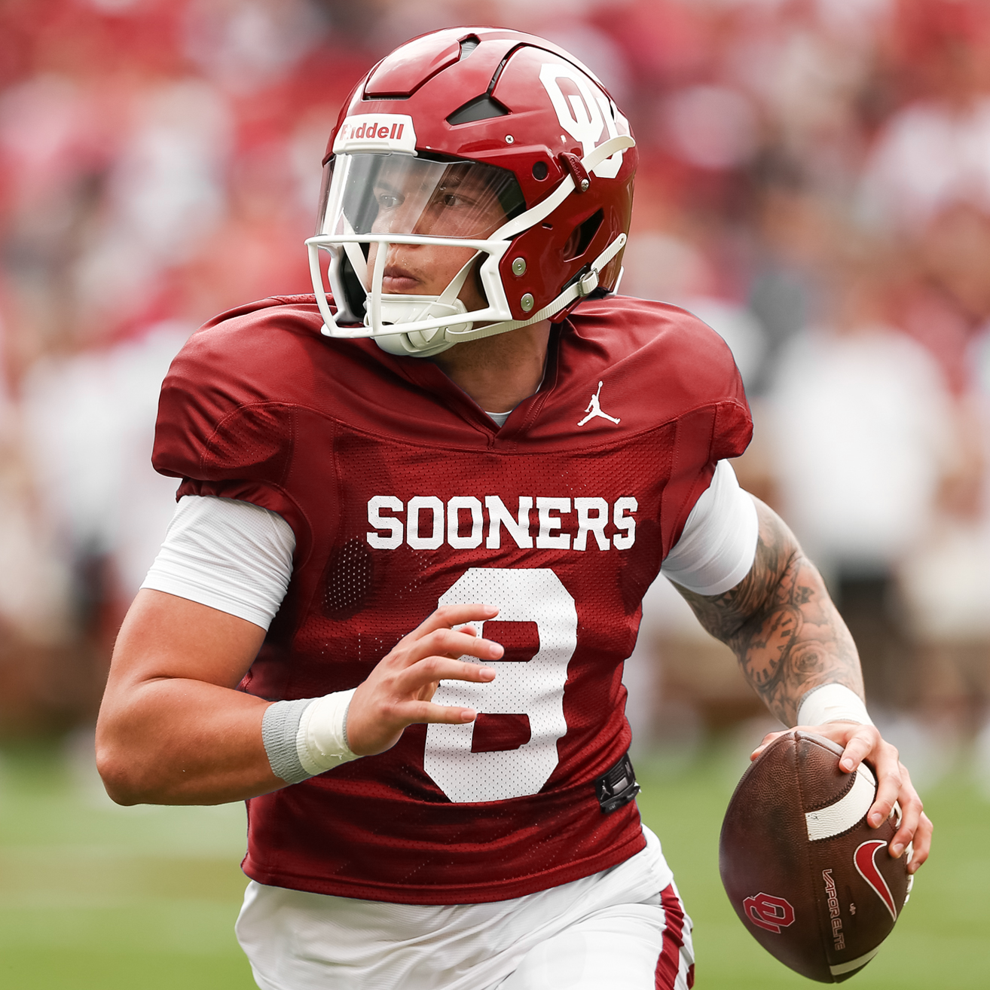 A steep ravine runs behind the Gabriel household on the island of Oahu.
It's precipitous enough that Dori Gabriel doesn't venture through it, but she remembers the day she watched her son, Dillon Gabriel, lead Jeff Lebby on a deep hike into it during their first meeting. After two hours, they ascended and the high school quarterback showed the college coach the tortoises he nurtures in his family's backyard.
Before that, though, Lebby ate lunch at the Gabriels' Mililani residence, where all questions were asked and answered. Dillon's father, Garrett Gabriel, a former University of Hawaii quarterback and island legend, talked through his on-field inquiries with the Central Florida assistant who came to recruit his son. Dori, ever conscious of Dillon's well-being, asked how education, housing and program support would play out in Orlando, Florida, nearly 5,000 miles from home.
But the teenage passer and the burly coach's trek through the ravine was the most important part of the visit. They forged a unique trust that day that has since spanned six time zones and four colleges. It all culminated last winter with the duo reuniting in Norman, a city unaccustomed to its football program being left on rocky terrain and thrust into retooling by an abrupt coaching change. Yet, Lebby and Gabriel are now tasked with being two central leaders who'll define whether the 2022 Oklahoma Sooners rise out of the chasm.
"Lebby and Dillon love deep, but they are hard on each other, too," Dori said, reflecting on the whirlwind of events that has positioned her son as Oklahoma's starting quarterback in Lebby's offense for this fall. "And that's the type of relationship you need to be able to compete at this level for this heralded program. You need that deep investment and trust in each other."
After the hike, Dillon graduated high school a semester early and moved to Orlando, where he threw for 8,037 yards and 70 touchdowns in three seasons at UCF, but only one was with Lebby after the offensive coordinator departed for the same job at Mississippi. Dillon's character, leadership and talent still impressed those who remained, but it wasn't the same for him after Lebby left.
The Golden Knights underwent a head coaching change from former OU quarterback Josh Heupel to Gus Malzahn in 2021, then Dillon broke his clavicle on the final play of a 42-35 loss to Louisville in September and missed the rest of the season. While Dillon was disappointed in not playing, the time out provided a pause that led to perspective on his situation, and he chose to enter the transfer portal in search of a better fit.
Dillon had visited Lebby at Mississippi but was saddened to learn his favorite coach was joining Brent Venables' staff and returning to OU, his alma mater, which at the time had Caleb Williams as its quarterback. Dillon instead signed with UCLA for great academics, a higher-caliber football team than UCF and living closer to home on the West Coast.
Then, Lebby reached out on the eve of Dillon's first class as a Bruin to let the Gabriels know Williams was entering the transfer portal and that the Sooners needed a quarterback. The ensuing hours became the most stressful of the Gabriels' lives.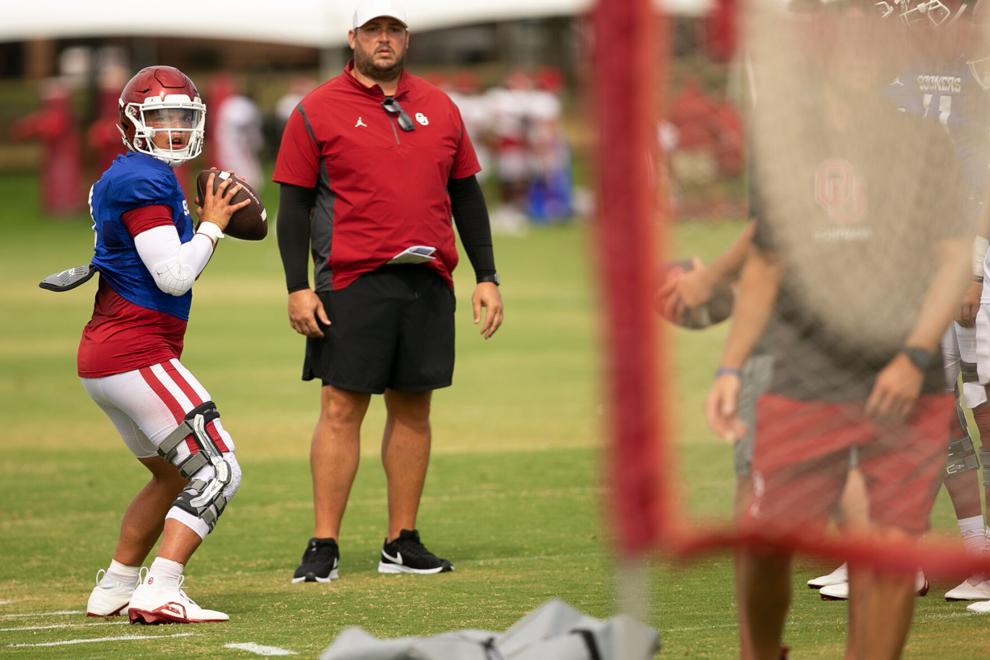 "(Lebby) just said, 'Things are changing. I know you've made decisions, but I need to lay one more on you,'" Dori said. "By then, I was done. I was like, 'What? We're reopening this?'"
"Eight months later, I understand why it happened. (Dillon) wasn't meant to go to UCLA. As much as he made that decision, something was missing. … When Lebby and Dillon talked and this opportunity became available at OU, it made perfect sense. So flights were canceled, plans were changed, and as a parent, as hard as it might be to make these decisions, usually the right decisions are the hardest decisions to make."
Venables called Dillon the next morning, Jan. 3, then spent 90 minutes with the family on a pre-dawn Zoom call answering their questions. Garrett felt like he was listening to a motivational speaker and appreciated that Venables trusted Lebby enough to believe in Dillon as he outlined his vision for his first season as head coach and beyond. Dori recalls Venables' emphasis on a relationship between Dillon and OU that would be more emotional than transactional — the missing piece in the commitment to UCLA.
Dillon, who grew up in a family that prizes relationships over everything else, was affirmed in seeing Venables' values align with his own.
"More than seeing it, I felt it with Coach (Venables) because in the decision to come here there's a lot of faith, there's a lot of trust," Dillon said. "I was making a decision at the buzzer beater and there had to be a lot of faith and trust. And they knew I was taking a risk, just because of how late it was. But I had so much faith and trust in Coach Lebby, and then once I talked to Coach (Venables), he kind of just solidified it."
Within hours of Williams entering the portal, Dillon informed UCLA of his withdrawal and announced his commitment to OU. Since arriving in Norman, he has prioritized communion with his new teammates via meals and retreats, all with the goal of creating enhanced onfield chemistry come the Sooners' Sept. 3 season opener against the University of Texas at El Paso, for which around 20 family members will arrive to support Dillon in his first start.
That support system is the main reason Dillon remains calm, cool and collected, and his upbringing on the island is the essence of his strong relationships and love for people. He delights in simplicity, which is why, summer temperatures aside, he has compared Norman to Mililani and found OU to be the home he was searching for.
"That's Dillon," Dori said. "He just has this vision. He wants to connect with people and he loves very deeply. And I think that's why it was so hard for him making transitions and going into the portal, because he loved the players, but the fit just wasn't there. So wherever he goes, he likes to create that chemistry, instill that love and he's doing it there too."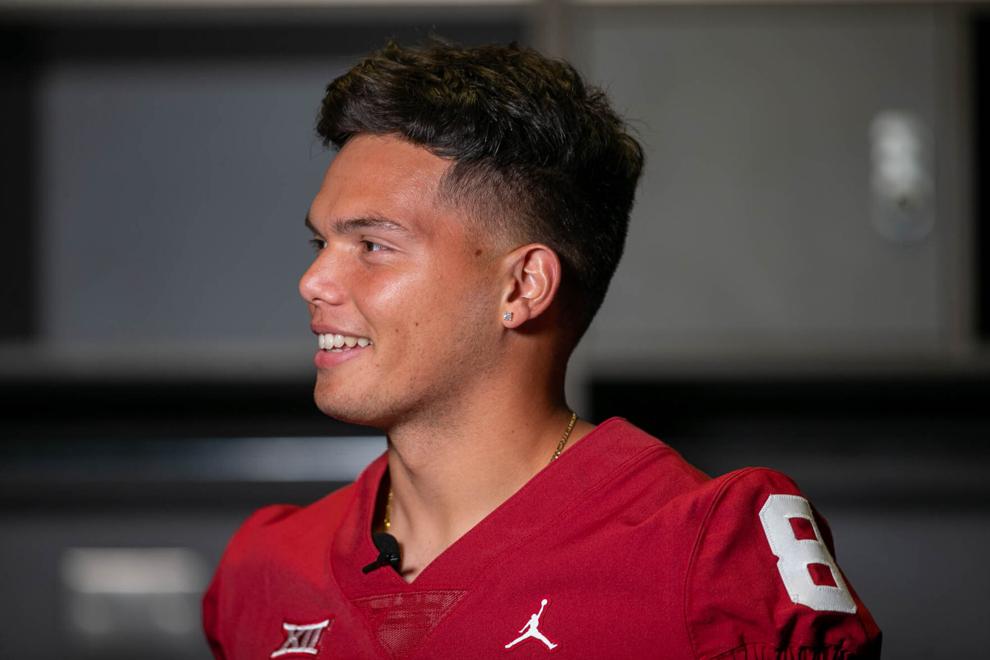 Family first 
---
The Gabriels have been planted in Mililani for over 20 years, and Dillon's aunt, Dori's twin, lives a street over, while Mililani High and its football field are less than a 10-minute walk. The Gabriels do everything together, from trips to the grocery store to Sunday barbecues after church.
Each member of Dillon's immediate family has played a different role in his life. Garrett was Dillon's quarterback coach and pushed his son hard early on, understanding Dillon's dedication to greatness. He was dad at home and coach on the field, knowing when to separate the two, Dillon says. He gradually eased his coaching as Dillon matured, but he's still often sought as wise counsel.
Garrett, who left the Rainbow Warriors as their career and single-season passing yards leader, didn't change much of Dillon's fluid throwing motion in his youth, but he prioritized foundational practices, like footwork and reading defenses. When Dillon was around 12, his Manoa Paniolos qualified for a national playoff at ESPN's Wide World of Sports in Orlando. It was then that Garrett took stock of the competition around Dillon and told Dori: "Our boy can play." Just a few years later, his son would be back in Florida beginning his college career.
"The biggest thing was, he had the leadership ability," Garrett said. "He was so different than I was, in terms of he was a way better quarterback, way better leader. I was a quiet leader. Guys are constantly just flocking to him. I knew from that age that he had that, which was the biggest trait you need as a quarterback, rallying the people, rallying the team."
Dillon considers himself a "mama's boy," and he and Dori are a lot alike. Dori, a former college softball player, is often teased in her house of boys about her football knowledge, specifically by her youngest son, Roman, who is Dillon's biggest fan and knows every OU player's name, number and position.
However, Dillon particularly admires Dori's ability to quell the football talk that surfaces at a dinner table of competitive athletes and redirect the conversation to life beyond the field. Instead of discussing play calls or offensive installations, the Gabriels go around the table and say what they're thankful for.
"I love her so much and we always joke around, we always butt heads because we're so alike, but we love each other," Dillon said. "And she just knows how to play that mother role in terms of, when football is too much, 'Hey, let's just go do this.' She knows how to not be all about football. And just having her, I think, is a great balance."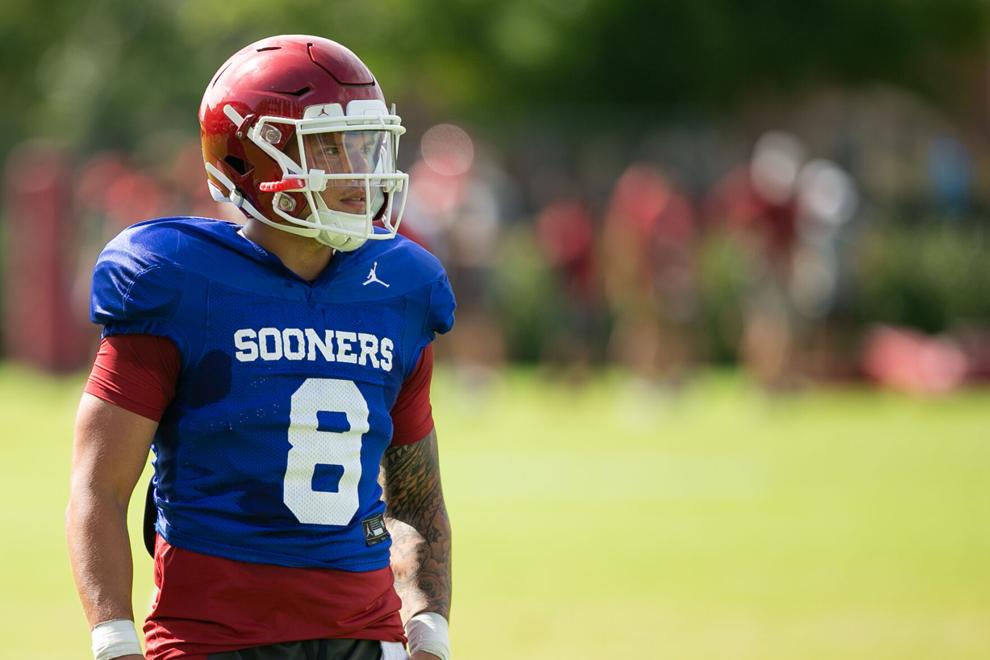 Roman, a 6-foot-3 sophomore, plays for Garrett on the Mililani High basketball team. Though Dori and Dillon both attest Roman used to take a beating from his older brothers, Roman contends he's better than Dillon at one-on-one, mini hoops and video games. But he looks up to Dillon as a role model, and though he chose to be a combo guard instead of a wide receiver, he tries to emulate Dillon's leadership on the court.
And then there's the oldest Gabriel brother, Garrison, who Dillon considers his best friend. After two years of college in California, Garrison moved back to Hawaii to watch Dillon's senior year of high school, then to Orlando for three seasons at UCF. Garrison now lives in Norman, where he manages his brother's business affairs during the season and owns 50 percent of "DG the Brand" — Dillon's clothing line named with the play on words "Dedicated to Greatness."
Dillon's circle is bigger than family, though. During summers on the island, he and a few close friends made the Mililani field or a local park their playground for relaxed throwing. Then they'd come back to the Gabriel house, lift in the garage gym Dillon built, shower, then nap or relax in the living room before heading to practice or the beach. As hard as Dillon works, he believes relaxing afterward is equally important.
The Gabriels would sometimes feed the Mililani football team after games, and that's not the only time their backyard cookouts extend beyond blood relatives. Garrett describes friends as "Hanai family," the idea in Hawaiian culture that people are welcomed into a gathering and incorporated like they've always been there.
In 2019, Dillon persuaded Garrett to start training his Mililani High basketball players in the garage. For two hours, three to four days a week, Dillon worked out with the younger Trojans while demanding they wear the matching tank tops he purchased. Even kids who didn't make the team at Mililani showed up to lift, inspired by Dillon to increase their chances of a roster spot.
When home from college, Dillon sometimes rides the end of the bench like he's an assistant coach. Over time, his presence helped create the chemistry that spurred Garrett, Roman and the team to the state championship game during their 2021-22 season.
"He was there to push us and give us energy," Roman said of Dillon. "He was just important to have there. Because if a college athlete was doing it, why can't we do it, and why can't we win big games? And I thought that period of time when he was pushing us to do weightlifting just started us and gave us a plan for our state championship run."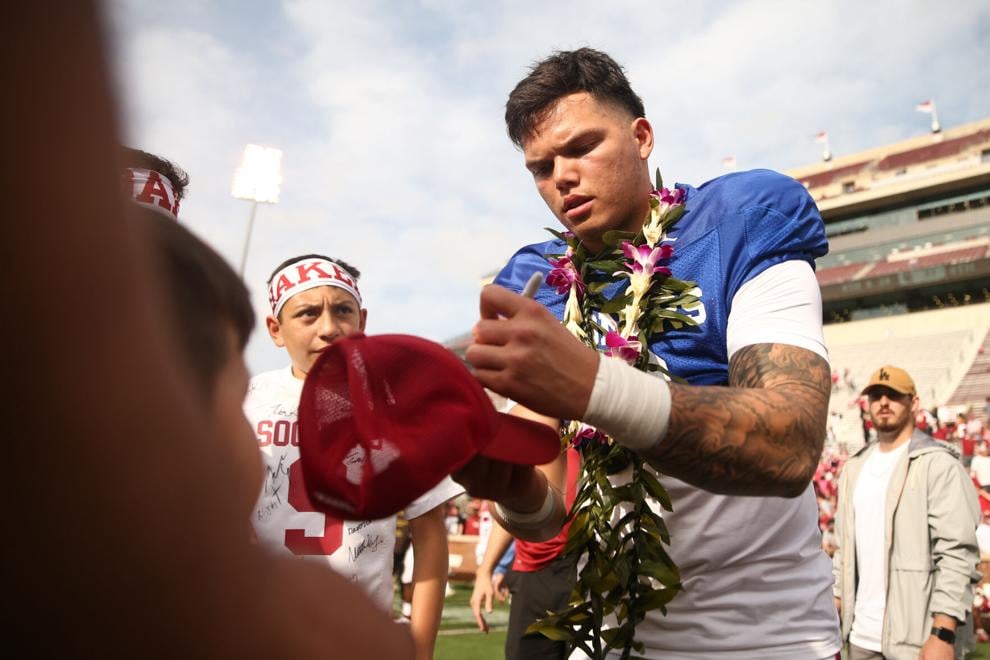 Inspiring others
---
Dillon's care for those he bonds with beyond immediate family shone in full at a garage sale one afternoon, when he was checking out a pair of $10 used cleats and told Dori he wanted to buy them, despite them not being his size. They were for a Mililani High teammate who didn't have game shoes.
"He wanted everybody to feel the way he felt, which is prepared," Dori said. "It made him sad to see that others may not have as much as he had. I love that because, as a mom, especially raising him Catholic, it's not about you. It's about others, right? … He's very much into, if you feel good, you're gonna play well, because it's natural. You're not worrying about anything, you're prepared, you have the equipment you need, you can go do a great job on the field or on the court."
Dillon's investment in Mililani High has only run deeper since he chose it years ago. For middle school, he attended the elite Punahou School, a private college prep academy in Honolulu. But enrollment was costly and the commute cut into the family time the Gabriels covet. There was also a spirit of individualism there that superseded the team, counter to the Gabriel family values.
One night at the dinner table, where most of the family's important conversations occur, Dillon proposed that he leave Punahou and attend Mililani for high school. Though he'd have fewer offensive weapons, he'd developed rapport with other kids from the area through an offseason community league that gave him faith in what they could accomplish together. Looking back, Dori says it's the best decision the Gabriels have made.
"I think that triggered a bunch of positive things in our life that we didn't know about," Garrett added. "The time that we saved and the time that we spent together as a family was so much more rewarding than we'd ever thought. We got to eat together, we got to talk together, didn't have to wake up early, the brothers got to interact more.
"At that time, I think God just blessed us. That's all we needed to realize: that we can play at this prestigious high school, but that (it) wasn't all what it was cracked up to be. He showed us that this is what's more important, the time you spend together."
At Mililani, Dillon was inspired by Fred Murphy, the school's principal, who championed a fierce work ethic and care for extracurriculars. He was mentored by football coach Rod York, who believed in him like Lebby would come to. As a freshman, Dillon was first the understudy to McKenzie Milton, before replacing him after an injury. He quickly learned to lead older players, despite his youth, until a shoulder injury ended his season, too.
By the end of his time at Mililani, Gabriel surpassed current Hawaii coach Timmy Chang and Miami Dolphins quarterback Tua Tagovailoa as the state's all-time high school passing leader. Meanwhile, Milton went on to UCF, where he led a Golden Knights revolution while marketing his former backup to the coaching staff.
When Lebby returned to Orlando from his journey through the Gabriels' ravine, the buzz around Central Florida's recruitment of Dillon was that he desired more than anything to win.
With Milton injured to begin the 2019 season, Dillon emerged as the Golden Knights' starter in their second game and never gave back the job, again showing a knack for relating to older teammates. His family went from thinking he would redshirt and planning to attend one game to purchasing season tickets.
At the time, Steven Smith was the Golden Knights' director of player development, having come to Orlando thanks to Lebby, who he'd met and coached with at Southeastern University in 2017.
Smith hit it off with Dillon when they met, but his personal belief in the young quarterback was solidified when they crossed paths in the halls of the UCF facilities one day. Dillon was excited to be in Orlando, chasing his dreams and soaking up whatever he could learn from others, including trips to Smith's office after practice.
"He always listened to those that were around him to just gain more perspective," Smith said. "That's when I was like, there's something about this young person that I gravitate towards, and I respect."
In October 2020, with the NCAA set to allow athletes to profit from name, image and likeness the next July, Gabriel approached Smith about becoming his agent. Eventually, Smith reevaluated his place in college football and liked the idea of being paid to assist and give back to athletes. He left his job with the Golden Knights to work for Dreamfield, a startup NIL company, owned by others from UCF.
Dillon began paying Smith for his assistance in December 2021 and urged him to expand his clientele, not wanting his friend to base his business on one player's longevity. Smith now lives in Norman and works for Malka Sports, an NIL company that also represents OU wide receiver Jalil Farooq. Gabriel and Farooq recently signed endorsement deals with EvoShield and filmed promotions for the athletic wear company at Norman Public Schools' Harve Collins Stadium.
With his platform, Dillon has always wanted to repay the school that shaped him and inspire others to do the same. He contacted Murphy and, after learning Mililani High had no athletic apparel sponsorships, asked if he could pursue one on the school's behalf.
Receiving their approval, Dillon and Smith collaborated with BSN Sports to create a Nike deal that would start with the Trojans' basketball team and expand to other sports in the future. On May 13, Gabriel unveiled the five-year partnership at a ceremony inside Mililani's gym. His father's team is receiving new home, away and alternate jerseys, plus shoes, backpacks and pregame sweats for the upcoming season.
"We had more than enough, but Coach Venables kind of changed my thinking of 'best is the standard,'" Dillon said, quoting one of the OU coach's most prevalent mantras, which led Venables to purchase tailored suits for the entire roster this spring. "If we're going to work our hardest and put this work in to the best of our ability, shoot, you better have the best treatment. You better have the best. You know what I mean? You better have the best everything because it all plays into what you're going to do on that field or what you're gonna do in life.
"Next year, we have big plans, and I don't want to just do this one year. I'm big on seeing the vision, seeing the long term goal. And shoot, we gotta do this every year and see in 10 years how much we've been able to do."
Dillon's other NIL partnerships — Cuts Clothing, Hawaii-founded Waiakea Volcanic Water and a deal with Bob Moore Auto that netted him a new truck, among them — are intentionally crafted to benefit him both now and later in life. They're authentic to his laid-back style, but they also serve as connections to a number of industries for when Dillon's football career is over. And they provide more opportunities to give back, like when he recently supported Oklahoma Blood Institute drives at area Bob Moore locations.
In mid-June, Dori was checking bank statements when she noticed a pricey Airbnb rental on Dillon's account and called him, thinking he'd been hacked. He was en route to meet the Sooners' skill players for a weekend "DimeTime Retreat" at a ranch in Lawton, building off the dinners he has treated many teammates to.
The group getaway was inspired by the retreats quarterback Russell Wilson organized for his Seattle Seahawks teammates, which included a voyage to Hawaii in 2015. OU's quarterbacks, running backs, receivers and tight ends studied the offense and held throwing sessions, hit the lake, played some golf, pool and Madden NFL, but most importantly to Gabriel, everyone ate together with no phones allowed.
"I just wanted to somehow get everyone to communicate, get everyone to just bond and enjoy each other's company, but just in a natural way," Dillon said. "And I think the best way was putting the phones down, eating meals together and breaking bread. It's the best thing to do when you go out to eat with anyone, and just grub and talk (about your) story.
"That's what we did back home. In Hawaii we would just barbecue in the backyard and chill out there the whole Sunday or the whole weekend, just relaxing with the family or whoever comes over. … And then when we come out here, everything's natural, it's easy. Everyone knows each other's names, everyone's bonded together."
A month later, Dillon treated the offensive line to breakfast at Neighborhood JAM, then took a party bus to a local lake. While social media has heightened the visibility of such activities, it wasn't done for show.
Dillon understood time wasn't on his side and that the Sooners had a long, steep journey ahead of them. With the season nearing, he took the most precise route to establishing relationships that will be crucial to team success.
"Sometimes I laugh, because I think people look at that and go, 'Oh, I wonder if he's doing that (because) he's the new guy," Garrett said. "I get a kick because I feel like he's not going out of character at all. That's just who he is. And I always tell him, 'Hey, you be yourself, regardless of what people think. Your job is to lead and whoever follows you will jump on board. And we can't worry about those that don't jump on board.
"We just gotta take the guys who want it and lead them. And that's always been my line to him. You don't get everybody, but you will get the ones that count, the ones that want to be successful."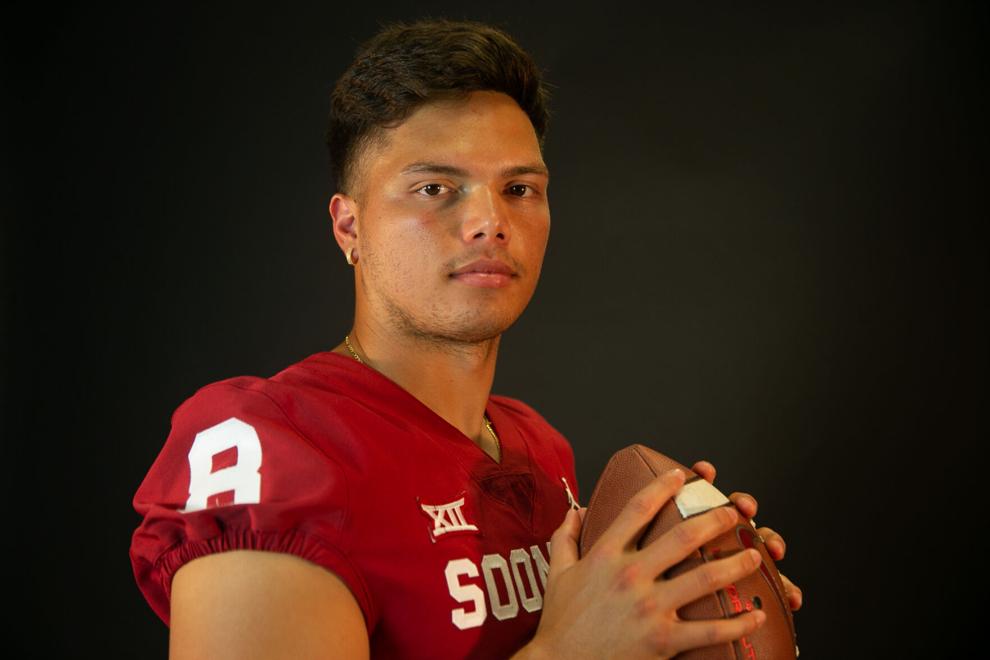 Everyone cares
---
When Dillon made his official visit to Oklahoma in January with family in tow, someone said "welcome home," as the Gabriels strolled through the Barry Switzer Center.
Star OU softball slugger Jocelyn Alo, a Hauula, Hawaii, native, was among those who welcomed Dillon, inviting him and Hawaii transfer defensive end Jonah La'ulu over for a dinner of chicken katsu curry and rice. Alo's alma mater isn't far from Mililani High, and she played against one of Dillon's cousins growing up.
In March, Alo was just shy of breaking the NCAA career home run record during an OU road trip to Hawaii. Dori wanted to meet her, so she attended two of the four games at Rainbow Wahine Softball Stadium. All the while, she was astounded by countless Oklahoma fans who weren't player relatives but nonetheless journeyed to support Alo and the Sooners.
At the second game, a woman Dori had met the day before approached her with handmade Native American earrings. Dori got goosebumps as the lady presented the gift in her native tongue.
"She said, 'We are so happy that your son is in Norman, and I want to give you this because I want to bless you,'" Dori recalled. "I thought that was so awesome. We're not even in Norman, she didn't know me until the day before, and then she's presenting me with this gift. And that's very much what we're like here in Hawaii, too. We want people to feel a type of way, and I got that from this woman. I thought, 'OK, this just confirms everything.'
"It's so (Dillon), all this — this experience, this journey. I sit back and I think, 'Wow, how did this all happen?' But of course it would happen this way. He needed to find a family to be a part of, because that's important to him, so OU was kind of like his Mililani. … It is home, and he sees it that way now. He's happy, and as a mom, that's all that I can ask for is for him to feel safe, to feel loved and valued. He's going to thrive."
Affirmation of Dillon's decision has only increased since through events his family typically didn't encounter in sprawling Orlando. When Dori ordered birthday flowers for Dillon's girlfriend, the local florist quickly realized who they were serving. The maintenance man at Dillon's apartment and a local insurance agent who's an OU alumnus have become fast friends.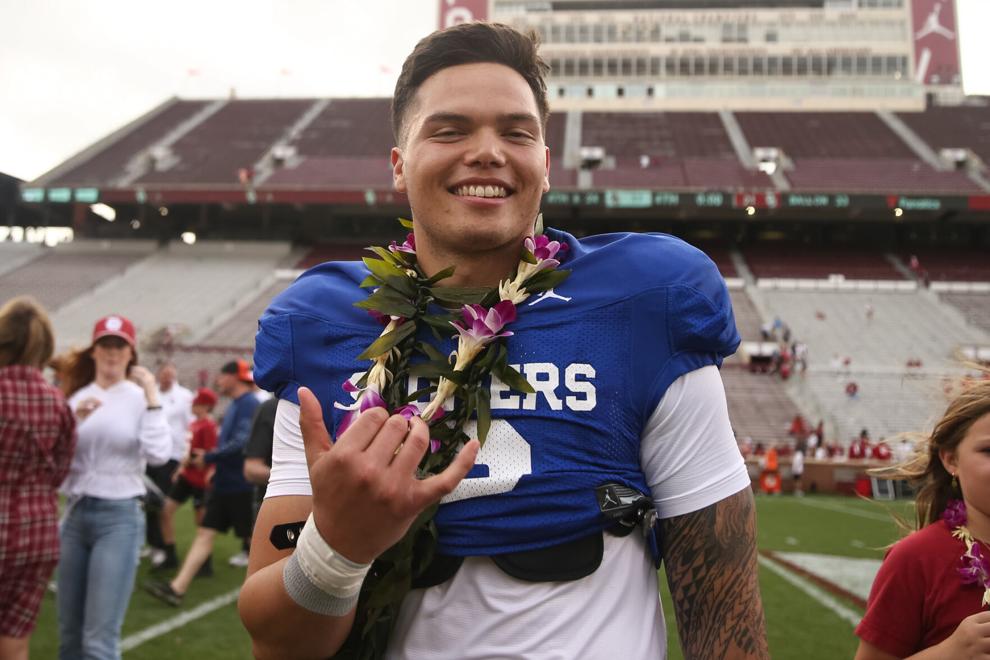 The Gabriels were 30 strong at the spring game but still dwarfed by the 75,360 in attendance to christen the Venables era and immortalize former Heisman Trophy winner Baker Mayfield. After giving Roman a postgame tour of the Sooners' locker room, Dillon answered a question about potentially winning the Heisman himself, confirming just how high the bar is at Oklahoma, even in the offseason.
While Dillon was always the first player in the building at UCF, OU teammates sometimes beat him to the football facilities in the morning. At a historic institution laden with football success, players are naturally more committed to investing the time and work necessary to play at a higher level.
Dillon also senses "a greater care" among staff members like Venables and Jerry Schmidt who've returned to Oklahoma for a second stint. He sees it in Lebby, DeMarco Murray, Joe Jon Finley, Jon Cooper and Phil Loadholt, among other previous Sooner players who came back to coach the next generation. Their nostalgic return after Lincoln Riley and Williams bailed for Southern California, Dori says, had fans "feeling some type of way."
The familial atmosphere at OU is comparable to the Hanai common-cause spirit of the islands, which turned Dillon and Lebby's initial trek through the gulch into a lasting relationship. Though the duo has been separated at times since, they're back like they never left now, continuing their journey together as part of a larger family in a place that feels like home.
"There's just so many people that care about this program on another level that I think it naturally brings the family atmosphere to this place," Dillon said of OU. "These coaches once were here and went to school here, played here. Everyone in the building, knowing that you got those guys that really care about you, I think it elevates us to another level when it comes to putting out a product that we want on the field.
"People go that extra mile to go do something. … They all want to be a part of something special. And that's when I really knew this place is different, in a great way. And I can say that, because I've seen different programs, and I was at a different program. I have had experience in different places.
"So I understand this place isn't normal, in a good way."