Gathered with teammates in the theater room of OU's Headington Hall, senior infielder Taylon Snow wasn't sure what she was getting into. 
It was a preseason movie night for the Sooners. One of the many activities the team holds to strengthen its sisterly bond, Snow and company sat in preparation for that night's screening.
The night's selection was one that Snow and several others had not seen before or chosen. Instead, it was one hand-picked by head coach Patty Gasso, whose use of team-building exercises has made OU a national power. Recalling how a former team of hers rallied behind the movie, she selected Ridley Scott's "Gladiator" — a film Gasso thought everyone in the world had seen by now. 
Realizing that was untrue, Gasso readied the two-decade-old film. "Gladiator," starring Russell Crowe in its lead role, tells the story of a general out for vengeance who's forced to become a common gladiator in ancient Rome. Gasso wanted her players — fresh off a canceled 2020 season that saw OU uncharacteristically drop four of its first 20 games — to experience the film for themselves, so she left the room shortly after pressing play. 
The Sooners, Gasso recalls, loved it from start to finish. So much so that OU subsequently adopted various "Gladiator" celebrations and mottoes for this season, in which they are 48-2 and host Washington in an NCAA Super Regional in Norman on Friday. Whether it's a runner sprinkling dirt from their hands after a base hit or the team's Twitter account asking if fans are entertained after wins, the film's message has taken root within and roused the program.
𝐁𝐫𝐢𝐧𝐠 𝐲𝐨𝐮𝐫 𝐚𝐫𝐦𝐨𝐫 ⚔️ #ChampionshipMindset pic.twitter.com/jTDgPBu74Q

— Oklahoma Softball (@OU_Softball) May 26, 2021
"Just seeing the strength and determination that those gladiators had to have, that's what you want to surround yourself with," said Snow, a 5-foot-5 senior infielder from Chino Hills, California, known on the team as "Neeners" for her friendly personality. "And we're lucky to have this many people on our team that have that mentality and want to go out, compete and grind and get a job done."
However, this wasn't the first Gasso team to screen the motivational classic. Oklahoma won its first national championship in 2000, the same year the Academy Award-winning film was released. While that team was in Oklahoma City for the Big 12 Tournament, Gasso took her players to Penn Square Mall on an off day. That's where Gasso and crew watched "Gladiator" for the first time, and just like how this year's Sooners responded, the 2000 team left the theater ready to win.
Gasso, who has been coaching at OU since 1995, has a gift for helping each year's team become its best self. Months after the team movie night, freshman pitcher Nicole May said she and her teammates still watch clips of the film as motivation. It's typical for teams to institute certain themes each season, May said, and "Gladiator" felt relatable for Oklahoma, as it sought vengeance after a down year.
And the theme fit perfectly. In OU's first game, Feb. 11, the Sooners set an NCAA single-game record with 13 home runs en route to a 29-0 run-rule victory over UTEP. Those 29 runs rank second in program history, trailing only a 35-1 win over Arkansas-Pine Bluff in 2014. 
But OU was just getting started.
'Winning the crowd'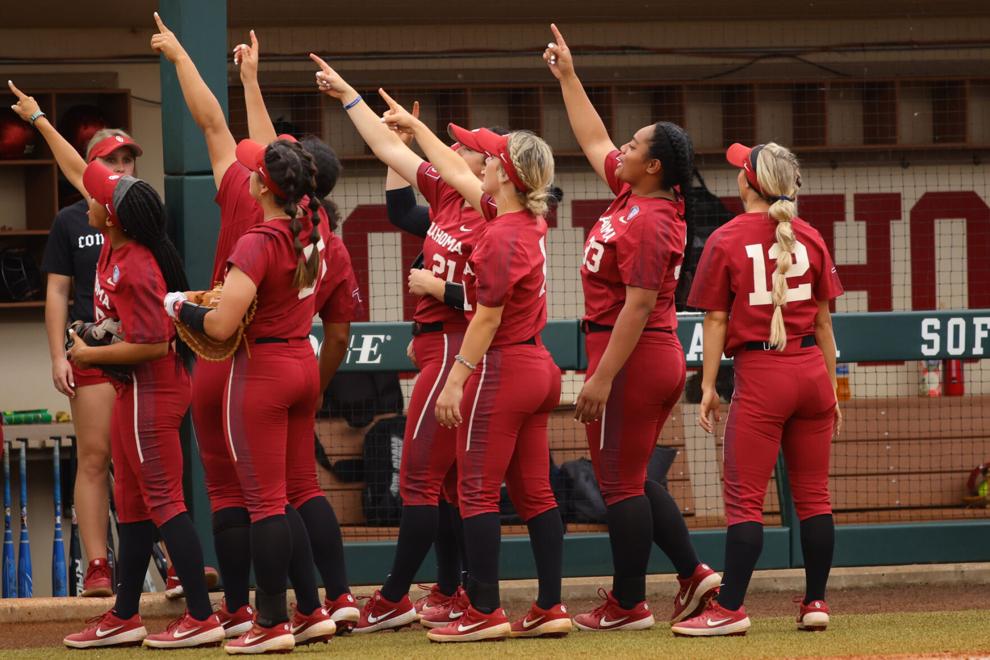 Andrea Martensen wasn't sure if she knew who Russell Crowe was. 
Martensen, formerly Andrea Davis, was an infielder for Oklahoma in 2000. Martensen said the Sooners were just looking for something to do when they arrived at Penn Square, and that was when Gasso decided the team should watch the box office hit.
Martensen had no clue the impact that decision would have. Not only did "Gladiator" light a fire in the Sooners on the field, but the film is also now a family favorite of the Martensens, who live in Reno, Nevada.
"It really tied into our whole mindset going into each game," said Martensen, who won Big 12 Newcomer of the Year in 2000. "Whenever I hear the music or hear Russell Crowe's voice or listen to anything from that movie, it just takes me right back."
Though Oklahoma didn't win the Big 12 Tournament, the 2000 Sooners entered regional play knowing they'd have an advantage no other team would — a home crowd. A lesson Crowe's character learns in "Gladiator" is that winning over a crowd is pivotal to winning a battle. After Oklahoma knocked off Harvard and Cal State Northridge in the Norman Regional's first two games, Gasso reiterated that lesson to the team as it prepared for Oregon State in the regional final.
The Sooners took Gasso's words to heart — maybe more than she expected. As OU found itself in a scoreless tie early against the Beavers in the series' second game, shortstop Kelli Braitsch watched the Sooner offense from the dugout. Braitsch felt her team was in need of a spark, and she had an idea.
As Oregon State took a timeout, Braitsch burst onto the field and began pumping up the crowd. A loud stadium is one of Braitsch's favorite aspects of softball, she said, and she thought it was the perfect time to create one.
Braitsch's gesturing brought the Norman crowd alive. She returned to the dugout but was met with a stern look from Gasso, who immediately asked what Braitsch was doing.
"I go, 'Winning the crowd, coach, like in the movie!'" said Braitsch, now a police officer in Tulsa. "And she just rolled her eyes. I know she thought to herself, 'Well, I did tell you to do that. ... I guess I can't yell at you.' I'm assuming she probably thought it was, you know, cocky or arrogant, which was totally fine with me because it worked."
OU went on to defeat the Beavers, 3-2, to advance to the WCWS. Though Braitsch's crowd rallying tactic was rare for her playing days, the opposite is true for the Sooners today. Now, Oklahoma takes every chance it can take to bring a home crowd to its feet. In the middle of innings or during timeouts, OU players spread out and start interacting with fans, just like how Braitsch did. 
This was on display during Oklahoma's first game in front of a capacity crowd at Marita Hynes Field on May 21 after playing its previous 17 home games at 25 percent capacity.
There, the Sooners run-ruled Morgan State, 19-0, in five innings behind an NCAA postseason-record eight doubles and a program-record seven RBIs from redshirt senior utility Nicole Mendes. Yet, Gasso credited the Oklahoma crowd for her team's strong play.
"What a great atmosphere," Gasso said after the Norman Regional opener. "That was the biggest thing — just seeing our fans and seeing them engaged with what we were doing. I think it really put a charge in our team."
That fiery, "Are you not entertained?" charge has been an undercurrent to the season, in which the Sooners' two losses of the year were each avenged in the immediate games afterward, meaning OU has defeated every team on its schedule. The Sooners play similarly to how Crowe's Maximus Decimus Meridius fought — vanquishing anyone in the way.
If it conquers the Huskies this weekend, Oklahoma would advance to its fifth straight and 14th overall appearance in the Women's College World Series. The Sooners have won the tournament, hosted at USA Hall of Fame Stadium less than 30 miles from Marita Hynes Field, four times in program history, all under Gasso's reign. 
Gasso's 2021 squad, which leads the county in batting average (.424) and home runs (142) and is the No. 1 seed for the NCAA tournament, has a serious chance at bringing home a fifth national championship. Braitsch commends this year's Sooner squad on its ability to win games and win over crowds. She believes that skill is needed in today's game, and she loves to see her alma mater take advantage of it.
"The game of softball has changed," Braitsch said. "(These) players, they're on Twitter, they're on Instagram, they're on Facebook. … They're constantly in the social media aspect. The fans, now, want that interaction with the girls. They want to feel like, 'Hey, that's one of my kids.' … So, I love this team and how it handles that."
'We stick together, we survive'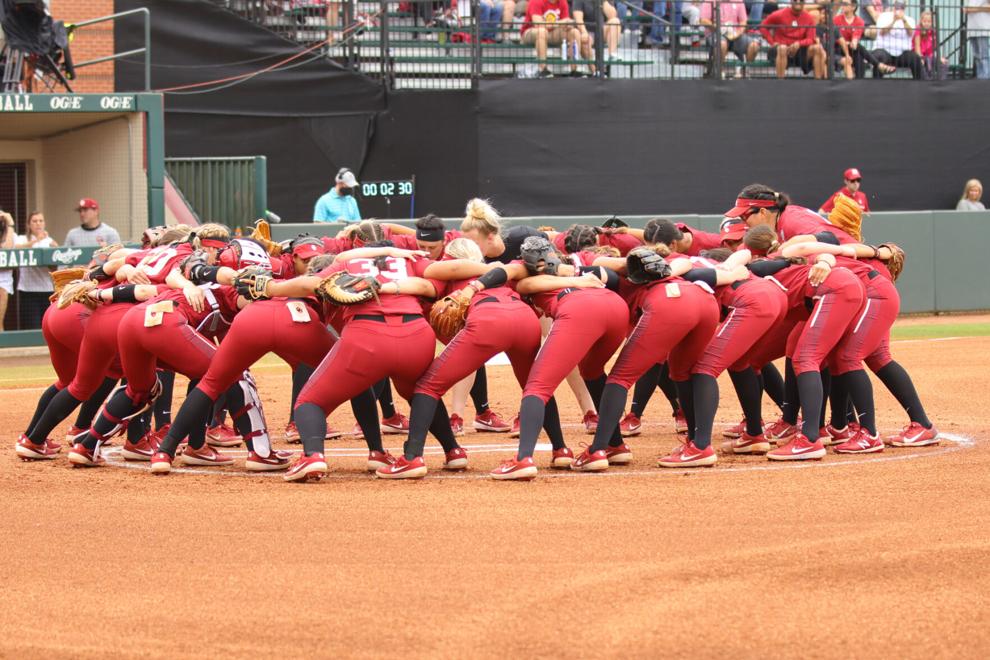 One week after Braitsch erupted from the Sooners' dugout all those years ago, when OU was preparing for UCLA in the Women's College World Series championship game, Lisa Carey-Martin remembers feeling like she was putting on armor.
Though she wasn't strapping on a chest plate or picking up a shield, Carey-Martin, the 2000 Big 12 Player of the Year and a first-team All-American, wasn't the only one feeling like she was heading into battle.
Just about everyone in the room did, too, Carey-Martin recalls. Noticing this, Gasso took another moment to reiterate a "Gladiator" lesson. Like the film's gladiators form a circle during bouts, Gasso's teams ring the pitching circle before each game, the then-fifth-year head coach preached togetherness to the Sooners. She wanted OU to have each others backs, no matter what.
More ready to take the field than ever, OU lined up in single file with Gasso at the helm. The Sooners marched into USA Hall of Fame Stadium, directly in front of the Bruins warming up. Carey-Martin said that moment set the tone for the day.
Carey-Martin put the Sooners on the board with a deep two-run homer to left field in the top of the third inning. A single from Braitsch brought in another run to put OU up 3-0 early on. From there, stout defensive play from Oklahoma held UCLA to one run on seven hits the rest of the way. 
The 3-1 win gave OU its first program national title since Sooner baseball won the College World Series in 1994. It was also the first national championship won in any sport under OU Athletics Director Joe Castiglione. OU football followed months later with a national title win of its own, being the second of the 19 national titles Castiglione has overseen in his tenure.
"We stick together, we survive," Carey-Martin said. "That's what was said in the movie, and that's what we were trying to do. … We were ready to kick some butt. It's really cool seeing ("Gladiator") motivating this team again."
The 2000 team's ability to pick itself up and play with raw emotion is a trait Carey-Martin believes the 2021 team shares. She distinguishes that as a key reason for the Sooners' success this season and believes that's a direct result of Gasso's tutelage. Carey-Martin, who now coaches softball clinics in Kansas, said team chemistry was near the top of Gasso's coaching points during her playing career, and she's sure that is still true today.
She's not the only one who sees similarities between the two Oklahoma teams. Mainly, the unbridled love of the game that the Sooners have today stands out to Braitsch. Specifically, when she watches OU's younger players — like freshman utility player Jayda Coleman, one of Braitsch's favorites — come into a game and play as if they're fighting for their lives, it reminds her of her team's title run.
"The 2013, '16 and '17 championship-winning (Oklahoma) teams had great softball players, but they didn't have that aggressive passion that I see in the team this year," Braitsch said. "It's just something different. Like they have something to prove. … I love that they have that gritty, scrappy, aggressive passion as we did in 2000. … They're selfless. These kids don't care who's in there, who's playing (well) they want to win. You can see that throughout this team."
'Go out and dominate'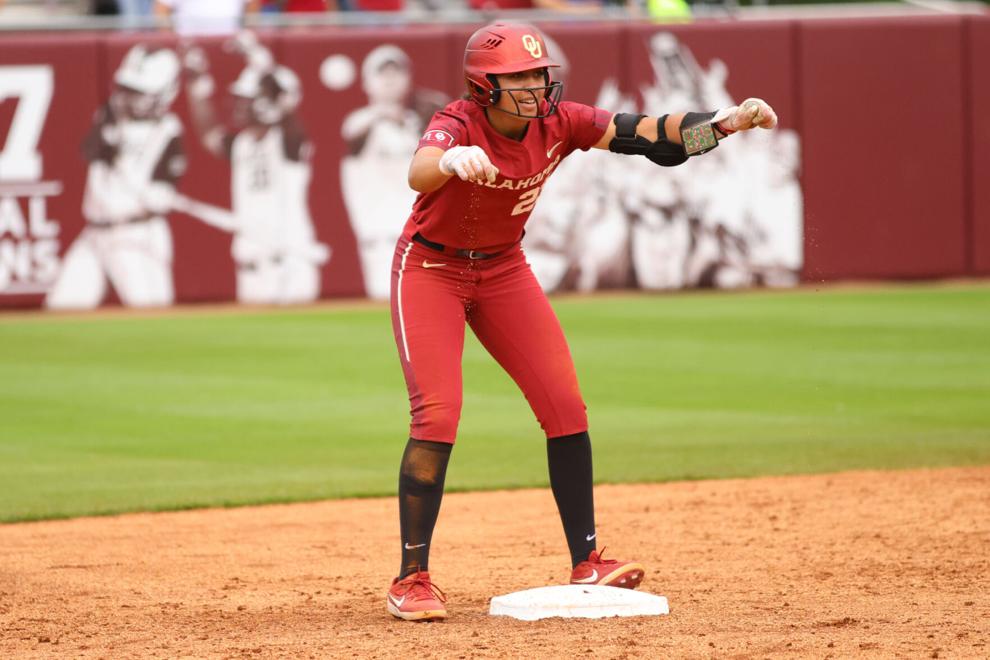 Through 50 games this season, OU has run-ruled 33 opponents. Statistics like that made the Sooners the No. 1 overall seed for the NCAA Tournament. However, Gasso didn't believe Oklahoma deserved it.
After all, the Sooners' strength of schedule ranks 50th in the country per ESPN, and OU is fourth in the NCAA's rating performance index after the Big 12 Tournament, trailing a top three of UCLA, Alabama and Florida. Those teams still remain alive in the NCAA Tournament entering this weekend, and it's likely Oklahoma will square off against at least one of them if the Sooners make the WCWS. 
Gasso's belief was shared by many on her team, including senior utility and Big 12 Player of the Year Jocelyn Alo, who said she thought OU should be a No. 3 or No. 4 seed. That mindset has given Oklahoma an underdog mentality this postseason, even though its doubters are few and far between.
Davis-Martensen believes such a chip on one's shoulder is needed for championship runs.
"Obviously when we made it, that was kind of a surprise to everybody," Davis-Martensen said. "As a group, we kind of expected it. We felt overlooked, and we had not been given much respect in regards to making it that far, let alone winning it. … I think these girls have prepared well enough mentally that, as long as they can stay present, stay in the moment and not let anything get too big, they'll be fine. 
"They're playing excellent right now, and it really comes down to who is peaking at the right time and just firing on all cylinders. I think they're doing that."
Now, just as in "Gladiator," the Sooners are battle-ready going into their final few bouts. How this story ends is to be determined, but if it's anything like Oklahoma's 2000 run, it'll make for a classic finish.
"What is it like to go into a full stadium and be an underdog?" Snow said. "You can either melt or you can take a bull by the horns and literally just go out and dominate. And that's what (the gladiators) did. They had each other's backs. 
"And that's what it feels like when we step onto this field."