OKLAHOMA CITY – As the smallest Sooner rounded second base, she let out a monstrous scream toward the OU dugout and pumped her fists. She crossed third base and high-fived OU head coach Patty Gasso. Then, she strutted toward home plate.
Sixty feet later, Mackenzie Donihoo — the pride of Mustang, a tiny town 24 miles from USA Softball Hall of Fame Stadium and the Women's College World Series — emphatically stomped home plate. 
Lou was 𝐦𝐚𝐤𝐢𝐧' 𝐢𝐭 𝐫𝐚𝐢𝐧 earlier. See what we did there? 😉@kkenzienncole | #ChampionshipMindset pic.twitter.com/KSzhcNONah

— Oklahoma Softball (@OU_Softball) June 5, 2021
Despite standing just 5-foot-3 and batting in the Sooners' seven-hole, Donihoo had just ripped a two-run home run — swinging so hard it almost ripped her helmet off her head — to left field as OU faced elimination against Georgia on Saturday. 
💣 𝐃𝐨𝐮𝐛𝐥𝐞 the Donihoo. 𝐃𝐨𝐮𝐛𝐥𝐞 the fun. 💣@kkenzienncole | #ChampionshipMindset pic.twitter.com/X911GzTM68

— Oklahoma Softball (@OU_Softball) June 6, 2021
Then, against UCLA later that night, Donihoo took two-time player of the year Rachel Garcia deep for another home run in the bottom of the fifth. The Bruins relieved Garcia with redshirt junior Holly Azevedo in the sixth, but it didn't matter. Donihoo homered off her, too, also to left field. 
Each time, Donihoo stomped home plate with a ferocity bigger than her frame. 
As she's done her entire life, Donihoo defied the odds. This week, Donihoo is doing that on her biggest stage yet, living out her dream at the Women's College World Series with on Saturday alone, a 5-for-7 showing, three total home runs and five RBIs. 
The Oklahoma offense needed a spark, and it wasn't player of the year Jocelyn Alo or freshman of the year Tiare Jennings — two of the country's best hitters this season — who had the storybook moment for a team on the brink of elimination. It was Donihoo, who grew up dreaming of playing on this stage in Oklahoma City. 
"She may be small, but her play and everything she does is mighty," Jamie Roberts, Donihoo's high school coach at Mustang told The Daily. "That's what comes to mind when I think of Mackenzie. Yesterday was proof that dynamite comes in small packages. She's always found a way to make things happen."
After the Sooners fell to the loser's bracket following a 4-3 loss to James Madison on Thursday, it was survive-and-advance for the No. 1 seeded team. OU's stumble gave the Dukes their first Women's College World Series win in school history in a game in which OU and its nation-leading offense managed to place only two runners in scoring position. 
But Donihoo wasn't in the lineup for that one. Her mom, Gina Donihoo, told The Daily she'd been in a boot with a swollen ankle after rolling her ankle leading up to Thursday's game, although she was unaware if it played a part in the decision. 
"She just wants to make the most out of any opportunity she gets," Gina said. "She's always told me she's playing for the smaller kids out there and wants to give them motivation to see that your dreams can happen no matter what size you are."
Roberts noticed something special about Donihoo from an early age, when Donihoo earned the Mustang's leadoff spot as a freshman, before leading Mustang to a state championship in 2017.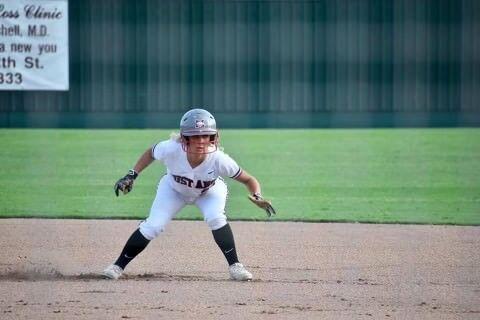 Roberts was wowed, recalling a high school play when Donihoo hit a weak infield ground ball but legged out the throw by sliding headfirst into first base. 
"When she steps between the lines it's like she's a lion on the field," Roberts said. "She's always had that grit and competitive fire that you can't coach or teach."
Donihoo received praise on Twitter from OU football coaches Lincoln Riley and Cale Gundy, former Sooners softball legend Lauren Chamberlain, and had her home run videos shared by NCAA Softball and ESPN. 
Her home-plate stomp that shook the softball world is surprising given the relatively shy persona Donihoo brings in much of her life. 
"When she gets on the field, she turns into a completely different person," Gina said. "She's always been feisty, and that's one of the first comments coach Gasso had ever made about her. She has such a feisty style of play. The excitement of the Women's College World Series and that big of a stage ignited that fire back into her. She's just having the most awesome time of her life."
Roberts added that when you see Donihoo react like that on the field, you know it's "getting real."
Social media and OU fans have given her the nickname "Goneihoo," a play on words for her mighty home runs with her small stature, and ESPN's Holly Rowe asked her about it late Saturday after OU won its second elimination game of the day by sending UCLA home. 
On national television, Donihoo said she appreciated the sentiment of fans but would stick with one that's been with her longer, "Lou," which she's had since childhood. When Donihoo comes to bat, the faithful Sooners in the stands let out a "Louuuuuuuuu!" chant, holding the final vowel for the duration of her walk from the on-deck circle to the batter's box. 
Gina credits the nickname's origin to her aunt's tendency to give her family members silly nicknames. Donihoo, who was "teeny tiny" according to Gina, was then called "Mackenzie Lou." The nickname stayed with Donihoo, to differentiate herself from the many other Mackenzies she played with growing up.
Although Donihoo boasts a batting average of .451 headed into the Sooners' rematch against James Madison on Sunday morning, in which she went 1-for-2 with a run scored, things weren't always easy for the sophomore. She started all 24 games for OU in the shortened 2020 season due to COVID-19 but sported just a .145 batting average. 
"I'm so proud of her and all the work she's put in," said sophomore catcher Kinzie Hansen, Donihoo's roommate. "You don't see a lot of girls that size hitting monster bombs three times a day."
Donihoo had struck out twice facing Garcia before her home run. Knowing Donihoo, Roberts expected her competitive nature was going to burst through after her struggles. 
Now, after the Sooners defeated James Madison 6-3 on Saturday afternoon, they rematch at 6 tonight for the third time since Thursday, this time with a berth in the national championship series on the line.
The Sooners may again need a larger-than-life jolt to make it happen. Seeing her do it repeatedly on Saturday was a moving moment for those closest to her as they watched her live out a moment she's waited for her entire life. 
"It was pure bliss," Roberts said about watching Donihoo's home runs from the stadium bleachers. "I had chills all up-and-down. I might've even cried a little bit. She was dialed in like no athlete I've ever seen before. 
"Yesterday was her day. She reached that pinnacle as a player and I hope that was a small spark that ignited the whole team to win the whole thing."
Editor's note: This article was updated at 12:20 p.m. on June 7 to reflect the proper spelling of Holly Azevedo's surname.