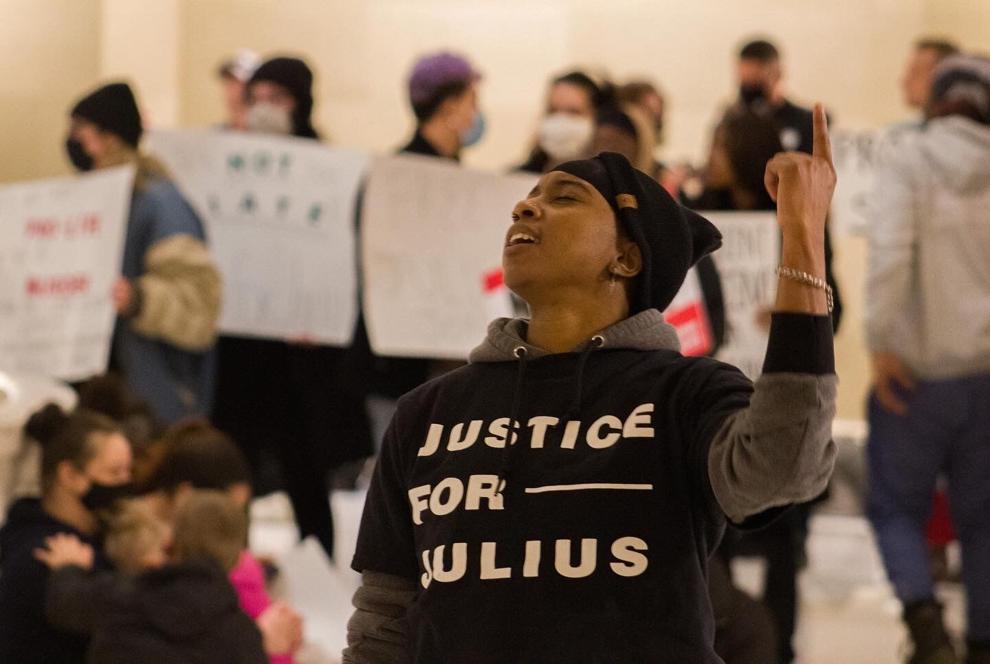 Julius Jones stood shackled in the place he's called home longer than any other, the Oklahoma State Penitentiary, waiting to greet family who had every reason to believe he'd then be three days dead.
Jones was unable to return the embraces of his mother and sister as they entered the visitation room in the McAlester prison. Later, as they sat to talk, he managed to place his tethered arms on the table so the three could hold hands. As they spoke, Jones' sister, Antoinette, remembers leaning her head against his and praying.
This encounter was the first physical contact the family shared since Jones, a former OU student, was placed on death row in 2002 after being convicted of the 1999 killing of Edmond businessman Paul Howell. Following a 22-year battle for Jones' life, Gov. Kevin Stitt commuted his sentence just four hours before his scheduled execution Nov. 18.
Three months later, the spotlight no longer shines on Jones and his case. Social media no longer buzzes with the urgency that made him an international story. Oklahoma has subsequently executed two more inmates, with another slated to die at the state's hand in the coming weeks, but while many have moved on, Jones' family and friends say the fight to bring him justice is far from over.
Reflecting on their conversation, Antoinette said Julius — his life spared, but his freedom denied — was devastated after the announcement. Stitt's decision to not permit the possibility of parole has forced the Justice for Julius movement to try to discern what's next. One step is determining how ironclad Stitt's decision may be.
"A grant of clemency first requires the approval of the board parts," said Robert Dunham, executive director of the Death Penalty Information Center, a national nonprofit in Washington, D.C., founded in 1990 that analyzes issues concerning capital punishment.
"So that, at least on paper, would make it more difficult, if not impossible, for a future governor to unilaterally change the conditions of the grant requirements. There are all sorts of legal arguments you can make, (but) none of them have been tried before. So, this is really uncharted territory."
Many supporters voiced anger toward the timing of the decision due to how long it took Stitt to announce it. The Daily's request for comment from the governor's office in January has gone unanswered.
It all leaves Dunham to believe the reasoning behind the timing may never be publicly known.
"When there are difficult choices and governors are trying hard not to get them wrong, and then they actually have to make a decision, time is forcing him to make a decision and that can contribute to last-minute decisions," Dunham said. "It's also possible that a governor knows what he is going to do but wants to make it as uncomfortable as possible for the death row prisoner. There's no evidence of that here, but that's also certainly possible."
It reinforces a sentiment long held by Jimmy Lawson, Jones' best friend, who remembers sitting in the courtroom in 2002 shocked as the judge announced the sentencing and his father, a preacher, read him a Bible verse.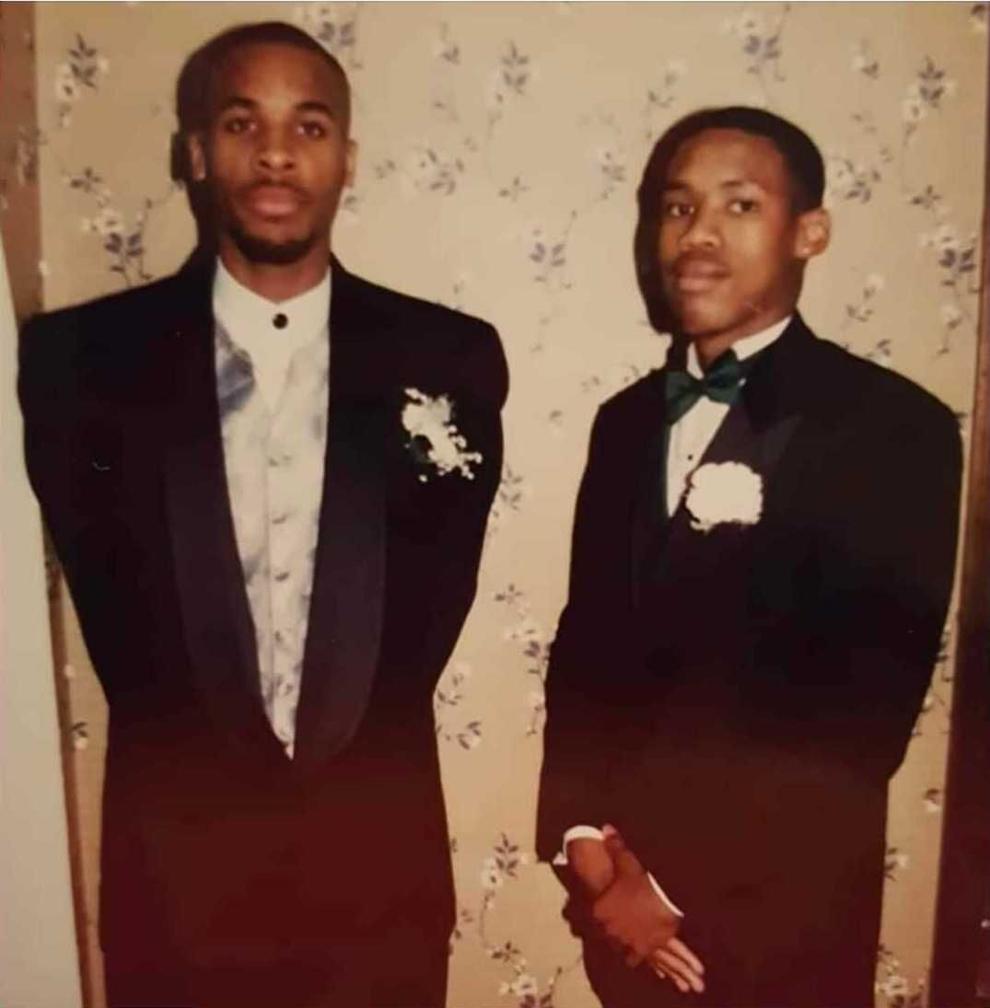 "I remember looking at my dad like, 'Wait a minute again, they gave my boy the death penalty and he's innocent?'" Lawson said. "(My dad) looked at me and said, 'One of the greatest loves of all is when a man can lay his life down for a friend.'
"He says those who can do that can finish the race no matter what the outcome may be, because what he was telling me was, 'This is going to be a dog-fight, son, and it may last for a long time.'"
'He thought he was going to die'
---
Typically, the day before an execution inmates receive their last meal at 6 p.m. and all calls have to be over by 9 p.m. The night before his scheduled execution, Julius called Lawson at 8:45 p.m.
With his wife and kids at the dining room table in Oklahoma City, Lawson put the call on speaker. Lawson describes what unfolded as the toughest conversation of his life.
"In his mind, he thought he was going to die the next day," said Lawson, who became friends with Jones 31 years ago when they were in sixth grade. "But he had enough character and perseverance to pour into my kids. (He said), 'Y'all live your best life. Take this experience and be great. Don't be sad, uncle JJ got y'all. I'll be in heaven. I'll be behind y'all. I'm going to motivate y'all.' So, to hear somebody that was about to die pouring out to somebody else. That's an amazing soul."
The next morning some supporters drove to McAlester with Antoinette and the leaders of Justice for Julius, while others returned to the state Capitol rotunda. Lawson joined Julius' parents and other family at the Jones' home in Oklahoma City.
Chants, prayers and cries filled the air outside of the penitentiary and in the Capitol, all while Lawson and the Jones family silently stared at the clock.
At 12:09 p.m., four hours before his scheduled death, Stitt intervened. Supporters erupted in cheers, some crying and some yelling. But leaders of the movement didn't share the same joy.
"I was in disbelief because I had to prepare my mind for the worst and (the) governor waited to commute the sentence only a few hours before the execution," said The Rev. Cece Jones-Davis, Justice for Julius campaign director. "I was relieved and I was angry. … I was angry that the governor waited until the last minute and let Julius and his family suffer the way that they did. And I was angry that he condemned him to a life sentence without the possibility of parole … I was very angry about all of that. Yet, I was relieved that Julius was still going to live."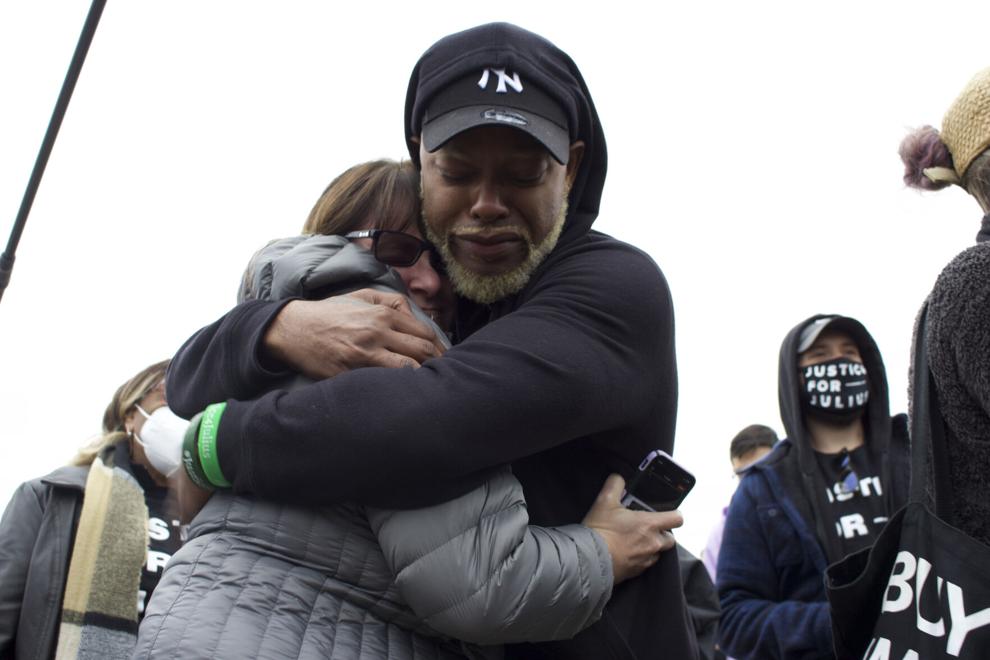 'Painted the picture'
---
In a way, what followed felt like going back to square one.
Antoinette remembers fighting for Jones shortly after his conviction. She spoke with local news outlets, something she said was very difficult to do.
"We didn't have this support. … We'd have people like, 'Yeah, we'll do an interview with you,' but then they'd twist and cut and chop my words, and that was very fresh right in the beginning," Antoinette said. "Talking to people and just realizing that I need to make sure whatever I say (isn't) too harsh because then they'll say, 'See they're all mean and monsters.'
That work came while she was a student at OU, a challenging time in anyone's life, much less someone whose sibling was on death row.
"My mindset just wasn't there," Antoinette said of her college days. "I wasn't excited about a lot of things. I was depressed about things. I was depressed that Julius didn't get to take me to my junior and senior prom, because I was expecting him to be out."
Led by Antoinette and Lawson, the fight for Jones nonetheless emerged and persisted. After 17 years of that work, ABC pitched the idea for a three-hour documentary titled "The Last Defense." Lawson said the documentary — directed by award-winning actor Viola Davis — finally helped them take the movement nationwide.
"When I'm sitting on TV telling them who Julius is, it painted the picture that the community never heard," Lawson said. "Because what they heard in 1999 was Julius is a thug, is a gangbanger, he's a bad kid.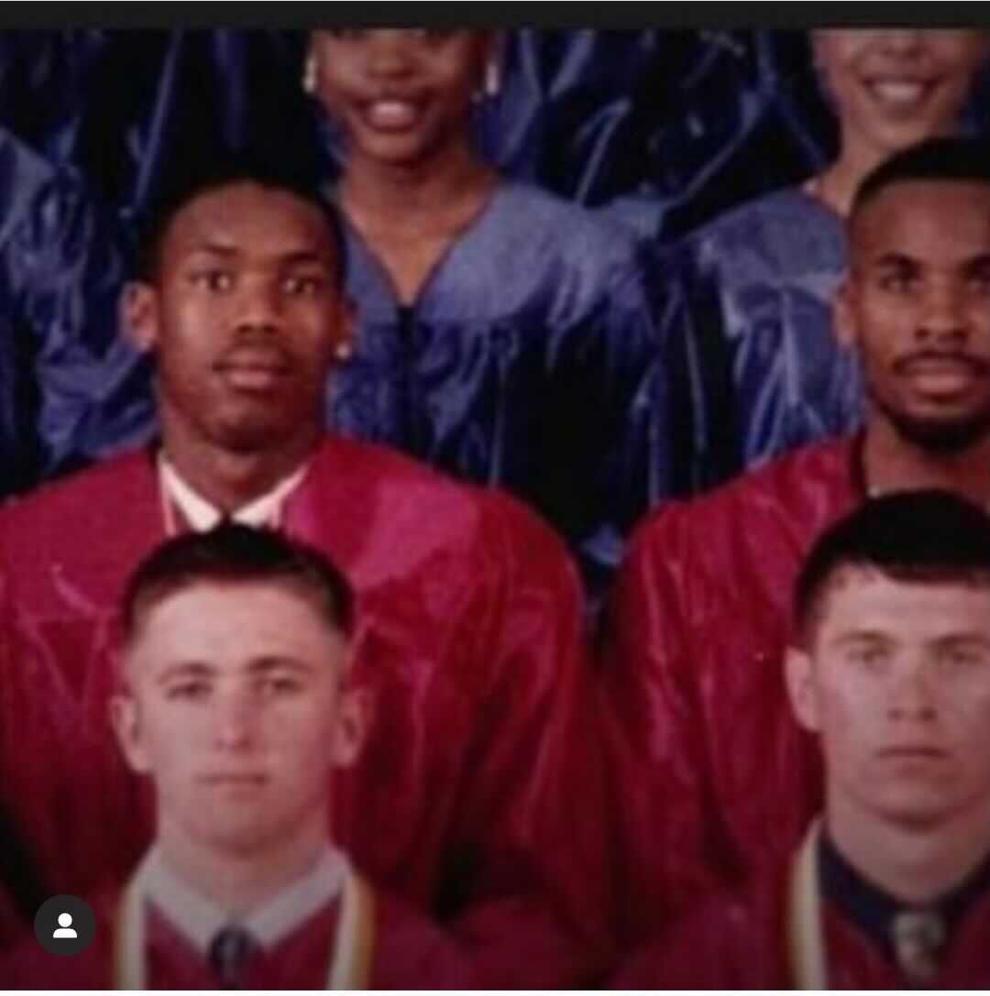 "They didn't say he's got an academic scholarship to OU, he was in the top 10 (percent) of his class. They never mentioned (any) of that. … So that story, that movie for us kicks off the national campaign."
What followed brought attention from celebrities such as Kim Kardashian, Baker Mayfield and Trae Young. It also received 6 million signatures on a petition to free Jones. Lawson remembers planning the first official rally at the state Capitol in August 2018, where roughly 600 people gathered.
Lawson said this was the first time he saw all "walks of life" coming together "on one accord standing for justice."
Many more rallies and events followed.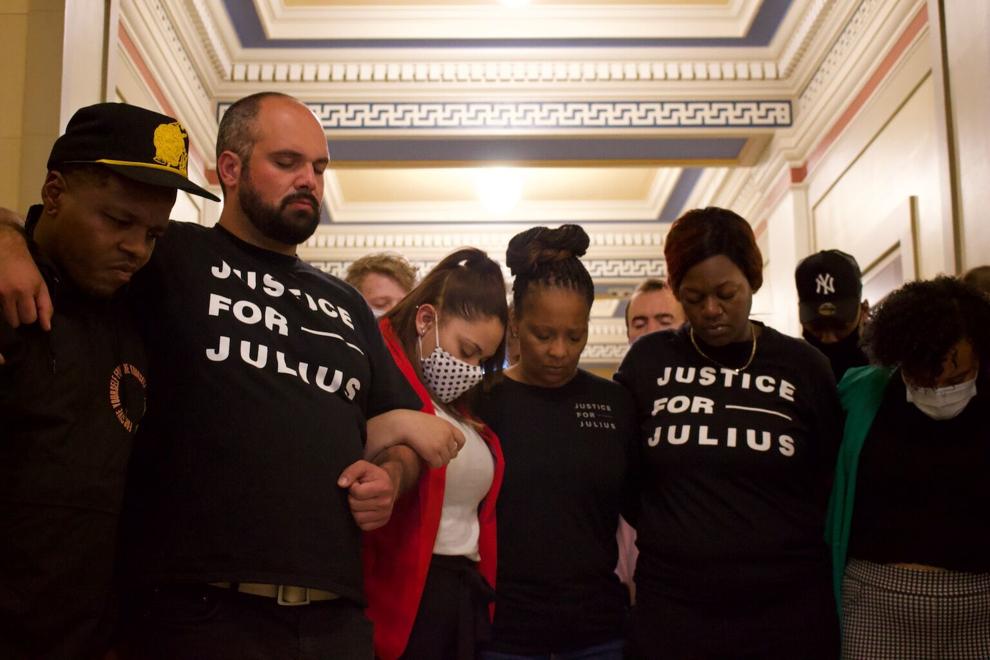 'One Black man's life'
---
The work behind the movement became more grueling on Aug. 26 when the Oklahoma attorney general filed the request to set Julius' execution date.
"We were spending 18-hour days — sometimes more — working phone calls, conferences, research, (and) social media meetings," recalled Jess Eddy, a local activist who is also one of the leaders of Jones' support team. "Organizing was a lot of work and a lot of long days and late nights."
The long days were traumatizing for the leaders of the campaign.
"The times you just think about what's at stake and the trauma that's associated with that, it's one thing to just be working hard," Eddy said. "It's another thing when there's the kind of pressure of a man's life on the line in every moment."
The execution date, originally set for Oct. 18, later shifted to Nov. 18, with a second clemency hearing scheduled in between on Nov. 1.
In those seemingly final weeks, the Justice for Julius campaign held more frequent events, including prayer vigils every Tuesday night in Oklahoma City. Those vigils turned into daily gatherings outside the Oklahoma History Center starting Oct. 15 as Jones was placed on death watch, a block of four constantly lit cells where inmates are moved 35 days before their scheduled death and are allowed to bring only a Bible, family photos and a pen and paper.
On Nov. 1, the date of the clemency hearing at the Department of Corrections, supporters gathered across the street in the parking lot of Evangelistic Baptist Church of Christ along Martin Luther King Jr. Boulevard in northeast Oklahoma City.
Antoinette recalls feeling confident that day as it fell on her late grandmother's birthday.
"I was just adamant … that he's going to have clemency," Antoinette said. "He's not going to be executed. They might give him an execution day, but he shall not be executed."
When the Oklahoma Pardon and Parole Board voted 3-1 to recommend commuting Jones' sentence to life in prison with the possibility of parole, the final decision fell to Stitt.
From there, the Justice for Julius campaign continued its vigils and added events outside of the governor's mansion, where the Oklahoma City Police Department had lined the streets in front of the house with barriers. The week of the would-be execution, the rallies moved inside the state Capitol's rotunda outside of the governor's office.
Jones-Davis said it all represented something bigger than one man's life.
"I'll never forget all those people in the (state) Capitol building," Jones-Davis said. "I'll never forget the amount of strangers who came together to fight for one Black man's life. … I had no idea that there were so many brave people and so many strong folks. I just didn't have an idea that so many people care to the degree that they will make considerable sacrifices to try to help Julius."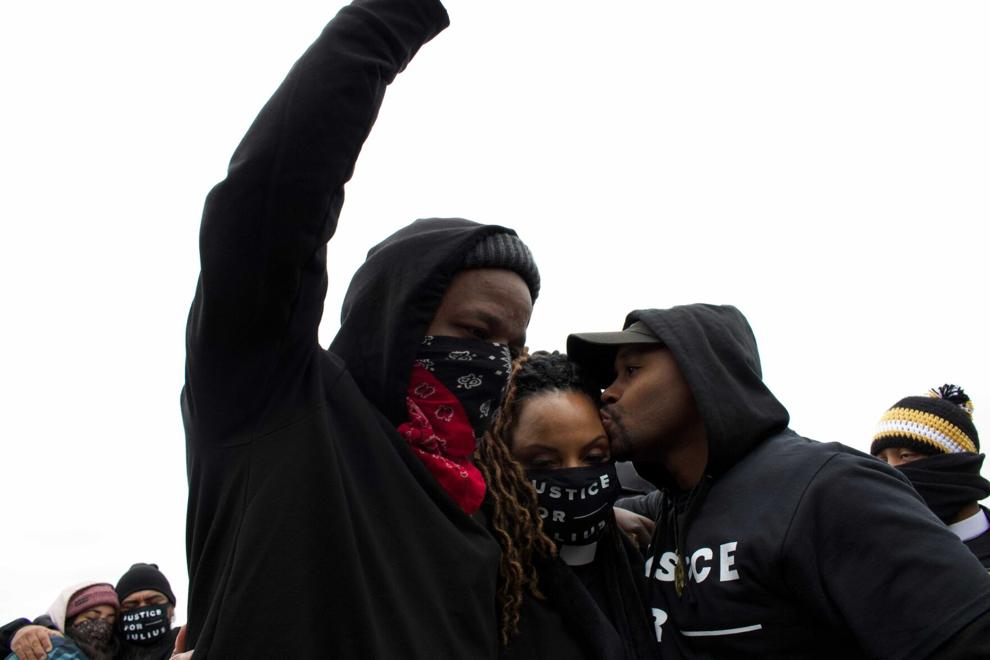 'A chance for you to fight'
---
The day before the scheduled execution, Jones' family trekked roughly 130 miles to McAlester for what they expected would be their final time together with Julius.
Originally promised a contact visit before his execution, they arrived at the state penitentiary and learned contact was out of the question.
Although Antoinette called that news "very disheartening," she was nonetheless, she said, "divinely undeterred."
She then scheduled a visit for Nov. 21 — three days after her brother was to be put to death.
"God told me to schedule a visitation to see Julius," Antoinette recalled. "And I didn't ask no questions."
Jones-Davis said this movement is now "an international human chain" for Jones. One in which hope lives only through continued commitment to the cause, challenging though next steps may be.
Dunham said the conditions of Stitt's decision make it unknown if new evidence would help Jones or if a subsequent governor could overturn the decision. Lawson said he hopes for a new governor to begin a new process of appeals.
While many who rallied to Jones' cause last fall have turned elsewhere, the Justice for Julius movement's supporters have begun to touch base again to discuss moving forward and what legal steps are next, according to Jones-Davis.
Jones-Davis said the movement will now use every social media platform to continue telling their stories and "make sure the world doesn't forget about Julius Jones."
Looking back on the movement and the uncertain future, Antoinette said she still has faith for this fight and she echoed that to Julius.
"I was like, 'You're not gonna be stuck in prison your whole life … The devil is a lie. You hold on to the fact that you were not killed 22 years ago, and we're going to go from there. Remember if you have life today, then we have a chance for you to fight,'" Antoinette said.
"God didn't bring us this far for no reason."