Strolls across Downtown Norman serve different purposes for locals and tourists alike, whether someone chooses to grab a burger at The Garage, shop for antiques at Bruce's Antique Mall or catch a show at the Main Street Event Center. For some, however, E. Main Street once served as a food oasis. 
A union between an art collective and food sovereignty group led to the Feb. 1 creation of the UNR Resonator Fridge and pantry, which became the first resource in Norman to provide 24/7 access to packaged goods, water, fruits, vegetables, dairy products, prepared meals and snacks. Donations and community support kept the fridge alive for six months on the street corner adjacent to the Resonator Institute.
On July 31, an oppressive 99-degree heat beat down on volunteers on what would be their last day working at this location. They packed up their pantry shelves and wheeled out the fridge's flowered covering, leaving behind a notice saying the enforcement of "antiquated codes" led to the fridge's relocation.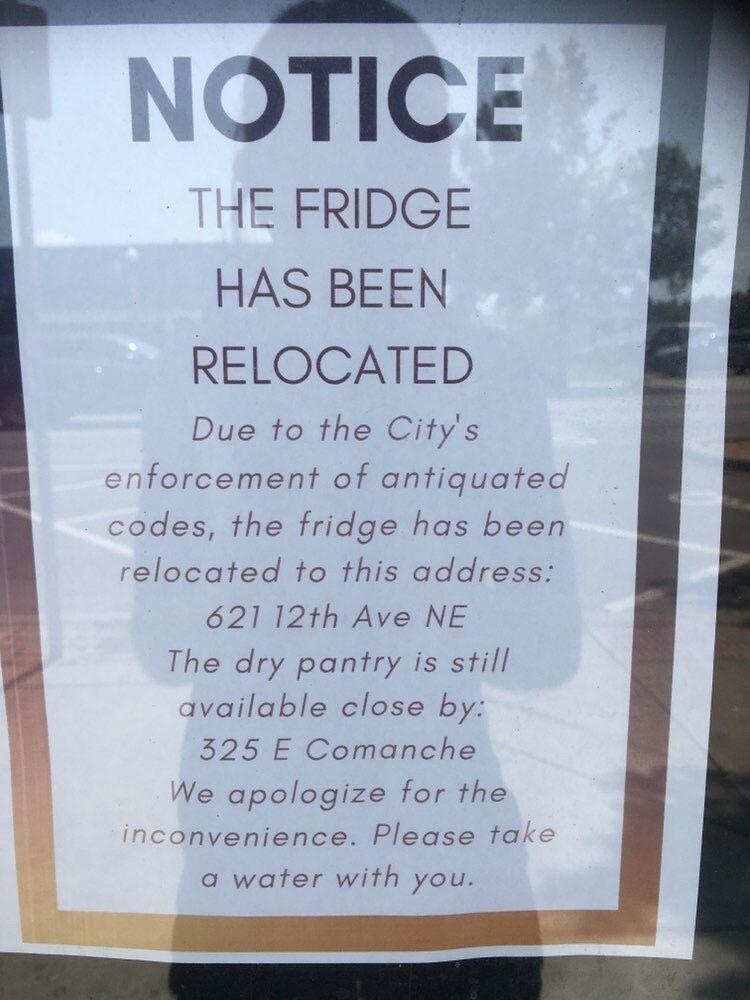 While the dry pantry sits close by on 325 E. Comanche St., the fridge is now a 22-minute walk away from its former home. Located at 612 12th Ave. NE. inside Outreach Thrift, Norman's homeless population can only access the fridge from 10 a.m. to 6 p.m., Monday through Saturday and noon to 6 p.m. on Sundays. 
The Norman City Council and Anthony Purinton, Norman's assistant city attorney, are now working to alter city code to accommodate community fridges on private, non-residential properties. However, the swift removal of the UNR Resonator Fridge left volunteers scrambling to find a temporary location and fighting to understand why code was enforced. All the while, Norman's homeless population wondered why their 24/7 resource was taken away.
"I think it's just another way for the town to attack its homeless citizens. … It has saved me multiple times, and others," Mary Smith, a homeless individual in Norman who requested anonymity, said. "Although there may be times when there are people that do cause problems here on the street corner, the amount of people that the fridge and this place has helped outweighs that problem." 
'It's a community resource, and people see it as that'
The idea of a Norman community fridge was originally conceived on September 16, 2020, by Bridget Burns, the co-founder of Uprooted & Rising Indian Territory. The group serves as a mutual aid network in Oklahoma that works to create food sovereignty within BIPOC communities.
Burns said the group saw a need for meeting homeless individuals where they are and building community, as Norman had a homeless population of 266 people in 2020, according to the Frontier. Members met with the Resonator Institute board to pitch the fridge, and the group agreed it would work in front of Resonator, as long as the city approved of its placement, according to a timeline compiled by Uprooted & Rising Indian Territory.
On October 14, 2020, a fridge team member messaged Uprooted & Rising Indian Territory saying they called the City of Norman. Officials said the group would not need a license for the fridge since they were giving away food for free, according to the timeline. 
The Cleveland County Health Department also said there were no regulations for what the team could give away, according to the timeline. The only thing that required maintenance was its temperature. 
A fridge was donated to Resonator, and volunteers connected it to electricity, set up wooden shelving and weather proofing, and stocked the shelves with food. The UNR Resonator Fridge opened Feb. 1. 
Helen Grant, the Resonator and Uprooted & Rising Indian Territory liaison, said the fridge is an effective resource because it's a solution to homeless populations' general deficiencies in nutrition and hydration. A post from the Las Vegas Rescue Mission team illustrates homeless individuals' propensity to dehydration, as many are on medication, and increased risk of heat exposure and exhaustion.
Grant said fridge volunteers work to not only meet people's needs by serving them water or providing toiletries, but they also strive to ask how they can do so intentionally by taking food requests. 
"(It's about) catering to everything, (even) the sweet tooth, because it's the solidarity part of what would you want," Grant said.
Alan Hatcher, a UNR Resonator Fridge volunteer, said he has watched a strong community grow around the fridge as his coworkers, who started off as relative strangers, became some of his closest friends. He said those who benefited from the fridge recognized the support system and ultimately became a part of it by giving back to the resource.
"A guy we've seen a lot has come down the street to get a push broom … (and one time) he came back, and he pulled out some water and was scrubbing the concrete," Hatcher said. "I was like 'Oh, hell yeah!' It's become a part of it, because it is a community resource and people see it as that." 
Regular stocking, maintenance and cleaning of the fridge continued until June 16, when the city posted its first notice at Resonator. This simple slip of yellow paper would symbolize the first of many run-ins the UNR Resonator Fridge team would have with the city. 
'We've been putting up a very strategic fight about it'
The Refrigerator Safety Act 1956 is the foundation of current unattended appliance codes in municipalities, as it requires refrigerators to be manufactured with a device so individuals can open its doors from the inside. This prevented children from entering appliances and getting latched inside. 
Jenna Ziegler, a UNR Resonator Fridge volunteer, said the law is antiquated, as any dangers posed by fridges were resolved when they were sold with magnetic seals. Similar code was used by the City of Norman to "promote public safety" by preventing residents from maintaining community fridges. 
Section 10-204 of the city's Code of Ordinances, as it currently stands, states that "no person shall keep, maintain, or allow on any premises owned or controlled by him, any abandoned, unattended or discarded icebox, refrigerator, or other container or appliance of any kind; and the continued existence of such abandoned, unattended or discarded articles shall constitute a public nuisance." Once the fridge is deemed a nuisance, the city has the right to call for its removal.
The City of Norman's code compliance office first sent a notice to the Resonator Institute for violating Section 10-204 and 10-203 — which defines and covers health nuisances such as an item attracting trash, source of filth, rodents, insects or anything that causes sickness. The office also posted a notice outside of the building, citing easement obstruction as another offense and asking for the fridge to be removed by June 28.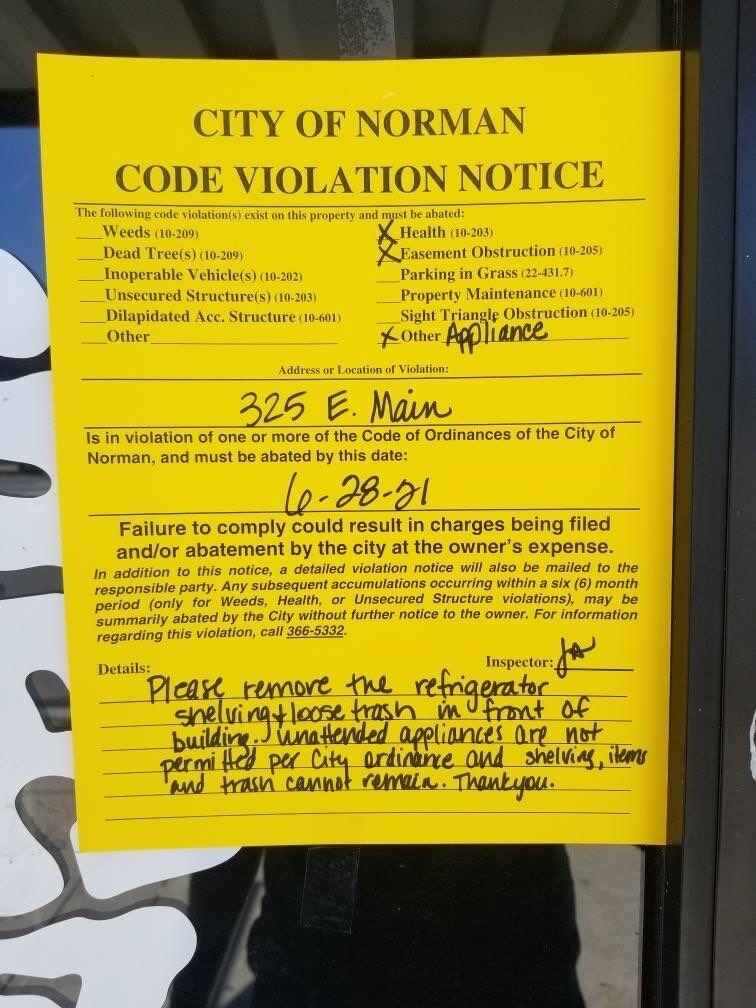 Hatcher said this citation was "absurd," as he felt the fridge was not adversely affecting public health or attracting rodents. He said the only pest problem the fridge had were a few flies that disappeared after team members set up traps. 
"We've dealt with every single issue that has come up as quickly as possible," Hatcher said. "So, both of those city ordinances that were supposedly violating. It's just nonsense. … We've worked really hard to make it not gross. We don't want it to be a nasty thing. It's cleaner than my fridge at home." 
The team increased the maintenance of the fridge following the citation and encouraged members to stop by the site one or two times a day to check on it, Hatcher said. Photo records were kept when it was cleaned. 
Volunteers also made an effort to converse with their city officials by meeting with Ward 4 councilmember Lee Hall — whose ward covers Resonator — Ward 1 councilmember Brandi Studley and Ward 2 councilmember Lauren Schueler. 
Hall said she got involved almost immediately to work through frustrations on both sides, as she had to respond to the concerns of the fridge's advocates while also working with code compliance, who are obligated to respond to formal complaints. 
"As much as we would like to be able to wave the magic wand and fix things immediately, we are bound by a process," Hall said. "So that's really what I tried to get involved with in the beginning. … What were the complaints (and) the language that was used while working with advocates (on solutions)."
Ziegler said the fridge remained open past June due to consistent advocacy from volunteers and supporters.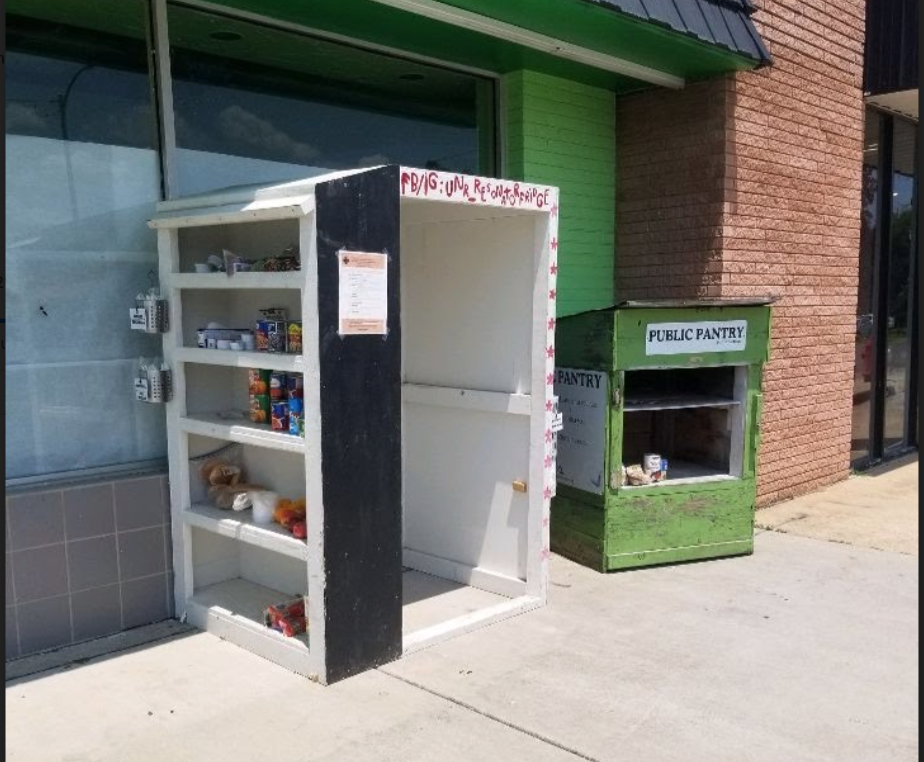 "We've been putting up a very strategic fight about it," Ziegler said. "We were not trying to get blown out of the water before we (had) a place to put (the fridge)." 
The irony is apparent to volunteers in this situation, Ziegler said, as they felt a citation meant to promote public safety is "doing the exact opposite" by revoking homeless individuals' access to a 24/7 food resource.
"If you have an unintended child at an intersection, they're more likely to be hit by a car than to crawl into a fridge," Ziegler said. "So what's ironic is they're using public safety, which has a very minimal risk, to prevent an actual public safety risk of hunger and dehydration during these hot months." 
'Give what you want, take what you need.'
On 1320 W. Lindsey Street, Redeemer Church faced a similar battle under city code, following a short nine weeks of operation. 
Josh Caudill, Redeemer's ministry assistant, once lived in Boston, where the Jamaica Plain Community Fridge's motto of "give what you want, take what you need" served homeless individuals amid the exacerbation of food insecurity due to COVID-19.
Caudill said, as he watched Boston volunteers engage with members of the city's homeless population, he never imagined he would one day do the same thing in Norman. Redeemer's location on Lindsey Street and the church's outreach to vulnerable populations encouraged his passion for the resource and led him to pitch the idea to Paul Kingery, one of Redeemer's pastors. 
"Our plan wasn't like, 'Oh, we're gonna put this fridge out there so that people come to our church on Sundays,'" Caudill said. "There are just people around here who could use a cold bottle of water throughout the day, and (we thought) if we can provide that, we'd love to." 
An initial stocking of items from Sam's Club was all the fridge needed to launch, as church families and  supportive passersby driving down the street donated everything from farm fresh produce to packaged and canned goods. Caudill said, in having conversations with April Heiple, the executive director of Food and Shelter, Inc., he came to realize how important this type of resource can be in homeless communities. 
"I think of (April) as someone who really has been on the pulse of how to be efficient in serving the community, and she said those sort of 24-hour resources — and especially the things during the summer that provide cold and fresh food — are really, really essential to people," Caudill said. 
The fridge became a point of enthusiasm for Caudill, as he said he was encouraged by how much the resource meant to those it served. Caudill said one particular young individual who came to grab a water bottle was welcomed into the church by his mom, and he saw that interaction as an example of how community resources can result in connection. 
"I would say eight or ten different people got to hang out and talk with him … and hear people say 'We will accompany you, we will serve you and we love you,'" Caudill said. "He said 'Honestly, it was just really important and good for me to be welcomed in and to have a good conversation with people,' and he kept saying to different people 'Can you let that lady know that I just really appreciate that she said hi?' … That was really sweet." 
Caudill said he saw this fridge as an incredibly valuable resource that served as one of the many assets the church offers to the city. When a yellow slip of paper from the city appeared on its doors, he said he was blindsided and frustrated.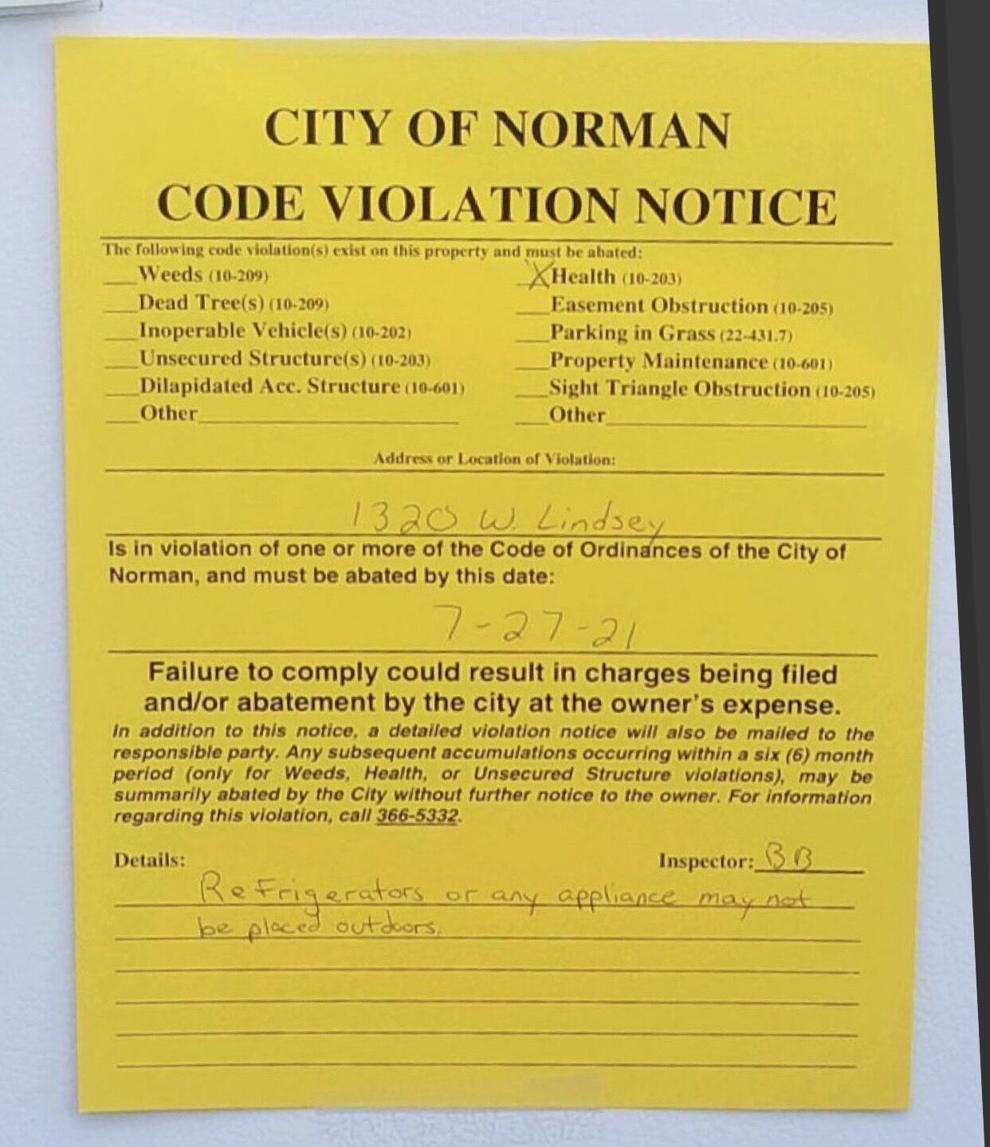 The code violation notice cited Section 10-203 of the city's Code of Ordinances, which relates to health nuisances. Caudill said the only reason he saw the notice coming was because members of the UNR Resonator Fridge team called to warn him. 
Because the church body is renting the building on 1320 W. Lindsey St., Kingery said the church is lacking in temporary options. Part-time staff members prevent the church from having consistent hours for people to maintain a fridge inside, leaving Redeemer waiting for the city to work toward long term solutions. 
"If this was a permanent location for us, there's plenty of ways we could probably build an entryway or something to bring access to it, but we don't really have the opportunity right now to do that," Kingery said. 
Caudill said there were easy solutions to the problems the church's fridge faces, as even though the fridge was on its "last leg," multiple supporters were lined up to donate fridges. Although Caudill said he is not an expert in health code violation, he also felt the fridge was not causing health hazards. 
What worried Caudill and Kingery the most was that they created "an illusion" by offering a seemingly reliable food and water resource only to have it be removed. They said they hope they didn't let people down.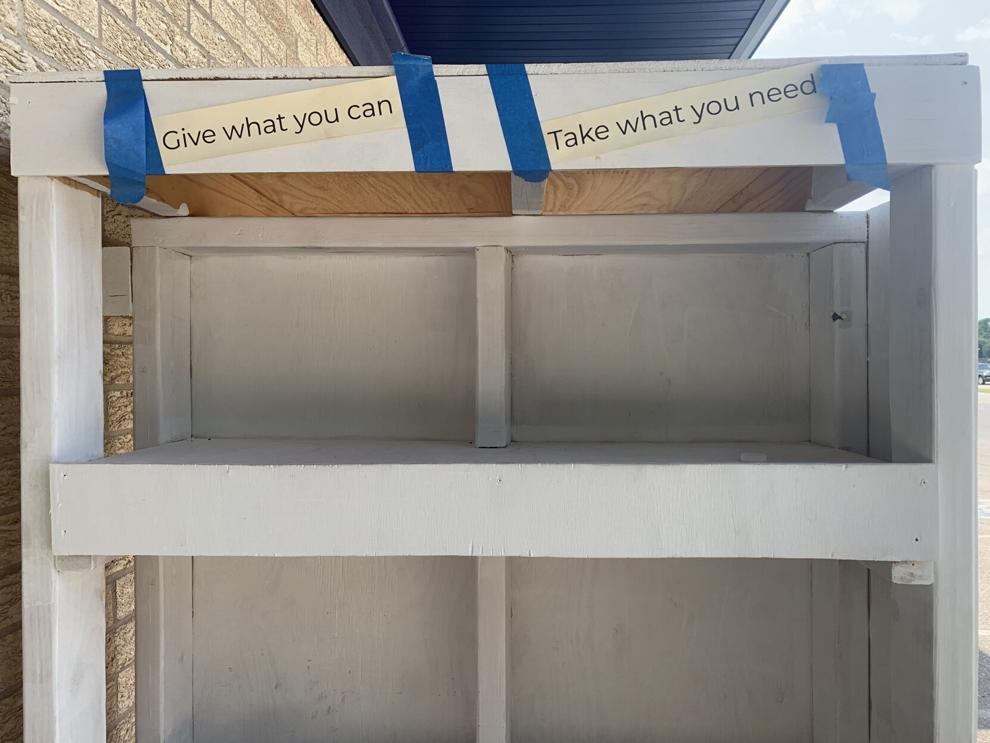 "It's hard, obviously, for the community, but even for our people that were invested in putting time into it," Kingery said. "It's just kind of a general sadness." 
As a Christian, Kingery said he wants to look at Norman's community and approach them the way Jesus would approach them. He said his reflections on these difficult circumstances have led him to keep a passage in Matthew 25 in mind.
"(There's) the passage in scripture where he says 'When I was hungry, you fed me, when I was naked, you clothed me,' and we want to take that seriously as a church in whatever capacity," Kingery said. "For us, in this capacity, it was a fridge, and so I don't know, I mean it's devastating and really sad. But it's also encouraging that these things are going to happen and we just have to adapt and move forward."
'It's a crisis bigger than what any one institution can help.'
In the aftermath of the fridge's removal, Grant said she speculates that complaints from local businesses led to the enforcement of city code. She said, during this process, she has watched the attitudes of those she knows well change, including a landlord she has worked with since 2018. 
"In my entire experience with this guy, he's always been chill. If there's a leak that needs to be fixed, it might take a second, but he gets it fixed. He's not enforcing a whole bunch," Grant said. "But because of this targeted campaign to get that moved, he's like 'the pantry's fine, but I really need a date on the fridge.' He's not even going to us or Lee (Hall), he's taking it to the city." 
Norman City Clerk Brenda Hall wrote in an email that only two complaints were logged by the Code Compliance division. The first complaint was issued to City Manager Darrel Pyle on June 16 and the second on July 21. Hall wrote that the city manager received three separate complaints beyond the two that were logged.
She wrote that the cases' active status meant it was unnecessary to log the "numerous additional calls."
"Most complaints are called in and taken over the phone," Hall wrote. "A signed complaint is not necessary. We typically do not have a name for the complaining party unless they give it to us." 
An email signed by Jeff Nicks, the owner of R & J Automotive Inc., which is adjacent to the Resonator Institute, was sent to Pyle, July 16, when the UNR Resonator Fridge was still operating. He cited the fridges' "multiple violations" and inquired as to why code was not enforced on the fridge.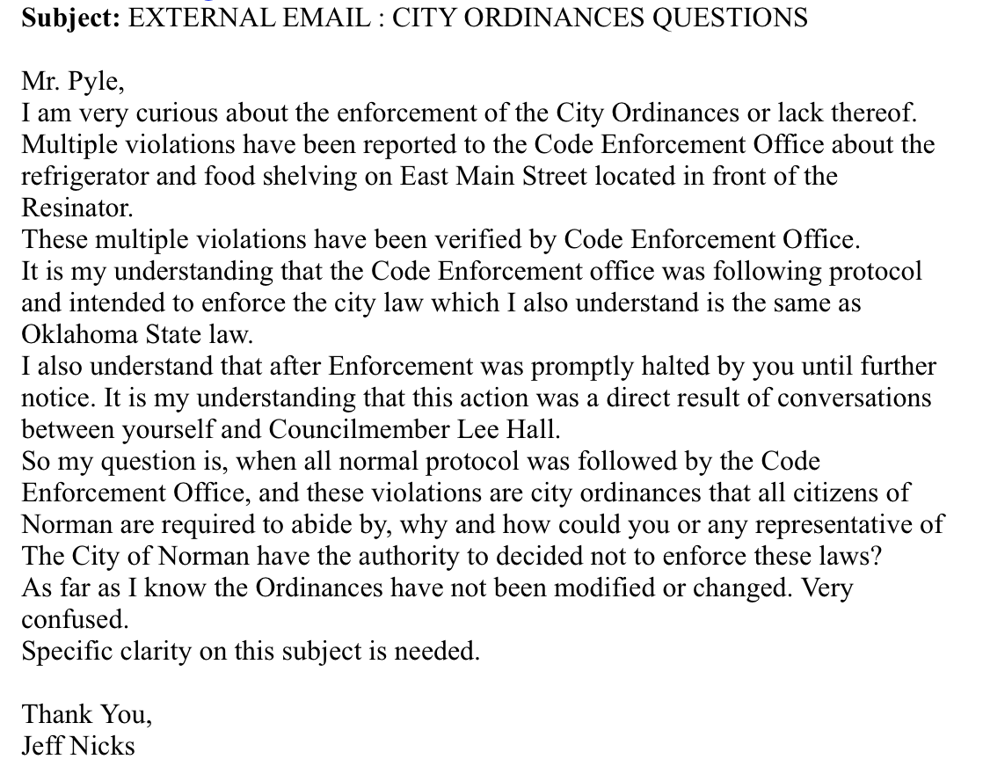 Nicks said in an interview with The Daily that he didn't have an opinion on the fridge, and he tried not to get too involved with outreach beyond his church. When asked about the email, however, he said "he was being confused with someone else."
Lily Jones, a business owner on E. Main Street who requested anonymity, said that although she understands the mission of feeding those in need, she was concerned about trash being left behind her business and its attraction of homeless individuals who made her feel "unsafe." 
"We had a lot coming in, so we had to call the non-emergency line a lot, and our clients felt unsafe at times, and we have felt unsafe at times," Jones said. "We've had to lock our doors a few times as well, and just, when you work with all women and we leave late at night. There's been jars of marinara that were thrown in the back where we park and clients walk in, and it was just kind of a lot." 
The businesses' complaints never went beyond calls to the non-emergency line, Jones said. She said she fears people seeing her thoughts as "heartless" as she knows this community requires assistance, but she also needs to look at it from "a business standpoint." 
"It's not just them walking by either. … We have the regulars walk by and they can keep to themselves," Jones said. "It's the ones that come in and are brazen and cuss at us or have spit on clients' windows, just stuff like that. … I'm sure it's a little bit of pre-COVID or COVID that's changed it, but it has changed the feeling down here that we've had over the past ten years. It hasn't felt as safe or as clean." 
Deb Clark, a business owner on Main Street, wrote in an email she sees this issue as "having multiple tentacles." She said the fridge was installed in response to individuals who now reside downtown because of the Norman Warming Shelter, as well as the issue of general food insecurity in the area. 
Additionally, Clark wrote the influx of homeless individuals using the new Warming Shelter led to "well-meaning but improperly distributed piles of food and clothing" which were left in the alley adjacent to the shelter behind her business and others. She wrote this caused a "huge population of rats."  
While now under control, some businesses relied on poison as the answer, Clark wrote, which resulted in rat, bird and small animal corpses rotting in alley. 
Clark wrote that she has also witnessed altercations occur adjacent to the area where the fridge was located downtown, resulting in attempts to mitigate by employees of neighboring businesses relying on threats of calling police. These altercations have included "loud disruptions, screamed expletives and violent gestures" which have been both audible and visible from within her nearby business' windows.
She said she is "at a loss as to what a solution looks like." 
 "I know that there was COVID money, and I do hope that some of that is well spent on this community who needs a place to go," Martin said. "If you had a place to go, you would have access to a fridge. If you had a place to go, you would have access to a bathroom which, by the way, is another issue. If you have a place to go, you have a place to sleep, and who wants to be exposed, especially while having a mental health crisis. I know I wouldn't. It's not their fault. ... It's a crisis bigger than what any one institution can help."
Tracy Mikkanen, the co-owner of the Main Street Events Center, said it's hard to have an opinion, as although she supports the humanitarian mission of the fridge, she feels business owners are also required to consider their livelihood. She said although she believes businesses can work to help people, she wonders how effectively outreach can be accomplished amid the pandemic. 
"(In August) we had an event that ended at 10. That is when a lot of the homeless start coming out," Mikkanen said. "I opened that table to all the homeless people that I saw to eat. It was paid for. It was food that we could not distribute, otherwise. So we had people who were coming up, hungry at 10 or 11 o'clock at night eating hot food. That's the kind of operation that I see. But I cannot with people that are just falling asleep and eating and living basically in the corners of our business. It makes it very difficult."
Where there is food, a congregation of people will follow, Mikkanen said. She said she no longer takes out the trash behind her business without her husband, because she wants to consider her safety while people are living there.
"I know where they're at. They don't bother me, I don't bother them," Mikkanen said. "But every now and then you get one who is maybe mentally challenged, or is inebriated or altered in some way with a drug, and it makes it scary. So that compassion is there, but you have to have your own self regard on the mindset of somebody that you're trying to help." 
Grant said the UNR Resonator Fridge volunteers have dealt with mental health-related outbursts and have the opportunity to see the individual beyond the crisis. Oklahoma Street Medics, a team of volunteer medics who provide services upon requests, are preparing to offer de-escalation training sessions to volunteers, starting Sept. 21. 
"There's a post right now that somebody sent me where a lady is complaining about a woman who's unhoused, mentally unwell and also disabled, taking out cold stuff and lining them up with her, and she's just like 'What a waste, I never want to do this again,'" Grant said. "It's kind of like 'Hey, lady. She's exactly the person you're supposed to be helping. She's not wasteful, she's just not well.' Those are teachable moments." 
On Aug. 5, the City of Norman Human Rights Commission met to discuss a proposed amendment in the city's Code of Ordinances in the hopes of accommodating business owners and fridge supporters. Studley said now is the time for everyone to work together toward a long term solution. 
"I get it, but we all live in this community together, and we all have to share it together, and so we just have to work together to find ways and compromise on things," Studley said. "And I think taking the refrigerator out was not a good compromise, but we're past that now, so we're going to find one."
'There's a lot of brilliance in community.'
On Sept. 2, the City of Norman's Business & Community Affairs Committee met to hear a presentation on the addition of "Article XXXVI — Community Resource Refrigerators" to chapter 13 of city code. Purinton worked to draft the language of the ordinance, which council will begin discussion on Sept. 14 during a Norman City Council study session. 
The included sections add definitions of a "community resource refrigerator" and a public-right-of-way, alongside requirements surrounding permits, applications, locations, safety and information postings.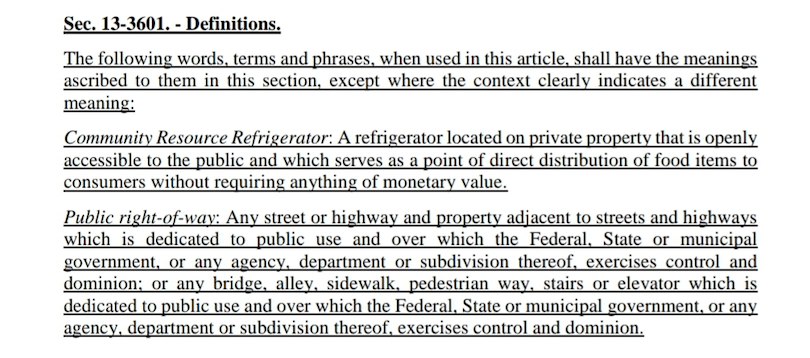 City staff was first asked to draft an ordinance allowing community fridges to exist outside without 24/7 attendance, Purinton said. They were also asked to place safety regulations on the operation of the fridges to ease concerns surrounding its operations.
Applications, according to Section 13-3603, will include the applicant's full name, address, the telephone number of the owner and lessee, the address of the property where the fridge will be, the site plan of the subject property with the proposed location clearly marked, and a signed acknowledgement from the property owner including the individual's consent and a copy of donation guidelines that the applicant will post on the fridge. 
Donation guidelines will include daily temperature checks and a connection to a receptacle cover to prevent the fridge from being unplugged.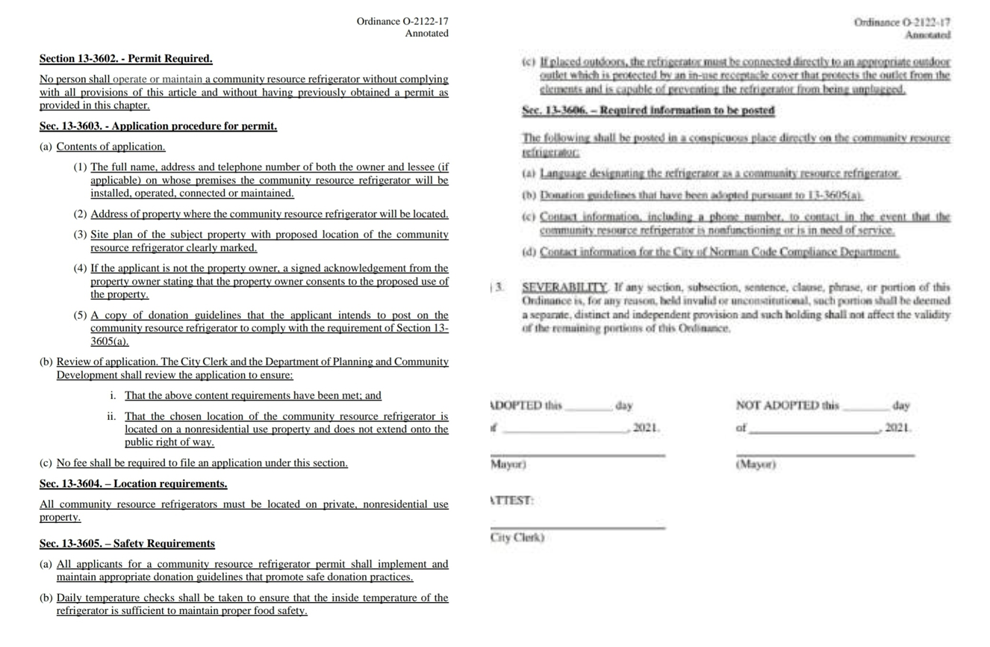 On Aug. 5, during the Human Rights Commission meeting where the ordinance was proposed, Mayor Breea Clark praised city staff for working toward being the first city in Oklahoma to officially legalize community fridges. Hatcher wrote in a text message following the meeting that fridge volunteers were frustrated.
"We're all pretty annoyed with the mayor's spin on this, that Norman will be the first OK city to make a fridge ordinance, isn't Norman great!?" Hatcher wrote. "When the reality is that there are fridges in OKC and Tulsa, Norman is just the first city to shut them down." 
Burns, who is also involved in outreach with fridges in OKC, said she believes the makeup of a city defines how municipalities respond to human rights issues "to some degree."
"Oklahoma City and Tulsa are a lot bigger, and a lot more diverse, and then Norman's a lot smaller and a lot whiter," Burns said. "I think things are going to be a lot more micromanaged here, and there's going to be more concern about the way things look, and that can be hard to hear, especially for people who love Norman and see it as this liberal oasis or very progressive place."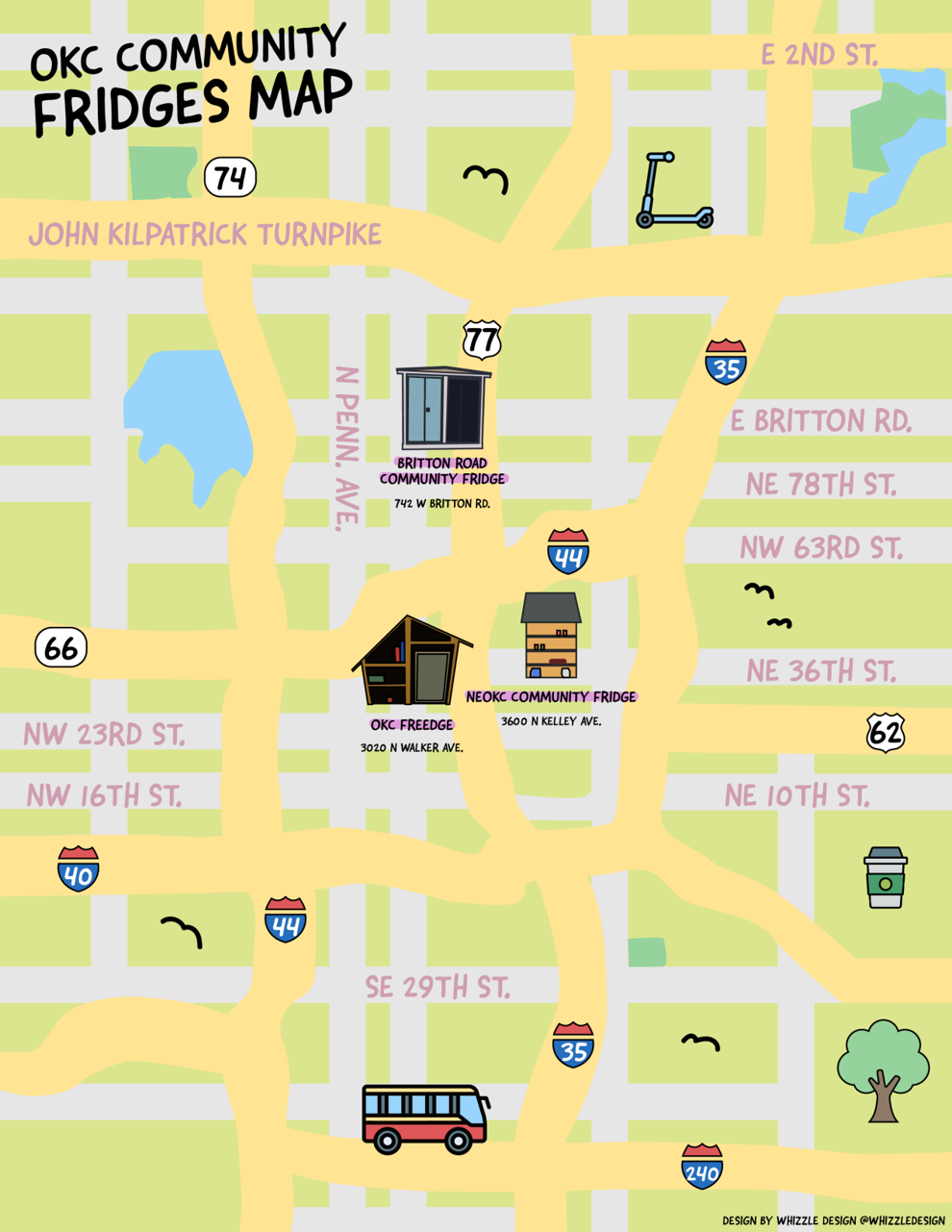 Resource availability is an important thing to consider in this situation, Burns said, as Oklahoma City has a night shelter open from 6 p.m. to 7 a.m. that is well-stocked and well-resourced. Oklahoma City nonprofits also offer jobs to help individuals transition out of homelessness through the Curbside Chronicle and Curbside Flowers and fight for long term solutions through the OKC Homeless Alliance. 
In comparison, Burns said there are places in Norman where water isn't available during certain hours. She said she sees a solution in funding existing housing support rather than using COVID-19 relief money to build new shelters. 
"There are a lot of people who sleep outside on a regular basis, and that tells me that we don't have proper resources," Burns said. "And, for that matter, the amount of people who were gathering around the fridge, like it wasn't because they just really wanted to be outside on a sidewalk, it's because they didn't have somewhere else to go."
As Redeemer and the UNR Resonator Fridge team apply for a permit, Hatcher said Redeemer's application will most likely be approved quickly because their fridge is not near a public right-of-way. The Resonator Institute, however, is on a sidewalk, which Hatcher said will most likely prevent the team from utilizing the same location. 
Hatcher said he is working with Purinton to see if Resonator can apply for a permit similar to the city's Sidewalk Café Permit, which allows a frontage zone for outdoor seating, a pedestrian zone for walking, a furnishing zone for trees and a curb zone blocking the sidewalk from the street. An employee of Das Boots Camp said the German pub possesses this permit on E. Main Street and is only required to pay $25 a year to maintain its outdoor tables. 
Hatcher said Purinton seemed open to the idea of applying the language to community fridges.
"The cafe permit is a workaround for restaurants," Hatcher said. "It's a common sense protection of, on paper, we can't block the sidewalk, but in reality, you can have picnic tables and stuff out as long as there's plenty of room for pedestrians, wheelchairs, everybody to walk past sidewalks."
Ultimately, as the fall and winter months approach and the pandemic continues alongside the impending flu season, Burns said the community needs more resources, not less. She said she hopes to see the idea she conceived a little less than a year ago continue to manifest in Norman and serve its most vulnerable residents.
"The relationships that have come from the fridge, I think have been really informative for all of us about what hunger actually looks like in our communities," Burns said. "It's going to look different in Norman than it does in northeast Oklahoma City, than it does in Tulsa. I've just been also really (been) encouraged by everybody on the fridge team. I think that there's a lot of brilliance in community, and I feel like we've been able to evolve together and figure out the best way to deal with things as issues come up."
The UNR Resonator Fridge is still accepting donations via their venmo, @unr_resonatorfridge, Cashapp, $unrresonatorfridge and Amazon Wishlist. Individuals interested in serving as volunteers can sign up via the team's Google Form. Donation guidelines are listed in English and Spanish. 
The Daily reached out to the city numerous times in person, over the phone and email. Although individual calls were not timestamped, the following are records of emails sent to city officials. 
City Manager Darrel Pyle: 3:49 p.m., July 29. Pyle was on vacation. 

Chief Diversity and Equity Officer Cinthya Allen: 8:17 a.m., Aug. 2. No response.

City Planning and Community Development Director Jane Hudson: 11:05 a.m., Aug. 4. Sent an email following an agreement to meet in person and answer questions made on Aug. 2. Responded at 12:44 p.m. asking for questions in advance and never followed up after the request was denied. 

In-person conversation with Mayor Breea Clark: About 8:30 p.m. during inter-faith prayer night for the homeless. Addressed Clark and asked for a meeting. Walked away after her request to send questions ahead of time was denied. 

Pyle with Hudson and Clark copied: 11:56 a.m., Aug. 10. No response.

Assistant City Attorney Anthony Purinton: 2:43 p.m., Aug. 24. Wrote he could not comment on ordinance amendments until further progress was made.