Gene, or Generino as Debi Van Nostrand liked to call him, was an Air Force veteran of the Korean War and a frequent flyer at Max Westheimer Airport.
Gene, however, wasn't flying a plane to the airport. He was coming to eat at Ozzie's Diner, where Debi would brew him a pot of coffee, and he could watch the planes takeoff and land on the runway. 
The 800-square-foot restaurant tucked into the corner of the airport was a hidden gem, a popular spot to eat both for its food and for its view. Ozzie's was owned and operated by the Van Nostrand family — Debi, her husband Mart and their son Derek. Together, the family ran the restaurant for 34 years.
"We worked hard and we brought it up from nothing to something," Debi said.
Derek said the family had hoped for Ozzie's to operate much longer, but due to the COVID-19 pandemic's devastating effects on the restaurant industry and national economy, the restaurant was forced to close its doors permanently this past summer. 
As a result, a Norman staple has disappeared and the Van Nostrand family has been left to grapple with what they lost.
"To work so hard and then not to have it anymore," Debi said. "(It) hurts."
'It just brought you back home.'
Max Westheimer Airport, which is owned and operated by the University of Oklahoma, was originally home to a doughnut and coffee shop that was co-owned by Mart and a business partner. The menu consisted of a few hamburgers and two sandwiches, and the restaurant was open from 6 a.m. to 2 p.m. five to six days a week. 
Mart's business partner later decided he wasn't interested in running the restaurant anymore, so Mart traded him some equipment and a truck from his food distribution business in exchange for sole ownership over the restaurant. 
"I traded some things to him for that unit because I had some visions," Mart said. "And all OU really wanted was just a sandwich shop."
Once Mart had sole ownership of the unit in 1986, he and Debi got to work re-imagining what the restaurant could be. 
"We sent surveys out and spent a lot of time visiting with people in Norman, people that flew in and out and around, and asked them what they liked, what they envisioned," Mart said. "'What do you want to see here?'"
The couple ultimately decided on their goal — to create a homestyle restaurant and to "bring the '60s back," Debi said. As such, they needed a name that would reflect their aspirations.
"I tried to think back to the wholesome-type TV shows that were on, and ("The Adventures of Ozzie and Harriet") was one," Debi said. "So I thought that Ozzie's would be a great name. Ozzie's Diner."
The hit TV sitcom "The Adventures of Ozzie and Harriet" aired on television from 1952 to 1966 and depicted Ozzie and Harriet Nelson as they raised their two sons, Ricky and David. 
"('The Adventures of Ozzie and Harriet') just brought you back home," Mart said. "We wanted people to feel that again."
Mart and Debi worked to make the restaurant reflect the TV sitcom's era by hanging up bright neon lights and having the waitresses wear bouffant hairdos with pencils in their hair. 
Mart said the biggest priority, however, was the food.
"We did not use anything premade," Mart said. "Everything was made from scratch. About 96 percent of everything was done from recipes and my family."
The Van Nostrand family had classic staples, such as their fried catfish, but Debi said they also weren't afraid to try new things.
"I'd dream up something like a baked potato with fresh cooked chicken strips that stuck out with cream gravy all over it," Debi said. "And then we'd just make it and set it up there under the heat light. And people would come in and say, 'Well, I want one of those.'"
Ozzie's defining menu option was its all-you-can-eat breakfast, which began in 1988 at just $2.29.
"It was cooked to order," Mart said. "It's not a buffet or anything, and that made it really unique. The people cooked out in front and you could see them."
Along the way, Derek began working at Ozzie's as well, bringing the whole Van Nostrand family into the restaurant.
"I started whenever I was in fifth or sixth grade," Derek said. "I got into a little trouble in school, so, open to close for free, washing dishes was what (I) did for (my) punishment."
Derek worked at the restaurant through college and remained there for a few years after graduation until leaving for other opportunities. He eventually returned in 2013, but in the meantime, Ozzie's continued to grow and thrive. 
"We just took the ball and ran with it," Mart said. "It made us feel really special. And we liked to see people happy … I don't know any other place in the country that put out as much product as we did in that small of a kitchen."
As Ozzie's grew in stature and popularity, it began to attract some unique guests. Visitors over the years included Chuck Norris, Britney Spears, members of the band Van Halen, Faith Hill, Tim McGraw, Baker Mayfield and former U.S. Secretary of State Rex Tillerson.
"We'd just treat them like regular people," Debi said. "Didn't go out of our way to look at them or anything."
Debi said a memory that sticks out to her is when Mikhail Gorbachev, the former president of the Soviet Union, had Ozzie's cook for his staff.
"(Gorbachev) flew in and we washed all the dishes that he had on the plane," Mart said. "And, of course, people inspected everything. And then he ordered some dinners to go for his people that were on the plane."
With Gorbachev's secret service watching, Debi said she wasn't too keen on helping with the dishwashing process.
"I didn't wash the dishes," Debi said. "I didn't touch them. I might have broken them."
Former OU President David Boren was also a frequent customer, coming to Ozzie's every weekend with his family and sitting at the six-top table in the back of the restaurant.
"Boren was sold," Derek said. "He called it 'the gateway to OU.'"
Although Ozzie's drew its fair share of celebrities, it was the regulars who truly defined the character of the restaurant. Many days the line would be out the door, and Debi would have to seat strangers together in order to make room for everyone.
"I said, 'You want to make some friends today? You want a seat?' And they would sit down with other people and just talk and share and have breakfast or lunch or whatever," Debi said.
The Van Nostrands got to know several of their customers personally, making their family feel even bigger.
"I'd go to the restroom and there'd be a line and someone would say my name and it was someone that I had met," Debi said. "It was just wonderful …A lot of good people came through those doors."
Derek came back to Ozzie's in 2013, as Mart was ready to begin stepping away from the business and wanted to give Derek the opportunity to take over. Within four years, Ozzie's was reaching even greater heights.
"2017 was a record year for us in every facet," Derek said. "I mean, gross, net, you name it. Any area of that restaurant, we were just blowing things out of the water."
Ozzie's seemed like it would last forever. 
'(COVID-19) just ruined everything.'
The Van Nostrand family has always been in the kitchen.
Both Derek and Mart graduated from Oklahoma State with degrees in culinary arts, and Derek's grandfather, Sonny, cooked while he was in the Army and ran his own restaurant and bar.
"It's just kind of instilled within our blood," Derek said. 
In 2019, Derek finally got the chance to run Ozzie's himself. He'd been managing day-to-day operations since he came back in 2013, but Mart was ready to turn full ownership over to his son.
"'It's just your baby. You take and see what you can do with it,'" Derek recalled Mart telling him. 
Mart originally wanted to shift ownership to Derek in 2018 when his contract with OU was set to expire, but Mart said OU was experiencing staffing changes and put Ozzie's on month-to-month extensions without offering a new contract.
As 2018 turned into 2019, Mart said OU still had not offered Ozzie's a new contract.
"We would see all these other contracts come up for the food service at (Jimmie) Austin golf course and all these different areas," Derek said. "And we were like 'How come ours isn't coming up?'"
Mart ultimately got tired of waiting, and in May 2019, he notified the university that he was terminating his contract. Mart's goal was to get OU to finally present a new contract so that Derek could officially become the owner.
"When I gave a 90-day notice on my closure, I put in there that my son knows more than anyone in the country about that place, and he could keep it going exactly where it was," Mart said. "He knows this business really well, and he could have gone a long way with it."
Derek was eventually granted control, but because of the change in ownership, Ozzie's had to go through a new code inspection and make changes in order to remain open. Because the restaurant had never changed ownership before, it had 33 years' worth of new city codes and regulations to meet. As a result, Derek had to temporarily close the restaurant for renovations in October 2019. 
"I had invested every penny I had into getting this place up to where it needed to be code-wise," Derek said.
Ozzie's reopened in November 2019, and Derek was officially the owner of the restaurant he had been working at since he was a kid. 
But his time in charge was short-lived, as the COVID-19 pandemic quickly shuttered Ozzie's doors in March 2020. Since the restaurant was in an OU facility, it closed along with the rest of the Norman campus in mid-March and was unable to reopen until the summer.
At that point, it was too late for Ozzie's to recover.
"COVID-19 came along just as (Derek) was getting his feet on the ground," Mart said. "It just ruined everything. He was lost before he got started because even if I'd been there, I wouldn't have made it."
According to emails between Derek and Beau Jennings, OU's director of real estate operations, OU notified Derek on June 4 that he had 30 days to pay Ozzie's outstanding rent, which totaled at least $10,300 and included payments for February, March, April and May. 
Article 17.6 of the contract between Ozzie's and OU stated that "if, because of riots, war, public emergency or calamity, fire, flood, earthquake, act of God, government restriction, University labor disturbance or strike, business operations at the University are interrupted or stopped, performance of this contract, with the exception of monies already due and owing, shall be suspended and excused to the extent commensurate with such interrupting occurrence." 
Derek interpreted Article 17.6 to mean that he was no longer responsible for paying rent during the time his restaurant was forcibly shut down. In an email from Jennings to Derek on August 20, Jennings said Ozzie's rent was considered "monies already due and owing," meaning that OU still intended for Derek to pay. 
In an email from Jennings on July 2, the director of OU's real estate operations said that Derek had "neither paid rent for five months nor made any effort to" and that Derek had until July 14 to make the payments. 
Derek, who had spent his savings renovating the restaurant eight months earlier to get it up to code, could not pay. As a result, the lease was terminated.
Ozzie's was gone.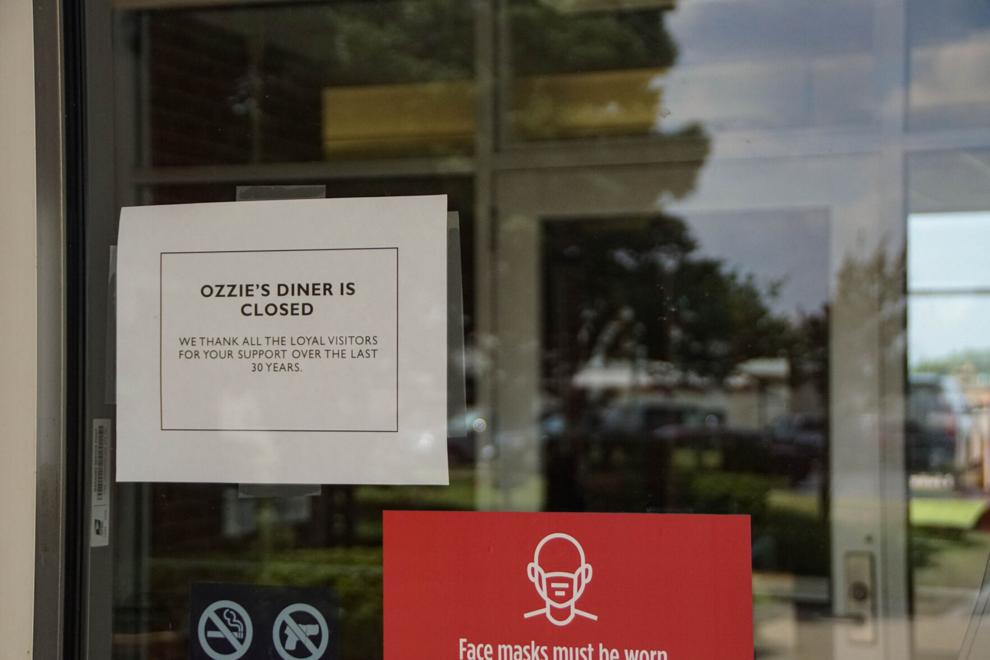 'I feel like I want to cry right now.'
For a restaurant that had meant so much to their family, saying goodbye to Ozzie's hasn't been easy for the Van Nostrands.
"I feel like I want to cry right now," said Debi, who is now retired. "It's all gone."
When Derek took what was left of Ozzie's to be auctioned, he took his 11-year-old daughter Danica with him. Much like Derek, she had grown up inside Ozzie's. 
"My daughter was crying when she saw some of the stuff being taken out," Derek said. "She said, 'This has been part of my life since I've been alive.' And I was like, 'Danica, it has for me too.'"
After Ozzie's closed for good, Derek sold his house to downsize and give himself distance from a place that had meant so much to him. And although Ozzie's appears to be finished at the Max Westheimer Airport, Derek hasn't given up hope of it coming back.
"I would love to have an opportunity to get back in there," Derek said. "I would love it more than anything. My daughter had a dream. She's like, 'I had a dream that we were back at our old house, and we were running Ozzie's again.'"
The family is now scattered across Oklahoma and Texas, and the space that used to be occupied by Ozzie's is now vacant and undergoing maintenance. The emptiness left by the longtime business leaves Mart hoping that former customers keep its memory alive.
"I just want (Ozzie's) to be remembered as what it was," Mart said. "A good place to eat at reasonable prices. We used the best of everything. We all worked as hard as we could to make it what it was."
The Van Nostrands and the people of Norman may not have Ozzie's anymore, but they'll always have the time they shared in the 800-square-foot '60s diner that was nestled into the corner of the airport. 
"It just has a special place in my heart, in my wife's heart, and a lot of people's hearts," Mart said. "I just thought it was great. I just don't think you're ever gonna see one again."