Ashley Showalter — a self-proclaimed "accidental abstract artist" — learned a lesson during her senior year of college that would change her life.
During her senior year at OU, Showalter said she had her first mental health crisis. She was hospitalized at a crisis center in Norman, where she met a patient who asked Showalter to draw with her. Showalter told the woman she couldn't draw, but the woman insisted that she could. So, she began with the one simple thing she knew how to draw — shapes.
Since then, Showalter has utilized art as a lifeline to cope with her mental health struggles and advocate for mental health awareness.
Showalter's artwork — along with 55 other young Oklahoma artists — will be featured in the Oklahoma Visual Arts Coalition's "Momentum" exhibition opening March 3. The exhibition showcases artists ages 30 and younger at MAINSITE Contemporary Art. 
Showalter said her piece in "Momentum" titled "Don't Believe Everything You Think" serves to remind people who struggle with mental health to take everything your brain tells you with a grain of salt. 
"I have a goal to continue to make art a conversation starter for mental health and sustainable wellness in general," Showalter said.
The art pieces in "Momentum" were selected by a set of curators, including guest curator Pablo Barrera and Emerging Curator Kristin Gentry. Barrera is Oklahoma Contemporary Art Center's inaugural Curatorial Fellow, and Gentry is a professional visual artist out of Owasso, Oklahoma, according to the OVAC website.
OVAC programs and events manager Audrey Kominski said both curators are committed to selecting not only diverse works but also diverse artists. 
"(The exhibition is) a nice balance of works that are really extremely relevant to the times … works that are part of a larger trend that we're gonna keep seeing over the next few years," Kominski said.
Artist Marissa Childers is currently pursuing a master's of fine arts at OU after graduating from the University of North Alabama with a bachelor's of fine arts in ceramics.
Childers said she fell in love with ceramics during her junior year of college because of the nature of the material.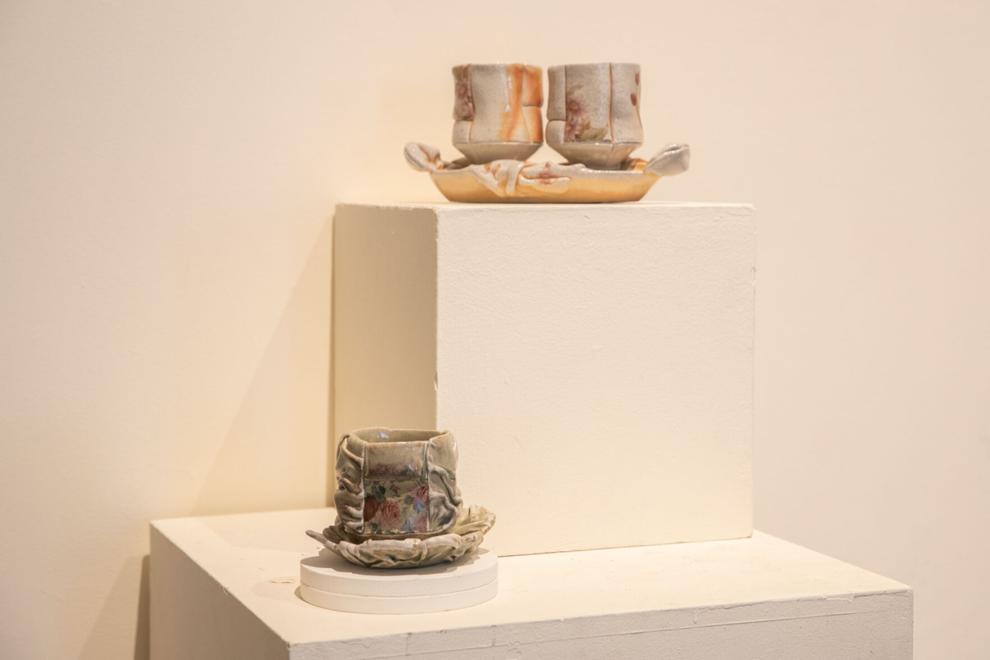 "There is just something beautiful about taking dirt from the ground and being able to create something that can last thousands of years," Childers said. "I find myself using a lot of the same building practices I learned from my dad. … It's a much more malleable material to work with, so it really allows me to push the limits."
Childers comes from a lineage of artists in her family who she said is a primary inspiration for her. Her grandmother created quilts and blankets, and her mother taught Childers to crochet blankets.
"It's interesting to look back at because [my family] wouldn't consider themselves artistic," Childers said. "That's where most of my inspiration comes from. I'm exploring that parallel between the fragility of cloth and the fragility of our day-to-day lives while considering personal experiences, our continuous interaction with textiles and the intimacy we share around pots." 
Like Childers, Norman-native Tania Khouri's work featured in "Momentum'' is also inspired by her family. Khouri said she aims to express Lebanese culture and preserve its traditions through her work. 
"I love so many things about my culture," Khouri said. "I look at work and rituals I feel have been passed down to me through my family." 
Khouri said her two pieces in "Momentum" are inspired by a coffee ritual in her culture. Every morning, Khouri said, her family has coffee at her grandmother's house, and then her aunt does a reading from the coffee grinds left in the cup. During the beginning of the COVID-19 pandemic, Khouri took it upon herself to include her friends in this tradition. 
"I created this kit that had the coffee pot, the coffee, a cup and my homemade olive oil soap, which is another tradition, and sent that off to them with instructions," Khouri said. "I would teach them how to make the coffee, and we would share a cup over Zoom, and I would give them a reading because these readings are traditionally supposed to help alleviate anxiety."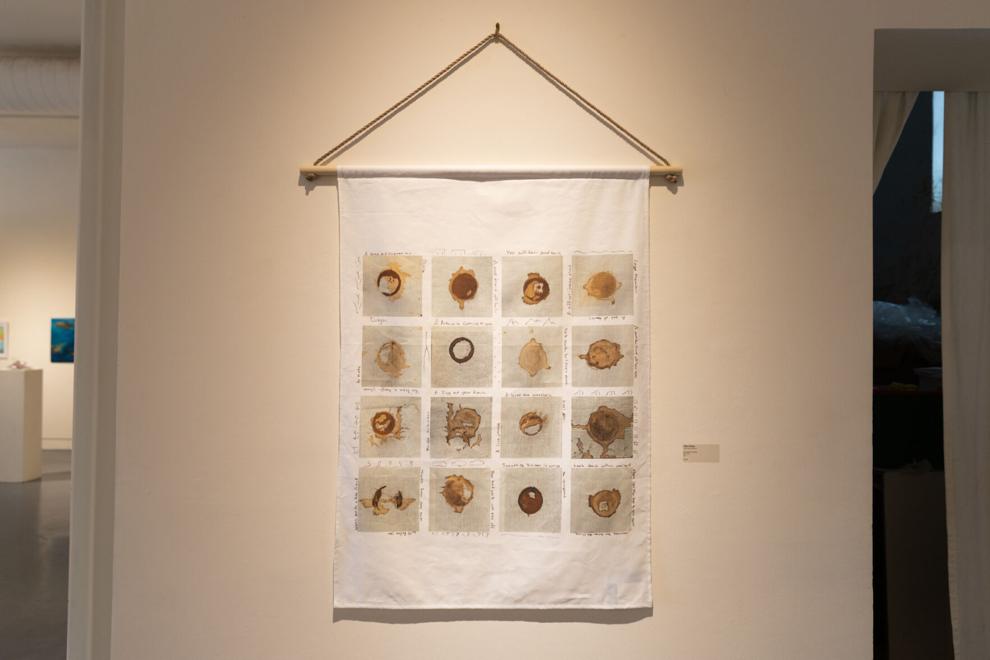 Khouri asked each friend to add their family tradition to the kit and pass it on. She said this was to express how "communities can uplift each other through ancestral knowledge."
Khouri received her master's of fine arts from the Parsons School of Design after getting her bachelor's from OU and has spent the past year going back and forth between New York and Oklahoma. 
Because Khouri has been spending so much time in Oklahoma recently, she said she felt a calling to show her work in the community again.  
"I think it's one of the best feelings in the world when you can bring something into existence," Khouri said. "It's like this idea in your head and you weren't sure how it was going to get out, and then it … invokes some mystery and gets people to think about things." 
OU advertising junior August vonHartitzsch said she submitted her piece for fun as a fairly new artist. As an advertising major, she said she wanted to get into the creative design part of her major, so she began drawing on her iPad. VonHartitzsch's submission is her first piece of artwork she's done, she said.
"It was my first step toward taking the art angle of something I already love to do," vonHartitzsch said. "I'm excited to take my first steps into the art community in OKC and Tulsa and take a step outside of OU into a broader art scene."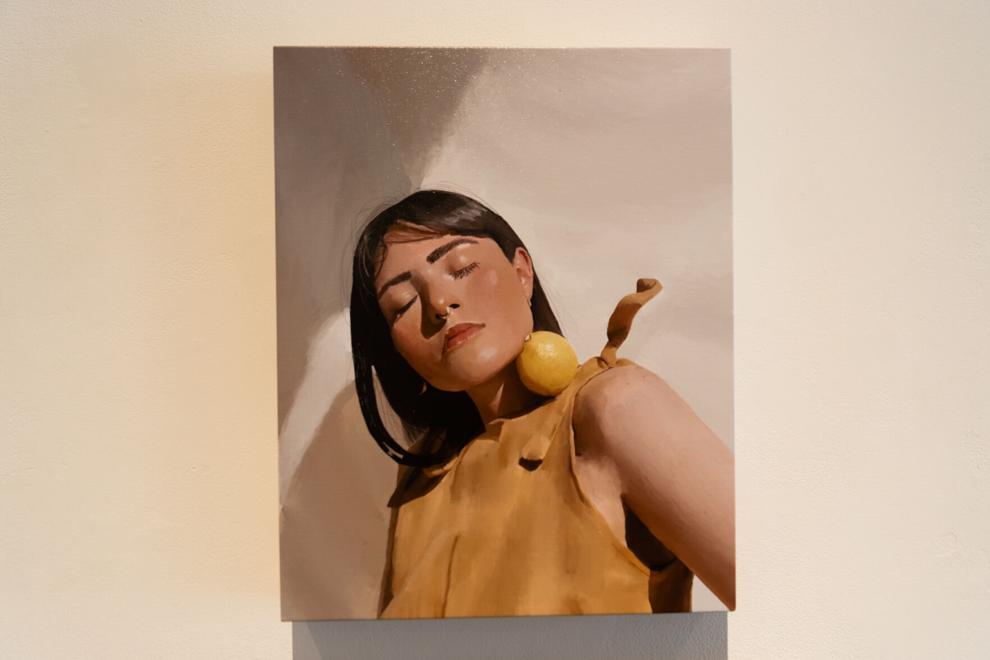 Although vonHartitzsch is new to the art world, she said she is excited to find herself in her work and begin to explore the creative community Norman offers.
"Creativity is totally personal to everyone. ... It means one thing for me, it means something completely different for others," vonHartitzsch said. "I just like seeing how different people take what creativity means and how they express themselves."
Natural science illustrator and conceptual artist Lauren Rosenfelt expresses her love for science through her artwork by incorporating the sciences of ecology, entomology and biology.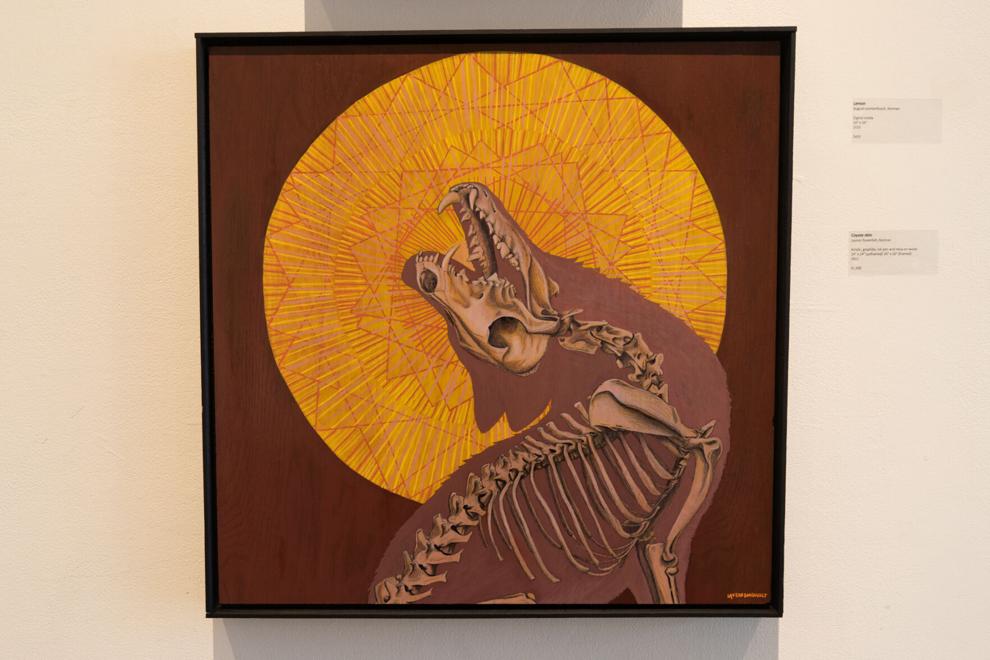 Rosenfelt said her pieces in "Momentum" were inspired by the native flora and fauna in the Oklahoma area. She said she hopes the more people recognize the similarities between themselves and animals, they will have more compassion toward the animals.
"I just wanted to raise awareness of the species that are within our own grass, mostly Oklahoman animals or the North American continent and let people know there's a great diversity of species here we can pay attention to and appreciate," Rosenfelt said. 
Rosenfelt graduated from the University of Science and Arts of Oklahoma in 2014 and began working as a full-time freelance artist in 2020. Rosenfelt was recently awarded grants from the Norman Arts Council and OVAC to create an art installation at the Norman Central Library that depicts the wildlife of Norman.
"I can continue to make a name for myself in Norman where the community, arts organizations and businesses welcome artists and want to showcase their work. … I feel that having the opportunity to display my work at these businesses gave me a greater confidence in my journey as a growing Norman based artist, and for that I am grateful," Rosenfelt said. 
"Momentum" will be held at MAINSITE Contemporary Art on March 3-27 and at Living Arts of Tulsa on April 2-23 according to the Norman Arts Council's website. MAINSITE will be open 10 a.m. to 4 p.m. Wednesdays through Saturdays and Living Arts of Tulsa will be open 12 p.m. to 4 p.m. Tuesdays through Saturdays according to the OVAC "Momentum" website. The "Momentum" website contains a gallery of this year's artists, a virtual gallery of most pieces and will continually update its virtual content.
"I think that one of my favorite things about it is just how special it makes the artists feel and how much confidence it gives them when they're a part of this exhibition," Kominski said. "There's just something about seeing an artist drop off their work and they're just so grateful and thankful to be a part of it that is really encouraging and gives me a lot of hope for the future of the arts here in Oklahoma."
All artists featured in "Momentum" have the option to sell their pieces directly at MAINSITE and Living Arts of Tulsa. People can also purchase smaller works in a virtual auction and raffle format on certain days throughout the two months, Kominski said. 
"Not only is (Momentum) an awesome opportunity for the artists to grow in professional development ... it's also helpful for visitors and for even younger artists in high school or middle school to see," Kominski said. "I think that's really important that people here in Oklahoma see that there are people who live in the same towns as them and have the same resources they do and are making it work." 
Note: This story was corrected at 4:13 p.m. March 7 to reflect the correct spelling of Lauren Rosenfelt and at 7:34 p.m. March 7 to reflect the correct spellings of Tania Khouri and Marissa Childers in photo captions.