The courtyard of the Oklahoma Memorial Union is filled with engraved bricks, each one featuring a name and a date, celebrating students and alumni who shaped the university and were shaped by it. 
These engravings are one of the many ways that students are able to leave a lasting mark on OU's campus, documenting their college experiences and achievements on the bones of the university. Even during the COVID-19 pandemic when the community feels disconnected, the names scattered through campus help tie OU together.  
Dave Hail, the executive director of the OU Alumni Association, said the bricks – or pavers as the organization calls them – enable alumni to leave a record of their time at OU. The program was started in the early 2000s when the Conoco Student Leadership Wing of the Union was opened, Hail said.
"The program … allows alumni and friends to purchase a paver to be engraved with their name and graduation year to commemorate their time on campus and recognize them as alums of the university," Hail said. 
The courtyard has space for 6,000 pavers and around 1,500-1,800 have already been engraved, Hail said. The bricks are made out of a particular kind of limestone, and require a special contractor to do the engraving. Because of this, new pavers are added to the courtyard only a few times a year. 
"It's a really natural, human thing to want to leave your mark on a place where you've spent time, and I think a lot of people who have that instinct – recognize or appreciate something that OU did for them – and I think that it's an opportunity for them to have a piece of themselves permanently on our campus forever," Hail said. 
The pavers also serve as a way for current students to understand the history of OU and their role in it, Hail said. 
"In a lot of cases, we are sharing experiences that generations of OU students and OU graduates had while they were here," Hail said. "So, when you look down and see a name and a degree and the year 1985, there's some sort of remarkable kinship that you can say, 'This person was here during this time and went through some things I'm going through, too.'" 
In addition to their historical role, the pavers recognize the backbone of the university – the students, Hail said. 
"This university is kind of a living thing," Hail said. "Beyond just the circumstances of whatever current time we're in, whether it's now or before or in the future, we recognize that the people make up this university …. Our students are the reason we are here. It's not just the current students that are here now, but the hundreds of thousands of students who've come before." 
Hail said he always enjoys seeing alumni find their bricks for the first time. 
"My office is here in the Union, and so I'm in that courtyard almost every day, and it's really cool to see people finding their pavers and taking pictures. And we've seen parents and grandparents and graduates," Hail said.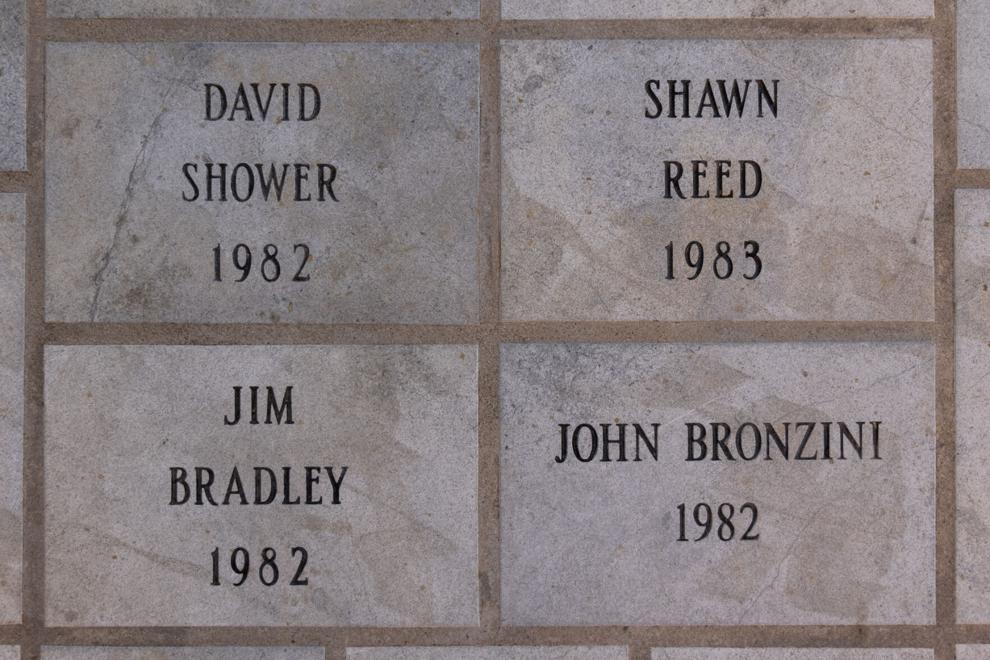 John Bronzini, who graduated from OU in 1982, said the pavers were a way to celebrate the lifelong friends he made at OU. After purchasing one for himself in 2014, Bronzini bought three more for his friends from college.  
"I wanted to honor them and our friendship – our brotherhood we call it – and get stones for them," Bronzini said.  
Bronzini said the group always tries to come back to Norman every year for a football game, and in November 2016, he was able to surprise them with their pavers.  
"I walked them through the courtyard, and only then did they find out that their names had been engraved in the square next to mine," Bronzini said. "So they were pretty surprised about that, and it was a real special gift." 
Now, when the group of friends meet in Norman, they always spend time in the courtyard near their names, telling jokes and catching up. 
"It's such a happy place that we won't make a trip without spending time in the courtyard and just hanging around indulging that memory," Bronzini said.
Bronzini said he now owns seven pavers, including some for his children. 
"It's an amazing way to honor somebody you really care about and show how much you love them by putting that down in stone — permanent," Bronzini said. 
Even when he is not in Norman, Bronzini said he often looks at the picture of the bricks to feel connected to the university and the memories attached to it. 
"When I'm feeling homesick for Oklahoma, which is often, I'll go ahead and put those squares up as the screensaver on my phone," Bronzini said. "I'll go ahead and put the four names up, and it's very emotional."
Moving from outside the Union to inside it, students' names are also carved on tables in the Clark-Anderson room. 
Laura Tontz, the director of the Oklahoma Memorial Union, said the room and the leadership tables were an idea from former OU President David Boren. 
Boren, who went to Yale University for his undergrad, took the idea from Mory's, a famous New Haven restaurant where Yale students would carve their names into the tables. Boren wanted to recreate that tradition in OU with the Clarke-Anderson room, Tontz said. 
The room was finished in 1999, and the first leadership table was created, complete with the names of dozens of student leaders. Tontz said that for the past 20 years, a new group of students has carved their names onto a table each year, and a photo of all the signers is featured above each table. 
Tontz said the tables are a way to memorialize the way student leaders shape the university.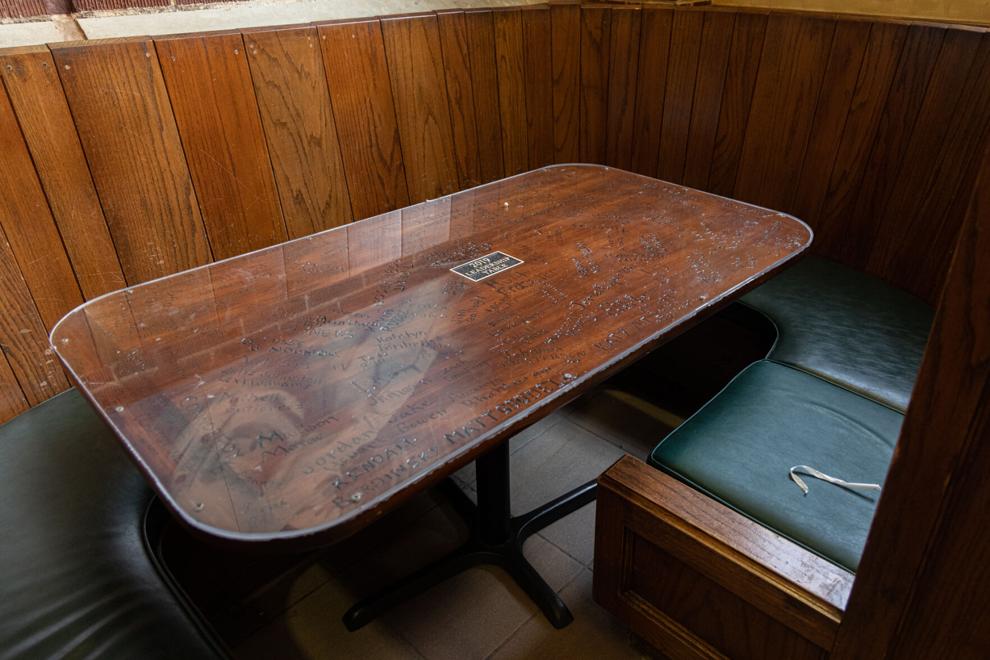 "I hope that it's meaningful to them and that they can come back throughout many times in their life, maybe with their life partner, maybe with their children or their grandchildren and be able to find their name … and reflect back on their time here," Tontz said. 
Connor Sharp, computer science senior, signed the 2019 Leadership Table for his involvement in Camp Crimson. He remembers sitting at the leadership tables with his friends when he first came to OU but never imagined having the opportunity to sign one himself. 
Getting to sign the table was a surprise to him, and it made his time at OU feel impactful and significant, Sharp said. 
"I was definitely beaming with pride about it," Sharp said. "I was able to go tell my friends, 'You know those tables we sat at … I actually got to sign that.'"
Sharp said the tables help showcase the fact that the things that happen on OU's campus are often student-led and that any involvement on campus can be meaningful to the community.
"It's inspiring to realize that things built around you on campus are built by other students that have come before you, and you have the same opportunity to do that," Sharp said. 
Names of students are also featured on plaques along the Scholars Walk on the South Oval.  Brian Johnson, assistant professor of writing and rhetoric, helps students apply to nationally competitive scholarships, such as the Rhodes, the Goldwater, and the Fulbright, and has been in charge of the Scholars Walk for two years.  
He said the Scholars Walk was created in 2014 in order to celebrate the academic achievement of OU students throughout the university's history.
"It's an opportunity to celebrate the fact that, even though OU is just this big school in the middle of the country and some people think of it as a football school, we have some pretty terrific academic things going on around here. We have some really strong students," Johnson said.  
There are 322 slots on the Scholars Walk with 238 plaques installed and 84 blank spaces, Johnson said. However, there are 47 plaques ordered for recent scholars. 
"The good news and the bad news is that we are running out of space quickly," Johnson said. 
Johnson said a lot of scholars come back with their families and take pictures with their plaques once they've been installed. 
"I've seen a lot of our really strong students acting like silly people and laying down on the sidewalk right beside their plaques so that friends and loved ones can take pictures," Johnson said.   
Every year, OU produces a significant number of scholars, anywhere from six to 16, Johnson said.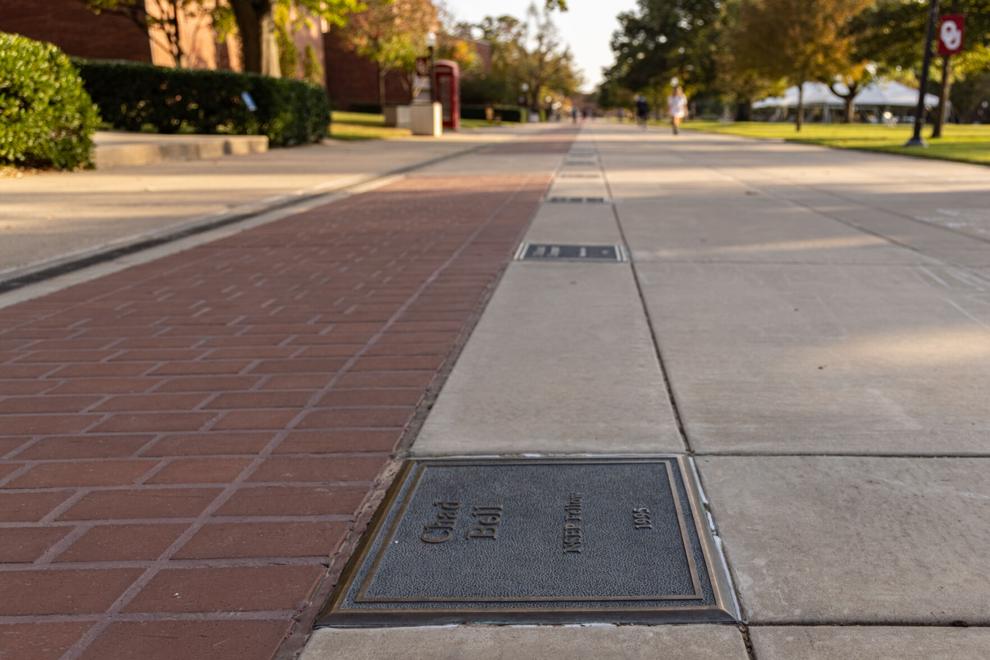 "Amongst our regional peers, and amongst the Big Twelve, not only are we number one in the Rhodes, we are either one, two or three in a lot of the other really prestigious ones," Johnson said. 
Leanne Ho graduated in May 2020 with a bachelor's degree in English and is currently a graduate student at the University of Oxford in the UK studying evidence-based social intervention and policy evaluation.
As a 2020 Rhodes Scholar, Ho's name will one day be featured on a plaque along the Scholars Walk. They said the walk was inspiring to them as a freshman. 
"It was super impactful to me when I was a first-year student to see all those names and all these people accomplishing great things, and so I hope I can do the same in the future," Ho said. 
While OU was not their first choice, Ho said they really found a home on OU's campus, changing how they saw the university.  
"The more that I saw of OU and the more I saw how much people cared about this institution, the more I was like, 'Oh, maybe there's actually stuff I can do here,' and ended up devoting a lot of my undergrad years to improving campus climate for LGBTQ folks," Ho said. 
Ho said that having their name on campus will enable them to see a physical representation of their impact on the university. 
"It's super cool that I will be physically a part of the campus in addition to the stuff I got to change while I was there," Ho said. 
In addition to recent scholars, Johnson said the Scholars Walk also celebrates a history of nationally recognized students. 
"I also think a really important lasting legacy is that you can go back and see," Johnson said. "For instance … our oldest winner, William Kendall, who won the Rhodes back in 1904, so that gives you an indication that OU has not just a strong student core but a longstanding tradition of excellence here." 
Overall, Johnson said the Scholars Walk is a way to show visitors and potential students the academic excellence of the university, even on game days.
"It confirms, in even casual football fans' minds, the fact that OU is a really strong place of learning that has an amazing tradition," Johnson said. "And then again, when we host prospective faculty, when we bring students on board … they always walk along the Scholars Walk."