OU Native American students and a Native American studies professor said the effects of the pandemic and respect for elders in tribal nations have resulted in Native American groups achieving the highest vaccination rates in the U.S.
Raymond Orr, an OU associate professor and Native American Studies department chair, said Native Americans often live in multigenerational communities, meaning COVID-19 affects members of all ages within a household. According to an Aug. 28, 2020 CDC study, the virus disproportionately impacted American Indian and Alaska Native populations due to disparities in health and socioeconomic factors. 
The study, which was conducted from Jan. 31 to July 3, 2020, found that historically marginalized groups were at the "highest risk" for the virus. In 23 selected states, the cumulative incidence of laboratory-confirmed COVID-19 cases among both groups was 3.5 times higher than those in non-Hispanic white populations.
Although the CDC depicts American Indian and Alaska Native groups as having the highest vaccination rates, Oklahoma data does not reflect this data. 
A study from the Kaiser Family Foundation notes only 35 states report vaccinations among American Indian and Alaska Native people. State data also does not include vaccines administered through allocations received by Indian Health Services, resulting in underreported vaccination rates. 
Executive Director of the Absentee Shawnee Tribal Health System Mark Rogers wrote in a Sept. 28 email that vaccinations provided by federal entities are recorded in federal systems and vaccinations supplied by state entities in state systems. Tribes had a choice between reporting between the two entities. 
Even so, Trinity Guido, an OU public health senior, ​​member of Delaware Nation of Oklahoma and descendant of the Kiowa tribe, Comanche Nation, Caddo Nation and Fort Sill Apache Tribe of Oklahoma, said Native American people suffered heavily from COVID-19 overall. 
"I definitely think at the end of the day that that's what it came down to, as to why people saw the need (to vaccinate), because you won't really talk to a Native American person that doesn't know somebody that either lost somebody due to COVID, or that knew somebody that lost somebody or someone in their immediate family had COVID and was in the hospital or the ICU," Guido said. 
Psychology freshman Emily Black of the Seminole Nation said another driving factor that influenced higher vaccination rates in Native American communities is based on their cultural respect of elders. 
"We are very, in our culture, community-based," Black said. "We like taking care of our community, and we like looking out for other people, especially our elders. Our elders ... mean everything to us. They're the source of wisdom and cultural significance. So, when there's something that would harm the elders, many of us would assume that we need to do our part to help them." 
Orr said Native American populations have a duty to protect other members of their tribe. 
"There's a sense here that they have an obligation, and (they) listen to that obligation to protect aunties and uncles, grandparents, parents, people that were vulnerable," Orr said. 
Pre-med senior Dawn Landon, a member of the Otoe-Missouria tribe said vaccinations were very important within her community, especially within family units. Since many families live together in Native American communities, it was vital to get a vaccine to protect its older and immunocompromised members.
Orr also said Native Americans are more receptive to authority than individuals in other communities due to a "community-based trust" within tribes. He said many tribal leaders promoted the vaccine, resulting in a larger number of vaccinations within Native American communities.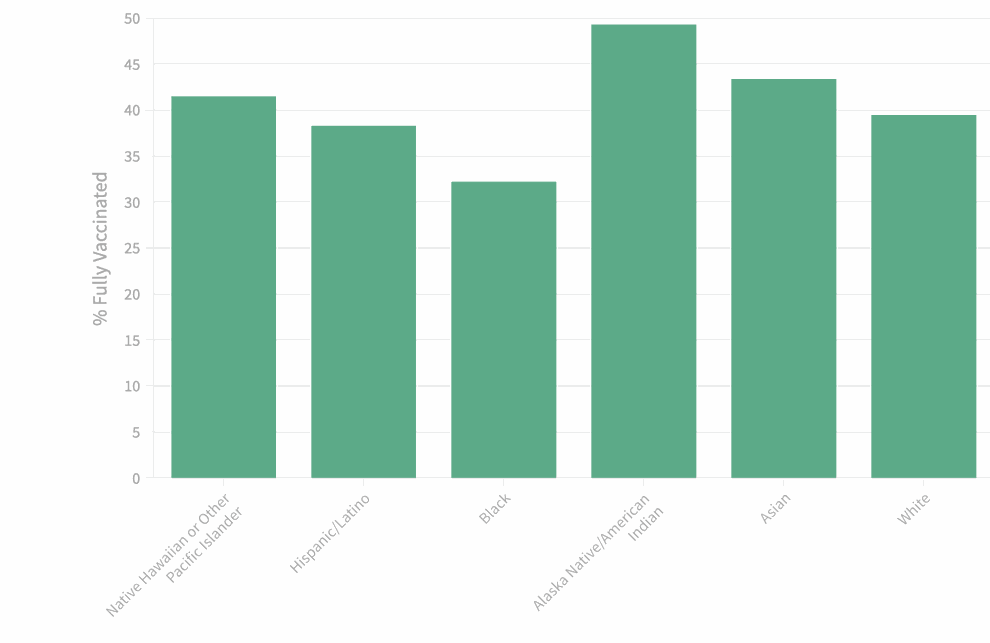 Orr said the significant rate of vaccination in Native American populations is also a result of delivery mechanisms tribes used to distribute vaccines. Localized health systems have stressed the importance of education and distribution of vaccines, leading to a larger number of vaccinated individuals. 
IHS clinics have played a large role in distributing COVID-19 vaccines outside of tribal nations. The Cherokee Nation, for instance, said any member of the public that is 12 years and older is eligible to receive the COVID-19 vaccine from Cherokee Nation Health Services, regardless of where they live. 
"We're going to be offering vaccines to everyone in your household, no matter what, if they're ... Native or not," Guido said. "It just goes back to that sense of community and taking care of each other and making sure that we are doing our best to stop the spread." 
IHS clinics have received historic investments from the Coronavirus Aid, Relief and Economic Security and American Rescue Plan acts, Rogers wrote in an Aug. 30 email. These funds have gone toward initiatives including a paycheck protection program, Personal Protective Equipment, COVID-19 testing kits, vaccinations and grants from a multitude of federal and state agencies, all benefiting self-governed tribes and those receiving direct services by the federal government. 
Overall, the IHS is providing all three COVID-19 vaccines authorized or approved in the U.S, including Pfizer-BioNTech, Moderna and Johnson & Johnson, according to the IHS website. They have administered 1,630,344 vaccines as of Sept. 27. 
Additionally, several tribes have gotten national attention for high vaccination rates. Over 70 percent of the Navajo Nation has received the vaccine as of August, according to the Salt Lake Tribune. NBC News reported in June that nearly 50 members of the Blackfeet tribe in Montana had died of COVID-19, and as a result, about 98 percent of eligible members have been fully vaccinated.
"These things have culminated in the focus, messaging, funding, engagement, and level of seriousness of all of our current community public health challenges," Rogers wrote.
Ultimately, Black said the most important reason behind vaccinating against COVID-19 in tribal nations is found in "family and unity," which she said "is everything." 
"(The more) you want to start seeing things as your community as your almost family, the more you want to take action to protect that. So, I would say just start seeing people as your community because it really is," Black said.