ATLANTA — I've written this goodbye probably 200 times in my head over the past week. And each time I write it differently.
There's no real good way to say goodbye to something that has been such a huge part of my life, and a huge part of who I've become and will continue to be.
So as I stood on Mercedes-Benz Stadium's field Saturday night after Oklahoma's 63-28 loss to LSU, I found it interesting when I didn't cry. Instead, I stood full of gratitude for all the things I've accomplished in my three years on the beat and all the people who helped me along the way.
Sure, I've gotten to cover three College Football Playoffs, three Big 12 Championships and two Heisman Trophy winners. And I've been fortunate enough to interview superstar athletes like Baker Mayfield, Kyler Murray and Jalen Hurts. And coaches like Lincoln Riley, Bob Stoops and Barry Switzer.
But what makes my sports journalism journey special isn't the places I've been or the people I've written about, but instead the moments that have defined me as a person and what I've learned along the way.
Growing up the son of a former OU football player, I was literally "Sooner born and Sooner bred." Owen Field has practically become my second home; I've been to every OU home football game since 2004 and through the years and games became a historian of sorts when it came to the traditions of the university.
Not surprisingly, the University of Oklahoma was the only place I applied out of high school. It was my dream school. I wanted to be a sports journalist and work as an on-air college football analyst on ESPN. I quickly realized that wasn't for me and joined The Daily thanks to one of those damn mass emails seeking applicants.
I started on the women's soccer beat my sophomore year, moved to women's basketball and eventually to spring football before the 2017 season. My first practice availability was when Mayfield spoke to the media a week after being arrested in Fayetteville. Talk about an eye-opening experience. I didn't ask a single question, standing in the back videoing the entire interview, which I still have on my phone to this day.
It wasn't five months later that Bob Stoops shockingly retired. I remember having to write the "Bob Stoops legacy" piece on deadline. It was awful. Whenever I feel like I haven't written anything good in awhile, I re-read that piece to remind myself how far I've come. Still, that was the day I knew I wanted to do this. Nothing beats the rush of breaking news and trying to do justice to the first draft history on deadline.
Fast forward two years and a few job titles later, and I'll never forget shaking Murray's hand after he won the Heisman and thinking about my Aunt Elizabeth, who was an avid Sooner fan and frequent New York visitor. She was ill then and passed eight months later, and I knew she would have loved to see that moment.
All along the way, I found a new confidence in my reporting and writing, and in myself, leading me to my most difficult challenge of my career so far: the Rickey Dixon story.
I decided to take on a project looking at the effects of head injuries in football and center it on Dixon, who's dying from ALS, which he says was caused by his football career. Dixon can't talk, making for a difficult interview. I'll never forget that day I visited him, watching his kids try to communicate with him as I tried to ask him questions. I learned how to be patient, diligent and impactful in my reporting. But, as the son of and brother to a football player, I also learned I'm able to write something with more meaning and importance than ever before. That story is something I will forever be proud of.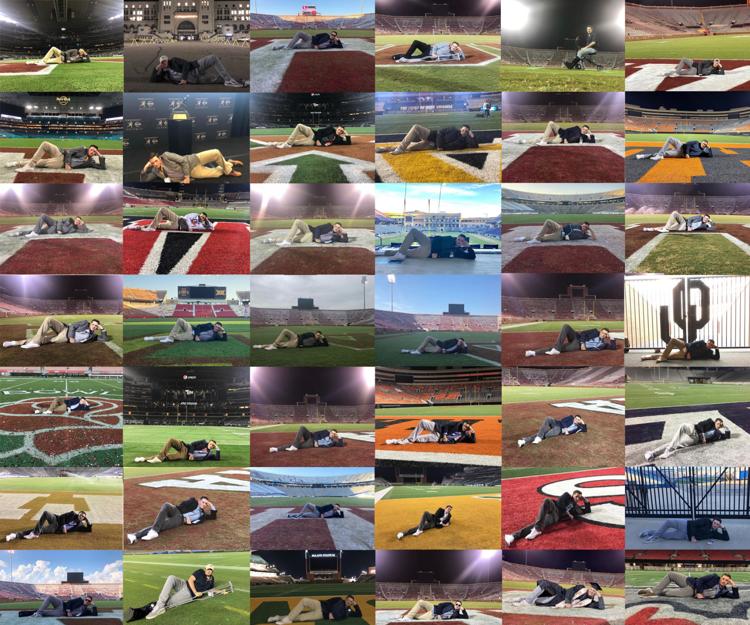 My journey has certainly not been easy. I've been fortunate enough to have two great internships, one at the Detroit Free Press and another at the Colorado Springs Gazette. But, like many others in the profession, I've had my fair share of rejections — 72 to be exact. But that's also been my motivation. I learned to become resilient in an industry that demands nothing less.
I've always been a competitor. I always was that annoying kid in elementary gym class who took every dodgeball match a bit too seriously.
That competitive spirit has paid off in many ways.
My competitiveness drives me to try to avoid getting beat on stories in a hypercompetitive field. My originality and creativity helps me come up with ideas and sources to write stories that stand apart in a world flooded with more media coverage than any time in history. Those traits — honed in Copeland Hall, in every Big 12 city, in the Rose, Orange and Peach bowls and so many other venues — helped me land my next internship: The Boston Globe. I couldn't be more excited to spend next summer covering the Boston Red Sox and New England Patriots, in a sports department regarded as one of the finest in American journalism.
My story, in many ways, is the quintessential college story. I found a way to apply my natural gifts and curiosities, just as people do all over this campus. For me, that place was The Daily. That's where I not only found what I want to do for the rest of my life, but who I want to be as a person — a leader, mentor and friend.
It's sad to think my time at The Daily is coming to a close, but I can't help but look to the future. I have many thanks to give for where I am today, and I'm sure I'll miss a few, but these people mean the world to me and have believed in me since day one.
To Kelli Stacy, Abby Bitterman, Jesse Pound, Spenser Davis, Joe Buettner, Derek Peterson, Joe Mussatto and all the others who I've worked alongside and who came before me for setting the bar so high and allowing me to learn from them. To Caitlyn Epes, who has been working beside me for all three years and sets the standard in our newsroom for excellence (she interned for the damn NFL). To Will Conover and Paxson Haws, who helped make some of my most compelling stories look stunning in ways that helped draw more people to the work. To Caleb McCourry and Vic Reynolds, who made my final year a blast and I know will continue to raise the bar on the beat. And to Seth Prince, who has had an unwavering belief in me — in good times and bad — through it all.
In my last semester I'll serve as The Daily's enterprise editor, focusing on the most important and biggest stories on all of campus, not just the athletic department. I'm thrilled to go out with a bang, before graduating in May with degrees in journalism from Gaylord College and sports management from the Price College of Business.
Saturday night, after the Sooners' loss, I asked Hurts what he hopes to be remembered for. He talked about his time playing college football and how he's disappointed he couldn't deliver Oklahoma a national title.
"It's hard to just sit here and reflect on four years, a whole year with my brothers this year, all of that right now," Hurts said. "It hurts me. You talk about how much it means to you and the team. It's supposed to hurt. This is not a good feeling. This is a feeling I've never felt before."
Similarly, I will miss covering OU football. But I also know what the past three years have offered has prepared me well for what's to come.
Thanks for reading, Sooner Nation.