Former Oklahoma assistant women's basketball coach Stacy Hansmeyer can't help but laugh when she remembers seeing Courtney and Ashley Paris for the first time on a recruiting trip.
Hansmeyer, who coached at OU from 2001-11 and was a national champion in 2000 while playing for UConn, first saw them training with their strength coach at Piedmont (California) High School. The twins, sophomores at the time, were goofing around and laughing, as Hansmeyer watched the two highly touted recruits, who accumulated offers from women's basketball powerhouses such as UConn and UCLA.
Even now, about two decades later, after the Paris twins played monumental roles in Oklahoma making the NCAA Tournament four-straight times, including a Final Four appearance — after decade-long professional basketball careers in the WNBA and overseas, Hansmeyer still sees that same drive. That's especially the case now, after Courntey was hired May 13 to be an assistant coach for head coach Sherri Coale and the Sooners.
"They haven't changed," Hansmeyer said in an interview with The Daily. "They're the same. They're still just silly and goofy, but passionate about what they do. ... They give it their all and (will be) the best that they could possibly be."
The move brings one of the greatest OU basketball players back to where her prominent and legendary status was born. Courtney replaces assistant coach Coquese Washington, who was hired in 2019, and is joining an OU team that has struggled for the past two seasons. Washington is expected to return to Notre Dame, her alma mater, where she coached from 1999-07. From 2018-20 the Sooners went 9-27 in Big 12 play, missing the NCAA Tournament in 2019 and having their season cut short in 2020 due to the coronavirus pandemic. 
In that span, Coale has taken it upon herself to make changes to her staff, adding Courtney in May and assistant coach Jackie Stiles, another NCAA legend, before the 2019 season. As a center for the Sooners from 2005-09, Courtney racked up 2,729 points and 2,034 rebounds, both program records that still stand. 
She averaged 19.9 points and 14.8 rebounds in college, and went on to be drafted seventh overall by the Sacramento Monarchs in the 2009 WNBA Draft, starting a professional career that included playing for teams such as the Atlanta Dream and the Seattle Storm, where she won a WNBA Championship in 2018. She retired this year. In a press conference on March 15, Coale talked about the importance of having a coach on a staff with that "it" factor and concluded that, after watching Courtney grow as a player for over a decade, "She has that 'it' factor in spades."
As her professional career was starting to reach an end, Courntey was considering what her future would look like. In her conversations with family and former coaches, the possibility of putting her basketball IQ to good use when she was done playing grew.
"It's something we've talked about over the years," said Ashley, who played with and against her sister in the WNBA and overseas. The last time they played on the same team was in 2014, when the two played for Mersin BB in Turkey. Ashley retired in 2019, and now lives in Oregon working for Nike. "I think if she was gonna do it, it had to be for the right program. And obviously, Oklahoma was her dream situation."
Hansmeyer has been convinced of Courtney's ability to coach since she took her talents overseas in 2012. As she was talking to her on the phone, Courtney, while thousands of miles away in Turkey, would tell her all the things she was noticing about her team, expressing concerns usually identified by coaches themselves.
When Courtney was telling her things like, "We need to bring this player in," and, "This team is not clicking because we don't have the right offense and we need a different offense, we need this kind of offense," throughout their conversations, Hansmeyer knew where her next destination would be. 
"You," Hansmeyer would reply, "need to coach."
"I just think it was just listening to her talk about her teams in such a management way," said Hansmeyer, who is now a private coach for youth basketball players in Norman, "almost like if she was over like an NBA team or a WNBA team trying to put it together. And I just always felt that was her, and whenever she was overseas is when I really started to see it."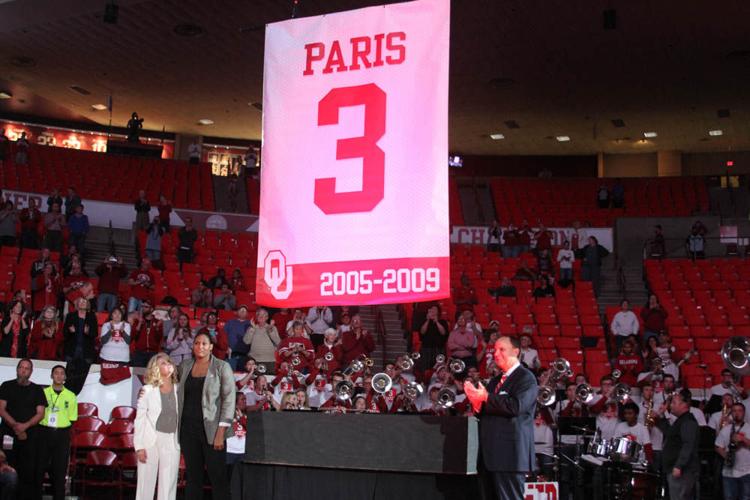 Of course, her abilities to be a leader on the court were present throughout her playing career as well. Ashley was right beside her for almost her entire playing career, from childhood to the WNBA, and has seen her develop alongside the world's best basketball players. In her introductory press conference, Courtney cited Seattle Storm star Breanna Stewart as a resource for her in learning more about the game.
Ashley has noticed throughout her professional career how Courtney would often guide younger professional players just exiting college and coming into the WNBA and overseas.
"I've always played with Courtney, and she's always been a court leader. She's always had high basketball IQ and has a great feel for the game," Ashley said. "She's been around and played with the best players in the world and played against them. She's seen how they train, how they develop, what's new in basketball — she's just been around basketball so much at the highest level that she has so much to offer."
Courtney's name itself is probably one of her most valuable resources, especially when it comes to recruiting alongside fellow basketball legend Jackie Stiles, who was hired to be a part of Coale's staff in 2019. Courtney established herself as one of the greatest collegiate women's basketball players of all time, and still holds the record for consecutive double-doubles in NCAA women's basketball history (112). She was the first NCAA athlete, regardless of gender, to reach 2,500 points and 2,000 rebounds in a career.
Coale said some of Courtney's and Stiles' success in college came from their abilities to attract athletes from around the country to play alongside them. After both NCAA icons went on to continue their careers years after college, that only led them to learn and develop more. "If you play in our program," Coale said, "you get a front-row seat to the magic. I think that will be as much of a draw as the records that they hold or the points that they've scored."
"I could imagine being a post player, and having Courtney Paris call me, and her saying, 'I want to coach you,'" Hansmeyer said. "That would be so exciting to anybody. I mean one of the best players of all time, definitely one of the top of all time, saying, 'Hey, I want you. I want you a part of this program and I want to coach you every day and I want to push you and I want to see how good you can be. I want to make you the best player that you can be.' If that doesn't excite you, I don't know what does."
Alongside her veteran knowledge of the game is Courtney's connection with OU, which ultimately led Courtney back to the program that sold family connections when recruiting her, a bond that Ashley says is "like family because they were a family." The Paris twins chose Oklahoma over powerhouses like UConn and Syracuse when the Sooners were starting to become a prominent program in the early 2000s.
"I learned how to be a person," Courtney said in her introductory press conference, "how to be a woman, how to be confident and not just be a basketball player. And obviously I had this career that was great and I played in this era that was great, but I became a full person at OU on and off the court. That was the biggest thing I learned there." 
"The people felt like home" Ashley continued. "And 15 years later they have that same feeling towards us."
That history was enough to convince Courtney that returning to the place she called home for four years was the next step of her new coaching career.
"When coach Coale presented the opportunity to me it was like, this made perfect sense to me," Courntey said. "This opportunity feels good to me. With that, I love Oklahoma, I believe in Oklahoma so this was an easy move for me to make."