In his Highland Park dining room in Dallas, Texas, former Dallas Cowboys vice president of player personnel Gil Brandt has an 11-by-14-inch picture of himself and Oklahoma coach Lincoln Riley. The only other picture in the room is a picture of Brandt and his wife, Sara.
"That should tell you how much we think of him," Brandt said.
Brandt, 86, has known Riley since they met in 2009, a year before Riley left Texas Tech for East Carolina. The ex-Cowboys executive was making trips to colleges to remind coaching staffs of the do's and don'ts of recruiting — a subject Riley has always had his eyes on.
During the meeting, Riley showed real curiosity, asking Brandt about his career and showcasing one of his best coaching attributes — the ability to connect with just about anyone.
"He has a great rapport for people," Brandt said. "It was everlasting, and still is, my feel for him. ... The guy is more than a friend to me."
Since then, Brandt has been watching Riley rise through the ranks of college football — all the way from being the wide receivers coach at Texas Tech to making College Football Playoff appearances in each of his two years as Oklahoma's head coach. He's watched Riley refine OU's offense into a national powerhouse while brushing off NFL rumors. Riley is determined to bring a national championship to Norman.
Now, after an offseason of potentially career-defining additions — good or bad — to the program, Riley is poised for another stellar season in his third year as the Sooners' head coach.
Alabama transfer quarterback Jalen Hurts has arrived in Norman to likely replace former Oklahoma star Kyler Murray. And new defensive coordinator Alex Grinch — considered an up-and-comer in the college football world — is expected to turn around OU's lackluster defense.
Those close to Riley think he can win with any squad. But anyone can see what Riley has this season might be a recipe for success.
In his two years leading OU, Riley has had an explosive offense with some of the nation's best quarterbacks to lead it. Yet both years he's come up short of hoisting the College Football National Championship trophy.
A blocked field goal in the 2018 Rose Bowl and a devastating first quarter in the 2018-19 Orange Bowl have stopped Riley from a chance at being crowned a national champion in the college football history book.
"I think we're right on the doorstep," Riley said after Oklahoma's 45-34 loss to Alabama in the Orange Bowl. "There's no doubt."
Riley may be able to break through with his offseason pickups in Hurts and Grinch, a talented group of recruits, along with some returning star power.
"I just would never bet against Lincoln Riley or probably never bet against Oklahoma," said Donnie Kirkpatrick, East Carolina's offensive coordinator and longtime friend of Riley's. "That's a pretty good combination: Lincoln Riley and Oklahoma. They're gonna win it. It's just a matter of when it's gonna happen."
'They got Jalen Hurts.'
On July 14 at Big 12 Media Days, Riley was perplexed to hear a reporter say that his offense — which has finished as the No. 1 offense in the country the last two seasons — should expect "a dip."
Losing Murray, who threw for 4,361 yards and 42 touchdowns in his junior season, and four members of a nationally acclaimed offensive line could be a critical concern for one of the most elite college offenses in the last two years as they begin the new season.
But Riley isn't new to hearing doubts. Murray also wasn't supposed to achieve what now-Cleveland Browns quarterback Baker Mayfield had done in his time at Oklahoma.
Riley's relentlessness in keeping a certain standard after losing players goes back before he came to OU.
Going into the 2012 season, Riley — then the offensive coordinator at East Carolina — had to deal with the departure of the Pirates' superstar quarterback Dominique Davis. Davis threw for 7,192 yards and 62 touchdowns in his two years at ECU and held the school's all-time passing touchdowns record. He was the American Athletic Conference Offensive Player of the Year.
"He was their MVP. How will you replace that? They (didn't) have anybody that's hardly played any," said Kirkpatrick, who was ECU's inside receivers coach at the time.
Enter Shane Carden, who didn't win the starting job at the beginning of the season due to an off-season injury. In Riley's offensive system, Carden threw for 3,116 yards and 23 touchdowns in 10 games as the starter.
He was the Pirates' starter for two more years, crushing all of the schools' records — including Davis'. Carden threw for 11,991 yards and 86 touchdowns in his career as ECU, and now holds the program's all-time record in passing yards (career, single season, single game), passing touchdowns (career) and total touchdowns (career, single game).
"I think (Riley) enjoys, as we all do, you enjoy getting the new guy up to that speed," Kirkpatrick said. "As a coach, that's what you live for, if you can help him get a little bit better. That's what makes your day. And (Riley) thrives on that."
Fast forward to when Riley lost Mayfield to the NFL in the 2018 NFL Draft. A quarterback battle between now-West Virginia quarterback Austin Kendall and Murray left the impression that neither of them would come close to Mayfield's 2017-18 Heisman season, where he accumulated 4,627 passing yards and 49 touchdowns.
Murray won the job, and went above and beyond expectations playing after Mayfield — he totaled 5,362 yards and 54 touchdowns, while taking home Oklahoma's second consecutive Heisman Trophy and becoming the No. 1 overall pick in the 2019 NFL Draft.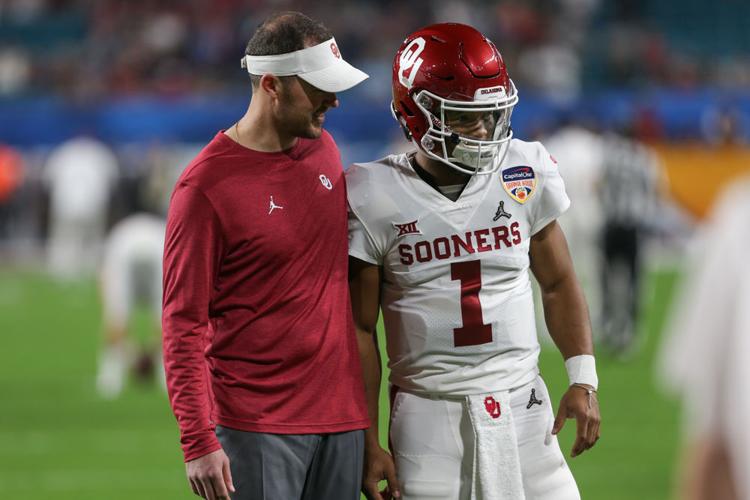 Riley hasn't just survived doubt in his coaching career — he's overcome it. Which is why, at Big 12 Media Days, Riley told the college football world he's not expecting offensive production to decrease.
"We don't plan on the offense dipping," Riley said. "We definitely expect our defense to be better. I don't think there's any doubt."
Lincoln Riley on the assumption that his "offense is gonna dip" and if his defense can rise more than the offense might slip this year.

"We don't plan on the offense dipping. We definitely expect our defense to be better. I don't think there's any doubt."#OUDNA | #BoomerSooner pic.twitter.com/on16pi0Sor

— Sooner Gridiron (@soonergridiron) July 15, 2019
Oklahoma now has Hurts. As of Aug. 18, Riley said Hurts hasn't won the starting job yet, but it's unlikely Hurts came from Tuscaloosa to sit on the bench. He isn't entering the limelight as a no-name, like Carden did at ECU. Hurts is a national championship quarterback who played under Alabama head coach Nick Saban, accumulating a 26-2 record as a starter for the Crimson Tide.
Like Carden, Mayfield and Murray before him, Hurts is Riley's new project on offense. But unlike Carden, Mayfield and Murray, Hurts brings something Riley is still trying to achieve: a national title.
"They got Jalen Hurts," Kirkpatrick said. "I don't see that going anywhere, except maybe even better."
'They have a look in their eyes and it scares you just a little bit.'
Former Oregon head coach and ESPN analyst Mike Bellotti, whose College Football Hall of Fame coaching career spans 35 years, knows the importance of having talent on the field year-in-and-year-out. But rosters change every year and, especially for a head coach, there needs to be consistency on the coaching staff.
For a coach who specializes in offense, Bellotti says it's helpful for that anchor to be the defensive coordinator.
"It's tough to play defense nowadays. And so for an offensive-minded coach, especially when you're gonna go to a huddle and take chances and roll the dice," Bellotti said, "I think you gotta have a guy on defense, one, that is comfortable with what you do, (and) two, that trusts you and that you can trust and is gonna put the kids in a position to have success."
After ascending from his role as Oregon's offensive coordinator to head coach at the age of 44, Bellotti went through six offensive coordinators in his time as Oregon's head coach. He never had one stay for more than four seasons.
But on the defensive side of the ball, Bellotti had defensive coordinator Nick Aliotti from 1999 until Bellotti's retirement in 2008.
"My focus for the most part was always on offense. I wanted somebody on defense that I could trust," Bellotti said. "Nick Aliotti is one of those kinds of guys. … It helps to have somebody you trust on defense."
With Aliotti by his side, Bellotti coached the Ducks to two Pac 10 Championships, five bowl wins and an 86-38 record.
After spending two seasons with a defense that clearly held the Sooners back, Riley might finally have his own defensive anchor: Grinch.
Arguably Riley's best hire as head coach, Grinch brings an intensity that the Sooners could've used in the last two seasons. The intensity comes from Grinch's signature scheme, called "Speed D" — a type of defense that emphasizes aggressive play and forcing turnovers.
"There's certain guys you know should be defensive coordinators. They have a look in their eyes and it scares you just a little bit," Bellotti said. "(Grinch) gets your attention."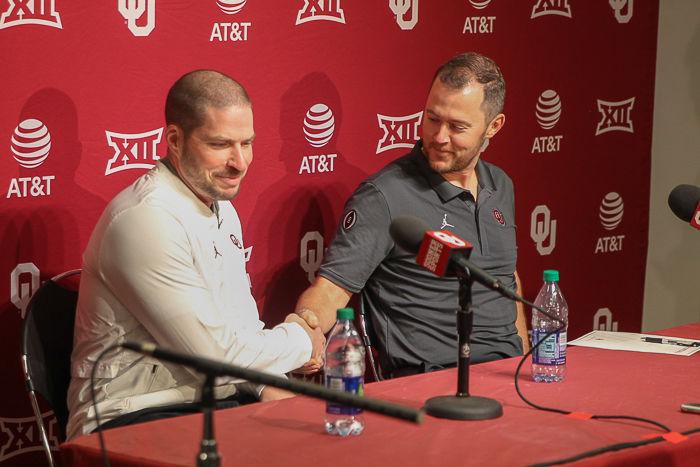 Grinch took Washington State's defense from No. 97 in the nation in total defense upon his arrival in 2014 to No. 16 in 2017 as the Cougars' defensive coordinator, before leaving to become co-defensive coordinator at Ohio State.
Riley doesn't even need the No. 16 defense in the nation to be successful. He and the Sooners made it to the College Football Playoff twice with a defense that's been at the bottom nationally in defensive statistics. It came down to defensive stops that weren't made — Georgia running back Sony Michel's walk-off overtime touchdown in the 2018 Rose Bowl and 28 unanswered points from Alabama to start 2018-19 Orange Bowl — that kept the Sooners from reaching the title game.
If Grinch even gets close to doing what he did at Washington State, Riley can have a sigh of relief.
"If he continues to put defense as a priority … and (the Sooners) continue with the offensive tradition that they had lately, then certainly they're going to be not just competing for the Big 12 Championship, but competing on a national basis for the playoff system," Bellotti said. "Having already been there a few times and having, seemingly, a transitional quarterback that can keep them at the top. And hopefully with some improvements on defense, they should be right in the thick of it."
'No person's perfect. ... This guy is as close as it comes.'
Brandt calls Riley "a young Tom Landry."
The late Landry was the first head coach of the Dallas Cowboys, where his coaching career for the program spanned 29 seasons. He won two Super Bowls and tallied 270 wins in the NFL. Brandt makes the comparison to Landry to show how he thinks Riley knows both sides of the ball.
"Let me tell you about Lincoln Riley," Brant said over the phone. "He is extremely qualified as a football coach, because he knows both offense and defense. Oklahoma is so lucky to have him, and whatever they're paying him, it's a steal."
Riley's high school coach, David Wood, feels the same way.
Wood, who retired from Muleshoe High School in 2018 after coaching at the program for 22 years, knows Riley has the ability to lead a program on both sides of the ball. He's seen Riley serve as a player-coach and team leader when Riley was a star quarterback in his junior and senior high school seasons. But first, Wood watched Riley develop on defense.
"He started on defense for us before he started on offense for us. He took that very seriously," Wood said. "He knew the importance of defense. We talked it all the time."
In his sophomore year, Riley had injured his throwing shoulder in an offseason scrimmage, which prevented him from winning the starting quarterback position. Wood, however, thought he was too valuable to bench for the season. So Wood had Riley wear a harness around his shoulder and start at defensive end.
Wood had always seen Riley's offensive mind at work in the film room and when Riley would go up to coaches suggesting plays during games. But when he started playing on defense, Wood realized Riley's attention to detail, and noticed him become a leader on the defense. Riley picked up defense just as fast as he had picked up offense.
"He was another coach on the field for us with the rest of the players," Wood said. "You can't teach that. He just had it. The kids would listen to him. He's just one of those kinds of guys.
"He's got that mind. I'm telling you, he's the quarterback coach right now but he could be the defensive end coach right now and his defensive ends would be the best defensive ends in the nation. … He sees the little things. He sees whether you're three inches off in your stance. He just sees things like that."
And Riley just might have collected all the pieces OU needs to go the distance.
"I've been telling people about this guy for eight years," Brandt said. "No person's perfect. … This guy is as close as it comes."