Following freshman struggles, Hansen develops into one of Big 12's best pitchers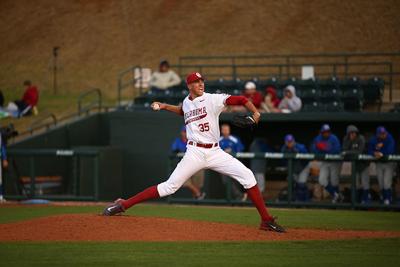 If you saw Alec Hansen walking down the street, you'd probably marvel at his 6-foot-8-inch frame and thank the deity of your choice that he wasn't at the gym the last time you played a pick-up basketball game.
If you accidentally bumped into Hansen, you would probably get a very cordial and humble response that you might not expect from someone so large in stature.
But if you were so unfortunate to run into Hansen on the baseball field, you'd probably be cursing him and his 100+ MPH fastball on your way back to the bench. 
But that's Alec Hansen in a nutshell — he's big, he's quiet and he's powerful.
"I think it's quiet confidence that he's got," junior outfielder Craig Aikin said of his teammate. "He's got a lot of dog in him that a lot of people don't get to see."
The sophomore right-handed pitcher from Loveland, Colorado is having a banner year for the Sooners. Through nine starts, Hansen owns four wins to go along with a 3.40 ERA and a Big-12 leading 69 strikeouts. 
Hansen, who possessed the same potent fastball a year ago, struggled mightily as a freshman. He posted just 11.1 innings and had a walk rate that even Edinson Volquez would have found troubling.
Coach Pete Hughes said he first saw improvement earlier this season against Texas Tech. Hansen had been dealing, but ran into trouble in the fifth inning. He ultimately got out of the jam en route to his first complete game as a Sooner. 
"Last year, I don't think Alec gets out of that inning," Hughes said after the game. "It really showed maturity, grinding with it, making adjustments, and getting out of that inning and continuing to pitch well after that. And that's what growing up is all about."
"I think the biggest thing is throwing strikes and just believing in myself and believing in the guys that I've got behind me," Hansen added.
Gentle Giant
It's unique to watch Hansen walk off the mound inning after inning with such a quiet demeanor despite having one of the hardest fastballs at any level of baseball. In some ways, he's become a silent killer for this OU squad.
"He's a quieter guy but he handles his business and every time he comes out and pitches well it's the same Alec as if he didn't have his stuff that day," Aikin said. "He's the same guy and that's what you're looking for. 
"Some guys might be fiery and want to come off the field fist bumpin'. I'm kind of that way a little bit, I like to get caught up in the moment, but he doesn't. He just puts his head down and focuses on the task at hand."
But just because he's quiet doesn't mean that he's not competitive — on or off the field.
"Alec is super talented and he's determined to get really good at his craft, which a lot of kids at this age, you'd be surprised, aren't consumed with it like he is," Hughes said. "He's worried about how he's going to get better every outing."
That's been evident so far this season — Hansen currently sits at first in the Big 12 in strikeouts (he has 16 more than the next pitcher) and is tenth in innings pitched. His 11.72 strikeouts per nine innings also ranks in the top 15 in the country.  
"I'm just looking to pitch to contact and get some quick outs and go deeper in games like I have been doing," Hansen said.
That approach helped him several weekends ago as he settled in to battle No. 10 Texas Tech. Hansen tossed a complete game and evened the series for the Sooners, who benefited from the effort in the series finale on Sunday.
Junior Adam Choplick was slated to start the rubber match, but the big lefty ran into trouble early and often.
Hughes went to the bullpen after Choplick failed to retire any of the first five hitters — a luxury that the coach credited to Hansen for giving the bullpen a day off earlier in the series. 
Senior right-handed pitcher Rober Tasin came in and shut down the Red Raiders, giving Oklahoma a chance to come back. The Sooners ultimately stole game three of the series 3-2.
"He's been huge for us this year. He gives us a front line guy who's in the zone who can eat up innings," Hughes said of his flame-throwing righty.
As talented and competitive as Hansen is on the mound, Hughes mentioned that he might have another career path waiting for him if this baseball thing doesn't work out.
"He's a phenomenal ping pong player," says Hughes, "phenomenal, like dominant."
Growing Pains
Baseball is a game of failure. At the major league level, only failing 70 percent of the time will get you inducted in to the Hall of Fame. Failing 65 percent means that you're among the best hitters to ever live.
As a freshman at OU, Hansen failed a lot. Actually, he failed so often and so quickly that he didn't even earn the chance to fail a lot. Hughes had seen enough after Hansen walked 13 batters in his first 11.1 innings. 
"He couldn't throw a secondary pitch for a strike last year," Hughes says, "but now he's pitching."
"You're six-foot-eight, there's a lot of moving parts. It's not short and compact. And he was young. Imagine being 18-years-old and six-foot-eight. Your body hurts anyways, never mind 'hey, can you perform a high-level skill and repeat it every time?'"
Hansen was a year younger last season, but that was hardly the biggest of his challenges in terms of growth — throwing and controlling 100 MPH wasn't something he had been accustomed to yet.
According to a Denver Post article that was published just before Hansen was set to enter the draft, the young righty had topped out in the high 80's as a junior — a substantial amount of growth for one year.
"It's happened so fast, it's kind of surreal," Hansen said as a senior in high school. "Last year, none of this was in the picture."
The increase in competition paired with the lack of familiarity with his own body and throwing mechanics also played a part in his struggles. However, he was able to work through those issues after OU's season ended a year ago.
"He went out and learned a cutter this summer and just kept having success and building on that. It makes all the difference in the world," Hughes said.
His size and power is what got him to Oklahoma, but it's Hansen's "quiet confidence" that has given the Sooners its silent assassin on the mound.
Hansen's demeanor is something that's obvious and infectious when talking to him. He's quick to give his teammates and coaches all the credit but still understands what he's capable of.
That's something that has developed over his time at OU, and it was confidence, or lack-there-of as he says, that caused him to struggle mightily as a freshman.
"I threw a lot of strikes in high school, so I think it was a mental thing," Hansen said. "It was big just being able to put everything behind me and know that I had the ability to go out there and get guys out."
Hansen did throw a lot of strikes in high school, or at least that's what his 0.91 ERA in his senior year would suggest. 
Hughes says that he's even noticed a difference in how Hansen carries himself off the field — a sign that his newfound confidence and improved mental game is here to stay.
"When you get confidence, it just takes off. You can see it in the way that he's walking around," Hughes said. "He's just a different dude than he was last year because he's having success in something that he cares about."
After the end of his junior season, Hansen will have the opportunity to enter the MLB draft, where he will almost certainly be taken in the early rounds. Out of high school, he was drafted in the 25th round by the Colorado Rockies but opted instead to go the college route. 
If Hansen continues to progress as a pitcher, his fastball will be highly coveted by general managers at the next level. But he's not concerned about that for right now, said Hughes.
"He's super-focused on 'how good can I get here at OU?' He's not saying 'oh, I want to play in the big leagues, I want to be a first-rounder.' It's all about winning and performing here," said Hughes, "which is very unusual these days."