OU student pursues teaching career despite harsh Oklahoma economy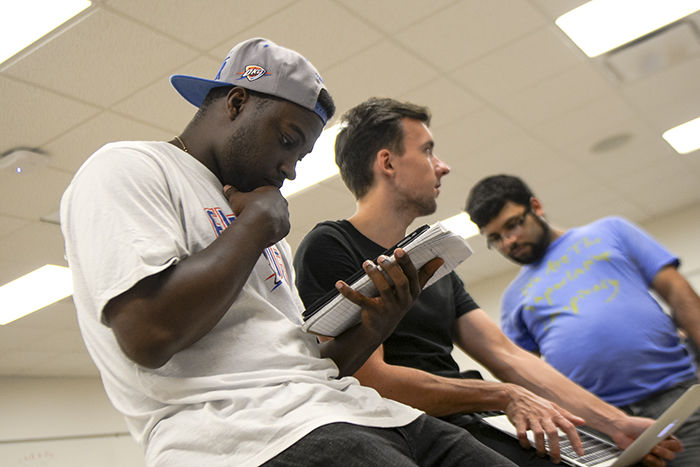 It took a small crisis and one night spent lying awake in bed for education junior EJ Parker to realize his true passion and pursue teaching high school history in Oklahoma.    
His mom initially told him that he was wasting his time when she found out he had switched his major from journalism to education.
"She put a lot of emphasis on me making money because she and my dad did a lot of work to get me where I am now. She said, 'You deserve more than that,'" he said.
Once Parker explained pursuing teaching was for his own happiness, his mom was more receptive to his career choice, but he often runs into criticism from others.
"I still get people who say, 'You want to be a teacher here? If you want to be a teacher, why not move to Texas?' I don't want to live in Texas. Nothing against Texas, but this is my home. I'm not going to abandon it," he said.
The budget shortfall in Oklahoma has heavily impacted the state's education system. The annual mean wage of secondary school teachers in Oklahoma as of May 2015 is $42,960 — the lowest of all 50 states, according to the Bureau of Labor Statistics. 
As a graduate of the public school system in Bristow, Oklahoma, Parker feels fortunate to have received his education in a decent school district where parents supported the school system and tried to keep programs running. However, he said he noticed a lack of resources during his first field experience in Little Axe Middle School.
"They were kind of pushing it, in terms of resources. It's a really small school system," Parker said. "It's tough, but there are really good educators who are finding ways to hold their own to help with these problems, and I tip my hat to them because they love what they do, and they love their students, so they do what they can."
Erin Vaughn, a special education resource teacher at Lincoln Elementary in Norman, graduated from OU's Jeannine Rainbolt College of Education two years ago. Since graduating, Vaughn has watched a number of her peers move out of state, she said.
"I can count on one or two hands how many people have moved to Texas or other places — and not necessarily because they were unhappy with where they were, but (because) they couldn't provide for themselves," Vaughn said.
A lack of funding means larger class sizes without teachers' assistants to give one-on-one attention to students and more pressure put on teachers to bring students up to testing standards while managing behaviors in the classroom, Vaughn said.  
Vaughn benefits from the OU College of Education's Debt-Free Teachers program, which was established to increase retainment of teachers in the state, and it subtracts $5,000 from students' loans every year they teach in Oklahoma after graduation for up to four years or the equivalent to $20,000. She currently plans to teach in Oklahoma for the next two years to continue benefitting from the program.
Living with a roommate also helps alleviate some of her financial stress, allowing her to keep some extra money she can tithe in church and give to nonprofits she cares about, she said.
"I worry about the teachers who are like me, who are single — or even single moms — who literally can't pay their bills because they aren't being paid enough, but they love what they do, and they're good at what they do," Vaughn said.
Vaughn said she feels fortunate to work at a school that maintains a positive attitude in the midst of poor funding and the flux of teachers who have decided to challenge Oklahoma legislators for their seats this year.
More than 40 teachers filed to run for one of the 126 open state Senate and House of Representatives seats, according to Education Week. Shawn Sheehan, a Norman High School algebra and special education teacher, is running as an independent for Senate District 15 against incumbent Republican Rob Standridge.
Sheehan was Oklahoma Teacher of the Year for the 2015-2016 school year and one of the four finalists for the 2016 National Teacher of the Year.
Sheehan has been teaching for six years and admitted he didn't pay much attention to the funding situation in Oklahoma until he was teacher of the year and traveled the state.
"I went to schools out in very rural places like Anadarko and Haworth and just kind of small places where I was like, 'How are you guys doing this?' We have districts south of us, (such as) Noble and Newcastle, that are going to four days a week, and that's really not what's best for kids ... There are a lot of parents who don't really know what to do with their second grader on Friday," Sheehan said.
Sheehan's wife, Kaysi Sullivent Sheehan, an AP English teacher at Norman High School, is pregnant with their first child. When the two looked into buying a house, they were disappointed to find out they wouldn't be able to afford it.
"Why wouldn't I move to Texas?" Sheehan asked.
"I don't want to do this perpetual struggle with our baby girl for all the years to follow," he said. "It's not a case of if the grass is greener, it's a case of there is grass versus no grass. It is dying on our side," Sheehan said.
Although $33 million was appropriated for textbooks in the 2016 fiscal year, legislators cut textbook funds completely for the 2017 fiscal year, according to a release from the Oklahoma State Department of Education in June 2016.
"As a result of the funds being cut this year, we are seeing a number of textbook publishers pulling out of Oklahoma," State Superintendent of Public Instruction Joy Hofmeister said in the release.
Norman is struggling, but not as badly as kids in Oklahoma City who are using the same textbook for the 12th consecutive year, Sheehan said. He believes Oklahoma legislators aren't addressing the issues that need to be dealt with.
"I didn't want to believe there are folks out there who are trying to dismantle public education, and last year I learned that there are, there really are. There are people who want to implement methods to starve public education in an effort to improve and increase privatized education," Sheehan said.
Privatized education marginalizes students with disabilities because private schools aren't required to enforce Individualized Education Programs. An IEP is a legalized document educators must fill out for kids who qualify for special education assistance. Privatized education also excludes children with more moderate to extensive behavioral issues, Sheehan said.  
"This will clearly be a situation of have's versus have not's, and public schools will be reserved for the low-income folks, and it will perpetuate these cycles we are trying to break," Sheehan said.
Reviewing the state's tax policies and finding ways to generate more revenue will be on the top of Sheehan's priority list as senator, he said.
While State Question 779, commonly known as OU President David Boren's penny tax proposal, is not a "desirable" option, it is needed in order to provide immediate relief in the form of a $5,000 increase to teachers' salaries, Sheehan said. Boren's penny tax proposal is a one percent sales tax increase; consumers will pay an extra cent for every dollar they spend.
"It is a regressive tax by definition, and so the point that is made is that it affects low-income folks more significantly than others. What also affects low-income folks is having this revolving door of educators," Sheehan said.
Boren has looked into the regressive effects his penny tax proposal could have.
"While the sales tax is somewhat regressive, recent studies have found that those in the top quartile economically spend three or four times as much each year as those in the bottom quartile. This reduces the regressive effect," Boren said in a statement.
Additionally, polling data indicated sales tax had the highest likelihood of passing by popular vote over an income tax or property tax, Boren said.  
"Education is the main way up for young people who are trapped in poverty. The greatest part of the benefit from better funding for education comes in many cases to lower income groups," Boren said. "In addition at OU, if State Question 779 does not pass, we will likely be faced not only with forced layoffs of faculty and staff and the cancellation of courses, but also with larger tuition and fee increases on students. This hurts our (low-income) students most of all," Boren said.
Parker notices the education cuts on a collegiate level. He watches his friends fight every day to stay in college, pay their tuition, buy books, find the time to study and be successful in the classroom. He does what he can to help increase their chances for success. Just last week, Parker's friend in Tulsa was short $300 on rent, so Parker helped him out.
"I help people study. Even if I don't have the means to help them, I want to motivate them, encourage them. A little instant feedback can go a long way," he said. "When someone gets a C on a paper when they got an F prior, I encourage them to improve and tell them 'Well, next time you will get a B.' I love it. The greatest feeling is watching other people succeed," he said.
Parker has thought about working for programs like Teach for America in cities like Detroit and Chicago, but there aren't many reasons for which he would leave Oklahoma.
"I would love to teach AP U.S. History in schools that don't have it. I might start that up, but if I have to teach on-level history, I'm going to make sure they aren't getting cheated," he said.