When OU Deisenroth Presidential Professor in History of Science Chair Piers Hale isn't teaching, he trails the open waters of Lake Thunderbird for thousands of yards. No matter what the weather, Hale said he often takes to the lake for exercise and enjoyment.
Five years ago, Hale said a routine swim and a buzz-worthy discovery changed his life forever.
Hale ended his swim to investigate a hollow tree buzzing with a nest of over 10,000 bees. Fascination exceeded fear, as Hale said his initial thought was to fulfill his lifelong dream of keeping bees.
"I've always fancied keeping bees, but there are practical considerations like what your neighbors might think or local laws," Hale said. "(But) because it was right next to the park entrance, the park rangers said they were going to get rid of (the bees). Before thinking through all of the practicalities, I said I could take care of them. That was the start of things."
A hive of activity exists on OU's campus as Hale, along with other OU professors, participate in unique, bee-related endeavors.
The nest of bees turned into 10 multi-colored hives Hale maintains in his backyard, making up what he has coined the Big-Cat Bee-Keeping Company. He said he found inspiration for the name in his late cat Samson, who became Big Cat after Hale added a few members to his family of cats. His cat Little Cat carries on Big Cat's legacy as keeper of the bees.
"The cats hang out with the bees quite happily," Hale said. "Little Cat, who is frequently our employee of the month, will quite happily sit on top of the beehives. The bees don't seem to mind Little Cat being there at all, which still amazes me."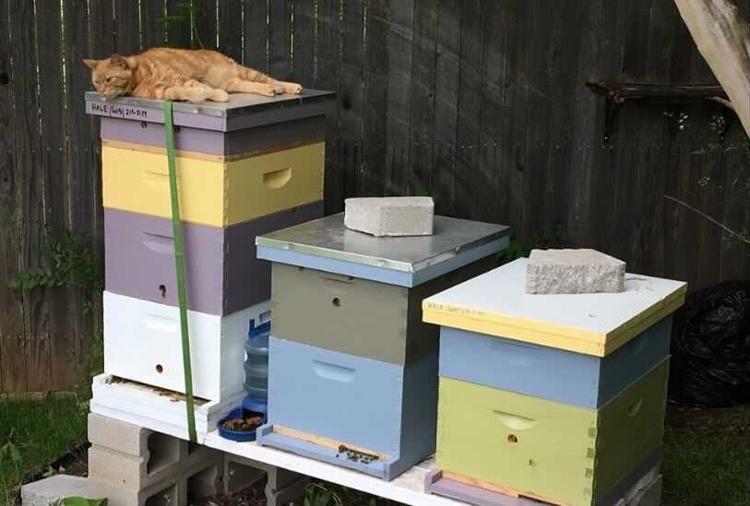 Little Cat is not the only one who works closely with the bees, Hale said.
While Hale keeps a standard colony of about 20,000 bees, other hives of his take residence in the private gardens of friends who request them. Hale said the burden of maintaining eight to 10 hives is great, so he prefers to spread the wealth by mentoring others in the art of beekeeping.
Currently, the bees require little maintenance as Hale said they huddle together in their hives and buzz to keep warm. He said he usually waits until late February to start checking the hives every seven to 10 days.
"(In the spring), honeybee colonies reproduce by swarming," Hale said. "Part of good management, especially when you have neighbors, is not to let 20,000 bees suddenly decide they're going to live in your neighbor's garage. You have to either stop them from swarming or preemptively split the hive in two."
The company's main honey harvest commences around the Fourth of July and continues into September, Hale said. Hale said he normally produces 80–100 pounds of honey per year, which he quickly sells to friends, family and clients.
Hale's passion for bees is something he has applied beyond his backyard beekeeping business. Beekeeping, he said, connects well with his academic work concerning the history of evolution.
"This last summer I had a couple of articles published in the American Bee Journal — a journal for beekeepers — on the ways Darwin uses honeybees as an example of evolution in his (books) 'Descent of Man' and in 'On the Origin of Species,'" Hale said. "It has been a nice way to combine my academic interest with my interest in these animals."
When appropriate, Hale said he incorporates the evolutionary example of the honeybee into his Darwinian evolution class. He also said it is useful to talk about the importance of pollinators and beekeeping in his history of ecology and environmentalism course.
"I really think there is nothing more fascinating than how we have become who and what we are and how we, in the present and past, have made sense of that variously," Hale said. "The honey hive has often been looked to as a model of what human society should be or could be."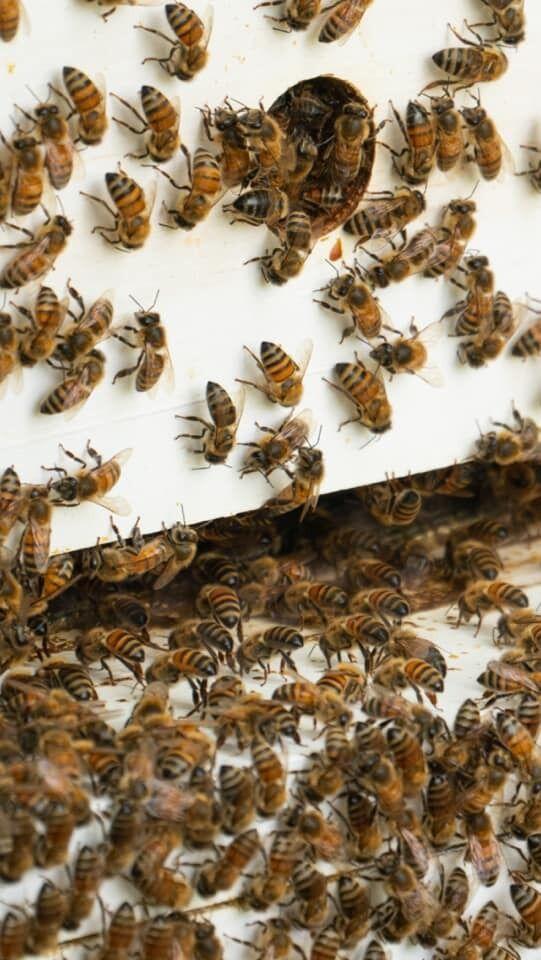 Hale is not the only professor at OU interested in beekeeping. Biology professor Doug Gaffin and classics and letters professor Kyle Harper also share Hale's enthusiasm for bees.
Gaffin serves as the faculty adviser for OU's Beekeepers' Association and has followed bee literature since the early '80s. His studies surround bee navigation and how the organism manages to travel for miles and return to the same hives and flowers.
"There's an idea that came out of the bee community … that they are taking in everything they encounter as a series of QR codes," Gaffin said. "The thought is that bees acquire and sort of flip these synaptic switches as they traverse a certain area for the first time. And then, to return on that same path, all they have to do is look around and fly toward whichever QR code is most familiar."
Gaffin said he is currently applying his understanding of bee navigation in a research-based course he teaches. The class is examining Gaffin's hypothesis that scorpions utilize navigation techniques similar to bees, except with taste and touch.
The question of how bees navigate is one Gaffin said he has never lost interest in. He said his research has never felt like work.
"I used to teach high school in California, (and) when I started thinking about this question I quit my job and started searching for a grad school," Gaffin said. "I think there's going to be some real breakthroughs that are happening. … I feel so lucky to be able to do this."
Harper, however, said his experience with beekeeping was a less successful effort.
Harper said he tried his hand at beekeeping to feel more connected with the land around him. He said the species intrigued him and he wanted to learn more about how they contribute to local food production.
"I am interested in anything we can do outdoors in Oklahoma," Harper said. "I have never been involved in beekeeping, but I just decided earlier this year to give it a try. Unfortunately my hive kind of petered out."
Harper said he kept his hive from his first attempt and hopes to learn from his mistakes in the coming season.
"They're some of the most amazing creatures, and they're such a neat part of the ecosystem," Harper said. "There's nothing quite like experiencing an animal like that firsthand."
Bees, Hale said, make great neighbors and are bred to be peaceful as well as productive. He said he thinks people get it wrong when they think of bees as invasive or harmful creatures — especially when he watches them live in harmony with Little Cat.
"Bees have a deeply complex society that is fascinating to watch throughout the year, and across generations," Hale said. "But it's also incredibly relaxing once you get beyond the fact that there's a frame of several thousand stinging insects a few inches away from you. When you're looking at them, they're involved in their own business, and they are amazing to watch."