The Oklahoma State Regents for Higher Education listened to presentations from several consulting groups and stakeholders during a Thursday morning special meeting about the state of Oklahoma higher education and potential solutions for financial issues resulting from COVID-19.
In the meeting, which was streamed live over Zoom, regents heard data from Huron Consulting — a global management consulting firm that offers services to many industries, including higher education — about the financial state of colleges and universities in Oklahoma and discussed potential issues those colleges and universities will face this fall.
Among key concerns in the Huron presentation were how universities would handle the financial consequences of lower enrollment and the potential of returning to all-online classes if COVID-19 cases surge in the fall.
The regents approved a $770.4 million higher education budget Friday from the Oklahoma legislature, which is 3.95 percent lower than last year's appropriation. Due to Oklahoma's financial reliance on the oil and gas industry, which has taken major hits from the economic impacts of COVID-19, the legislature may opt for mid-year cuts based on oil and gas revenues, according to Huron consultant Glen McLaughlin.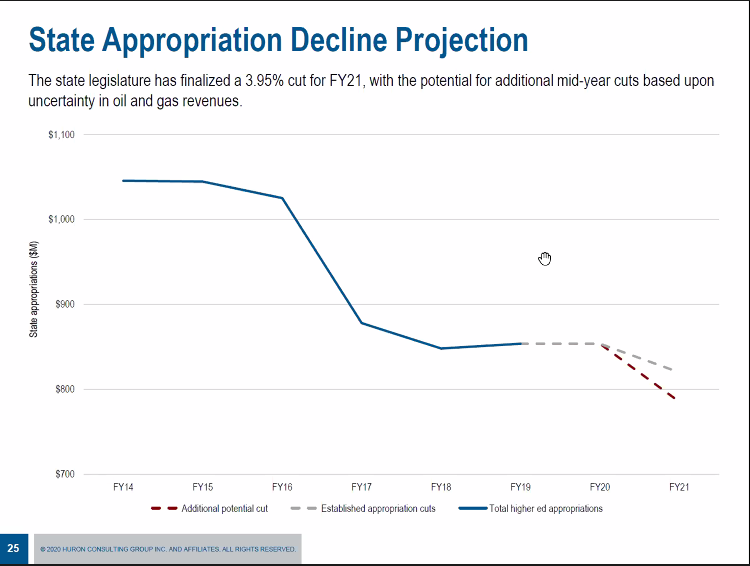 According to OU President Joseph Harroz, who spoke at the May 8 OU Board of Regents meeting, the university has seen a 2–3 percent drop in freshman commitments and an upperclassmen retention deduction of 5–6 percent.
Harroz also said in the meeting the university lost $14.7 million in FY 2020. OU Norman lost $4.2 million and OU Health Sciences Center lost $10.5 million.
John Curry, Huron's principal in higher education consulting, said universities will need to be cautious about how they handle residential buildings. If not enough students can fill the buildings, Curry said, universities may get into debt trouble with bondholders, whose financial investments in dormitories are dependent on revenue from student residential fees.
"All the universities rely on student rents to pay off the debt on the buildings," Curry said in the meeting. 
Regent Jay Helm said he agreed with Curry's concern.
"That's why there's going to be a lot more schools going back in than they originally talked about," Helm said.
Curry also brought up the issue of potentially losing grants, which have been used to supplement the salaries of tenured faculty. If those grants go away, Curry said, those universities will have to make up the difference in those faculty members' salaries.
Huron also presented data on the university's cash-on-hand equivalents, which show how many days the university would be operational without incoming funds. Comparing higher education institutions across the state, four community colleges were at the top of the list, with the highest — Carl Albert State College — having 200 days of cash-on-hand. 
OU's cash-on-hand equivalency was 56.4 days. Oklahoma's other flagship university, Oklahoma State University, had 34.1 days of cash-on-hand.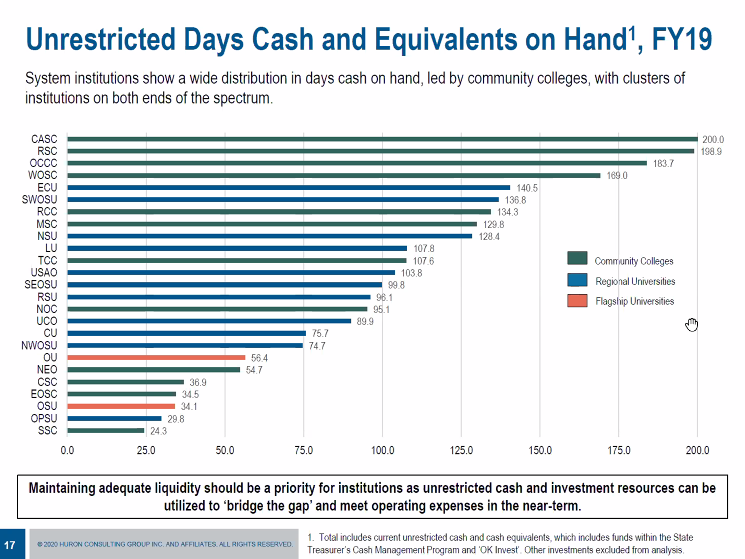 To mitigate expenses universities may face in the fall, Huron advised potential money-saving solutions, such as cutting expenditures, dipping into reserves, merging or closing schools, reducing or realigning academic programming, reducing administrative costs and structuring which degree programs are offered based on their job markets. The consulting group said potential revenue shortfalls may range from 7–13 percent for FY 2021.
The OU Board of Regents' next meeting is scheduled for June 23–25, in which the regents will approve a university operating budget for FY 2021. The Oklahoma State Regents for Higher Education will review those budget proposals for approval at its June 25 meeting.