DALLAS — Caleb Williams stood tall amid his teammates as he donned the Golden Hat, yelled in celebration and threw Horns Down, the inverted Longhorn insignias on his fingernails burning orange in the 90-degree sunlight.
Moments later, as Williams rested front and center for a team picture in the middle of the Cotton Bowl, Spencer Rattler was nowhere to be found. The freshman they call "Superman" had saved the Sooners' season and upended OU's quarterback situation, creating a battle that will take center stage in weeks to follow.
No. 6 Oklahoma (6-0, 3-0 Big 12) completed the largest comeback in the history of the Red River Showdown, resurging from a 28-7 first quarter deficit against No. 21 Texas (4-2, 2-1) for a 55-48 win thanks in large part to Williams' heroism. The No. 1 quarterback in the 2021 recruiting class, who until Saturday had seen only special package usage behind Rattler — the preseason Heisman Trophy favorite and second-year starter — took control of the Sooners' offense and captained it to victory, finishing 16-of-25 for 212 yards plus 88 rushing yards and three total touchdowns.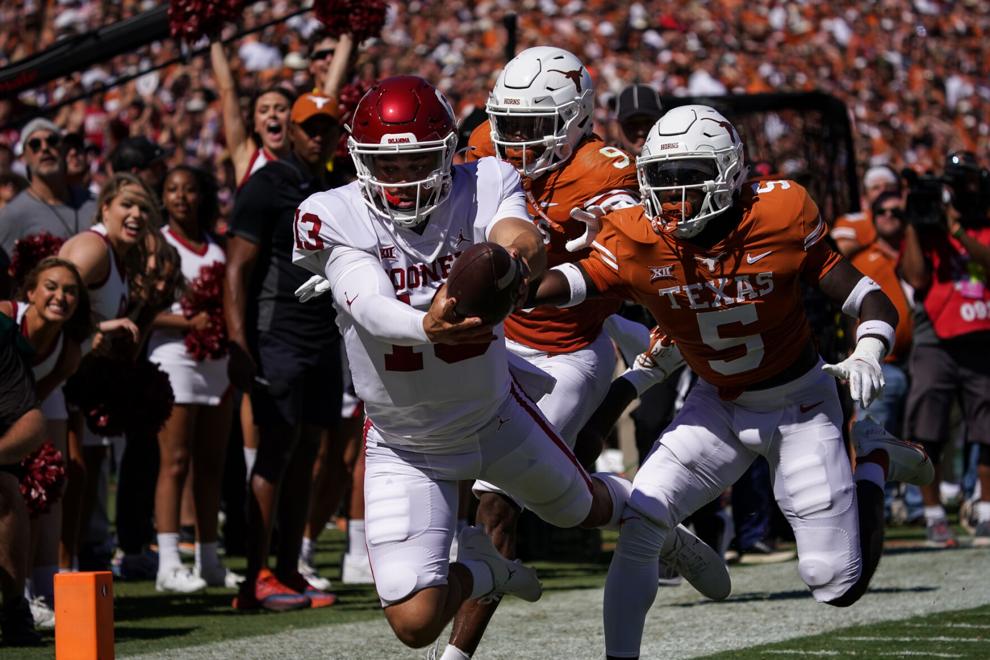 "Hell of a game, hell of a performance, no doubt about it," Randy Trivers, Williams' former coach at Gonzaga College High School in Washington, D.C., told The Daily after the game. "Not a shock. That young man is a special talent who rises in special moments."
Entering the game to begin the second quarter and facing a fourth-and-one, Williams took the snap and cut left, breaking two tackles before finding a seam and sprinting 66 yards at 19.1 mph. Racing downfield like the red-caped blur he's nicknamed after, Williams punctuated the run by stretching the ball across the goal line and flying in for a touchdown like the Man of Steel himself.
#Sooner QB Caleb Williams hit 19.1 mph on this 66-yard TD @soonergridiron @barstoolsports #RedRiverShowdown | #myRAmaxspeed pic.twitter.com/Uxb0ykTT73

— Recruiting Analytics (@RAanalytics) October 9, 2021
Two drives later, Rattler, who'd previously thrown an interception, fumbled, leading to a touchdown that put Texas up 35-17 with six minutes and 41 seconds left in the second quarter. One year after temporarily benching Rattler before his quadruple-overtime comeback against Texas, Sooners coach Lincoln Riley removed his starter again — two weeks after OU's student section called for his benching — and entrusted his offense to Williams.
"I think the playbook changes because (Williams is) a runner," ESPN's Kirk Hebrstreit said at halftime on ABC's broadcast of the quarterback change. "Things change because you can now attack with him as an extra number for that defense to have to account for, and then you can still go play action. With Spencer Rattler it was really more about what he could do if he had to create. With Caleb Williams, it's designed to let him use his legs."
Williams promptly led OU to a field goal on its last drive of the second quarter, but the Longhorns responded with their own, increasing their lead to 18 at the break. Before and after halftime, Williams had a spring in his step, waving his hands, rallying his teammates and hyping up the Sooner faithful.
On the Sooners' third possession of the second half, Williams finally completed his first collegiate touchdown pass after OU and Texas traded field goals again to open the third quarter. Unfazed by a fumbled snap — a blunder he similarly made last week against Kansas State that cost Oklahoma a potential touchdown — he scooped up the ball and fired a 14-yard dart between two defenders to sophomore receiver Marvin Mims.
Caleb Williams out there making it happen. pic.twitter.com/bb7adO7HCp

— Sooner Gridiron (@soonergridiron) October 9, 2021
"He's very poised, which I told Coach Riley when they were about to offer Caleb, that one of his best qualities is his poise under pressure," Trivers said. "That's why it's not a shock to see him perform really well under a big spotlight."
Williams proved his old coach true again with OU trailing 41-33 midway through the fourth quarter. On third-and-19 with a defender on his tail, Williams stepped up in the pocket and uncorked a 52-yard touchdown strike to Mims.
WILLIAMS ➡️ MIMS ARE YOU SERIOUS? pic.twitter.com/lSXzMuKE6W

— Sooner Gridiron (@soonergridiron) October 9, 2021
Trivers had seen plenty of plays like that from Williams in similar situations before, as had Gonzaga offensive coordinator and quarterbacks coach Danny Schaechter. During the 2018 Washington Catholic Athletic Conference championship game against DeMatha Catholic, Williams and the Eagles were down 20-0 in the second quarter and later faced a 16 point-deficit with seven minutes left in the game.
Undeterred, Williams needed only three minutes and three seconds to save the day. He rushed for one touchdown, then threw for another with 29 seconds remaining before DeMatha returned a squib kick for a score to retake a 43-40 lead. Refusing surrender, Williams got the ball back with 15 seconds left. Two plays later, he unleashed a 60-yard hail mary from his 41-yard-line, which was caught for a championship-clinching touchdown as time expired.
"In his career, a bunch of times at Gonzaga we were down big. (He'd) never give up," Schaechter told The Daily. "(He'd) keep playing, living the next play and making great plays where he needs to make great plays, because Superman always has his cape on."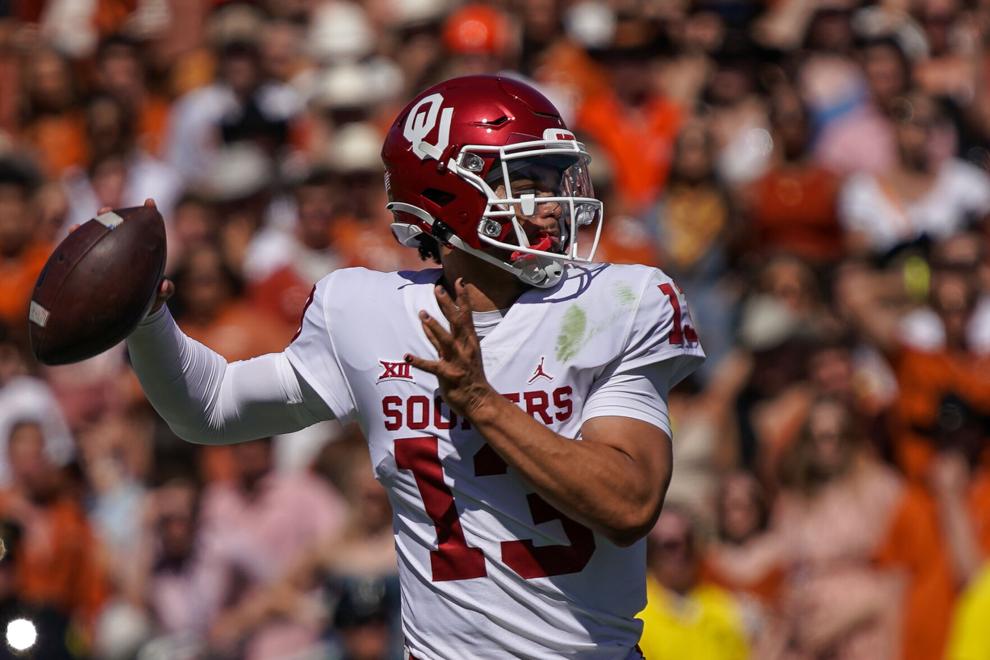 Following Williams' intrepid fourth-quarter touchdown Saturday, Riley put Rattler back in for what he called the most important play of the game — a two-point conversion he completed to redshirt junior receiver Drake Stoops. After Texas' Xavier Worthy was stripped by another Caleb — OU's sixth-year senior linebacker Caleb Kelly — on the ensuing kickoff, Oklahoma took a 48-41 lead, its first of the game.
UT quarterback Casey Thompson, the son of former Sooners passer Charles Thompson, responded with a tying 31-yard touchdown pass to Worthy. Williams replied by marching the Sooners downfield, and then redshirt junior running back Kennedy Brooks broke a 33-yard touchdown run with three seconds remaining to seal the win.
"I get what's going on with Rattler and everything, but I've been telling people for a while that Caleb Williams is the best college football player right now," Schaechter said. "He is an unbelievable athlete, unbelievable playmaker and quarterback, and so when he went in, I was just excited for him, because he has put a lot of work into it. ... I just want him to experience the success that he works for and deserves."
Afterward, many of the 92,100 in attendance stormed the field to celebrate, among them student section members who'd gotten their wish. Just two weeks ago, they'd chanted "We want Caleb" on an ABC broadcast after Rattler threw an interception against West Virginia.
Rattler was scarce postgame, and Riley made neither quarterback available to reporters. The Sooners' coach said he had planned to bring Rattler back into the game, but changed his mind once OU's offense began rolling with Williams.
Ultimately, Riley was noncommittal on who he plans to start next week against TCU (3-2, 1-1). Should he choose Williams, the freshman phenom appears more than ready for the challenge.
"There are a lot of competitive guys that are talented that in the moment don't necessarily have that 'it' factor, and he's just got it, man," Trivers said of Williams' abilities, not just in isolated situations, but also the biggest moments. "You just have those athletes that you've just gotta think, man, we're gonna see the magic again, and he's one of those guys that has the 'it.'"