Michael Turk sprinted to the locker room just after Oklahoma's 28-13 win over Oklahoma State concluded on Saturday night.
What followed was the sixth-year punter, who played his final home game with the Sooners and was honored on senior night, ending his career in Norman with a win on and off the field.
He recovered his ring placed in his locker, headed back to the field and found his girlfriend, OU All-American softball player Grace Lyons, and asked her to marry him with a few teammates gathered around him.
She said yes.
A night to remember. She said yes! 💍 Congrats to @HangtimeYT and @grace_lyons5! #OUDNA pic.twitter.com/JIypKoCRiD

— Oklahoma Football (@OU_Football) November 20, 2022
"I wasn't really nervous, thankfully," Turk said. "I was more so excited because I knew that God already had this happen for a reason. So, I was just super pumped up. Grace is so awesome. So, it was a great feeling."
Not only did Turk win off the field, but he was also an X-factor for OU during the game. He finished Saturday's contest with 11 punts, including 67- and 63-yard strikes.
"I felt good," he said. "I had a really good week of practice and been really focused. And I knew that if I was going to propose I had to have a good enough game. That was extra motivation on top for sure."
Turk believes everything happens for a reason, and his proposal message was a perfect culmination of his religion-based faith.
Before every game, Lyons gives Turk a "game day card" with a different verse from the Bible. When proposing, Turk took the card and wrote "will you be my wife" on it, because he also read a note when he initially asked her to be his girlfriend.
Turk didn't explicitly state the specific verse, but he explained the passage in the book of Psalm read how every day was already written before it came to be.
The Dallas native said mostly only the fellow specialists knew of his intentions for postgame, but receiver Marvin Mims, who shares a locker directly next to Turk, said he also knew.
"I was like, there's no way," Mims said with a laugh. "Then I saw him put the ring in his hand and I was like, 'this dude's serious.' But I'm just really happy for him. He deserves it. He's a great guy."
Turk, who has over 190,000 subscribers on Youtube, noted the moment was captured on video and will be posted to his channel.
He said he'll have the video uploaded sometime this week, but was overall just thankful the Sooners could win so he could have his moment.
"I got to marry the woman of my dreams," Turk said. "And that's by the grace of God for sure. So I'm happy."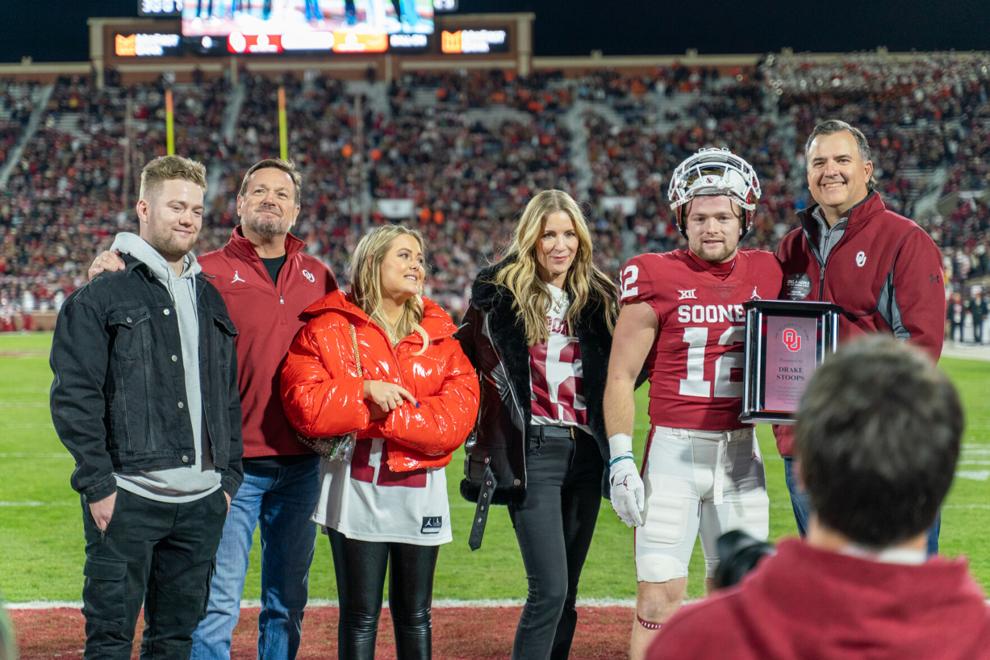 Stoops' career night
Drake Stoops left it all on Owen Field in what could be his last game in crimson and cream.
The son of Bob Stoops, the Sooners' all-time winningest coach, recorded career highs of six catches and 89 yards in the Bedlam victory.
On the first drive of the game, his acrobatic 33-yard catch brought Oklahoma down to the opposing two-yard line and set up quarterback Dillon Gabriel's rushing touchdown.
Then, Stoops caught a 23-yard pass falling into the back of the end zone that capped OU's four-touchdown first quarter.
Dillon Gabriel ➡️ Drake StoopsOklahoma takes a 28-0 lead over Oklahoma State in the Bedlam Rivalry 😳pic.twitter.com/oAn4k9XoZr

— 247Sports (@247Sports) November 20, 2022
"He's a stud," offensive coordinator Jeff Lebby said. "He did a great job. I'm proud of him and proud of what he's done to put himself in these positions."
Stoops was also honored before the game with the Bob Kalsu Award, one of the program's highest honors, bestowed to the player who most embodies the dedication and toughness of Kalsu, a former Sooners offensive tackle and U.S. Army veteran who was killed in action in Vietnam in 1970.
A former walk-on from Norman North High School, Stoops has earned everything he has gotten as an OU player despite his family name. His 31 catches for 311 yards and three touchdowns this season are all career highs.
He still has another year of eligibility left if he wants it, but if indeed the chants of "Stoooooops," reverberated through the Norman air for the last time Saturday, he has left a legacy his teammates and coaches won't soon forget.
"He's created so much trust inside the locker room and with the staff," Lebby said. "I can't say enough good (things) about him."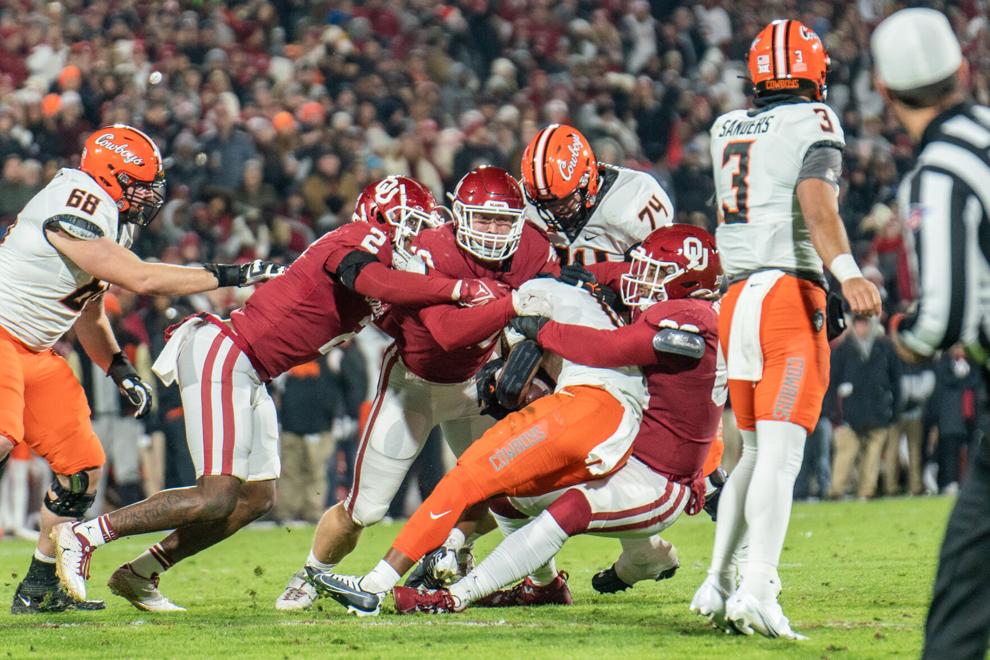 What did Bedlam win say to recruits?
Oklahoma hosted several potential future Sooners on Saturday, among them five-star quarterback Jackson Arnold, who has been one of OU's most loyal 2023 commits.
Then there were players on hand who Oklahoma is still hoping to add to its No. 7 ranked class via outright commitment or a flip from another school.
Five-star defensive lineman David Hicks, a Texas A&M commit who the Sooners were contending for when he declared in September, took his official visit to Norman for Bedlam.
Norman Oklahoma 📍

— David "DJ" Hicks Jr. (@DJ2g23) November 19, 2022
Arnold's Denton-Guyer High School teammates Peyton and Eli Bowen, a five-star safety and four-star cornerback, respectively, were also in Norman unofficially. Peyton is committed to Notre Dame while Eli's recruitment is still open.
To redshirt senior defensive lineman Jordan Kelley, the Bedlam win showed prospective Sooners that even after a few tough weeks, OU can always bounce back. Home fans brought their best presence this season and Oklahoma responded with one of its best performances.
"If you look at today's game, on offense and defense, it shows how good we can be," senior running back Eric Gray added. "That first quarter, anybody who's an offensive recruit can see how they want to play in that offense. Any defensive recruit, the defense played lights out today. I think this game is good for both sides."