The OU Provost's Office is assessing salary data to examine faculty pay equity, while one OU professor said she's found a consistent pay gap between men and women in the same profession at OU through her own analysis.
Political science professor Alisa Fryar compiled data from the Integrated Postsecondary Education Data System on the 94 R1 research universities. On average, male full professors made $137,060 while female full professors made $114,954 in 2019, according to Fryar's data. In Fryar's data, OU's gender wage gap was 12th largest of the 94 universities.
The gap remained consistent between other titles, according to Fryar's data, including a gap of $9,761 in associate professors, $10,974 in assistant professors, $10,197 in instructors and $3,666 in lecturers.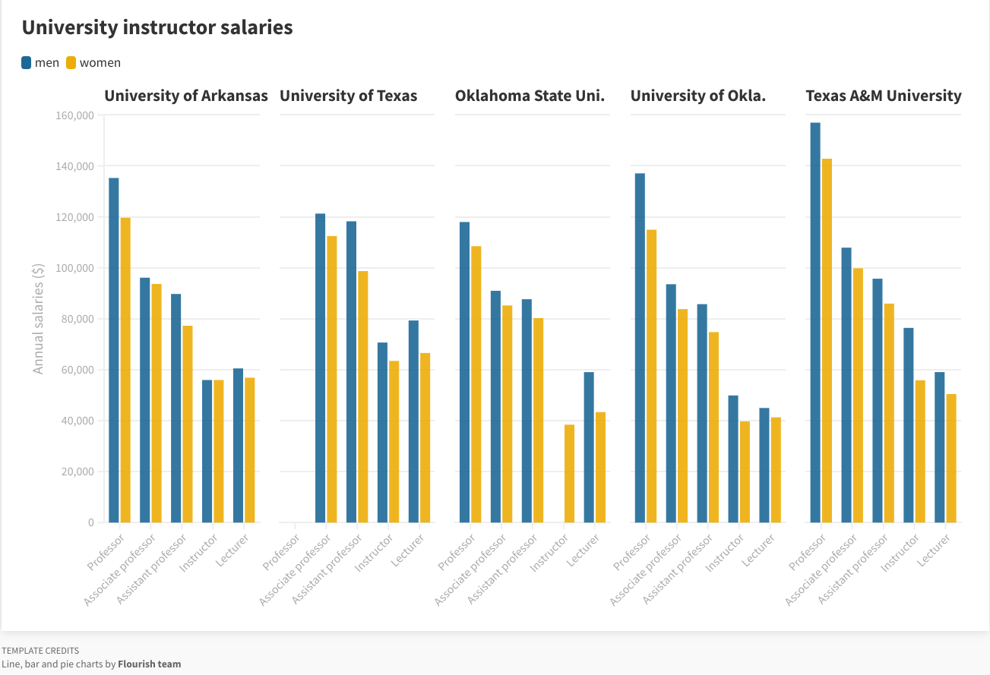 In an email to The Daily, the Provost's Office wrote university administration has engaged in conversations with the OU Faculty Senate, the Budget Council and Institutional Research and Reporting to examine faculty pay equity based on gender.
"Salary data is currently being assessed based on position, rank, and gender, and compared to salaries at comparable peer institutions," the Provost's Office wrote. "Developing a process to conduct this analysis yearly will enable more effective responses to the presence of inequity."
Outside of OU, many of the state's professionals also experience gender-based pay disparities. Oklahoma has the third largest gender pay gap nationally, with women earning 27 percent less than their male counterparts. The average female salary in Oklahoma is $36,494, while the average male salary is $49,721, according to Business.org.
OU Gender and Equality Center Director Erin Simpson wrote in an email to The Daily the wage gap is a global concern. She also wrote women of color experienced high rates of unemployment and underemployment during the pandemic. In 2020, the unemployment rate for Black or African American women was 8.9 percent, and Hispanic or Latina women saw an 8.8 percent unemployment rate. Their white counterparts only saw 5.5 percent.
According to personal finance website WalletHub, Oklahoma is the fifth-worst state to live for women. The data compared the 50 states across 26 "key indicators" of living standards for women and set ranges from "median earnings for female workers to women's preventive health care to the female homicide rate." Oklahoma also ranks 46th in women's economic and social well-being and 49th in women's health and safety.
Simpson also noted that transgender women are often left out of data collections. She wrote the National Transgender Discrimination survey reported massive pay disparities and unemployment rates for transgender people.
According to the survey, 47 percent of transgender individuals reported experiences of underemployment, 90 percent reported widespread mistreatment, harassment or discrimination at work and 71 percent said they attempted to avoid discrimination by hiding their gender or gender transition.
Fryar said factors contributing to statewide gender disparities include Oklahoma's female incarceration rate and a lack of female representation in the state legislature. In 2020, Oklahoma had the second-highest female incarceration rate in the United States — 129 incarcerated per 100,000 women. In 2019, 21 women served in Oklahoma's Legislature.
Simpson wrote the gender wage gap is exacerbated by women being undervalued in fields dominated by women and disproportionate amounts of caregiving responsibilities among women with children. According to the Bipartisan Policy Center, due to caregiving, women are more likely than men to experience "career interruptions" that can have "long-term negative consequences for their earnings."
Sexism within the workplace is also a factor contributing to the gender wage gap, Simpson wrote.
"Sexism is real, and (it is) something women still have to navigate when negotiating a salary anywhere they work," Simpson wrote. "There is a lot of research that outlines these multifaceted causes to the wage gap and I have no reason to believe they aren't some of the same causes for the pay disparity at OU."
According to the United States Census Bureau, at the current rate, women won't achieve equal pay until 2059.
Simpson wrote the Gender and Equality Center offers Start Smart — a free salary negotiation program for contextualizing salary negotiation for specific occupational fields. She wrote anyone can request the program from their website.
In its Non-Discrimination Policy, OU defines discrimination as "conduct directed at a specific individual or group of identifiable individuals that subjects the individual or group to treatment that adversely affects their employment, education, health care, or access to institutional benefits on account of the individual's or group's race, color, religion, political beliefs, national origin, age ... sex ... sexual orientation, genetic information, gender identity, gender expression, disability or veteran status. 
In an email to The Daily, OU Director of Media Relations Kesha Keith wrote the statute applies equally to men and women. She wrote the policy includes admissions, financial aid, academic advising, housing, athletics, recreational services, college residential life programs, health services, counseling and psychological services, registrar's office, classroom assignments, grading and discipline, recruiting for employment or the benefits of employment.
"Gender cannot be a basis for a person's exclusion from participation in, denial of benefits, or subjecting him or her to discrimination under any education program or activity, including employment," Keith wrote.
According to data from the OU Institutional Equity Office, the Equal Opportunity Officer received six gender discrimination inquiries at the OU-Norman campus, three at the OU Health Sciences Center and one at the OU-Tulsa campus in 2020. The EOO conducted two investigations at OU-Norman in 2020 — both dismissed for no finding of policy violation. In 2021, the EOO received two inquiries at OUHSC.
Complaints may be reported through the Sexual Misconduct, Harassment and Discrimination Reporting Form within 365 days of the act of alleged discrimination or harassment, according to the Investigative Process for Internal Compaints Under the Non-Discrimination Policy.
Fryar said while she doesn't know if the pay disparity seen in Oklahoma and elsewhere can be easily fixed in the short term, it can be alleviated.
"I don't know if we can fix things that are so complicated and complex, but we can definitely make them better," Fryar said "I don't know if we'll get it right, but we can certainly try to get it less wrong."