Around 15 years ago on the second Monday of October, an Alabama elementary school's students put on a play for Columbus Day. A Choctaw student watched Columbus land in the New World, as actors praised him for bringing European values to the country's Native American populations. 
Crispin South, an international security studies senior and citizen of the Choctaw Nation, said he was uncomfortable, as he knew the perspective of his Choctaw ancestors, which was passed on to him by his mother. The following Thanksgiving, his mother asked his teacher if she could teach the class about Columbus Day from a Native American perspective.
"(My mom) would try and teach the kids some Choctaw words. She taught us numbers (and) told us stories that are in our oral tradition," South said. "She was able … to balance (the curriculum) out. She wanted to come in and say, 'No, we were here, we have always been here, and we are still here,' and provide that perspective for my class way back in elementary school."
Growing up in Montgomery, where there was — and still is — little tribal presence, South said connecting with his heritage was difficult. The only reflection he saw of himself was in his immediate family, specifically his mom, who encouraged him to learn Choctaw.
His experience encapsulates the story of many Native students on campus as South said there was never a point in his life where he wasn't proud to be Native American, but there were times when cultural engagement and inclusivity were "logistically difficult." During Native American Heritage Month, indigenous students shared their struggles with embracing their identity and their efforts to reconnect with their heritage.
"It's a different thing to everybody, especially for Native students, because there's so many different tribes, and we have so many people representing all those different tribes," South said. "I don't know if (OU has) somebody from every tribe, but each is different, and they have their own ceremonies, customs, languages, traditions (and) games."
In an email to The Daily, South wrote that his father, who is not Native American, has always been "extremely supportive" of South, his siblings, mother and Indigenous heritage in general. He and his mother were a "dynamic duo," and she helped South embrace their Choctaw culture.
In addition to teaching him Choctaw, South said his mom always pushed him to appreciate his heritage and culture. Even today, South's mother supports him in his effort to reclaim his heritage. When he spoke at Indigenous Peoples' Day, he wore a Choctaw men's shirt made by her, specifically for the occasion, as he had outgrown his previous regalia.
"(My mom has) always been there to support me in any kind of questions about our cultural heritage (or) any kind of resources I need," South said. "She's very quick to connect me with that, and it's really been awesome."
Computer science senior Adarius Begay also spoke at Indigenous Peoples' Day and, like South, he said he's always been proud of his heritage but struggled to connect with his culture. Begay is a citizen of the Navajo, Assiniboine, Sioux, Cherokee and Kiowa nations and is an enrolled citizen of the Colorado River Indian Tribes.
Begay said he grew up in Phoenix, Arizona, and was often mistaken for being Hispanic. When he asserted his Navajo heritage and tried to join organizations in high school, he said he was subjected to elitism, as organizations insisted he must "know everything" about his culture, and students discounted him based on the stereotypes they held against Native Americans.
"Once they see me, they're like, 'Oh, you're just gonna go back to your reservation or just end up drinking your life away,'" Begay said. "When people see that, they discount the value I can bring in (to organizations)."
When he was younger, Begay said he would shy away from questions related to his heritage and liked to poke fun at it by telling jokes about being colonized since he attended predominantly white schools. In college, he said his attitude completely changed.
"Nowadays, I'm happy to answer (any questions)," Begay said. "'You want to know more about this? Well, here's this answer,' or, if I don't know it, then I know someone who does. I'm able to teach some guys here a few Navajo words here and there (and) just being able to (provide) a safe environment for them to learn."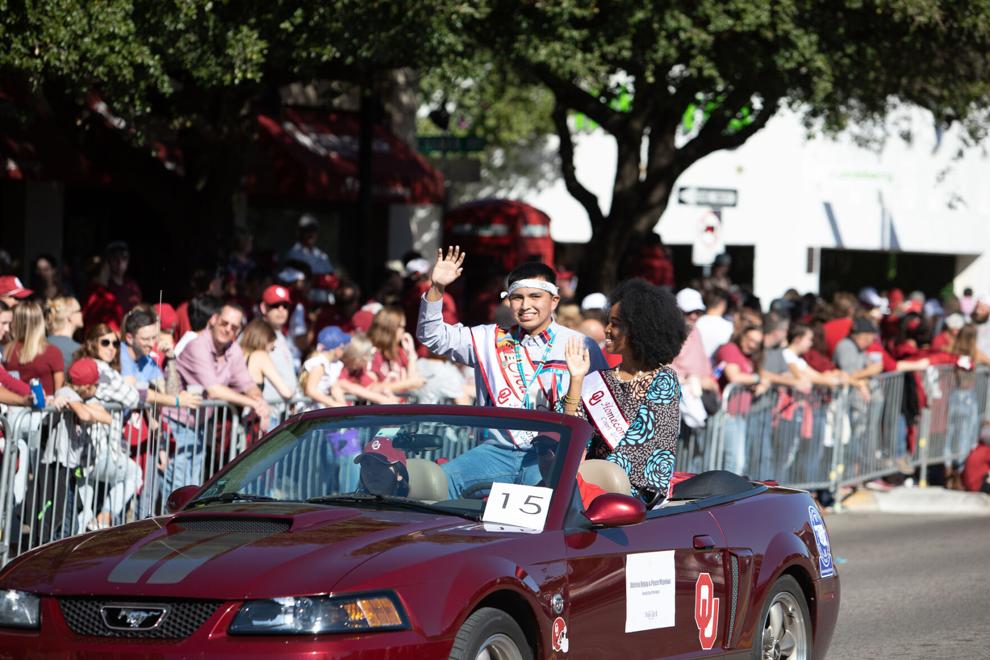 Begay currently serves as Mr. Indian OU 2020-2021, and both he and South are involved in the American Indian Student Association and Sigma Nu Alpha Gamma, which is the only Native American fraternity on campus. The community and learning environment provided by these organizations is important to Begay and South.
"(When) people come to college, they might not know what their heritage is. … If we don't have that warm, open environment for (freshmen) to be able to learn (about their heritage), then there's really no point in having a fraternity," Begay said. "Being able to provide a learning environment where they can reclaim that heritage is very important to me."
J-T Murray, a mechanical engineering sophomore, said this sense of community helped him grow closer to his heritage during his freshman year. 
Murray is a member of the Ojibwe, Ottawa and Potawatomi nations — all commonly combined and referred to as Anishinaabe — and a citizen of the Saginaw Chippewa Indian Tribe of Michigan, a federally recognized band of Ojibwe.
Growing up, Murray said he was indifferent about being Ojibwe and never claimed his Native American heritage. Finding Native organizations helped Murray find his "sense of belonging" since he said he never felt accepted by his community when he was younger.
"I had always heard, 'Oh, you won't be dark enough, you won't be Native enough,'" Murray said. "There definitely still is that stigma. There was one time, at a public event, someone shamed me for being 'the white one' and said that, essentially, I couldn't lead the song or drum with them."
Murray said he is a strong advocate for "cultural revitalization," which is founded on the idea that there is no single way a Native American person looks. He said as an individual of mixed descent, this subject remains close to his heart.
"The biggest thing I want to say to the world is don't just look at someone and think you can tell where they come from, who they are (or) whether or not they're Indigenous," Murray said. "At the end of the day, Indigenous people come in so many different shades and colors and shapes and sizes, and there's not one type of Native person. It can be intimidating for a lot of people but, as a community, that's definitely the mindset with the newer generation."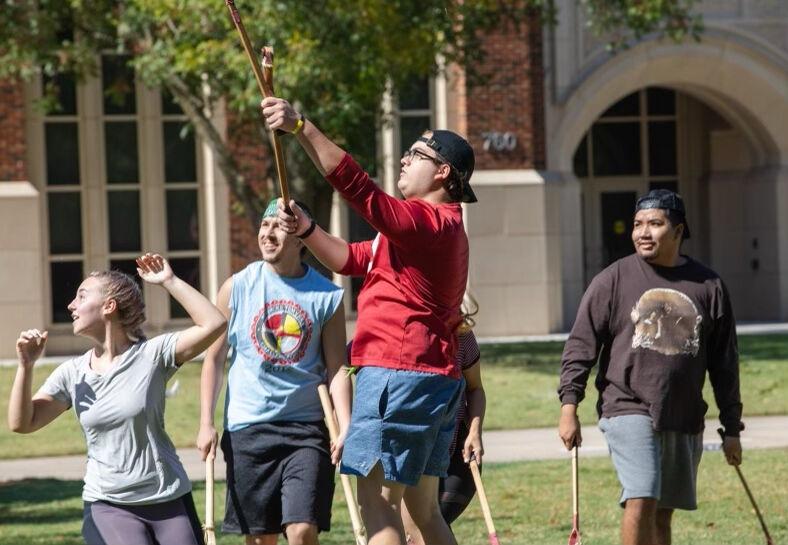 As soon as he came to OU, Murray actively sought to get in touch with his heritage and said he was "scooped up" by many of the university's Native American organizations because of the small number of Native American students on campus. Murray serves as vice president of Sigma Nu Alpha Gamma, the sponsorship chair for AISA, and the events manager for the OU American Indian Science and Engineering Society, which Begay also joined.
Murray said he is part of a "dying culture" and is in a unique position to strengthen it in younger generations.
"(Native American cultures are) getting kind of manhandled and squeezed and slowly choked to death," Murray said. "I'm very big into trying to bring culture back and (getting) people involved because, if no one learns it, it'll die off and that'll be the end of it."
Murray attributes his previous distance from his culture to generational trauma, or a psychological effect where the collective trauma experienced by one group of people has lingering and lasting effects on following generations. He said he doesn't blame his parents, but his mom didn't want him to be involved in Native American organizations. 
"She was scared that I was gonna have a bad experience because she had bad experiences," Murray said. "In a lot of folks' minds, unfortunately, they view being Native as a bad thing because of what they've been through, and it's no one's fault. It's what they've been subjected to, the cards that they're dealt."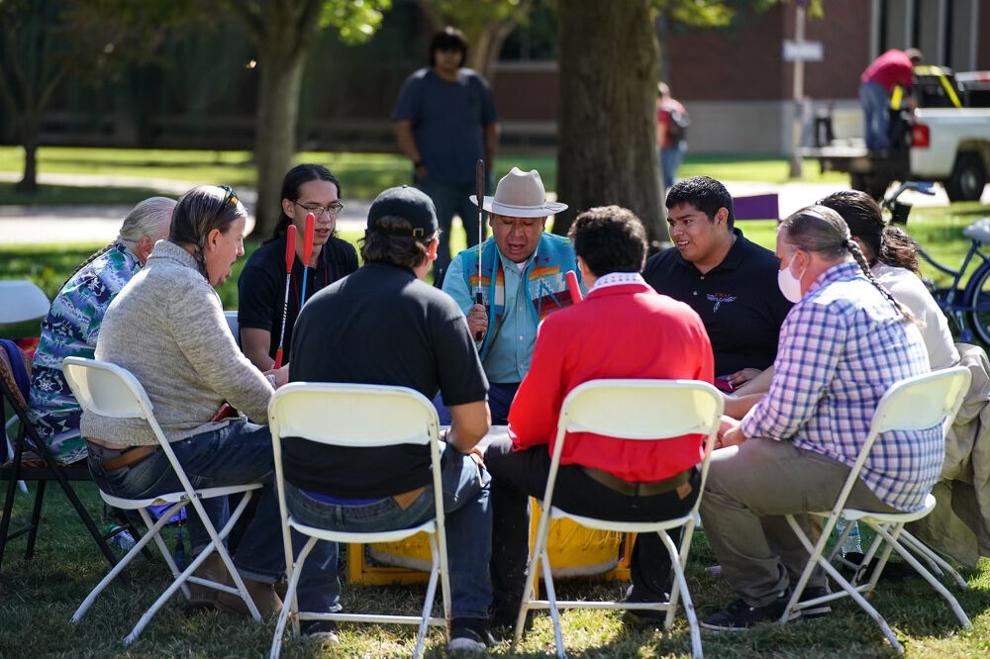 South said he hopes OU students, both Native American and non-Native, use November as an opportunity to make themselves aware of the difficulties the university's Native American community faces, remain allies to them and become open to educating themselves on tribal cultures.
"We have seen an all-out assault on tribal sovereignty by the state of Oklahoma following the McGirt (v. Oklahoma) Supreme Court decision, which reaffirmed our tribal boundaries, which are guaranteed by treaty," South said. "There's a perpetual campaign going on for missing and murdered Indigenous people, and Indigenous women face much higher rates of violence, murder and kidnapping, and sexual assault."
In terms of education, South, Begay and Murray have all taken steps to reclaim their heritage. Murray said he hopes to travel to Michigan so he can have a naming ceremony to get a name in Anishinaabemowin, the language of his tribe.
South, Begay and Murray said they all are relearning their respective languages to reclaim their heritage, but none of their methods involve OU courses.
Begay said he prefers immersing himself in the language, as he constantly listens to a local Navajo radio station and reads the Navajo Times. Murray said he studies online because Ojibwe is not among the four languages offered at OU.
"Schools from up north, where the Ojibwe actually are, like the University of Minnesota, have an Ojibwe program," Murray said. "At OU, there are two Ojibwe, me and Tsali (Smith). So, obviously, it would be kind of strange to have a whole course when there's just the two of us."
South said he doesn't have room in his schedule and, even if he could take a Choctaw course, it is not considered a "strategic language" by the U.S. and doesn't apply to his major.
As the sitting Student Government Association Undergraduate Student Congress Chair, South said he hopes to help Native American organizations and students. He said congress has several pieces of legislation in the early stages with this goal in mind.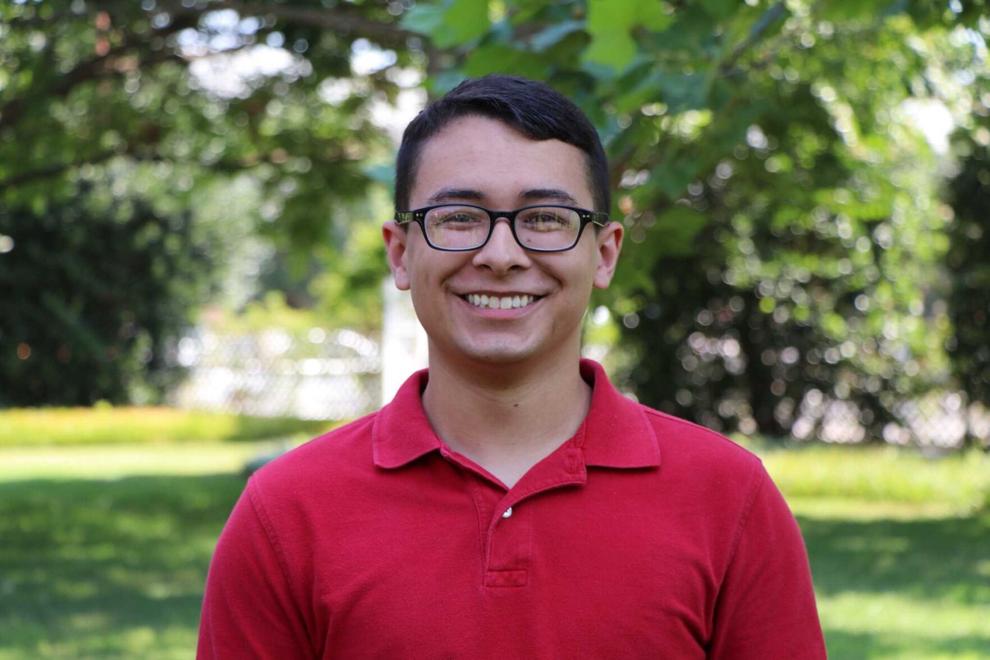 "(Congress) wants to see increased education so that people who aren't Native are able to engage with the culture in a constructive manner instead of a manner that's appropriative or destructive," South said. "(We're also looking to add to) Camp Crimson some kind of a training module (for) people who are not Native and who don't already know the history and the impact of the state of Oklahoma's actions."
South also said, given the right policy change, it would be easy to give Native American students priority to their respective languages so they could attend classes if they wished.
During its meeting Nov. 2, congress saw a concurrent resolution seeking to preserve Native American languages, specifically the Cherokee language, which was declared to be in a state of emergency by the three federally-recognized tribes in June 2019. The resolution passed with a vote of 24-0-0.
Although OU, its organizations and Native community have helped Murray discover his place of belonging, he said he takes issue with how the university flaunts its Native American students. Murray said he hopes there will be a time when the university's Native American community is treated equally.
"That word — Anishinaabe — that's how (my tribe) refers to ourselves," Murray said. "It's not the name of our tribe. It doesn't mean that at all. It means human being. When we recognize that we're all human beings, (that) we all have flaws. No one's perfect, but we're still people and we (have to) try to respect each other in that way."