Hundreds of Normanites and residents from cities surrounding Norman flooded into the fourth floor of the Oklahoma Capitol rotunda Wednesday, armed with shouts of "go away, OTA" that echoed through the halls, stretching into the Senate and House of Representative chambers. 
Their signs reflected worries of losing their homes to a turnpike, proposed to cut straight through the rural east side of Norman and extend along Indian Hills Road. Blindsided by the Oklahoma Turnpike Authority's announcement, residents brought their emotions to the lawmakers. 
Some carried pictures of their homes on posterboard; others made shirts that advocated for the OTA's downfall. A few parents brought their children, clothed in anti-OTA language, carrying signs that read "don't take my home."
Pike Off OTA, a grassroots organization opposing the construction of the ACCESS Oklahoma Kickapoo Turnpike extension, formed after the creation of the Facebook group, "NO MORE TURNPIKES, Oklahoma!" exceeded 5,000 members. 
The rally began with speakers from Pike Off OTA, including OU Professor Dr. Amy Cerato, WildCare Executive Director Inger Giuffrida, lawyer Stan Ward, transportation policy analyst Tom Elmore and former Ward 5 Councilmember and Pike Off OTA President Michael Nash.
Ward was the first to speak at the rally and discussed possible legal steps the organization may take, including finding any potential Open Meeting Act violations from OTA. In a press conference before the rally, Ward said that if OTA is found to violate this act, anything they've decided would no longer be valid, and the organization would have to start over with their turnpike plan. 
"We have people that are going to be looking very carefully at the agendas and the minutes of the last five years … to see if, in fact, (OTA) had given notice that's reasonably calculated to tell 'we the people' of the business to be transacted," Ward said. 
Ward was an attorney for the Fraternal Order of Police during an Open Meeting Act lawsuit filed against the city of Norman following a decision to reallocate $865,000 from the Norman Police Department's proposed budget increase in June 2020. 
Ward called OTA "dreamers and schemers" and encouraged attendants to say "hell no" to the proposal. 
Cerato followed Ward, saying that Pike Off OTA wants a modification to state statute 69-1702 — which pertains to the authority to construct, maintain, repair and operate roads — that would limit the power of OTA, as well as actions by legislators against the organization. 
"We the people want the legislators to put regulatory oversight protections in place to hold the OTA accountable … to remove the sovereignty they bestowed upon the OTA 70 years ago and replace it with accountability, transparency and ethical engineering," Cerato said. 
Cerato also advocated for the preservation of rose rocks, the official state rock and a rare geological find. She said that a small band between Lake Stanley Draper and Noble is the only place in the world where these rocks can be found, an area threatened by the turnpike, adding that she is working to make this area a national geoheritage site. 
"The citizens of Oklahoma, together with elected officials, must hold the Oklahoma Turnpike Authority accountable and preserve this rare geological formation for generations to come," Cerato said. "Keep fighting friends, we are going to succeed."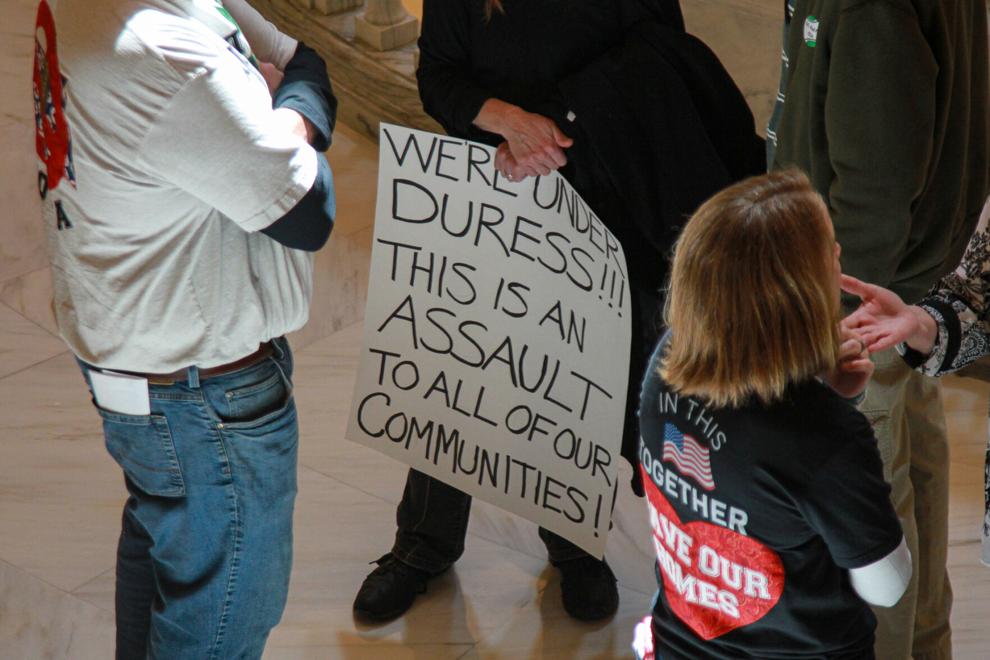 Giuffrida spoke after Cerato, continuing discussions about the ecological impacts of the turnpike, calling the ACCESS Oklahoma plans "destructive," "callous" and an "assault" on rural lifestyle and culture. 
According to Giuffrida, the turnpike would cut off wildlife access to Lake Thunderbird, affect bald eagle nesting sites, migratory birds, kill thousands of animals that use the wetlands of the lake and cause habitat degradation leading to a "wildlife desert."
"If (the turnpike) runs along the west of Lake Thunderbird, it is going to be disastrous for wildlife, some of which we know to be threatened and endangered," Giuffrida said. "This was not considered at all by the Oklahoma Turnpike Authority." 
Giuffrida talked about watershed impacts, saying that the toll road will create pollution from vehicle traffic within Lake Thunderbird, which serves as the source of water for Norman, Del City and Midwest City. 
Giuffrida serves as the executive director of WildCare, a 40-year organization based in Noble, dedicated to protecting Oklahoma's wildlife. The turnpike will run about half a mile from the front of WildCare's properties, which Giuffrida said may make it "untenable" for the organization to continue its work.
"People's lives will be turned upside down to save a few minutes of commute times and travel reliability time. … Let's protect the land that we love, the wildlife that roams it, the water we all rely on and the people that have made their lives in these wonderful places in Oklahoma," Giuffrida said. 
Elmore, who has 40 years of experience in independent transportation policy, was involved in shutting down a similar turnpike project in 1999. In his speech, Elmore addressed Tim Gatz, the Secretary of Transportation and ODOT's Executive director, saying that he has disappointed the citizens of Oklahoma. 
"Let me tell you that Mr. Gatz and his predecessors and this governor and the legislators who enabled this, the people of the state of Oklahoma with their roads, their investment, their trust in public officials, are getting the short end of the deal," Elmore said. 
Nash, who was appointed to the Norman city council in 2020 and served before losing his seat in the 2021 election, spoke about the unity the turnpike brought to Oklahoma. 
"In a display of unity we haven't seen in 20 years, the people have dismissed their trivial differences and organized to fight a common enemy that threatens all Oklahomans," Nash said. "We're stopping the turnpike project. We're stripping the Oklahoma Turnpike Authority of their ability to ever do this again." 
Prior to Tuesday's city council meeting, Nash held a press conference highlighting Pike Off OTA's goals. During that conference, Nash said that the plan would affect more than 1,000 people in the cities surrounding Norman, adding that nearly five percent of Noble's population will be displaced.                                 
According to rally organizers, every gubernatorial candidate was invited to speak at the rally, including Gov. Kevin Stitt, but only Republican candidate Mark Sherwood attended.
Sherwood said that the wildlife and nature that would be destroyed by the turnpike was "heartbreaking" and encouraged residents to continue calling legislators and demanding more accountability for OTA. 
"OTA should mean office without accountability," Sherwood said. "We can't keep building turnpikes to pay off past debt. … We need representation again, we don't need someone to profit off of you and call you just a rooftop." 
He added that a turnpike was built near where he used to hunt and fish and changed the land and atmosphere of the community. 
"I go there today and it looks like a different place. It not only changes the character of the land, it changes the culture of the people. Our state should not be about trying to make more money in the bank accounts of politicians, it should be about trying to create more quality in the lives of the citizens of the state of Oklahoma," Sherwood said. 
Norman Ward 5 Councilmember Rarchar Tortorello and Mayor Breea Clark spoke at the rally as well, with Clark using her time to send a message to Gov. Stitt. 
"We do not stand blindly while you ruin retirement homes, dream homes, multi-generational homes, businesses. We deserve better than this. If you are gonna be my governor, come out of that office and join me in Norman and let me introduce you to the people who will be impacted by this turnpike," Clark said.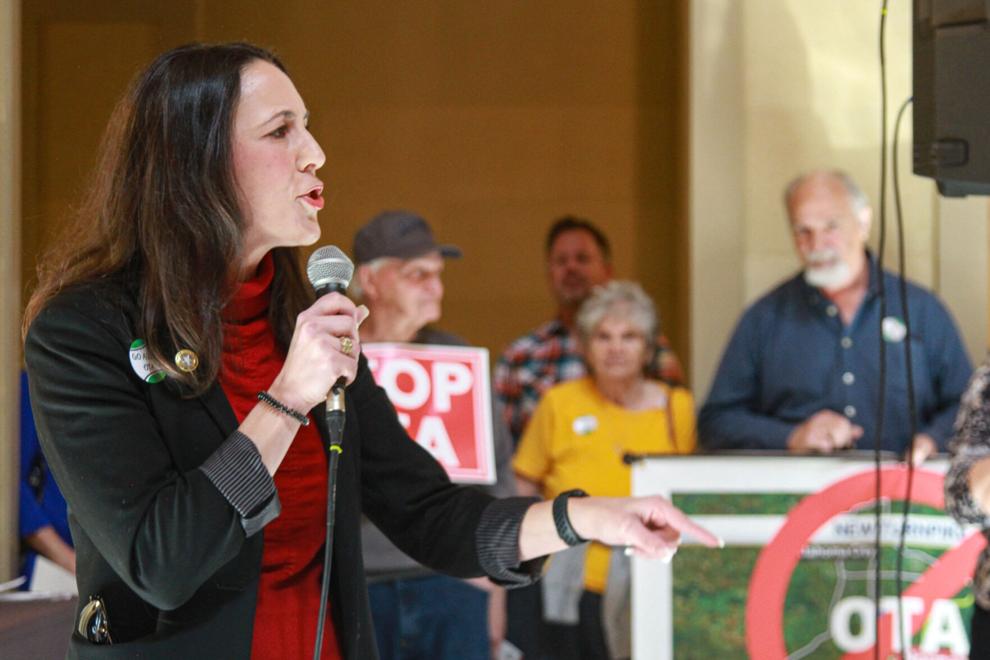 Later Wednesday afternoon, Clark tweeted that she had stopped by Gov. Stitt's office, leaving a letter inviting him to walk the neighborhoods that would be impacted by the ACCESS Oklahoma turnpike and asking to speak with him about the notification process and planning stages of the turnpike. 
Tortorello expressed his pride in Ward 5 and Norman while echoing Clark's call to the governor. 
"This is your hometown, governor. You grew up in Norman. … We are fighting for your people and we are asking that you fight with us," Tortorello said. "I am so proud of my Norman. Gov. Stitt, I ask you to come down and walk with us."
At the city council meeting on March 22, the council unanimously passed a resolution expressing their opposition to the turnpike. Every council member spoke out against the turnpike, and Clark assured the people of Norman that their city leadership fully supported them. 
Several state legislators spoke at the rally, including Sen. Mary Boren (D-Norman) and House District 46 Rep. Jacob Rosecrants (D-Norman) and House District 45 Rep. Merleyn Bell (D-Norman). Boren began her speech by thanking the attendants for coming and encouraging voter registration. 
"I think that everybody in the state of Oklahoma knows that everyone is in the same place when it comes to OTA, we just don't know whose turn it's going to be next," Boren said. "And hopefully, by using our voices and using our votes, we can change the way the OTA treats Oklahomans."
Boren ended her speech by saying Gov. Stitt has the power to stop OTA, "right now, right here," adding that a lot of voters at the rally voted for him and trusted him to "listen to the voices" of his constituents. 
Rosecrants welcomed the rally to "their house" at the start of his speech, adding that the fight against OTA was not solely for Norman, but for all Oklahomans. He also spoke towards the unity and bipartisanship the conflict has bred.
"This is not a Republican issue. This is not a Democrat issue. This is not a Libertarian issue. It's an issue for all of us," Rosecrants said. "The legislature doesn't fund OTA like they're above us. Somebody asked me to defund OTA, but I literally can't, which is crazy." 
Bell, who represents Norman's Ward 5 at the state level, was the last speaker at the rally. She talked about the importance of constituents contacting their representatives, saying that legislators aren't "privy" to the voices of Oklahomans due to the lack of communication like she's received by residents since the turnpike announcement. 
"I think what you've shown more than anything else is that when it really does affect you, you will stand up, you will heed the call, you will make your voices heard. And I think every house member and every senator in this building needs to hear that message," Bell said. 
Bell encouraged rally attendants to visit as many legislators as possible while at the Capitol and asked them to sign up for her updates to stay informed about how she is fighting the turnpike, adding her last conversation with the OTA "didn't go great."
"East Norman is so much more than pasture land and farming. … One of the most beautiful letters that I've ever received said, 'It's where our children dance underneath the stars together,'" Bell said. "It's not the beginning of the beginning for (OTA), but it is the beginning of the beginning for this fight."