Editor's note: This article includes mention of suicide in Indigenous communities. If you or someone you love are struggling, here is a list of resources:  
StrongHearts Native Helpline: 844-762-8583 is confidential and available 24/7 for American Indians and Alaska Natives experiencing domestic, dating and sexual violence.
National Suicide Prevention Lifeline: 800-273-8255 is available 24/7 via call or online chat. www.susicidepreventionlifeline.org/chat/ 
IHS Mental Health Resources List: www.ihs.gov/mentalhealth/resources/
L ucyann Harjo said she rarely watches television, not even the news. Save for a football game here and there, Harjo, who is a member of the Navajo Nation, said there are plenty of other things she'd rather be doing — until "Reservation Dogs" premiered on FX on Hulu in August.
"Reservation Dogs" just wrapped up its first season on the streaming service and has already received the green light for a second. The story follows four Indigenous teenagers growing up in modern-day Muscogee Nation land. The show was shot in Okmulgee and was created by former OU student Sterlin Harjo and "Thor: Love and Thunder" director Taika Waititi.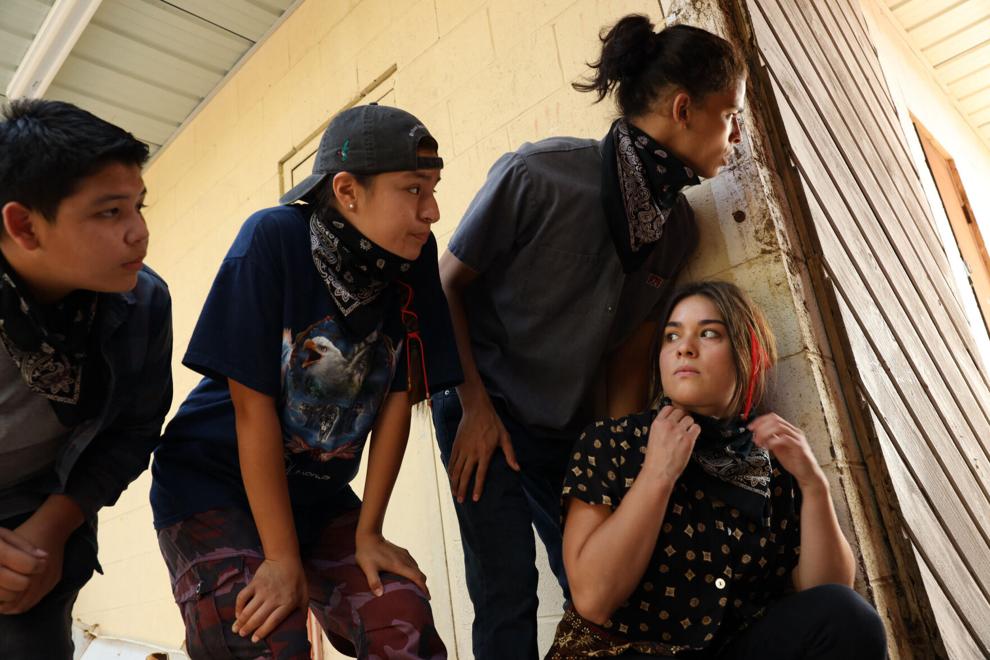 The show's creators and main cast are Indigenous. Director and co-creator Sterlin Harjo, who is a member of the Seminole and Creek Nations, said he was inspired to start the project because he didn't see stories that represented people like himself.
Lucyann Harjo, who is the coordinator of Indian Education for Norman Public Schools, said the show has marked a massive shift for Indigenous representation in popular media.
"We still get questions like, 'Do Indians live in tipis?' or 'I thought they were extinct?'" Harjo said. "But ("Reservation Dogs") tells a story about Indigenous people, that we are still here."
Harjo said this shift in media culture has inspired her to start watching a little more television, at least when it comes to "Reservation Dogs."
"There's a lot of Indian humor (in the show), and I'd guess that there are a lot of others that don't get the humor, but for us as Indian people? I was cracking up every time they said something that we hear a lot in our communities," Harjo said. "That's what I love about the show — it's from a Native perspective."
Harjo said Native culture is often neglected or misrepresented in popular media. She said most films and television shows that feature Indigenous people are based in historical settings and don't show what Native culture looks like today.
In addition to a lack of general representation in the media, Harjo said Native youth, specifically, are rarely portrayed on screen in a contemporary way. As the Indian Education coordinator since 2005, she said she's happy to see "Reservation Dogs" is changing that.
"Seeing Indian kids, Indian actors and a story about Native people being played by Native actors in today's society … is really, really exciting for us," Harjo said.
Harjo said cultural visibility and education are things she hopes the Indian Education program can bring to its students. She said she was inspired to pursue that goal when she saw the educational resources for Native youths in Norman were lacking.
Before she became the coordinator of the program, Harjo said her own children were students in the Norman Public Schools system. While her children were in school, she said the programs available to Native students were aimed at helping with math and reading skills or providing school supplies to students who needed them.
While these were valuable services, Harjo said she could see the program becoming so much more. Harjo said when she began her position as coordinator, the Indian Education program offered math and reading assistance to the 667 students enrolled.
Today, the program provides tutoring, college preparation, cultural education, field trips, competitions and a new science club to around 2,000 students each year.
'We are still here'
Harjo said she hopes "Reservation Dogs" will help students in the program embrace and appreciate their culture even more. One of her former students, Harjo said, even has a creative hand in the show.
Harjo said Hud Oberly, who graduated from Norman High School, was the creative director of the clothing line Urban Native Era when "Reservation Dogs" was filming. One of the show's main characters, Willie Jack, wears a hat from the clothing company.
"It's really exciting, and I'm excited to see what will happen for our people, for Indigenous nations, and what ("Reservation Dogs") will inspire, and what doors will open for Indian people," Harjo said.
As coordinator, Harjo said she doesn't spend as much face-to-face time with students as teachers in the program do, so she was unaware of how the show was actually affecting Native students. But Matt Jackson, who teaches introduction to ethnic studies at Norman high schools, said the show has been the talk of the town.
Jackson, who is a member of the Seminole Nation, said his students were always excited to talk about the show after each new episode premiered. He said one student in particular expressed they could barely wait to watch each new episode every week.
"Representation and just being able to see examples of excellence in your community that are acknowledged throughout the larger country. ... You can connect with that," Jackson said. "I feel like, for students, that will help them feel a deeper sense of pride."
Jackson said he thinks "Reservation Dogs" feels authentic, not just because it's filmed in Oklahoma with Native actors, but also because he and his students have seen people they know in real life on the screen in small roles or as background actors. Jackson said that element of familiarity when watching the show lends to the show's relatability.
"Humans connect with seeing themselves, and art has a real unique way of doing that," Jackson said. "And this type of art (streaming) is very accessible because television is so much a part of our society… that's why I think it's become so popular because it looks like people's lives — people can connect to it. It's real. It's accessible. It's right there at your fingertips."
Jackson said that part of what makes "Reservation Dogs" so revolutionary, is its contemporary setting. He said most media featuring Natives people as he was growing up was historically based, making the stories less relatable, especially to younger Indigenous people.
"I think there's a feeling in the community — this kind of feeling of a renaissance," Jackson said. "I think ("Reservation Dogs") is really going to push this to the next level. I think it's just created a lot of positive momentum."
Norman High School student Kateri Daffron, who is a member of the Comanche, Kiowa and Wichita Nations, said she sees herself in the "Reservation Dogs" characters. Though she said she relates with all the characters, her favorites are Cheese and Willie Jack.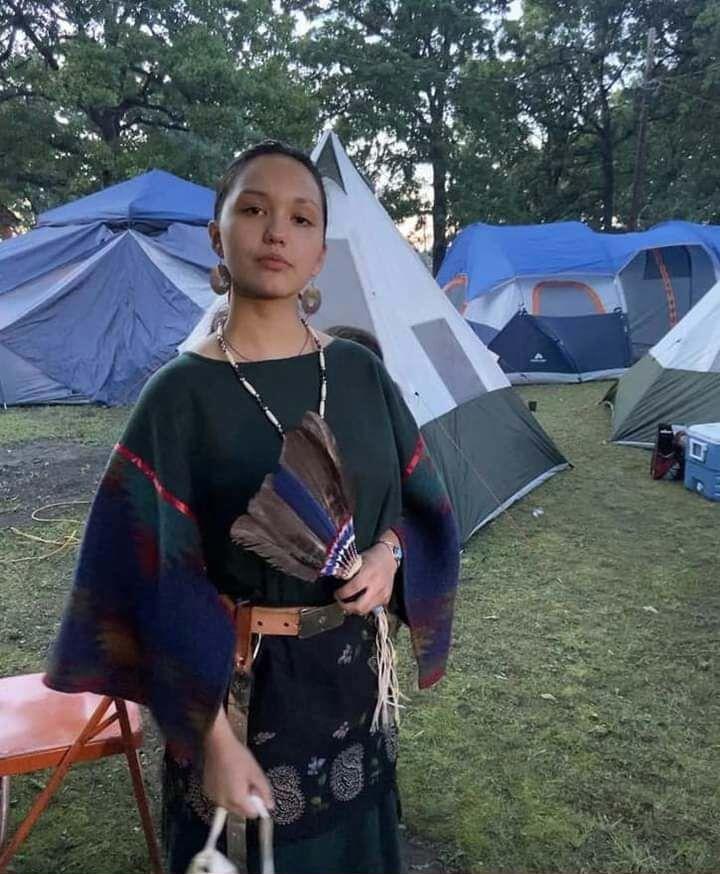 "Cheese has a gentle soul and Willie Jack, she's this rez girl and she has a tough exterior, but she's close with her parents and she's really traditional," Daffron said. "Those are my favorites. … It gives me a sense of home."
Daffron, who is from Anadarko, said the show has helped her explain her culture to her non-Native friends.
"(My friends) want to know where I come from. It gives me a chance to connect with other people," Daffron said.
She said sometimes her non-Native friends don't understand things about the show, but she's happy to help with any confusion they have. For example, a scene in the show features an owl statue with its eyes blurred out. Daffron said she had to explain that in Native culture, owls can be a sign of evil.
"It just normalizes it. It's great," Daffron said.
In addition to the show allowing her to connect with people outside of her culture, Daffron said she's also been enjoying the way the show connects with her culture.
The show features a scene of Officer Big — a tribal police officer — as a child. In the scene, Big encounters the Deer Lady, a woman who teaches men to treat women better. Daffron said, thanks to her Kiowa heritage, she is familiar with the story of the Deer Lady.
"I thought it was hilarious," Daffron said. "When (Deer Lady) brought the toilet paper to Big, Big said 'ā̀hō̂' and that was 'thank you' in Kiowa. It was cute, I liked it."
'Proud where I come from'
Daffron said it has been nice seeing her identity and culture reflected on screen and on such a large scale, but she is especially grateful for how the show chose to tackle the difficult issues the main characters face.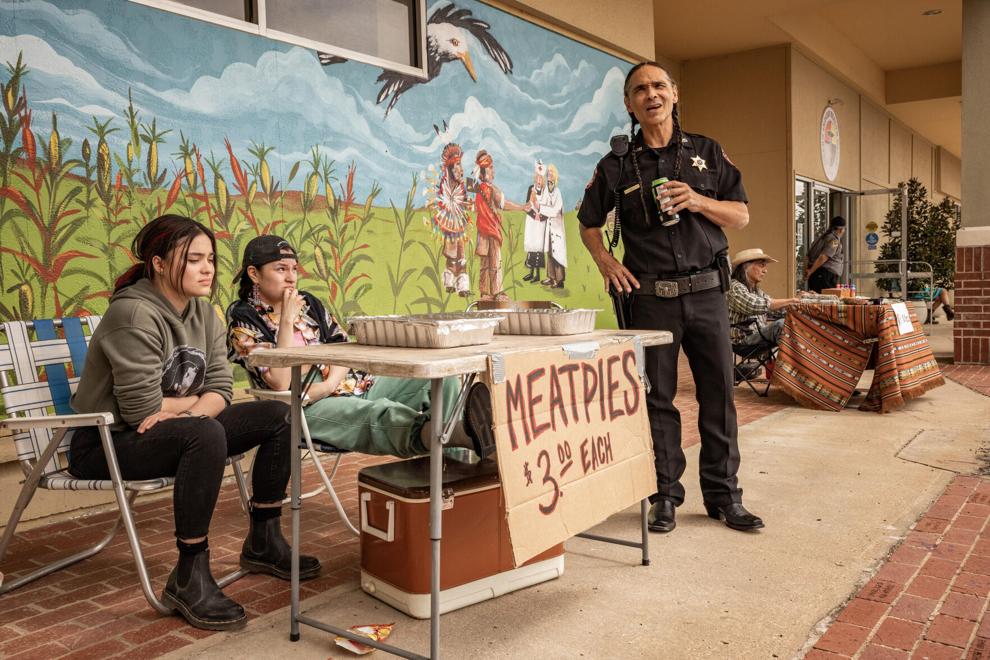 The show's four main characters are teenagers who are grieving the death of their friend, Daniel. As the season progresses, it is revealed that Daniel committed suicide.
"Personally, suicide has affected my life and every Indigenous teen I know back in my hometown," Daffron said. "It's a big epidemic with natives."
According to the Center for Native American Youth, Indigenous communities experience the highest rate of suicide of any ethnic group, and suicide is the second leading cause of death for young Natives ages 10-24. The Native teen suicide rate is 3.5 times greater than the national average.
Daffron said she was appreciative of the respectful way the show tackled such an emotionally complex issue.
"It was definitely hard to watch, going through that again. But I feel like it did some justice on how we may feel," Daffron said. "It showed that we don't know who's going through what."
Daffron said she wants to see more shows like Reservation Dogs in the future, and she's excited to see the effect the show will have on kids younger than her. She said she hopes other Native kids can find a connection to the show the way she has.
"It makes me feel like I have a voice," Daffron said. "I am proud of the show because it feels like home, and I'm proud of where I come from."
All episodes of season one of Reservation Dogs are streaming now on FX on Hulu.