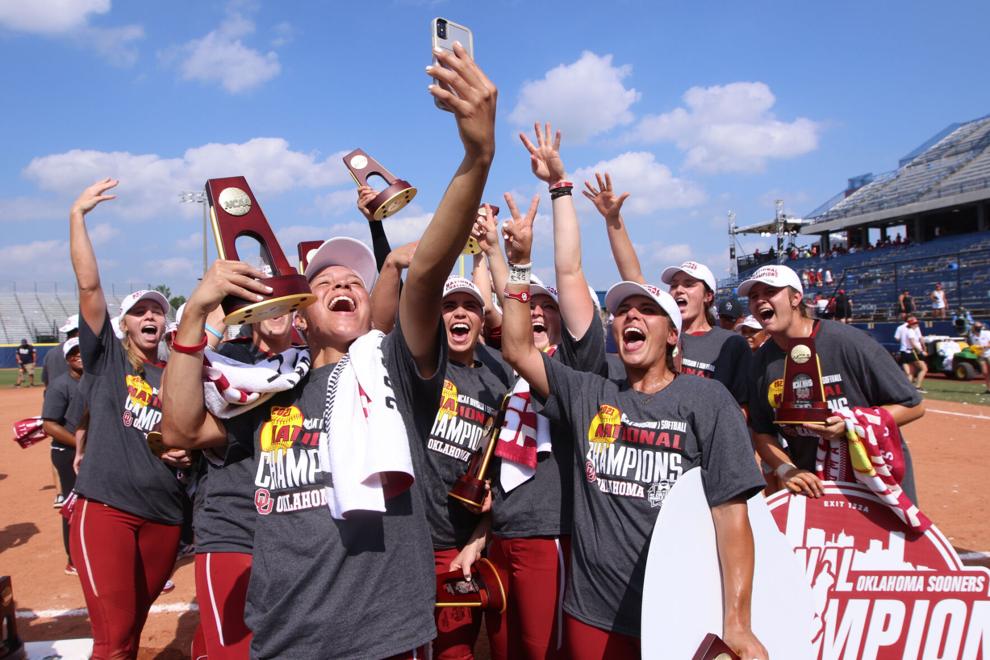 OKLAHOMA CITY — Sooner fans lined above Oklahoma's dugout at USA Hall of Fame Stadium as Patty Gasso posed for pictures with her family and team on the field.
As Gasso turned to leave after OU's 5-1 win over Florida State to clinch the Women's College World Series championship, chants and applause broke out for the now five-time national championship-winning head coach.
"Natty Patty," the crowd cheered three times, drawing a laugh from Gasso. After collecting herself, she paused to wave at the crimson-and-cream row of leftover WCWS attendees before giving them an applause of her own. The Los Angeles native then made her way back inside the stadium and into the team media room for her postgame press conference, but she didn't do so alone.
Gasso's granddaughter, Grace, sat in her lap momentarily as the coach answered media questions over Zoom. After becoming just a little too interested in Gasso's microphone, Grace returned to the arms of her father, OU assistant coach J.T. Gasso, off screen. It was a moment that captured Gasso's more-than-softball personality, as the head coach is known for teaching players about the more important things in life during her 26 years at Oklahoma. 
And in part, the Sooners' national championship win Thursday afternoon was just that — larger than the sport. OU's win comes in the season after COVID-19 canceled the WCWS, and the rest of the sports world, in 2020. After a year in which families were forced apart, friends were distanced and thousands of Oklahoman lives were lost, the Sooners' title victory gave their program a moment of needed togetherness.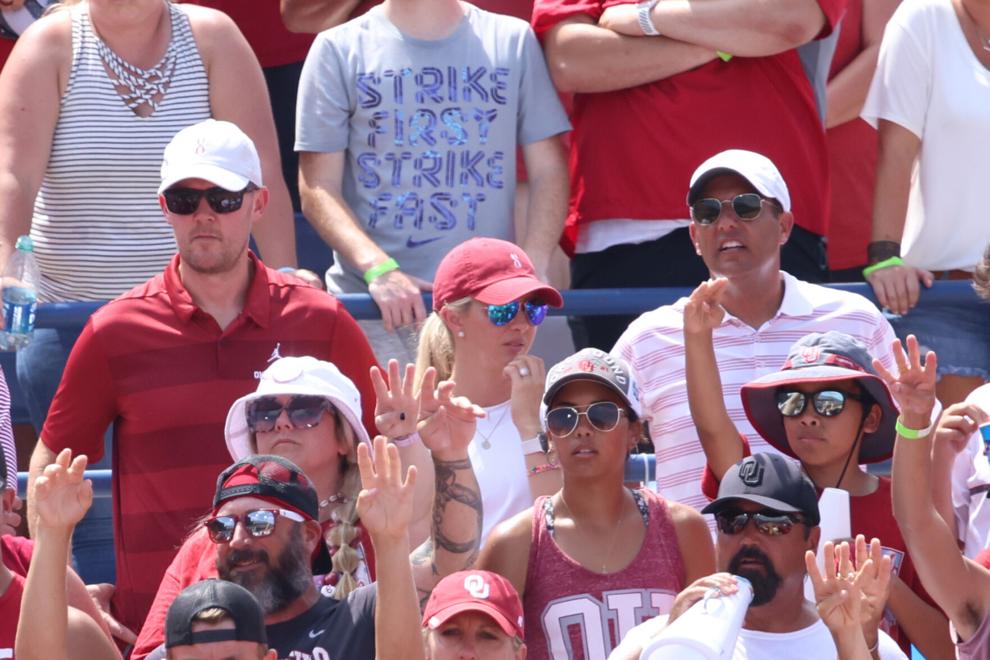 "This seems like we're all emerging from this collectively victoriously," OU President Joseph Harroz told The Daily after the game. "I'm just so proud of Patty and the student-athletes, they're incredible. … (I'm) inspired. You see the level of joy out there. It's not just winning, but it's winning with joy, and with purpose and that personifies what a team is and what a family is."
Oklahoma defeated FSU behind three RBIs from freshman Jayda Coleman and seven strikeout performance from senior Giselle Juarez. Coleman's homer in the second inning gave the Sooners a tournament record 15 home runs. On the season, OU hit an NCAA record 161 homers.
The WCWS was held in front of crowds ranging up to 12,173, and was conducted with few COVID-19 restrictions. To earn its way to a WCWS-deciding game, Oklahoma took a path few have emerged victorious from.
The Sooners were upset, 4-3, in eight innings by James Madison on the opening day of the WCWS, sending OU to the tournament's losers' bracket. There, Oklahoma knocked off Georgia and defending national champion UCLA to earn the right to face JMU again. The Sooners subsequently beat the Dukes twice to advance to the WCWS championship.
Afterward, OU was downed in the first game by Florida State, 8-4. Once again placed in a do-or-die situation, the Sooners delivered by winning two-straight games to become the fourth ever team to win a national title after losing in the WCWS opening round.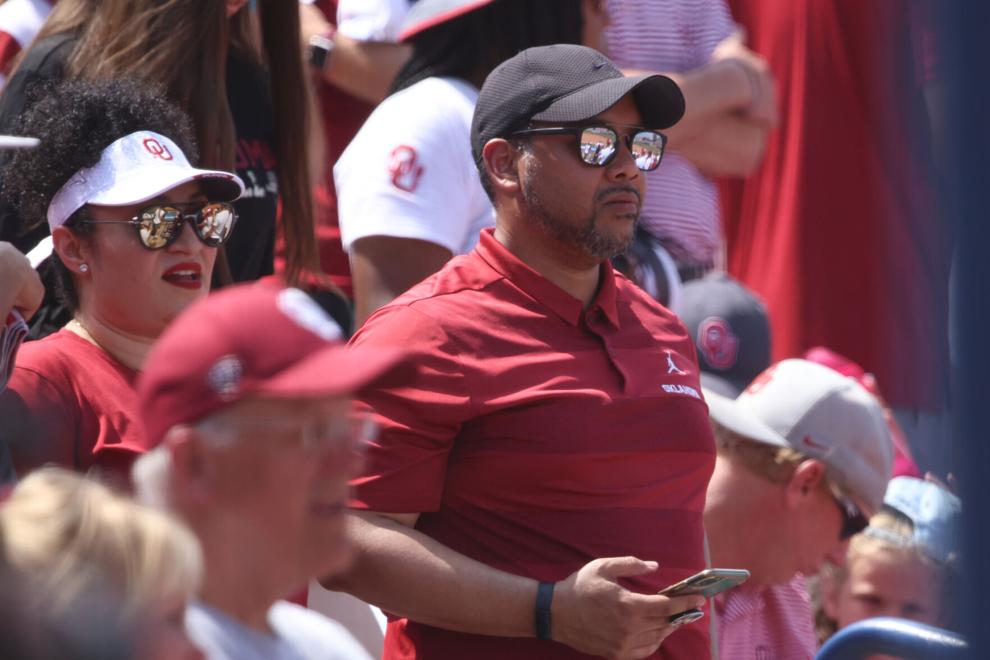 OU Dean of Students and Vice President of Student Affairs David Surratt met with Gasso and her team before the season, and was immediately struck by the Sooners' commitment to winning. Since that moment, Surratt believed he'd find himself in the stands watching Oklahoma take a national title to Norman, like he was on Thursday.
"They're a team that not only supports each other on the field, but off the field too," Surratt told The Daily after the game. "I'm so happy for them. … Patty is someone who's a professional at all she does, and she demands respect. This is the ultimate sign of respect, having her players perform like that on the field. I'm so impressed."
Throughout the season, Gasso said there were times she was teaching select players positions they'd never played before due to COVID-19 keeping some players in quarantine. Overcoming issues of contact tracing and other precautionary measures makes this win stand out for Gasso.
"I just don't know that people understand how rough it was," Gasso said of OU navigating its way through the season. "I think every coach in the country could relate. Week by week, you're wondering who's going to be at practice and who might not. It was tough on a few players particularly that were quarantined but never had tested positive. … It was just such a selfless team approach the entire season. That's what it's about."
The Sooners' win also marks the 20th national championship OU Athletic Director Joe Castiglione has overseen in his tenure with the program. He'll have spent exactly 23 years at Oklahoma in July.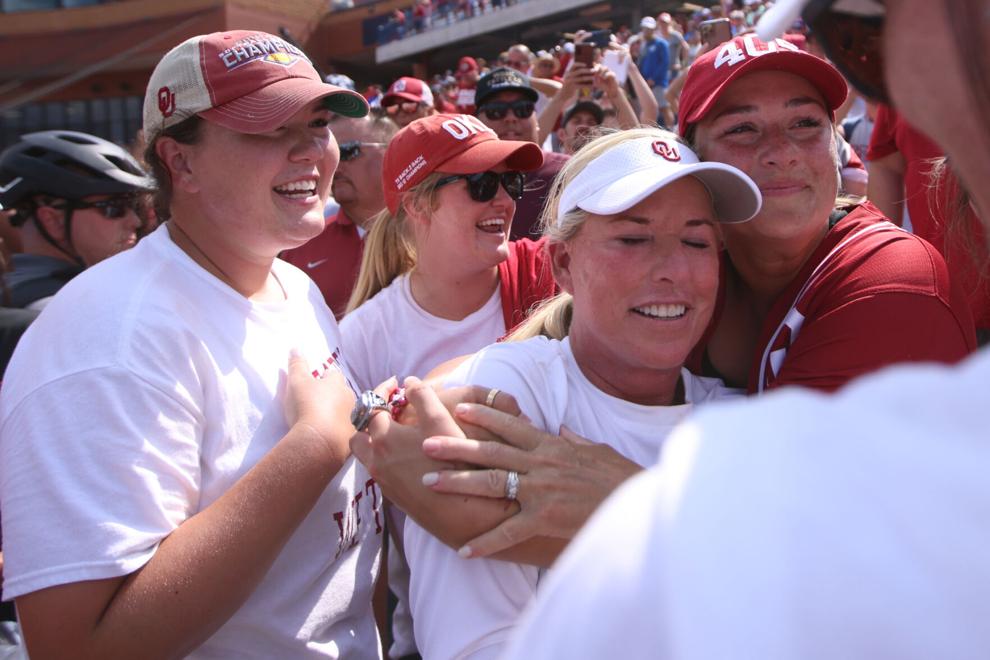 Because of its unparalleled circumstances, this national title holds "a special place" in Castiglione's mind, although he doesn't have a select favorite national championship win. He believes the OU's ability to persevere through a global pandemic and fight its way to the biggest stage in college softball is a testament to the Sooners' core values.
"We have that spirit at Oklahoma, people refer to it as 'Sooner Magic,'" Castiglione told The Daily after the game. "We know that there are always going to be challenges, long odds, to try to do what we want to do and or accomplish because we have a lot of lofty goals for our program. … (That creates) the incredible talent, skill and character that exists on every part of this campus. Today, we're talking about a national championship softball team. Tomorrow, we could be talking about some incredible discovery by our scientists or one of the best teachers in all of the world being recognized for their scholarly work.
"As exciting as it is, we still feel like the best is yet to come. And that's what gets you energized to get up and keep pushing for excellence. (People) see that interlocking OU and it's a symbol of excellence, character and integrity. I'm just so proud to be part of that."