Oklahoma has landed 12 total transfers and signed 25 high school recruits so far to add to its 2023 roster.
Along with the returners from Brent Venables' lackluster 6-7 first year as head coach, the Sooners, along with their additions, aim to improve from last season. OU ended its 2022 season with a 35-32 loss to No. 13 Florida State in the Cheez-It Bowl, marking its first losing record since 1999.
Oklahoma lost 16 players to the transfer portal and 10 players who declared for the NFL draft, including starting linebacker David Ugwoegbu, who ranked second on the team in total tackles with 110 last season.
The transfer portal closed on Jan. 18, but will open again from May 1-15. Players are free to enroll after the portal window has closed, however, if they choose to enter outside the window, they must sit out a season before being eligible to compete for their new school.
The last day to enroll for OU's spring semester is Jan. 20. If OU is to add other recruits or transfers after Jan. 20, they'll have to wait to join the program until the summer.
Here is the OU Daily's roster projection for the Sooners in 2023:
OFFENSE
QB
Starting quarterback Dillon Gabriel, who threw for 3,168 yards and 25 touchdowns with six interceptions last season, announced his return to the Sooners on Jan. 5. The Big 12 Newcomer of the Year referred to OU as his "forever home," in his announcement via Twitter.
Gabriel will have talent behind him in five-star Jackson Arnold, the No. 6 overall recruit and No. 4 quarterback in the 2023 class, according to 247Sports' Composite rankings. Arnold led Denton Guyer to the Texas 6A Division 2 state playoffs semifinals as a senior in 2022 and was named 2022-23 Gatorade National Player of the Year.
Gabriel will very likely be OU's starter again in 2023 with loads of experience, but could potentially be pushed by Arnold if things go awry.
Oklahoma also returns General Booty, who transferred from Tyler Junior College in 2022 and appeared in one game for the Sooners. Former four-star prospect Nick Evers transferred to Wisconsin, while other reserve options include former Pittsburgh transfer Davis Beville and Micah Bowens.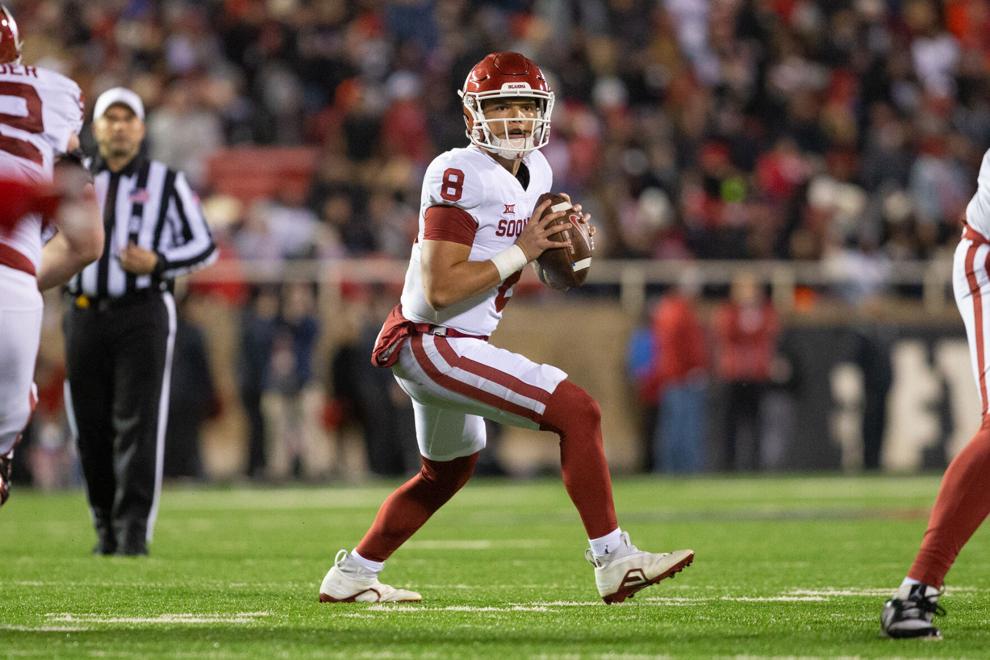 RB
Oklahoma caught a glimpse of its future running back tandem against the Seminoles.
OU's freshman duo of Jovantae Barnes and Gavin Sawchuk rushed for 108 and 100 yards, respectively, with each scoring a touchdown. The 2022 four-star recruits will likely lead the room in carries next season.
Barnes finished the 2022 season as the main backup to starter Eric Gray, who declared for the NFL draft after rushing for 1,366 yards. Barnes finished his first collegiate season with 116 carries for 519 yards and five touchdowns despite appearing in 10 of Oklahoma's 13 games.
The Sooners also return Marcus Major, a redshirt senior next season who totaled 227 yards and four touchdowns last season.
Four-star Daylan Smothers and three-star Kalib Hicks also join the room, and will compete for snaps behind Barnes and Sawchuk. Smothers and Hicks are both already on campus as early enrollees.
Running back is shaping up to be one of the deepest rooms on Oklahoma's roster.
WR
The Sooners' wide receiver room took a hit following the 2022 season.
OU's leading receiver Marvin Mims Jr. declared for the NFL draft after finishing with 1,083 yards last season. Former five-star recruit Theo Wease Jr., who caught 19 passes and four touchdowns in 2022, transferred to Missouri. Brian Darby also entered the transfer portal.
However, keeping young standout Jalil Farooq in the fold and getting another year out of Drake Stoops was a win for Oklahoma. The Sooners also landed Michigan transfer Andrel Anthony, who played in all 14 games for the Wolverines last season and totaled 19 catches and 328 yards in two seasons in Ann Arbor.
In the 2023 recruiting cycle, OU added a pair of four-stars in Jaquaize Pettaway and Keyon Brown, who will likely see playing time. Among other key returners are sophomores Jayden Gibson and Nic Anderson, both four-star recruits in Oklahoma's 2022 class. J.J. Hester, LV Bunkley-Shelton and Gavin Freeman also return.
Another name to watch is D.J. Graham, who made the switch from cornerback to receiver mid-season in 2022. The Sooners are looking to have more production at receiver in 2023 with the hiring of Texas Tech receivers coach Emmett Jones.
TE
With Brayden Willis headed to the NFL, the Sooners have a gap to fill. It helps that Austin Stogner, who previously played three seasons at OU, transferred back from South Carolina.
Stogner should get the majority of snaps at the position and is looking to bounce back after posting 210 yards and a touchdown with the Gamecocks last season.
Oklahoma also added Texas A&M transfer Blake Smith and 2023 three-star recruit Kade McIntyre and returns sophomores Kaden Helms and Jason Llewellyn.
OT
The Sooners must replace both of their starting offensive tackles after Anton Harrison and Wanya Morris declared for the NFL draft.
Bolstering one of the spots will be Tyler Guyton, a redshirt junior next season who started five games in Morris' absence. Handling the other spot will likely be Walter Rouse, a Stanford graduate transfer who started 39 of his 40 career games.
OU also signed four-star Cayden Green and three-stars Logan Howland and Heath Ozaeta from the 2023 recruiting class. Green, an early-enrollee and top-10 ranked offensive tackle in the country per 247Sports', should have an opportunity to contribute instantly.
Oklahoma returns-to-be redshirt junior Aaryn Parks and rising sophomore Jacob Sexton, who both played in OU's bowl game. Sexton started but suffered an injury on Oklahoma's first possession of the game, and Parks replaced him for the remainder of the contest.
Other returners are to-be redshirt senior Marcus Hicks and rising redshirt sophomore Cullen Montgomery, who both have yet to appear in a game.
The Sooners have experience in their two likely starters, but are limited in their depth.
OG
Oklahoma has four options that will all likely compete for starting positions in 2023.
There's McKade Mettauer, a redshirt senior next season who started all 12 games in 2022, but found himself occasionally substituted out for sixth-year Robert Congel, who is out of eligibility.
While Mettauer is the most experienced out of OU's guards, there's also others who could push him out of his role.
Savion Byrd, a former top-75 recruit and redshirt freshman last season, started Oklahoma's bowl game with multi-year starter Chris Murray unavailable. There's also Jake Taylor, a former four-star recruit who appeared in seven games as a freshman last season.
OU also added Caleb Shaffer, a graduate transfer from Miami (Ohio), who started 35 games in four seasons.
Finding the best fit for the two starting guard positions will be one of offensive line coach Bill Bedenbaugh's challenges before next fall.
C
Rising senior Andrew Raym, the most experienced returning lineman on Oklahoma's roster, will very likely be the starting center for the third season.
Raym joined the Sooners as a four-star recruit from Broken Arrow High School in Tulsa. He has 17 career starts and has appeared in 31 career games.
OU also signed freshman Joshua Bates, a four-star recruit whose role as a backup could be pivotal. Raym has battled multiple injuries in the past, including a shoulder ailment that held him out of Oklahoma's final two games in 2022.
As long as Raym stays healthy, OU will have loads of experience at the position.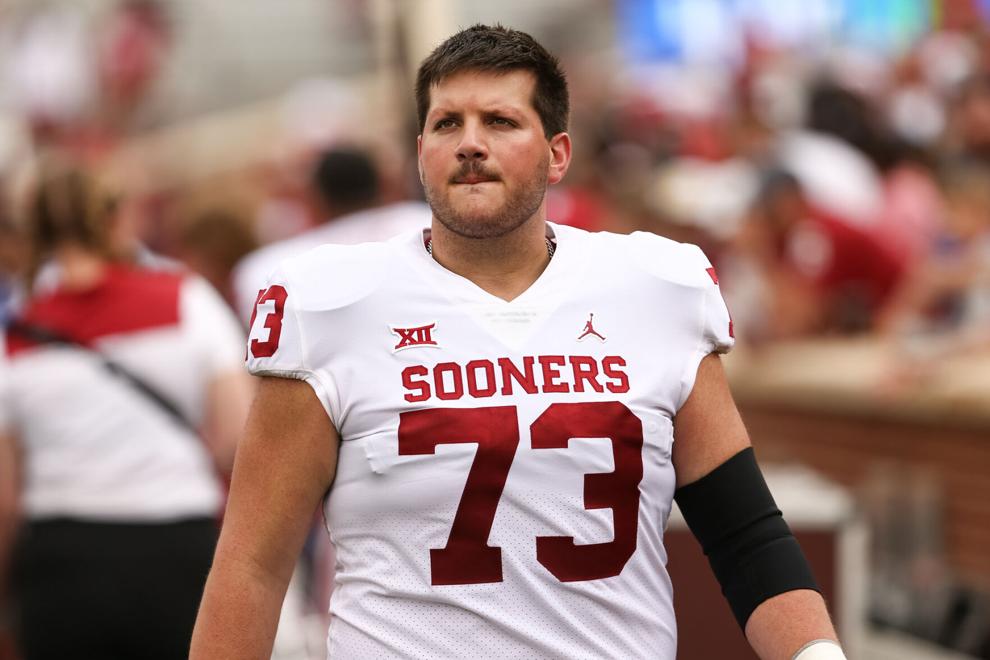 DEFENSE
DE
Outside of non conference play, Oklahoma struggled to create consistent pressure on the opposing teams' quarterback. But with multiple additions, including bolstering the unit via the transfer portal, the Sooners hope for better production in 2023.
OU returns starters Reggie Grimes and Ethan Downs, who both totaled 4.5 sacks last season. Oklahoma also brings back rising sophomore R Mason Thomas, who played in nine games and has shown flashes of potential. The Sooners could also bring back sixth-year senior Jonah Laulu and fifth-year senior Marcus Stripling if they choose to use their extra year due to COVID-19.
The Sooners also added transfers Rondell Bothroyd from Wake Forest and Trace Ford from Oklahoma State. Bothroyd, a graduate transfer with one year of eligibility remaining, was very productive with the Demon Deacons, with 14 combined sacks and four forced fumbles his last two seasons.
Ford, an Edmond native and redshirt senior next season, has flashed for the Cowboys in years past. He has 8.5 career sacks, although he's battled multiple injuries. Ford tore his ACL in OSU's season finale in 2020, before tearing it again in the offseason, forcing him to miss the entire 2021 season.
In Venables and defensive ends coach Miguel Chavis' first full year of recruiting, Oklahoma was able to sign five-star PJ Adebawore and three-star Taylor Wein, who could also vie for snaps.
DT
While the Sooners lost Jeffrey Johnson and Jalen Redmond to the draft and Josh Ellison, Alton Tarber and Cedric Roberts to the portal, they retained Isaiah Coe, who totaled 20 tackles and two sacks in 12 games in 2022, and sixth-year senior Jordan Kelley, who recorded 24 total tackles and three sacks in 13 games last season.
Replacing Redmond's four sacks won't be an easy task, however, OU also added two interior defensive linemen in Texas State transfer Davon Sears and Notre Dame transfer Jacob Lacey.
Oklahoma also returns Gracen Halton and Kelvin Gilliam Jr., who should all see the field in 2023. Kelley recorded 24 total tackles and three sacks in 13 games last season.
The Sooners also added four-star Derrick LeBlanc and three-star Ashton Sanders in the 2023 recruiting class.
LB
Linebacker could potentially be Oklahoma's most-talented group for 2023.
The Sooners return Danny Stutsman, who recorded a team-high 124 tackles as a sophomore last season with three sacks and two interceptions. Joining him as a starter will likely be sophomore Jaren Kanak, a talented freshman last season who finished with 23 tackles and a forced fumble.
Kanak flashed his potential with 10 tackles against Nebraska early in the season, although he appeared sparingly afterward.
The duo will have to replace the production — 109 tackles — left behind by David Ugwoegbu, who started 13 games last season but entered the transfer portal on Jan. 9.
Likely behind Stutsman and Kanak will be rising sophomores Kobie McKinzie and Kip Lewis, who were four-star recruits in 2022. OU also signed four-star Lewis Carter and three-star Phil Picciotti in its 2023 recruiting class.
Cheetah
With Stutsman and Kanak manning the outside and weakside linebacker spots, Indiana four-star transfer Dasan McCullough should slot in at Cheetah to replace DaShaun White, a three-year starter who declared for the draft on Jan. 1.
McCullough, a freshman in 2022, recorded 48 total tackles and four sacks in 11 games for the Hoosiers and was the No. 12 overall transfer, according to 247Sports. Expect him to play an important role with Ugwoegbu's departure.
The Cheetah in Venables' defensive system is a hybrid position between a safety and a strongside linebacker.
CB
Oklahoma's cornerbacks room lacks veteran depth. Woodi Washington made one interception and 67 tackles as he played in every game last season and should lead the group in 2023.
Jaden Davis and the former No. 1 recruit in Oklahoma in 2022 Gentry Williams return and should play prominent roles. The position's depth took a hit when Graham moved to receiver, Trey Morrison and Justin Broiles declared for the draft and Jordan Mukes, Joshua Eaton, Kendall Dennis and Bryson Washington transferred.
JUCO transfer Kendel Dolby and talented four-star recruits Jacobe Johnson, Makari Vickers and Jasiah Wagoner are among the players who should also compete for snaps.
S
Oklahoma signed three safeties in its 2023 recruiting class, and also added a transfer in former Texas Tech defensive back Reggie Pearson.
Those additions paired with returning starter Billy Bowman Jr., and consistent contributors Key Lawrence and Damond Harmon should make for a retooled room.
Bowman finished the 2022 season with 61 total tackles, a forced fumble and three interceptions, despite missing two games to injury and appearing in a limited fashion for three other contests.
Peyton Bowen, a five-star safety who signed with Oklahoma after committing to Notre Dame and Oregon beforehand, is an early-enrollee and should compete for snaps right away. Joining him in the 2023 recruiting class are four-stars Daeh McCullough and three-star Erik McCarty.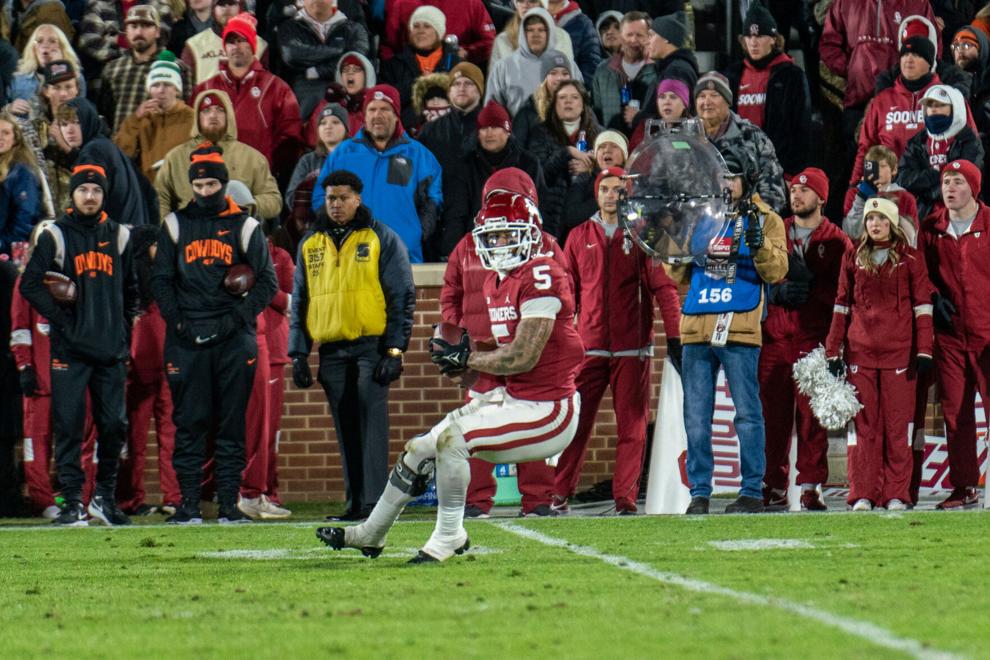 SPECIAL
P
With two-year starter Michael Turk off preparing for the NFL draft after exhausting his eligibility, the Sooners added Central Michigan transfer Luke Elzinga, who will compete with returners Josh Plaster and Brady Braun, who have yet to appear in a game.
Elzinga averaged 43 yards per punt last season and has a career long of 76 yards.
K
Oklahoma returns starting kicker Zach Schmit, who made 12-of-18 field goals and converted all 53 point-after tries last season. Gavin Marshall, a walk-on, should back up Schmit.