Ro Mahbubani brought his entire fabric arsenal to Norman in March — over 10,000 color and design options to choose from. He knew he had to bring his best for the potential No. 1 pick in the 2019 NFL Draft, Kyler Murray.
But the former Oklahoma quarterback didn't want any of them.
He wanted pink. And to be specific, he wanted the pink suit Leonardo DiCaprio wore in the movie "The Great Gatsby."
"I was like 'Pink is a little strong, man,'" Mahbubani said. "But I guess you might as well standout or sit down." 
Owner of The Wardrobe Modern Warehouse, Mahbubani has never made a suit quite this extravagant. He's tailored suits for Oklahoma City Thunder stars Andre Roberson and Hamidou Diallo, as well as a couple other former Sooners, Baker Mayfield and Gerald McCoy. Mahbubani also tailored Murray for the Heisman Trophy ceremony after he reached out to Murray during the season over Instagram. 
"I liked the vision he had because even though it's a brighter color — the way it's fitted and styled, it's kind of timeless," Mahbubani said. "It really makes him standout." 
"The Great Gatsby" themed suit cost in the range of $3,500 to be custom made by Mahbubani. It's made of pink wool with maroon pinstripes. On the inside, Murray announces his new partnership with LeBron James' athlete empowerment brand "UNINTERRUPTED" with the company's logo on one side and the company's phrase "More Than An Athlete" on the other. Murray had the option of a white or powder blue shirt, making the decision to go with white Thursday afternoon. He's also wearing custom Nike shoes.
Looks like Kyler Murray has some custom Nikes for the draft tonight... I've got something coming on his outfit soon... pic.twitter.com/imfdFKjFWL

— George Stoia III (@GeorgeStoia) April 25, 2019
Murray has shown a constant theme of references to "The Great Gatsby" on his Instagram in the recent past.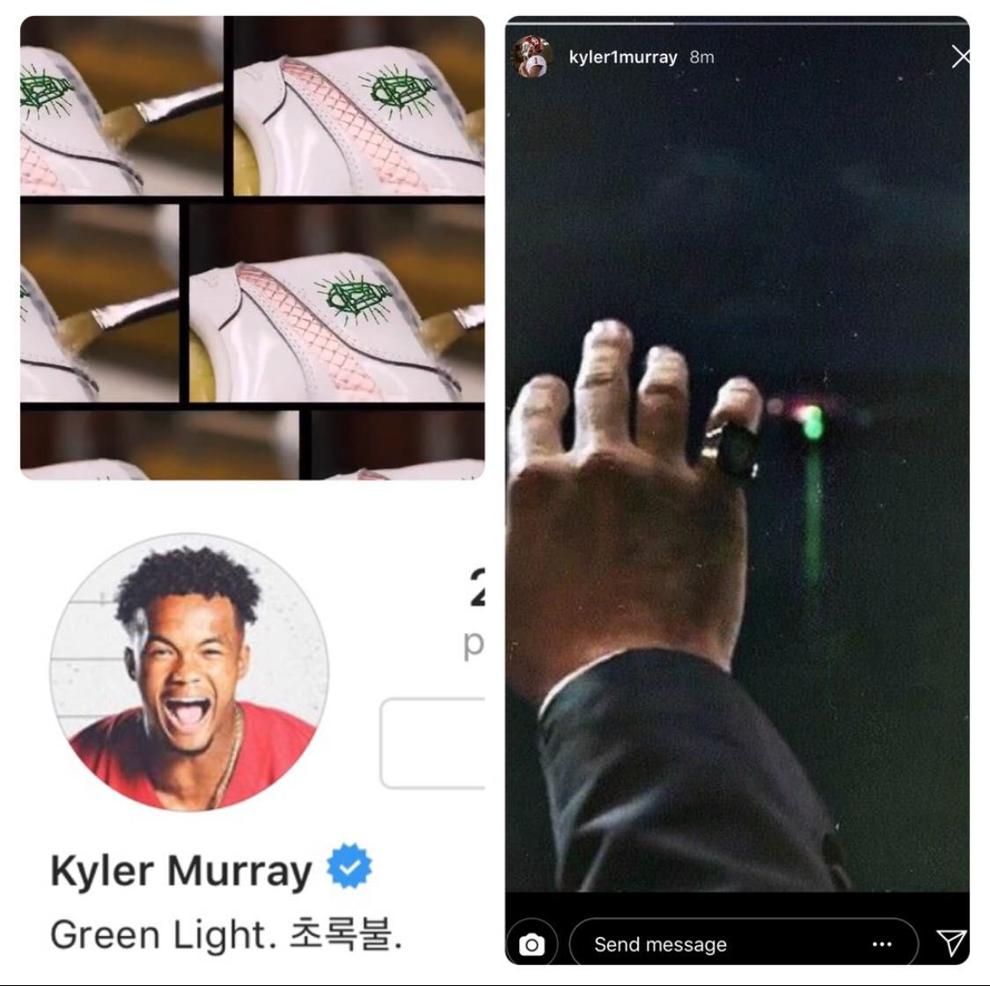 Mahbubani said the suit took about four to six weeks to make, and the inside lining was not completed until the week of the draft. 
"I kind of gave him full rein to design what he wanted," Mahbubani said. "In general, he was dead set on having that pink. He took his vision and ran with it."
Mahbubani, 29, has been in the suit business his entire life. His dad and brother also own a men's clothing store in Oklahoma City, GQ Fashions Fine Menswear. He says he's been working in the business since he was 10 years old, working with all types of people. 
"I like working with people that know what they like and what they don't like," Mahbubani said. "Kyler definitely knows what he does and doesn't want... And he's definitely been one of my more high-profile customers."
Murray showed his love for fashion all season, often wearing expensive and stylish outfits pre and post home games.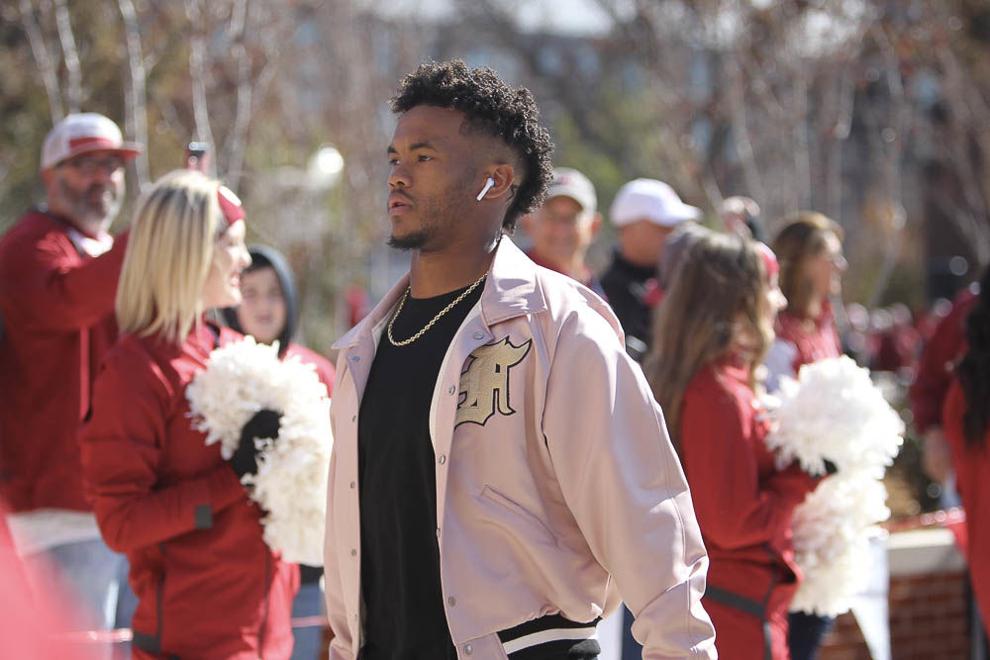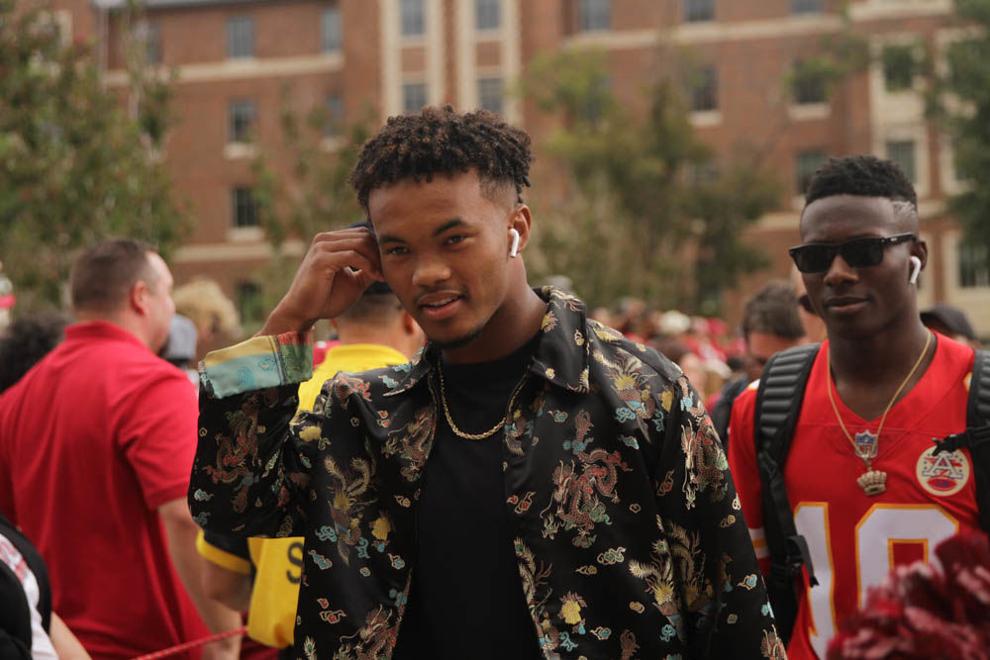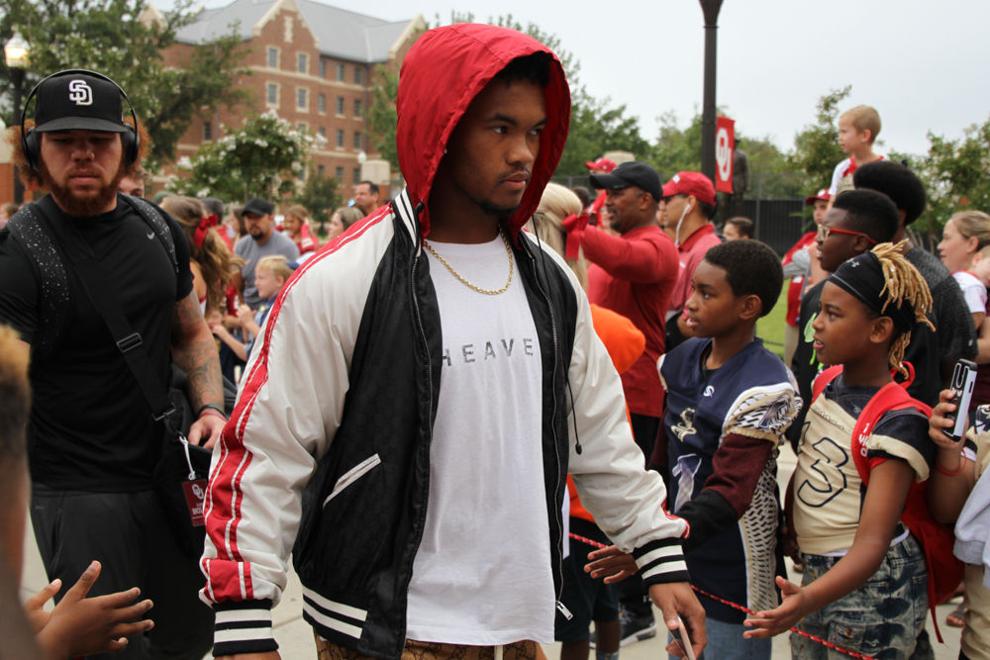 Murray is expected to be one of the top picks Thursday night, if not the top pick. He's been the top story of the draft, after picking football over baseball and thanks to his 5-foot-10 size. 
KYLER
And with his pink suit, Murray is sure to turn heads at the draft Thursday night, if he wasn't already. For Mahbubani, who traveled to Nashville with the suit, it's been the opportunity of a lifetime to showcase his work on a national stage. 
"We've really been pushing to do more custom suits for high-profile athletes because they fit that mold," Mahbubani said. "So hopefully our boy goes No. 1 and we can show it off a bit." 
🔥🔥🔥#OUDNA pic.twitter.com/OoYCz10AeN

— Oklahoma Football (@OU_Football) April 25, 2019