OU spirit squad members have been "heavily encouraged" not to perform the "horns down" hand sign at athletic events or on any social media platform, sources within the program have told The Daily.
The horns down symbol — a staple among Oklahoma fans for over 50 years to signal disdain toward their chief rival, the Texas Longhorns — has been widely controversial in the past two years after the Big 12 Conference decided to penalize teams that use it during games.
Seven student members from across OU's spirit teams, including the cheer squad, RUF/NEKS, Lil' Sis and mascots programs, have told The Daily they've been instructed by OU Spirit Coordinator Phil O'Neill not to use the hand sign. The students, some of whom have graduated and some who remain in the program, all shared the information on the condition of anonymity. Their identities are known to The Daily.
According to the sources, on several occasions, including at a meeting in August 2018, O'Neill told the students they were not allowed to use the hand symbol. O'Neill informed them that any use of the hand symbol on social media would be asked to be removed. Several sources told The Daily they have been asked to delete posts with horns down in them over the past two years.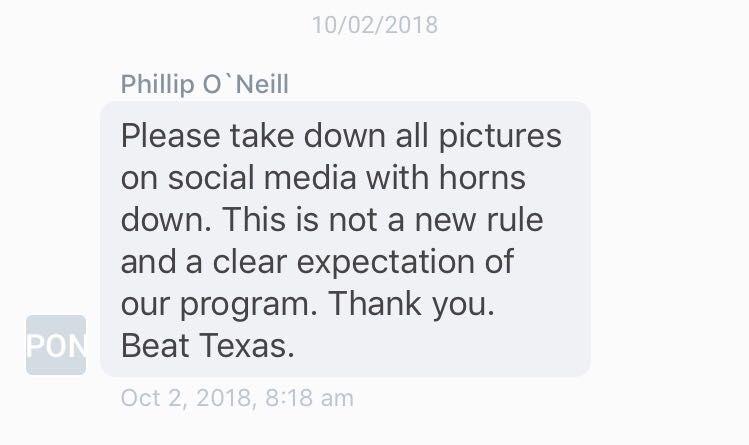 O'Neill declined to comment, directing The Daily to an OU spokesperson. In response to The Daily's questions, OU Athletic Director Joe Castiglione offered a statement on Sunday:
"First of all, as a matter of record, our approach to the purpose of all spirit squads is to support, cheer, create energy and properly represent our team. There is a consistency throughout all 'official groups' to recognize how our purpose and core values connect to the expectations of those wearing any University of Oklahoma uniform. That said, each year leaders of those groups educate their members of those expectations. This is not new. It's a practice that's been in place for a long time. Again, their job is to cheer for our team and model high standards of sportsmanship."
Sources told The Daily they were able to do the gesture as recently as the 2017-2018 season without any serious problem. In years prior, spirit squads were strongly encouraged to do it only at the OU-Texas game.
The horns down controversy erupted in Texas' 2018 loss to West Virginia, when Mountaineers quarterback Will Grier was called for unsportsmanlike conduct for using horns down after scoring a 2-point conversion to win the game.
WILL GRIER. 2-POINT CONVERSION WITH THE GAME ON THE LINE.

This man's got ice in his veins, y'all. pic.twitter.com/CQikTxeA8J

— FOX College Football (@CFBONFOX) November 3, 2018
After the game, Texas quarterback Sam Ehlinger went to Twitter to voice his displeasure with Grier and anyone else who has ever done horns down.
After 258 replies in 51 minutes, Texas QB Sam Ehlinger decided this tweet was a bad idea and deleted it. pic.twitter.com/0QKAgMA2q8

— Sooner Gridiron (@soonergridiron) November 4, 2018
In the days following the game, the Big 12 supported the officials' call, which started an uproar among fans. This summer, Big 12 coordinator of officials Greg Burks addressed the situation at Big 12 Media Days, explaining how a player could earn an unsportsmanlike penalty for flashing the horns down.
"Like any play, there is a degree — who it's directed at," Burks said in July. "If they do it in their bench area, we're not going to look at it. It would be like any other celebration foul, so it has to be like any other foul we have. Does it rise to the level we need to deal with that? It's a hot topic.
"I know people want us to be definitive on that, but it's like any touchdown celebration. Is it directed at an opponent or just celebration with your teammates?"
The original hand symbol, "Hook 'em Horns," was introduced by former Texas head cheerleader Harley Clark in 1955, according to his 2014 obituary in the Austin American-Statesman. Clark performed the hand sign at a pep rally the night before the Longhorns played TCU, and the sign became Texas' official symbol. It's unclear when horns down became its own counter symbol, but, according to an ESPN article, one of the first horns down images showed a Baylor fan doing it on the front page of The Daily Texan in 1963.
The horns down gesture has become a universal symbol for teams playing Texas, but it's Oklahoma that's practically made it a part of its brand. In many ways, according to former players, it's just another piece of what makes the rivalry great.
"That's just history. It's tradition. They don't like us, we don't like them. They throw horns up, we throw them down," former Oklahoma safety Roy Williams said. "I guess you can take it as disrespect, but who gives a rat's ass? This is football. If you're hurt because we're throwing the horns down, stop allowing us to beat your ass."
A professor who studies rivalry in sports had a slightly more nuanced perspective.
"Textbook definition: Is it inappropriate?" said Cody Havard, an associate professor of sport commerce at the University of Memphis, who happened to earn his bachelor's at the University of Texas. "Yes... So, in one aspect, it's setting a good example, but I can also see people who would say this is a part of the fabric, this is a part of the history. ... You have to consider the potential that when it wasn't a huge deal and it wasn't something that people got real upset about, that it was more fun. What do we do as humans when something is taken away? We want more of it."
Since the Big 12 has outlawed horns down, Oklahoma fans of all ages, even young children, have seemed to do the gesture more at games. Havard said he's unsure how banning horns down — whether it be from players, the spirit squad or all fans — would affect the rivalry itself.
"If this completely goes away, you'd have to see over a series of years what it does. You can't really predict what it's going to do now very well," Havard said. "There's part of me that thinks it's a rivalry — rivalries, hand signals, symbols, words, songs, language — that's all a big part of rivalries. But it's not the only part.
"The reason why people love rivalry is because it's 'Group A versus Group B.'"
OU-Texas will always be OU-Texas. From the Cotton Bowl to the state fair to the game itself, the animosity between the two schools will always remain.
"I guess I don't hate Texas," former Oklahoma coach Barry Switzer said. "I just want to beat their ass."
But if horns down ceases to exist, does that diminish one element of the rivalry?
"It won't just be Oklahoma or Oklahoma State or Texas A&M or Texas Tech fans that would be upset if this were to go away," Havard said. "There are plenty of people who root for Texas, myself included, who see it as — you can tell when it's fun and when it's not. ... And when it's fun, and not malicious, then it's not a negative thing."