Following Oklahoma's unexpected 23-20 loss at West Virginia on Saturday, salvaging bowl eligibility is exceedingly crucial for the Sooners.
OU must win at least one of its final games against Oklahoma State and Texas Tech to reach the six-victory plateau. The potential consequences of failing to do so at a prestigious program include decommitments and transfer portal departures.
The Sooners' coaches aren't trying to think too far past this week, as OU (5-5, 2-5 Big 12) hosts the Cowboys (7-3, 4-3) in Bedlam at 6:30 p.m. Saturday. OSU looks to have starting quarterback Spencer Sanders back in force as it looks to win consecutive Bedlams for the first time since 2001-02.
"We do have to finish strong, but we got this one this week, and that's — with Bedlam and everything associated with that — that's the focus of playing well enough to win this game, playing to our best to win this game," defensive coordinator Ted Roof said. "And certainly (becoming bowl eligible with a win) comes with it, but the focus is on preparing for Oklahoma State, not for what that could bring, but this game."
Yet, Roof didn't deny that achieving bowl eligibility would benefit a program that has struggled more than initially anticipated in its first season under head coach Brent Venables.
"When you play well during the year and you win at the end of the year, you carry momentum into your offseason program, it carries momentum into recruiting into the offseason program, spring ball," Roof said. "All the things, you want to end anything on a good note and not a negative outcome."
CBS Sports and Sports Illustrated recently predicted OU will face Wisconsin in the Guaranteed Rate Bowl on Dec. 27 in Phoenix, while 247Sports has the Sooners facing Air Force in the Armed Forces Bowl on Dec. 22 in Fort Worth.
Offensive coordinator Jeff Lebby also focused on the impending Bedlam matchup, but noted the advantages of extending the season with a bowl game.
"It's incredibly important that we go 1-0 this week," Lebby said. "Finding a way to get it done on Saturday is something that we need to have happen. And the importance of playing in a bowl game, there's a lot of things that go into that, but (with a) first year staff, obviously, I think the biggest thing is more time with our guys. That's the first thing that comes to mind."
Roof agreed extra practice time and an additional game would be important for grooming OU's inexperienced roster for next season.
"Those reps are like gold for everybody, but especially the young players," Roof said. "It helps them launch from a different point for the offseason. As opposed to launching from here, those additional reps allow them to launch from here, and that's a critical thing."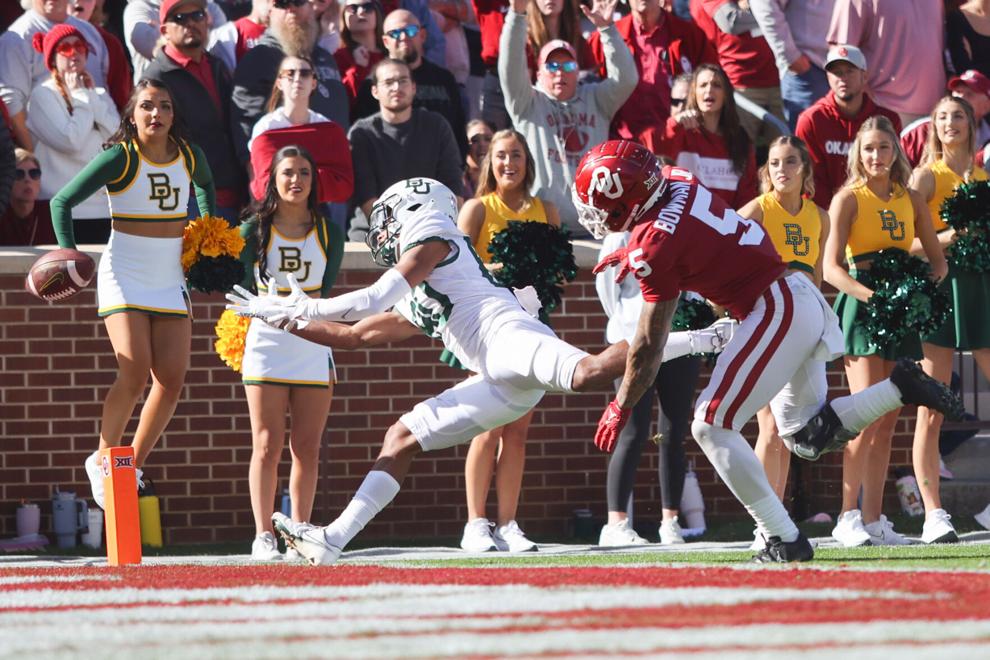 Sooners rank last in Big 12 penalty yardage
Oklahoma extended its Big 12-leading penalty yardage total to 552 with six flags for 60 yards in its loss to West Virginia on Saturday.
Offensively, the Sooners committed three penalties for 35 yards, two of which were potentially game-altering mistakes.
Early in the second quarter, quarterback Dillon Gabriel found tight end Brayden Willis for a six-yard touchdown, but the score was nullified by an offensive pass interference by receiver Theo Wease, resulting in a field-goal make. On OU's next possession, center Andrew Raym's false start penalty moved a potential fourth-and-1 attempt on West Virginia's 37-yard line to a fourth-and-6 try that Oklahoma failed to convert.
Lebby said Monday he wasn't concerned with the numbers of penalties the offense made, but rather the situations they came in.
"You look at winning football, championship football, you're talking about from a goal standpoint, you want to be one (out of) 30 plays without a penalty,'' he said. "That's kind of where the mind frame is. … When you're looking at teams that are the least penalized teams in college football playing at a championship level, they're right around (1-for-30) on penalties.
"On Saturday, we were (1-for-34). The biggest issue is that both penalties that we had offensively took points off the board. And so those two penalties were not just big penalties, but they changed the entire game. … It's just not good enough. We can't do that."
On defense, the Sooners were flagged three times for 25 yards, including a sack by freshman defensive end R Mason Thomas that was called back due to a face mask.
Roof explained the errors simply.
"Just something we got to get fixed and get corrected," he said. "And again, going back to understanding some of the ramifications of what those things lead to when you don't have much margin for error. Those things lead to bad things happening that obviously affect the outcomes of the games. We coach that and discuss it every week."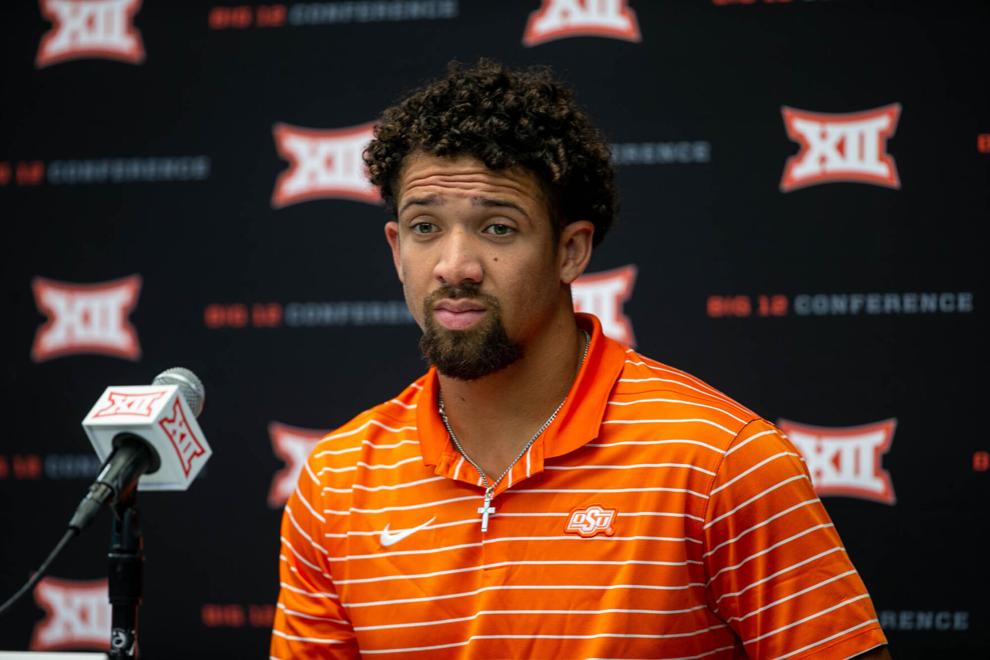 Scouting the Cowboys
Despite losing two consecutive games and being at risk of missing a bowl game for the first time since 1998, Oklahoma is favored by seven points ahead of Bedlam, according to DraftKings.
While the Cowboys have lost two fewer games than the Sooners this season, they've played just as inconsistently at times, including losing convincingly to Kansas and Kansas State.
However, Lebby has been impressed with OSU's ability to get off the field on third down, as it ranks second in the conference and ninth nationally in defensive third down conversion percentage.
"The biggest thing that stands out is they're leading the league on third down, they've been great on third down," Lebby said. "Obviously with the way we played third down on Saturday, that'll be a huge deal for us. So that's the thing that sticks out initially and then create some turnovers. They've done a great job of that, creating five turnovers last week vs. Iowa State. So you've got to be great situationally and take care of the rock."
Oklahoma State ranks No. 8 in the Big 12 in total offense but boasts Spencer Sanders, who came back from injury in the second half last Saturday to lead the Cowboys to a 20-14 win over Iowa State. Sanders missed OSU's loss to the Jayhawks after suffering a shoulder injury in the 48-0 blowout loss to K-State on Oct. 29.
Despite missing time, the fourth-year starter is third in the conference in passing yards with 2,261 yards and passing touchdowns with 16.
"He's a really, really dynamic football player," Roof said. "And I think we figured it out yesterday, going back to his high school days, he's had 90-something career starts as either a high school quarterback or college quarterback. … So, that's a lot of snaps. He puts pressure on a defense with his mobility and creates explosive plays.
"And he leads the Big 12 in total offense and so he's a guy, he's back, he's ready to roll and it's a great challenge and a great opportunity for us. So we have a lot of respect for him and how he operates and certainly adds not just the element of his athleticism, but the element of his experience and his decision making."