Oklahoma quarterback Dillon Gabriel and wide receiver Marvin Mims have not publicly announced what their football careers hold beyond this season.
As of Monday, neither was ready to reveal their decision, instead focusing on the Sooners' Dec. 29 Cheez-It Bowl matchup with Florida State, which could be the last game of their OU careers, or the springboard to success in year two under head coach Brent Venables.
"I'm just wanting to announce on my own time when my family is right," Gabriel said. "And not trying to hold it from the media or anything, just wanting to announce on my own time and knowing just when it's right for me and my family."
Mims added: "We go home (Tuesday). I'll probably talk to my family, just talk about it, sit on it for the rest of the week and just hopefully come to a decision then."
With double digit former Sooners in the transfer portal and four key players opting out of the bowl game for NFL draft preparations, it can be difficult to keep things in perspective amid college football chaos, but Gabriel is trying his best to stay grounded.
"I've just approached it like being present," said Gabriel, who has thrown for 2.925 yards and 24 touchdowns in 2022. "I've learned to be present in multiple ways, just because when you look too far ahead, obviously, you're not focused on the present, you, I guess, dwell on the past. It can affect your right now too. So just staying present, letting it all happen, but I'm confident just with my family and having great pure people around me, even the coaches, it's very helpful.
"It's a full circle kind of decision, everyone goes through it, and I'm really not trying to make it dramatic at all, just really focused on right now and getting myself better and letting God just kind of pave the way for me and just trust in his path for me."
Mims, who recorded 52 catches for 1,006 and six touchdowns in the regular season, said he has received his NFL draft grade and that can be somewhat helpful in making a decision.
"But at the same time, I've talked to a lot of people, and it's kind of like the same stuff as I've heard talking to people, so at the end of the day, so honestly at that point it didn't even matter much," Mims said. "Just thinking about it with my parents, family, talking through it with them. Honestly, the coaches haven't even asked me, really been asking me a lot, just waiting for me to make my decision and giving me the space."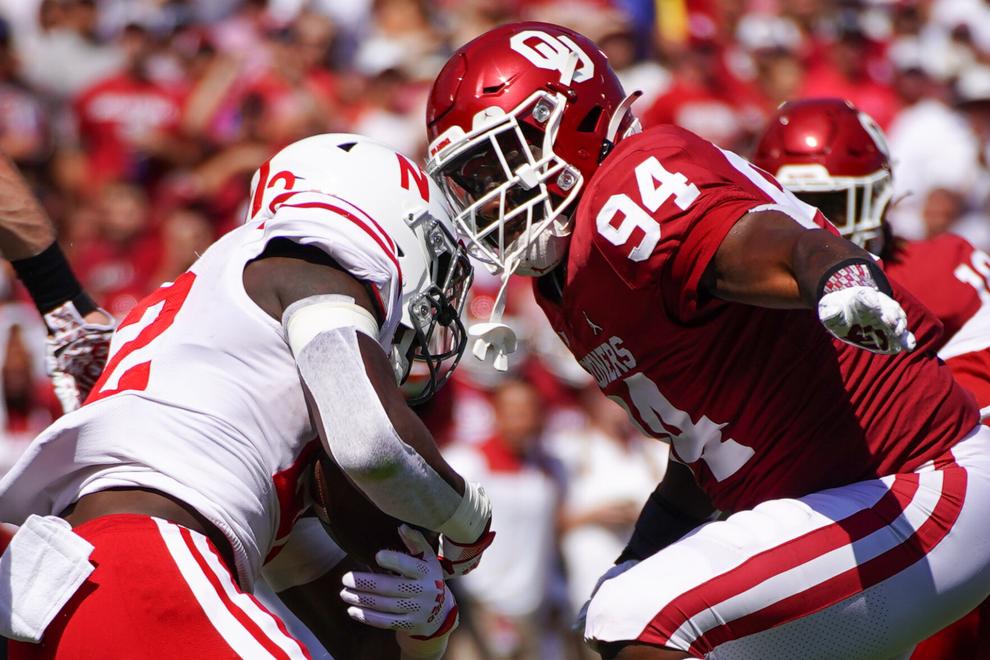 Coe explains thumb injury
Redshirt junior defensive tackle Isaiah Coe played through November with a protective wrap on his right hand after suffering a severe thumb injury against Iowa State on Oct. 29. He explained what happened during the course of that game on Monday.
Initially, trainers were trying to evaluate him for a head injury until he pointed them toward the real issue.
"I was like 'my head is good, y'all really need to look at my thumb, because my thumb looks unusually big,'" Coe said. "And then they just kept looking at my head. I'm like, 'my head is OK. Like I really need to look at my thumb. I promise you my head is OK.' So then we finally took the glove off and we just saw a big bone sticking out the side of my hand. I was really calm about it. Everybody else was really panicking, but I was really calm."
Coe went back to the locker room to get x-rays and even tweeted about the injury from there.
Y'all Ever Seen Y'all Bone Pop Out Y'all Skin ? I Thought It Was Cool 😅

— Isaiah Coe 👿 (@chiefzay_) October 29, 2022
"Everybody started getting on me," Coe said. "They thought I was really trippin' because I said I saw my bone, but I really thought it was cool that I saw my bone. The bone wasn't fractured. It was just dislocated, so like, they just popped it back in, in the locker room and sewed it up. But I thought it was cool. I can really walk around and say that I saw the inside of my hand."
Coe practiced without a wrap Monday and the injury appears behind him now. He will be integral to OU's interior defensive line in the bowl game with Jalen Redmond sitting out to begin NFL draft preparations and Cedric Roberts and Alton Tarber both transferring out.
He also said while he has pondered his football future beyond this season, he's focused on making sure his senior teammates "go out with a bang" against Florida State.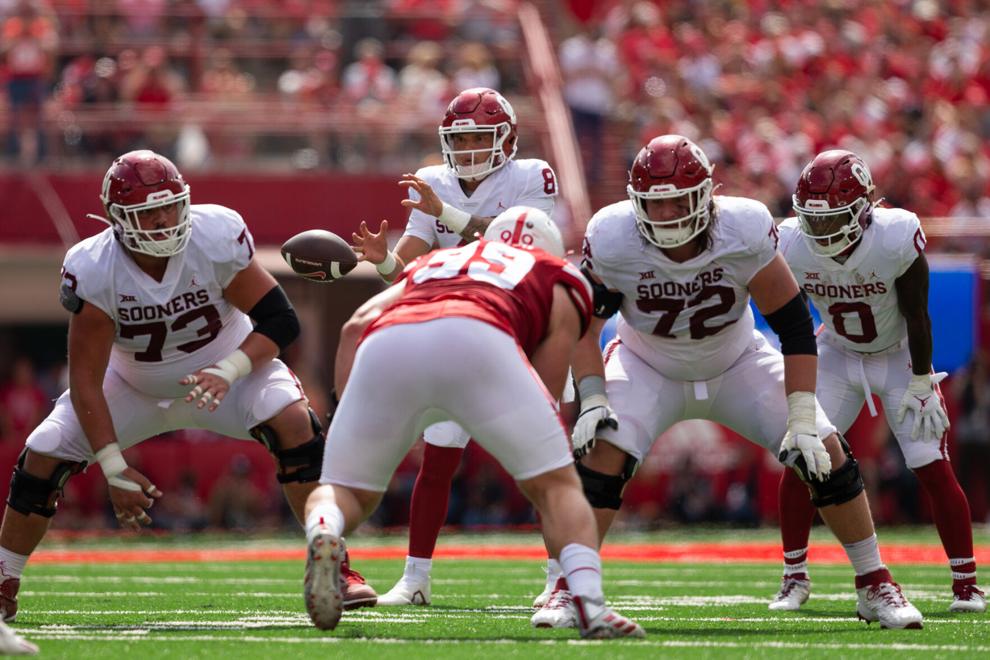 Offensive line adjusting without Harrison, Morris
Alongside the defensive line, OU's offensive line has also been heavily impacted by opt-outs. Starting offensive tackles Anton Harrison and Wanya Morris are both skipping the bowl game to prepare for the NFL draft.
Redshirt sophomore Tyler Guyton is likely to start at one of the tackle positions. The former TCU transfer started four games this season, spelling Morris as he dealt with an off-field issue and later a concussion.
The other starting spot will likely come down to either redshirt sophomore Aaryn Parks or freshman Jacob Sexton.
"I feel like for the young guys it's just time to step up, and they've been doing that," said freshman running back Jovantae Barnes, who will also have increased opportunity with leading rusher Eric Gray opting out of the Cheez-It Bowl.
"We had a great couple of days in practice, and we've been competing… going at it with the D-line and the whole defense, and they've been doing an incredible job. It looks like the same O-line to me."
Venables said Dec. 4 he expects a baptism by fire for the group as they face FSU pass rusher Jared Verse, who recorded 7.5 sacks and 14.5 tackles for loss this season.
"Obviously, their opportunity's calling now, so just telling them to embrace it," Gabriel said. "It's a blessing, and I know they have the right attitude about it, but just dialing it in even more just knowing that they'll be the ones running out for the first snaps."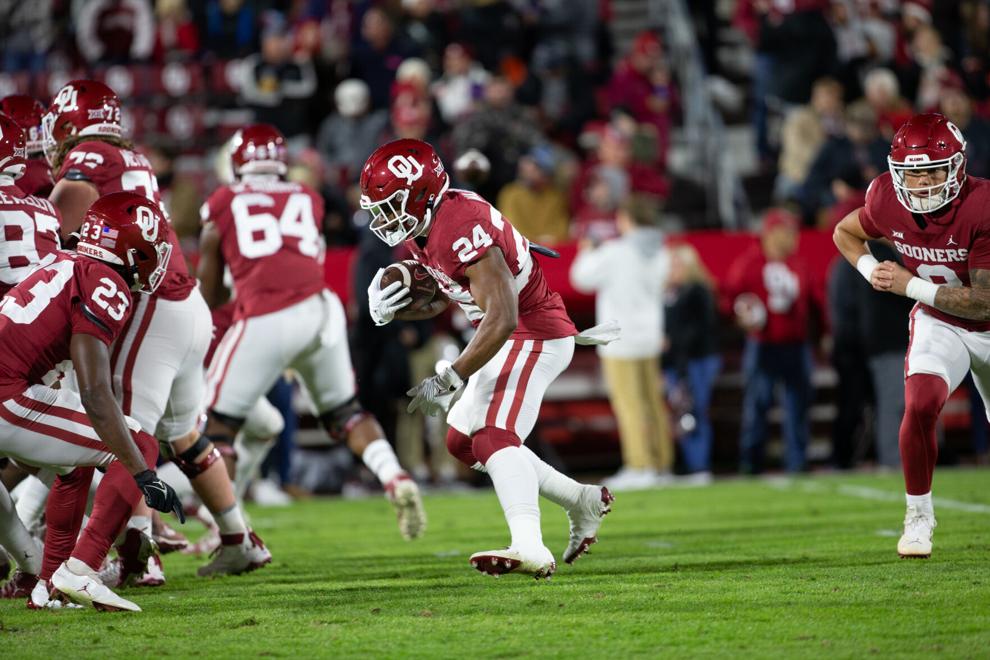 Practice observations
Part of OU's practice was open to the media on Monday for a look at the Sooners' bowl roster. Here are some observations:
• Redshirt junior running back Marcus Major wore a protective boot on his right leg and did not practice.
• Junior center Andrew Raym was present but not practicing after undergoing season-ending surgery in late November.
• Senior tight end Daniel Parker was back at practice after missing OU's last two games due to an off-field issue.
• Defensive lineman Josh Ellison and offensive lineman Brey Walker are still practicing with the team despite entering the transfer portal.
• D.J. Graham, who moved from cornerback to wide receiver at midseason, changed his jersey number from nine to 81.