Oklahoma football was once predicated on defense. It was known for a certain mentality.
You have to be physical like Brian Bosworth and Torrance Marshall. You had to be relentless like Rocky Calmus and Rufus Alexander. And most importantly, you had to be intelligent like Teddy Lehman and Travis Lewis.
Brian Odom, Oklahoma's new linebackers coach, is all three.
"He's got a great combination of a natural intensity and toughness that you'd say is ideal for coaching that position," head coach Lincoln Riley said. "He's an outstanding young coach. No doubt about it."
Odom, 38, hasn't always been a linebackers coach.
Once a standout at Ada High School, just an hour southeast of Norman, Odom grew up a running back. Today, according to the people of Ada, he's considered one of the best high school football players Oklahoma has ever seen. This led him to OU in 2000, where he spent two seasons before transferring to Southeastern Oklahoma State University.
Ada molded Odom. Like many who grow up in the small town off Highway 39, Odom is a blue-collar guy with an all-business persona. He's intense, but relaxed, and always looking for ways to better his craft.
He's taken on the personality of the town he played in. And thanks to his two years at OU, he knows the program and its expectations.
It makes Odom uniquely skilled to coach the most important position on a defense that's lacked both physical and mental toughness the past several years.
"He's a hardass. He's fun, but a hardass," said Dan Cody, who played with Odom at both Ada and Oklahoma. "And that's kind of what makes him a good coach, that mentality of he's not going to bend for anything or change who he is just because something doesn't go his way. His reputation always precedes himself.
"Everywhere he goes becomes a better place. We used to always say, 'Brian's just busy being Brian.' And that's the case for him at Oklahoma now. He's busy being him."
"He was a culture-changer."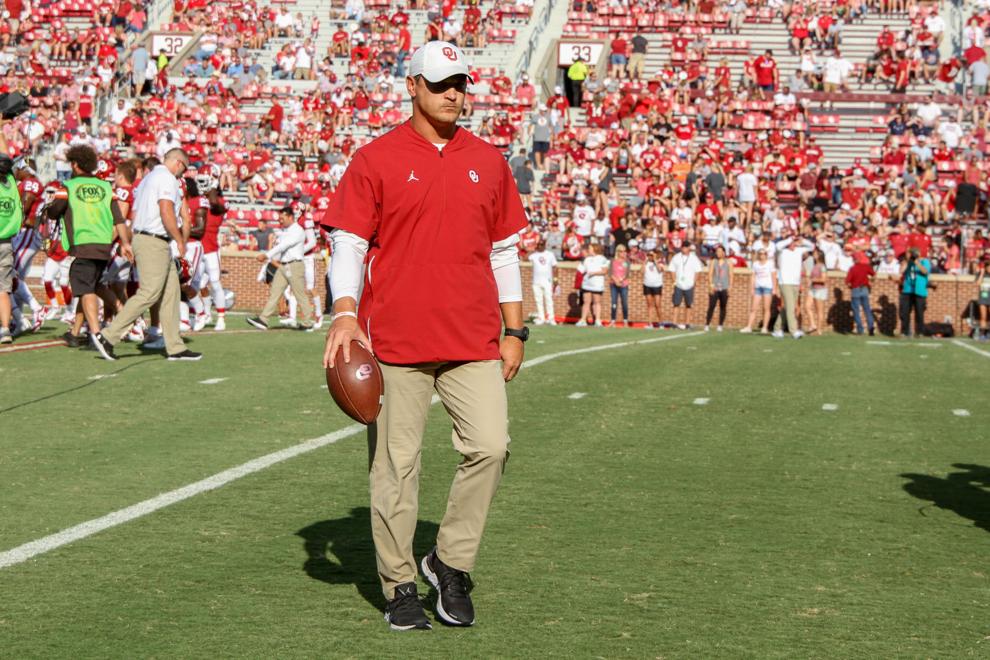 Odom and Cody would wake up early every Saturday, drive across town to JD's Cafe on Broadway — a staple in Ada — and pick up a copy of The Oklahoman.
They'd grab breakfast sandwiches and quickly flip to the sports section, reading the rankings and results of the class 5A games the previous night. Often, Ada sat on top, one of the best high school football programs in the state at the time.
Odom and Cody are just two names on a long list of former greats to play for the Cougars. Guys like former New York Giant Jeremy Shockey, former Los Angeles Ram Byron Beams, former Oklahoma quarterback Bob Warmack and former Oklahoma wide receiver Brandon Daniels all wore the maroon and white.
But it's Odom who often stands above them all.
"He's not just one of the best high school players in Ada history, but in Oklahoma high school football history," Cody said. "He was the face of the program."
Neither Odom nor Cody grew up in Ada. Odom moved there from Maysville, Oklahoma, after seventh grade, and Cody from Colgate after sophomore year. The two balanced each other out. Odom was levelheaded, while Cody was a troublemaker.
They spent most of their time in the weight room or on the field — or sometimes at the local Daylight Donuts for a late-night snack after a game. The two aspired to one day play major college football, and nothing was going to stop them from achieving that dream.
"Football was our life," Cody said. "Our downtime was just hanging out in small-town America playing ball."
Cody, and just about all of Ada, knew how special of a player Odom was after his first season. He helped Ada win its 19th state championship in 1996, becoming the first player in Ada history to start at running back as a freshman while also starting at safety.
He was a leader from the moment he stepped in the locker room. He took football seriously, treating it as a job rather than an extracurricular activity.
"Getting him to smile was kind of tough," said Chris Berus, who was Odom's position coach at Ada and is now the head coach at the school. "I'm sure he joked around his boys, but around his coaches? No way. He was all business."
Yance Vaughan, son of former Oklahoma great Mike Vaughan, transferred to Ada before the 1998 season and remembers watching Odom in the weight room when he visited the school in the spring.
"From an outsider's perspective, you could just see how his presence overtook the room," said Vaughan, who played quarterback at Ada in 1998 and 1999. "You would have thought he was a senior, not a sophomore."
Odom was never the fastest or most athletic, but he always outworked his peers. He was a physical back, often running through defenders, and he rarely got tired, thanks to a rigorous offseason workout schedule he held himself to in preparation of the load he was about to carry.
In his junior and senior seasons, the Cougars often handed him the ball 40 or more times a game. Ada built his physical and mental toughness.
"Brian was just a tough, tough guy," Berus said. "Brian was never flashy. Brian was the guy that would score 40 touchdowns and hand the ball back to the referee. He was never a 'me' guy. It was never about 'give me the ball.' It was never about any of that stuff."
Odom still holds the school record for rushing yards and total scoring in a career (5,917 yards and 606 points) and rushing yards in a single season (2,490 yards). His senior season in 1999 was one to remember, helping Ada to a perfect 10-0 regular season record and scoring 41 touchdowns — also a school record. He was named the Oklahoma High School Football Player of the Year by the Tulsa World.
Today, tucked in the back of Ada's facility is a room with pictures hanging on the wall. There are no chairs or tables, just photos of players and teams of the past. To have your individual picture on the wall, you had to have been an all-state selection. There are exactly 100 players on the wall.
Cody and Odom's photos are next to each other — the 85th and 86th players to make it.
"When you think of Brian, it's not about the one thing he did — it's what he did all the time," Berus said. "He was a culture-changer."
"Only someone like Brian Odom could do that."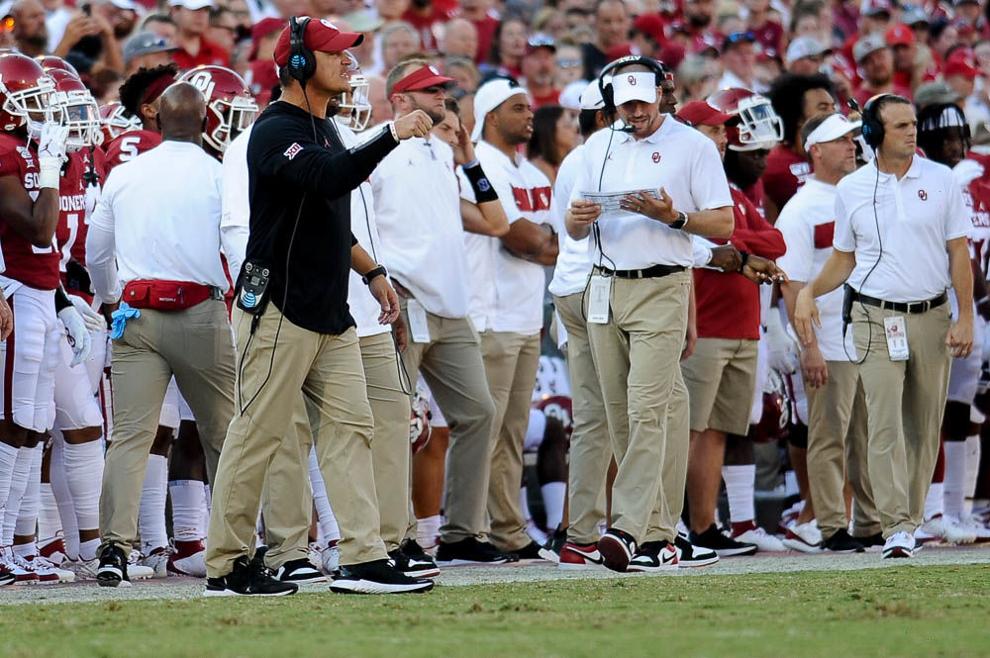 During Odom's historic senior season, then-Oklahoma defensive coordinator Mike Stoops came to Ada's season opener against Ardmore to watch him. Odom was impressive, rushing for 275 yards in a 27-20 win.
Stoops ended up offering Odom and Cody scholarships to Oklahoma after seeing the two in person. For Odom, it was a no-brainer. He'd grown up going to OU games with his grandfather, sitting in the north end zone in section 18. Cody chose OU as well, saying he wanted to stay close to home.
Odom made an immediate impression upon his arrival in Norman. He won the team's "Iron Man" award his freshman year for standing out in the weight room, which led to his instant connection with then-strength and conditioning coach Jerry Schmidt.
"That alone says a lot," Cody said. "Schmidty doesn't just let anyone into his circle."
But Odom didn't see the field much at Oklahoma. He sat behind guys like Seth Littrell, Quentin Griffin and Renaldo Works, who was in Odom's same recruiting class from Tulsa's Booker T. Washington High School.
Odom knew his playing time would likely continue to be limited with the Sooners, as he often played only special teams. He decided to transfer to Southeastern Oklahoma State University following the 2001 season.
"Everybody loved Brian. The hardest part for him, I think, was leaving everybody," Cody said. "It wasn't about swallowing pride. It was tough on him and all of us. But shit, hell, if you love the game and you love the guys you're playing with, it's hard not to be upset about stuff like that.
"We hugged it out in the OU parking lot that day."
Not once did Odom complain about playing time while at Oklahoma. And not once did he complain after he left, Cody said.
In fact, he and those who know him credit his time at Oklahoma for jumpstarting his coaching career.
"It's about where you start in this business, and he was fortunate to start at a great place," Odom's father-in-law Joe McCauley said. "The impression he made there got him his start. He earned their respect."
Odom's first full-time coaching job came in 2005. He was hired by Arizona's then-strength and conditioning coach Corey Edmond, who had been at Oklahoma under Schmidt when Odom was there.
"A lot of guys get a start and do nothing with it," McCauley said. "Brian did something with it."
Odom spent seven years at Arizona working with the performance program. He then went to Houston to run its performance program for three years before joining Alex Grinch's defensive staff as a quality control coach at Washington State in 2015. This eventually led him to Missouri to become their linebackers coach and join his brother Barry, who is now the Tigers' head coach.
In two seasons at Missouri, Brian Odom showed his ability to coach a position group. He helped the Tigers go from 58th in rush defense in 2017 to 22nd in 2018.
"A guy coaching linebackers that played running back? That shows adaptability," Cody said.
That adaptability led him back to where it all started: Oklahoma.
"For a guy that didn't even graduate from OU, he left a hell of an impression," Cody said. "Only someone like Brian Odom could do that."
That lasting impression, combined with the grace in which Odom left Oklahoma is why he's back in Norman today.
He brings a selfless attitude and a determined mindset to improve. He took what he learned those two years at OU and has applied it throughout his coaching career.
"A former player, this place means a great deal to him and his family," Riley said. "I know Alex (Grinch) really trusts him and leans on him for a lot. I think a lot of it has to do with his background being in the strength and conditioning field, which has helped shape him.
"He's made a big impression in a short amount of time with our linebackers, our recruits. He brings a lot to it. Our players have really taken to him in a short amount of time."
"It's a part of your makeup."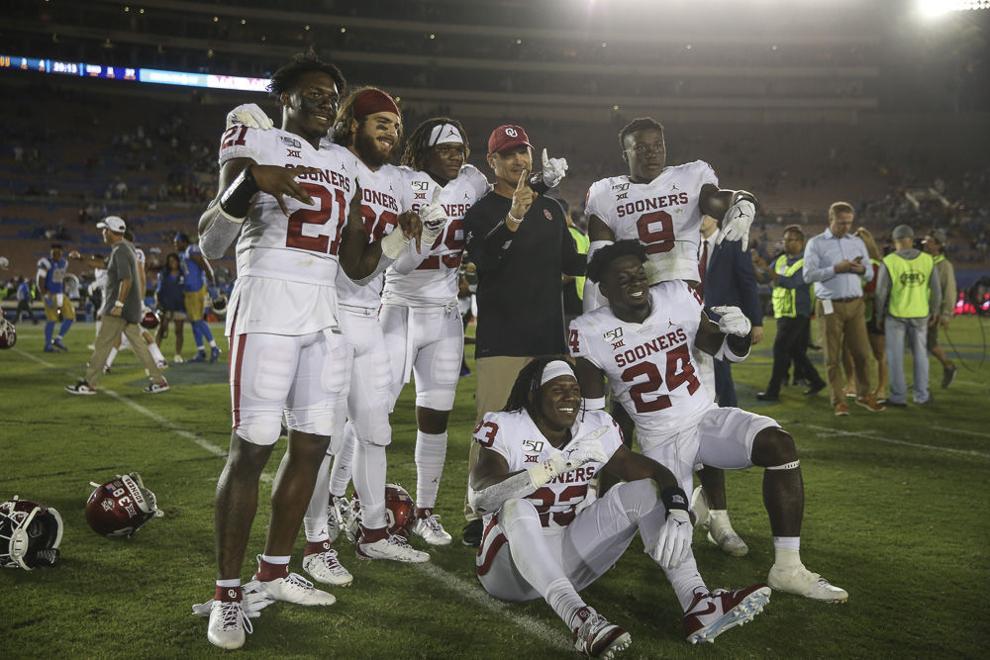 Starting Oklahoma weakside linebacker DaShaun White had no idea his position coach was once an all-state running back.
"No way," he said. "I'm going to have to ask him about that."
Odom doesn't talk much about his past. He doesn't talk about scoring 38 points in a game his senior year at Ada or winning the national title his freshman season at OU.
It's not because he doesn't relish those moments. It's because he's focused on this team and these players.
And that focus has led to quick connections.
"Personally, I like how fierce he is," White said. "He's a hothead, he is. But he leads us the right way and (helps us) keep our edge about us when we're out there playing."
Players respect Odom. They like intentionality and the way he communicates.
"I don't think he bullshits around. I think he's straightforward," McCauley said. "What you see is what you get. Every day is the same with him. There's not highs and lows.
"Football players like people they can trust, and they can trust Brian."
Odom and the linebackers still have a lot of work to do. But if three games are any indication of what's to come, Big 12 offenses might be in for a surprise this season with the OU defense.
Through nonconference play, the Sooners have given up 60 fewer yards per game, have had two more turnovers than they did this time a year ago and currently rank 11th in third-down defense.
Odom is just one part of the equation, and he'll be the first to admit that.
He'd also be the first to admit that if it weren't for his legendary career at Ada High School and his short playing career at OU, he wouldn't be who he is today — an intelligent, relentless coach who preaches physicality.
"It's a part of your makeup. It sets the tone for what you do the rest of your life," Odom said. "If you're that guy and you have that expectation to be great, then that's a pretty common place for you."