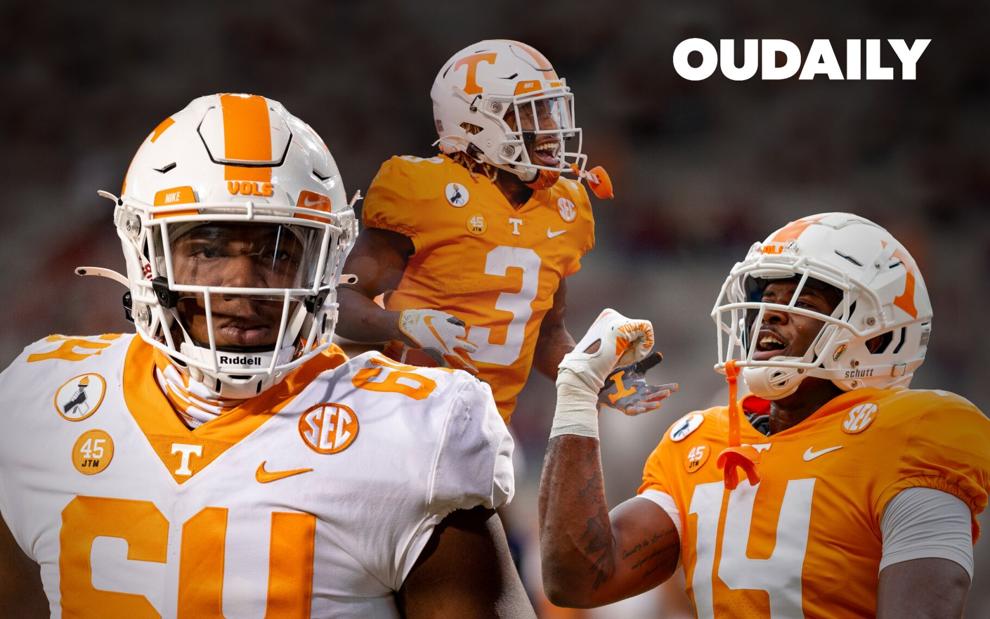 A  crimson and cream care package is on its way from Colquitt County, Georgia, to Wanya Morris' new residence in Norman.
Inside are a few must-haves for one of the Sooners' newest offensive linemen: his favorite snacks, a COVID help kit and — most important — a bottle or two of Promised Land chocolate milk, Morris' favorite.
It's a fitting gift given that the University of Tennessee was more of a rocky stop for Morris, a one-time Volunteer, and two other teammates, who all transferred from Knoxville in hopes that Norman might be a championship-filled promised land of their own.
Morris' former offensive line coach at Grayson High School, Greg Carswell, and his wife, LaKeisha, sent the package, a tradition for several of Carswell's former players. The couple knew Morris' shipment wouldn't be complete without his go-to beverage for before and after practice. 
"It's just something funny about him," Carswell said. "Like, dude, you're 6-foot-5, 310 pounds. Why chocolate milk? … Now, my wife sends him little things like that to let him know, 'Hey, you don't need to be spending your money on small things — we got you.'"
Man when i tell y'all coach carswell can throw down in the kitchen 🤫🤫@CoachCarswell but had have my favorite drink on the side for gameday 🤪 pic.twitter.com/ecnc90fj1I

— •K I N G👑 (@wanyamorris64) November 9, 2018
The arrival of Morris, defensive back Keshawn Lawrence and running back Eric Gray immediately filled three of the Sooners' biggest offseason needs after right tackle Adrian Ealy, defensive back Tre Norwood and running back Rhamondre Stevenson departed for the NFL Draft. The players' decision to leave Tennessee came after the program was found to have broken NCAA recruiting rules, violations that led to the firing of UT head coach Jeremy Pruitt and nine assistants Jan. 18. Nine days later, Morris, Lawrence and Gray were all Norman bound.
Oklahoma head coach Lincoln Riley said he felt the three's move to OU was a choice each player made on his own. The Sooners' previously recruiting Morris and Lawrence played a role, Riley told reporters in early February, but he believed each player made his own decision based on a needed "change of scenery" and individual opportunities at Oklahoma. 
Time will tell what kind of imprint Morris, Lawrence and Gray will leave in their time at OU, but if the trio can help the Sooners return to the College Football Playoff picture  — a perch OU reached in four of the past six seasons, losing in the semifinals each time – Norman might once again become a championship promised land after all.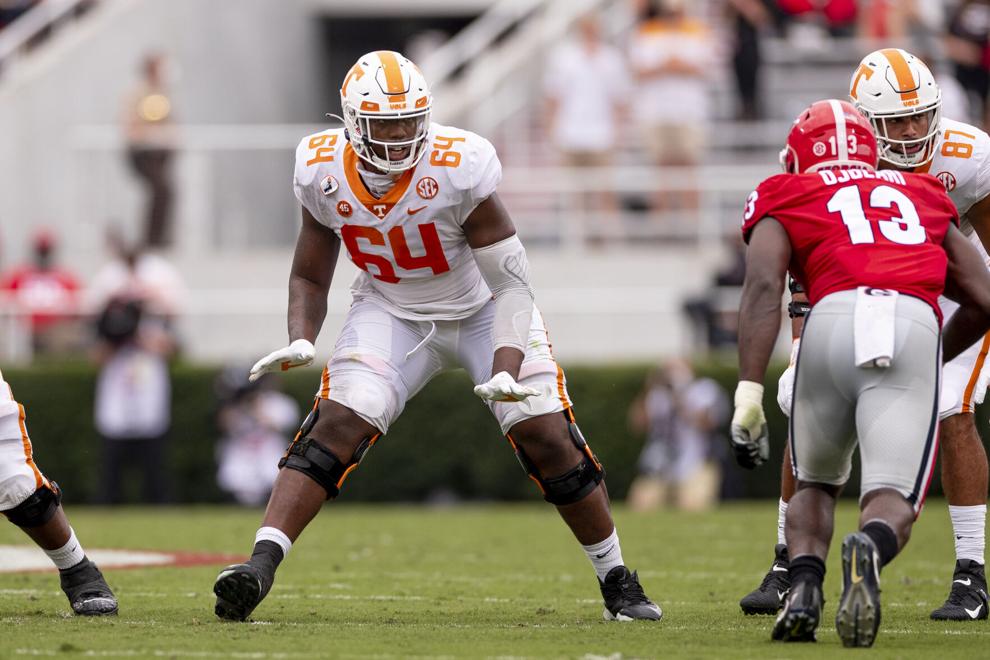 'He's gonna rep Oklahoma until the wheels fall off'
---
Carswell entered a locker room full of laughter during one of his first days as Grayson's offensive line coach in 2018.
Just 25 years old at the time, Carswell felt he needed to investigate why his new team was in such a playful state. He began a search for the center of attention, and he found it in the person he least expected — Wanya Morris.
Morris' charismatic, life-of-the-party personality was on full display as he cracked jokes to a full locker room. Carswell, who had yet to meet the then-high school senior, was taken back. Knowing Morris was a five-star recruit who had already committed to Tennessee over numerous schools, Carswell expected a different demeanor.
"I thought, 'There's no way this is the No. 1 offensive tackle in the nation. ... That's not Wanya,'"  said Carswell, now the defensive line coach at Colquitt County High School in Georgia. "Goofiest guy I had ever met. Most of the time, you get offensive linemen and they're very cerebral guys. They're very calm, collected (and) don't like the spotlight. … That's when I knew Wanya was different. You don't see too many offensive linemen being that vocal guy, the guy who's gonna keep everybody uplifted, keep everybody happy."
As the season progressed, Morris' strong persona proved to be a team anchor. Carswell recalled Morris often being Grayson's voice of reason on the Rams' sideline. He would ensure his teammates were locked in after every drive, regardless of how the previous one ended.
Morris led Grayson to the 2018 state quarterfinals on a 10-3 record. Along the way, he helped the Rams rush for just under 200 yards per game, boosting his recruitment to a consensus top-15 prospect before he enrolled at Tennessee in January 2019. His signing elevated the Volunteers' recruiting class to 13th in the country, per Rivals.
Morris arrived in Knoxville with high expectations, but it took time for him to meet his goals. Even after becoming the first freshman tackle to start on the Volunteers' offensive line in two seasons, Morris felt his play wasn't where it needed to be. So, he reached out to his old position coach for advice.
"He would call me sometimes and say, 'Hey coach, how can I do this better?' or, 'Are there some drills that you have that will help with this?'" Carswell said. "This is an 18-year-old kid, walking into a university's starting position, playing tackle in the hardest conference in college football and wanting to improve weekly. … He's so humble that he's successful. And I think that's one of his greatest gifts. He knows he is talented, but he doesn't boast about his talent. He doesn't want his talent to be the spotlight. His personality is his spotlight."
Morris would go on to be named to the 2019 Freshman All-SEC team after starting in 12 of 13 games.
Coming into 2020, Morris was named to the All-SEC Second Team by the conference's coaches. However, in the shortened season, Morris made just seven starts in nine games while battling an ankle injury. He entered the transfer portal Jan. 13 and joined OU on Jan. 18.  
Now with a fresh start in front of him, Carswell believes Morris will make the most of it.
"Wanya's gonna come in and compete," Carswell said. "He's gonna rep Oklahoma until the wheels fall off. He's gonna be Boomer Sooner to the day he dies. I think that's going to be what separates him from everybody in the building. … How impactful he is with his personality is going to change the environment and atmosphere in Oklahoma. 
"I think Wanya really found a true home in this move, because of the environment that he's going to be placed in and the role that he's going to have to play. … He wants to put a championship in that state."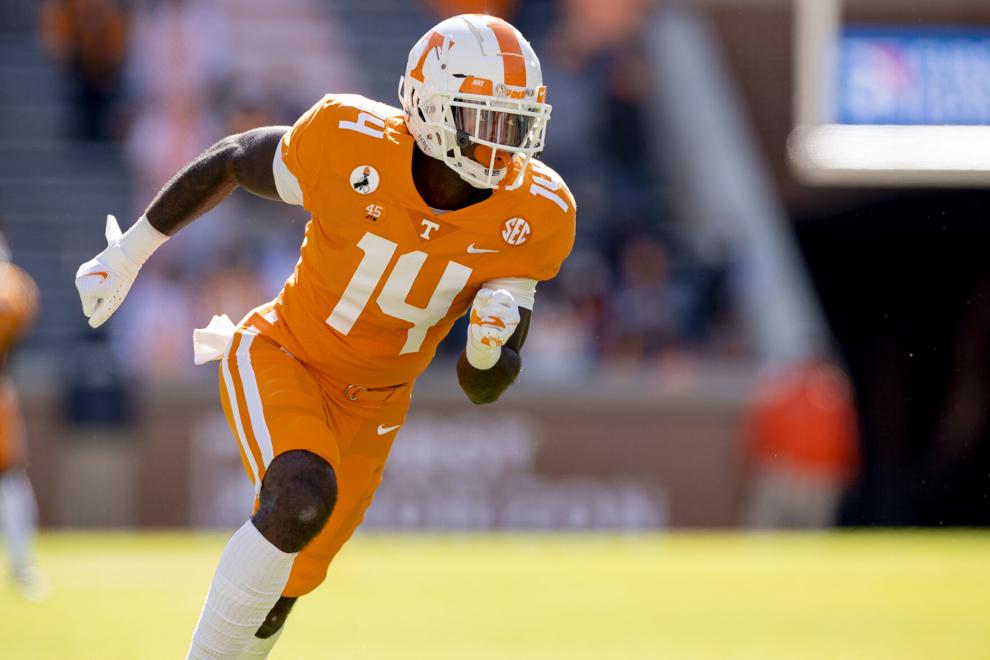 'A hard-working, big-hearted fierce competitor'
---
While practicing punt returns at Tennessee, Keshawn Lawrence heard a familiar voice in his head.
The voice was that of his former coach at Ensworth High School, Nick Johnson. An assistant football coach and head track coach for the Tigers, Johnson yells one of two phrases to his team's punt returners — "You've got time!" or "In your face!"
As the ball sailed his way, Lawrence could hear Johnson's phantom warning shouts. When he got the chance, Lawrence called his former coach to tell him the impact of his coaching technique. 
"I definitely wasn't there," Johnson said with a laugh. "He's always trusted me in that realm. … At each level, athleticism helps get you through the door so to speak, but being a student of the game and being a technician is more and more important each level you go up. That's Keshawn."
Johnson, who played for the St. Louis Rams in 2012 and 2013, joined Ensworth's coaching staff in 2016, Lawrence's freshman season. The two had an almost instant connection, and Johnson constantly challenged Lawrence.
A Nashville native, Lawrence was a multi-sport athlete, having suited up for the Tigers' basketball and track teams. While watching him star at Ensworth's other sports, Johnson noticed some tendencies he wanted Lawrence to carry over to the football field.
"From what I saw, he was always the most aggressive guy on the basketball court," Johnson said. "I don't want to say he wasn't aggressive on the field, but it took him a little while. I remember us sitting in my office during his senior year and told him, 'You're by far the most aggressive guy on court, yet you're not the most aggressive guy on the field. … You're definitely the most athletic. I need you to tap into that.'"
Lawrence listened.
Later that season, during a rivalry game against Brentwood Academy, he found himself backed up to Ensworth's own goal line as he awaited a Brentwood punt. After the ball was kicked, Lawrence was quickly surrounded by defenders, forcing him into the Tigers' end zone.
He let the ball land at the five yard line, where it took a high bounce as the Brentwood defenders began to spread out. Seeing an open lane, Lawrence committed what Johnson called a returner's "cardinal sin" and caught the ball before it touched around the two yard line. However, his aggression paid off. He shook a couple would-be tacklers on his way to a 97-yard touchdown return.
Did @Vol_Football commit @KeShawn2x just have the punt return of the year? 😳 (Via @Stadium / @MyTV30_Sports ) pic.twitter.com/rxy34BbNIf

— MaxPreps (@MaxPreps) October 26, 2019
The play didn't win Ensworth the game. The Tigers still fell, 30-20, but it was a testament to Lawrence's willingness to learn as well as his athletic ability. He ended his senior season as the No. 1 ranked safety in Tennessee by 247Sports and officially signed with the Volunteers in December 2019.
As a freshman, he played in all 10 games for UT in 2020, but mostly in a backup role. Entering the transfer portal Jan. 22, Lawrence announced his decision to transfer to Oklahoma just three days later. The former consensus four-star prospect's now-aggressive style of play is something Johnson believes will help Lawrence easily fit the Sooners' "Speed D" defense.
"OU is getting a hard-working, big-hearted, fierce competitor, whose positive energy is contagious and whose potential is limitless," Johnson said. "I think he embraced the idea that your confidence is tied to your preparation."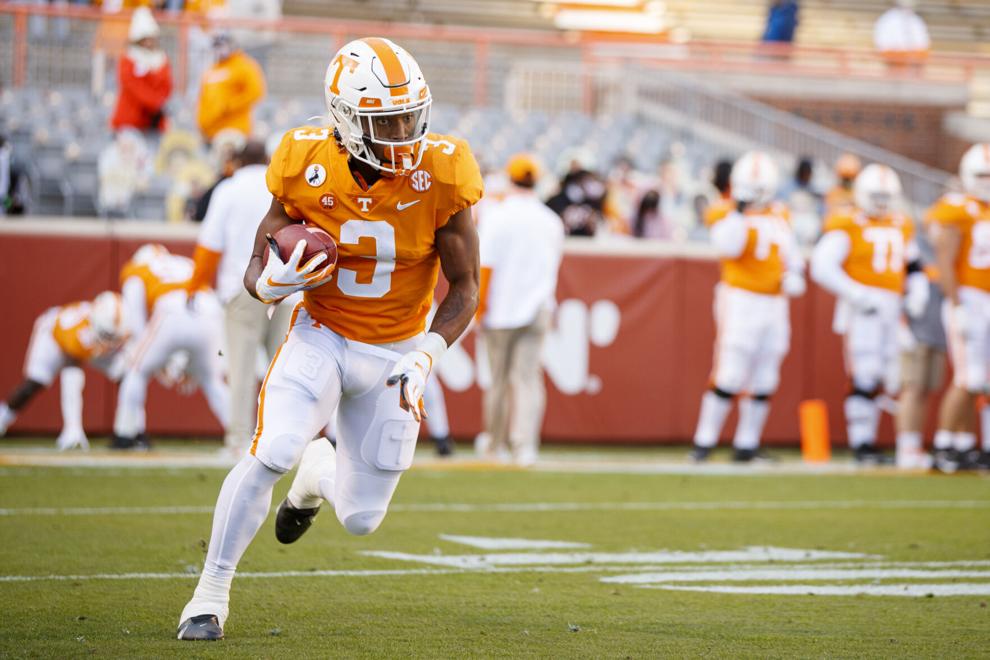 'He was way ahead of his time'
---
Eric Gray needed advice.
The 5-foot-10 running back had just entered the transfer portal and was already garnering interest from several big schools. Wanting to find the place that would fit him best, Gray called his former head coach at Lausanne Collegiate School, Kevin Locastro, for advice. 
Their conversation centered around one question: Where could Gray go that would help him stand out the most?
"The answer was Oklahoma," said Locastro, who's entering his 31st year of coaching high school football and his eighth at Lausanne. "So, I'm really excited that he's out there and I think he's gonna do some really, really great things for them this year. If he stays healthy, he may even end up being a Heisman Trophy candidate when it's all said and done. I think he's that good.
"He wanted to go to a place that could compete, get into the playoffs and have the opportunity to win a national championship."
Locastro's high expectations come from Gray's historic high school career at Lausanne. From 2016-19, the Memphis native helped guide the Lynx to two state championships and set a county record for most consecutive wins by a team at 38. While setting the Tennessee state record for most career touchdowns with 138, Gray was a two-time Tennessee Gatorade Player of the Year and a three-time Tennessee Mr. Football winner.
Gray's high school performances were often so dominant that Locastro would bench him at halftime to avoid "embarrassing anybody" — Locastro said Gray played in fewer than 10 full games in his Lausanne career. But even before Gray's play put him on the map, Locastro knew his team had something special in the former four-star prospect.
"We noticed in our coaches meetings and position meetings that he would get on the board and start talking pass protection," Locastro said. "He understood defensively where the linebackers' fits were based on our blocking scheme. And that allowed him to be patient, press the line of scrimmage and make cuts off of where linebackers were supposed to fit. He was way ahead of his time."
Signing with Tennessee in December 2018, Gray went on to make an immediate impact for the Volunteers. He broke the UT freshman single-game rushing record with 246 yards against Vanderbilt on Nov. 30, 2019. The following season, Gray totaled 157 carries for 772 yards and four touchdowns for the Volunteers.
Transferring to OU on Jan. 27, Gray now enters a Sooner running back room that returns Kennedy Brooks, Seth McGowan and Marcus Major. With his addition, the room becomes one of the deepest on OU's roster — and in Locastro's mind, Gray might be the cream of the crop.
"I think OU is gonna see something in Eric, in terms of his skill set, that maybe they haven't seen in a little bit," Locastro said. "I mean, he had 30 catches at Tennessee last season, and I think they could've used him (more). … I think there's a lot of things Oklahoma fans should be excited about what Eric can bring to the table.
"It just creates nightmares for defenses to try and defend."
'They have all the potential in the world'
---
For Reggie Grimes Sr., whose son is an OU defensive lineman, Morris, Lawrence and Gray's decision hit close to home.
Grimes Sr. has coached Tennessee high school football for 11 years. Now, in his third season as the defensive coordinator for Ravenwood High School in Brentwood, the Nashville native keeps up with the recruiting landscape for his state's top schools.
When Morris signed with UT, Grimes Sr. did his research on the Grayson native to see what the Volunteers were getting — and he was impressed. When Lawrence chose Tennessee, Grimes Sr. was more than familiar with the defensive back's talents, as he coached him at the youth level alongside Reggie Jr. When Gray made his decision out of high school, Grimes Sr. knew he would make an immediate impact for the Volunteers due to his already prolific past.
And when the three decided to leave for OU — Grimes Sr. was ecstatic for his son's team.
"Those were the guys that were going to help get Tennessee back on the right track," Grimes Sr. said. "They have all the potential in the world, and I would be shocked if they didn't fulfill their potential where they are now."
With Morris, Lawrence and Gray each entering must-fill position groups for the Sooners, each will get their shot. Regardless of how their position battles turn out, however, Grimes Sr. believes OU has already improved simply by adding the trio.
In fact, Grimes Sr. thinks the Sooners were just steps away from making the College Football Playoff in 2020. Oklahoma, which finished last season on an eight-game winning streak after starting the season 1-2, came in at No. 6 in the College Football Playoff Committee's final rankings. 
With the Sooners saving their best performances for their last few games of 2020, Grimes Sr. said he expects Oklahoma to continue its success next season with Morris, Lawrence and Gray at the forefront — giving the trio a chance to fulfill their championship promised land hopes.
"OU was not far off from the top," Grimes Sr. said. "Now you're adding three bona fide players from an SEC school? Man … with Coach Riley being the offensive guy that he is, and Keshawn joining Speed D with Coach Grinch, I think it's going to be fun to watch."