Jennie Baranczyk spent her first season trying to build a winning culture at Oklahoma. In just one season, she made rapid progress.
It took Baranczyk little time to bring the Sooners to the NCAA Tournament, faster than the five seasons it took her at Drake, where she coached from 2012-2021.
OU achieved several feats not seen in Norman in years, including its first 25-win season since 2009-10, a top-4 finish in the Big 12 Conference for the first time since 2016-17 and hosting NCAA Tournament games for the first time in 10 years.
Now, entering her second offseason as OU coach, Baranczyk and the Sooners want to build on their success. Baranczyk will emphasize "individual skill development," rather than work on skills as a team to start, she wants to cater to each player individually to achieve the most growth possible.
Each player will get a say on what they want to work on, with Baranczyk and her assistants developing a plan based on what they tell them. Similar to how she approaches her on-court coaching, Baranczyk wants to give her players freedom on what they want to do with their games.
"For the most part, we're on the same page (with our players)," Baranczyk told The Daily. "We're really honing in on some of those skills. All of our coaches will work out from a one-on-one basis to focus on each person's player development."
After individual player development, the focus will then shift toward team improvement. The idea being that once each player improves individually, it will be easier to figure out what the team needs to do collectively going forward.
As a team, improving conditioning will be the main priority as the Sooners look to retain a fast-paced offense. Rebounding will also be an area of focus, with OU not wanting to allow opponents to have as many second chances to score.
"I feel like we can definitely take advantage of having this time together," said senior forward Madi Williams. "We gotta figure out what we want and then figure out what that looks like in order to get there."
Above all, Baranczyk wants to continue to build her culture based on love, winning and being together. At the first stop on the Sooners Coaching Caravan in Tulsa on Apr. 28, she discussed her efforts to build that identity and further build connections with her players and the OU fanbase.
"Our whole culture is based on loving what we do, loving how we do it, and loving who we get to do it with," Baranczyk said. "There are some other things we've got to be able to do. But the number one thing is just continuing to enhance the culture that we have, and for our fan base to fall in love with the team and to grow with the team. That's what we want to be able to do."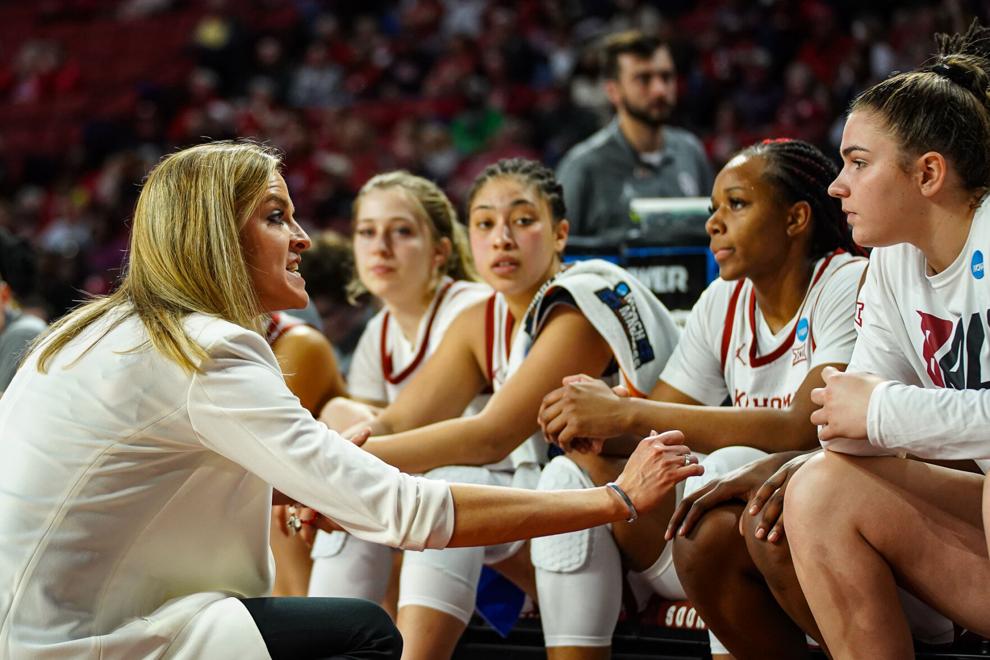 'We had some amazing learning opportunities'
It was a season of learning for Oklahoma. The Sooners garnered enormous wins in 2021-22, such as their regular season sweep over Big 12 champion Baylor and their first Big 12 Tournament and NCAA Tournament wins since 2016 and 2017, respectively. But, OU could never see its success through to the finish.
It started when the Sooners' faced then-No. 9 Oregon on Nov. 20. Having received just four votes in the Associated Press Top 25 Poll that week, OU wanted to prove it could compete with top teams. The Sooners were surprising, taking a 67-60 lead into the fourth quarter, but fell 98-93 after giving up 38 fourth-quarter points.
Even with the loss, OU knew it could compete with the best.
"We were up for a majority of the game," Williams said. "At that time, it was still fresh and new. We didn't know how good we were going to be, or if we were going to be able to win games, or be able to compete with some of the top teams. That was a moment where I was like, 'Okay, we might actually have something going on here.'"
On Feb. 2, the Sooners completed their two-game sweep of Baylor. The win capped off a wild adventure for OU, which needed a bus to get to Waco after numerous attempts to fly were canceled due to icy conditions in Norman. The Sooners moved to first place in the Big 12 with the win. But from there, OU slipped, going 4-4 in its final eight games to finish fourth in the conference.
Then, the same story was repeated twice in the Big 12 and NCAA Tournaments. After winning first-round games against Kansas and IUPUI, the Sooners suffered blowout losses to Baylor and Notre Dame in the next round, respectively.
While talented, OU was a team foreign to postseason success. Every player earned their first Big 12 and NCAA Tournament wins, with Baranczyk earning her first NCAA Tournament win as a head coach. Reflecting on the losses, Baranczyk wondered if the Sooners just weren't ready to handle the big moments.
"I think that was the theme, wasn't it," Baranczyk said. "You could see some moments … that were really good, and then some moments where we said, 'It kind of takes some time.' I think some of that was really fun to be able to watch. We had some amazing learning opportunities."
A significant learning moment for OU came when it traveled to Ames to play Iowa State on Feb. 19. The night before, the Sooners had dinner nearby at Baranczyk's parents' house in her native Des Moines, something she also did with her players at Drake. OU got an up-close view of where Baranczyk came from and what made her who she is. And then, OU got to experience the type of atmosphere she wants to bring to Norman.
For the Cyclones' 89-67 victory, 11,321 fans created a hostile environment at the Hilton Coliseum. Having spent most of her life in Iowa, Baranczyk wants to replicate Iowa's women's basketball culture at OU.
"I was really lucky to grow up in a place where women's basketball mattered," Baranczyk said. "We had a lot of fans at our high school games. For our first conference championship (at Drake), we sold the whole arena. That is really what we want to be able to build here because I know our sport matters here in Oklahoma."
Having seen her build Drake up to be a winning program with much fan support, Baranczyk's father knows what her thought process is at OU.
"She showed them exactly what she wanted to bring, and she set that expectation," said Terry Lillis, Baranczyk's father. "The expectation that you serve others and contribute to the community and the university. She wants a complete team.
"Because of the excitement and because of the winning atmosphere … people want to be part of that (at Drake)," Terry said. "It was fun to watch them. People were attracted to that. I think that the product that Jennie tries to bring to Oklahoma. Something that will attract fans and create that atmosphere."
After losing in blowout fashion to ISU, Baranczyk contributed the loss to the raucous Iowa State crowd. She views immense fan support as the final piece to building the culture she wants. Having seen that her whole life, and seeing it lead to a loss for her team, Baranczyk badly wants those crowds in Norman.
"That's what she wants. That is her goal," said Joyce Lillis, Baranczyk's mother. She firmly believes that when you play in an environment like that, it brings excitement to the game. She wants it to be fun and exciting for the fans just as much as it is for the players."
'If I want our team to be competitive, I have to be competitive'
Baranczyk first tasked herself with forming tight chemistry within the Sooners. For her, everything is about love. It's what Baranczyk wanted to build the entire program around.
"We want to love the game. We want to love to compete, and we want to love Oklahoma," Baranczyk said. "That's basically love what you do, how you do it and who you do it with. I use that term love because it's the strongest human emotion that we have. It's very convicting, and it's very throwing yourself in. It's not putting one foot in and one foot out. It's not just kind of testing the waters you're either in or you're not."
Her focus on togetherness showed in her fast-paced, share-the-ball system.
OU led the Big 12 with 18.9 assists per game and had 12 games where four or more players scored double figures. Four players ended the season averaging double figures, and three finished with more than 100 assists.
The Sooners' chemistry increased as the season progressed, especially with Baranczyk. She wouldn't even allow herself or her assistants to be called "coach", preferring to be called by her first name to put her on the same level as her players. It was a way Baranczyk showed a commitment to her players, with another coming late in the season.
In the Big 12 Tournament semifinal against Baylor, sophomore guard Skylar Vann suffered an ankle injury. Baranczyk rushed down the court to get to her, moving Bears players out of the way in the process. Baranczyk apologized for that after the game, but her willingness to get to Vann, even if it meant risking a fight, spoke volumes to her players.
"(Baranczyk's) always got us, and we know that we got her too," said senior guard Taylor Robertson. "It goes both ways. To be able to see that, it's just really cool to play for somebody like that."
Baranczyk also emphasizes energy. She wanted her team to do it with as much energy, competitiveness, and dedication as possible in both games and practices. 
It starts with OU's intense practices. From start to finish, the music is cranked up to a high volume, forcing the Sooners to shout above the noise. The shouting never stops, contributing to the high energy OU wants to practice and play with.
Baranczyk tries to breed the competitiveness herself, getting right into the action with her players. The former Iowa standout will play defense against her players and even participate in drills.
It's a matter of principle for Baranczyk. If she's going to preach intensity and competitiveness, she has to show it herself.
"If I want our team to be competitive, I have to be competitive, and they have to see that," Baranczyk said. "There's a time in place where you got to roll up your sleeves and you got to get in there with them. That's where I'm gonna be their biggest cheerleader.
"It's my job to get intensity in practice and to have them want to come to practice and want to get better and want to be competitive. I want to get the best out of them, but in order to do that, I have to bring my best. Those drills, they're humbling, but they're also they're also really fun and intense. I love that part of my job."
In turn, players love the opportunity to compete with their coach.
"It's definitely cool," Williams said. "How many people get to say that they get to beat up on their head coach? I think that that just shows to her commitment to our team … in everything that she does. It also says that she has a vision for what she wants us to compete against and what level she wants us to compete at."
The energy in practice translated to games for the Sooners. Every basket was celebrated with much enthusiasm. Players high-fived and fist-bumped each other while players on the bench made sure to get loud.
Having that energy was everything for Baranczyk. If OU lost a game, it was because the Sooners didn't show enough energy. If OU pulled off a late comeback to win, it was because the Sooners showed an abundance of exuberance.
High energy levels were fundamental to Baranczyk's culture, and it contributed to OU's rapid turnaround from 12 wins in 2020-21 to 25 the following season. If the Sooners show those levels of energy, Baranczyk believes it can rub off on the fans to create an exciting environment at the Lloyd Noble Center.
"We wanted to win so many games, and we wanted to play together," Baranczyk said. "The second I stepped on the floor with them, and how open they were and how hard they worked, I literally think it was that second that I was like, 'Okay, we're gonna do this.' We want to have fun and we want to play really hard. That's Oklahoma basketball."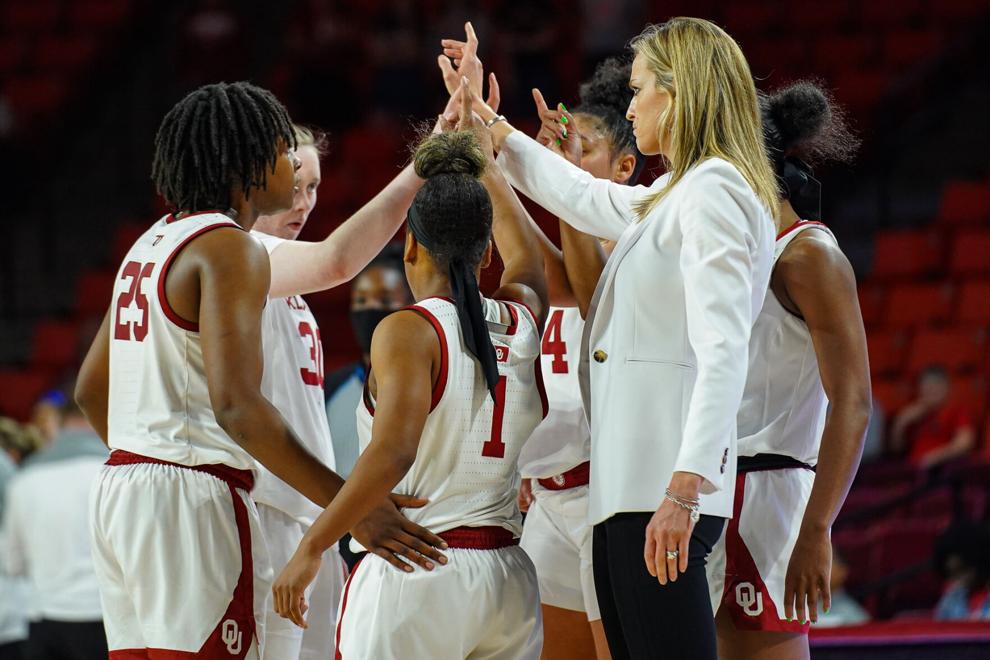 'I just want everyone to be locked in'
Included in the Sooners' offseason will be a summer "tour" to France. OU will hold several practices in the country before playing multiple French opponents in August. Dates and opponents for the tour have yet to be announced. Baranczyk hopes the Sooners gain experience against different teams and playstyles on the trip.
The trip will also help OU warm up for the upcoming 2022-23 season, where the Sooners return almost the same team from last season. Williams and Robertson will return alongside fellow starters Nevaeh Tot, Kennedy Tucker and Liz Scott.
Redshirt senior guard Ana Llanusa comes back after rehabbing from a season-ending leg injury, in addition to key role players such as freshman guard Kelbie Washington and reigning Big 12 Sixth Player of the Year Skylar Vann.
OU also brings in a fresh influx of talent, including a quartet of recruits highlighted by four-star forward Kiersten Johnson and center Beatrice Culliton. The Sooners lost junior guard Gabby Gregory to Kansas State via the NCAA Transfer Portal, but replaced her with sophomore guard Aubrey Joens, who announced her transfer from Iowa State.
Having achieved much success last season, Williams thinks the Sooners are on the right path. But, she wants OU to stay focused in order to build on its accomplishments.
"I just want everybody to be locked in," Williams said. "As a team, we need to figure out what we want collectively. I think that's one thing that we did a little bit of last year, but not too much of."
After a rapid turnaround that saw OU go from missing the postseason to an NCAA Tournament No. 4 seed in one season, expectations are high for Baranczyk's second season. ESPN placed the Sooners at No. 10 on its Way-Too-Early Top 25 rankings on April 4, and OU might be predicted to finish at or near the top of the Big 12.
When the Sooners last made the Final Four in 2010, they averaged a nation's sixth-best attendance of 7,681 fans. Baranczyk has seen those crowds her entire life in Iowa. OU saw it when it went to Ames, and it's the foundation of her vision at Oklahoma.
She has seen people genuinely invested in women's basketball, and wants to build a winning program off that fan engagement.
"If we can create that environment that people want to come play in, they will come play," Baranczyk said. "Sometimes we think, 'Oh, you just have to win' … but I think it's the opposite. We can get that arena just rocking and people invested in this program. With that, everything will continue to come."