Madi Williams confidently dribbled on the fastbreak, hoping to finally dunk the ball for the first time.
Williams, an eighth grader at the time, appeared to be seconds from her first slam. But instead, she bounced the ball off her foot, ricocheting it out of bounds and causing a turnover. The second time Williams tried, she barely grazed the basket and threw the ball over the rim.
Allana Jerry, her best friend and teammate since seventh grade, witnessed Williams' confidence, and her willingness to take risks despite potential embarrassment, from a young age. She was by Williams' side for most, if not all, of her games. In high school, Jerry noted Williams was the leader and phenom of the small Trinity Valley School team in Fort Worth. Williams not only led by example, but she also had the ability to exude confidence on her teammates.
"She's going to show you better than she can tell you," Jerry said. "But if you need her to tell you, like sometimes I would get in my head, and she would be like 'You're my point guard, you're good,' and that was just what I needed to keep going."
Now, Williams' risk taking is paying off. During the 2020-21 season, which ended  March 12 with the Sooners finishing 12-12, Williams consistently hit shots and made moves she didn't achieve in her previous years at OU. In turn, once Williams got going, her teammates quickly followed her example.
The 2020-21 season was marred by challenges. Williams had to deal with a season plagued by COVID-19, which in turn created opt outs, postponed games and less-than-full arenas. Then, following the Big 12 tournament's conclusion, head coach Sherri Coale retired after 25 seasons. With Williams' senior season in the near future, the forward will have to adjust to a new coaching system and a COVID-19-free  environment for the first time in almost a year. 
But after just three seasons under Coale's guidance, Williams has finally become the player everyone envisioned she would be. The identity of the Sooners, much like her high school team, now exudes the same calm levity the junior forward has. Williams became one of the leading scorers in the NCAA at 20.7 points per game on a 45 percent shooting clip. The forward is expected to be the centerpiece of the team her senior year and has the skills to lead OU on a run through the Big 12. 
"I told her, when she finally realizes how good she can be, how good she really is, it's going to be crazy when you realize your potential," said Tawanna Flowers, Williams' high school coach. "I think that it's finally setting in, like, 'Wait a minute, I can actually compete with the best. I am the best, and that's the kind of caliber player I am.'"
'She knew all of us were kinda dependent on her'
Williams wanted to transfer from Trinity Valley School during her freshman year. Flowers knew Williams was likely the only athlete in her class solely focused on an athletic scholarship. The forward was also the only Division I talent on her team. 
As Flowers detailed it, Williams could have left the Trojans and faced better competition, had better teammates and had a longer season. But if she left Trinity Valley, she would miss out on a great opportunity to grow. Flowers even had a conversation with Williams' mother, Clara, about the potential transfer. 
"I told her, 'Hey, you can take Madi to a public school and she'll do fine, she'll lead, she'll get better because the competition is a lot better than it is here," Flowers said. "The season is longer, too. But, her leadership will grow 10 times more being in this environment because she's (a Division I talent)."
Jerry also saw the choice firsthand. She found Williams' decision to stay was in part because of Flowers' coaching, but also because she favored her teammates since seventh grade. She was the team's heart and soul and wanted to bring a championship to Fort Worth. 
"She knew all of us were kinda dependent on her," Jerry said. "I think that she wanted to not run somewhere and not win something, but to try to bring something to where we were."
Behind her tough leadership style, Williams cares for her teammates — family as Jerry described it — on and off the court. She has a keen ability to uplift others. It's one of her characteristics that often goes unnoticed because she's so relaxed and calm on the floor. 
When Jerry missed her junior season with an ACL injury, Williams would come by her house and check on her for hours at a time. Finally, when Jerry was medically cleared to compete, her focus was on her two other sports — field hockey and track — as she hadn't played basketball in so long.
But when basketball rolled around, Williams would take Jerry from her field hockey practice to the gym. There were points where Jerry said "Madi, I just don't feel like playing basketball," and Williams continually encouraged her to go through workouts.
"I didn't really have the strength to get myself together, but Madi, she's just that type of person," Jerry said. "You don't even necessarily have to explain it to her, she just kinda knows."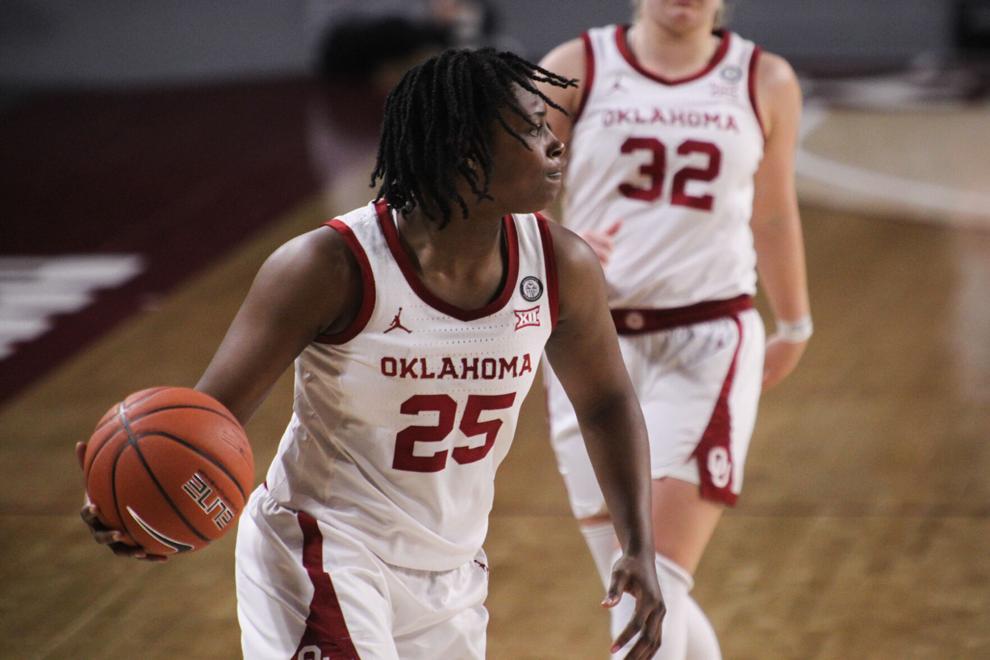 'She's always wanting to get better'
Williams sobbed in Flowers' arms after Trinity Valley was defeated in the state championship game.
A senior at the time, Williams had just been named a 2018 McDonald's All-American and was considered one of the best prospects in the nation. Despite the accolades she felt like a failure. She'd lost the game she'd fought so hard to win. Williams, who'd helped build the program from the ground up, repeatedly apologized to her coach in the game's final seconds.
 "She just does not like losing," Flowers said. "She's just so competitive. When she came off the floor… she came and hugged me and said 'I'm sorry Coach Flowers,' and I was like … 'No, sweetheart you do not have to apologize.'"
But failure was far from what Williams had actually attained. Since the start of seventh grade, she'd helped the Trojans go from a No. 10 seed in 6A conference play to contending for the state title every year from 2012-18. For a small private school in Fort Worth that prioritized academics, such appearances were rare before Williams' arrival.
For the people that know Williams, her will to win isn't surprising. She's been competitive since she set foot on the basketball court — let alone, any court or field. Her tenacity compelled her find a second gear during the past summer.
In March 2020, COVID-19 struck the United States, shutting down the NCAA season during her sophomore year. OU had just lost to Texas Tech, 104-84, in the first round of the Big 12 tournament, wrapping a season in which the Sooners went 12-18. Left with extended time to work on her game over quarantine, Williams took the opportunity and ran with it. When she was finally authorized to return to OU's facility, she was there working right away.
Jerry wasn't surprised by Williams' eagerness to work out, either. It harkened back to high school, when Flowers would open the facility, and the duo was always there lifting weights and putting up shots.
"She's always in the gym for one. She's always wanting to get better," Jerry said of Williams' work ethic. "Two, for Madi, she just has so much potential, even now, to do great things."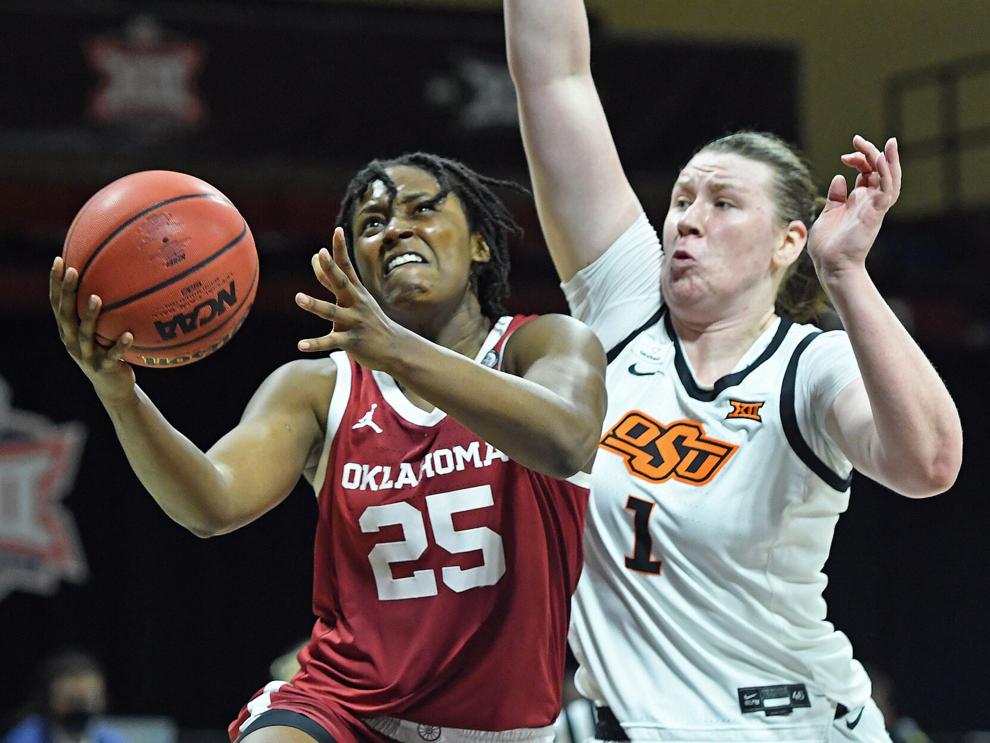 'Never count Madi out'
Just like her state championship run at Trinity Valley, Williams' junior season at OU was difficult to endure.
In January, Williams and the Sooners lost sophomore forward Liz Scott to a season-ending injury and freshman forward Heavenly Greer to academic ineligibility. That left OU with just seven players — sometimes six, due to COVID-19 — for the rest of the year. In many of those games, Williams would score upwards of 20 points, and the Sooners would still lose by double digits.
"She definitely has a chance to be an All-American," Coale said. "She's just got such a bevy of skills and there's nothing that she can't do on either end of the floor, because she can guard a perimeter player or she can guard a post player."
Despite the struggles, Williams helped OU claw above .500 by the season's end, making the Sooners the sixth seed in the Big 12 tournament. There, Williams guided her team to a demanding double-digit lead against Oklahoma State in the fourth quarter with 22 points on 9-for-20 shooting. Williams, though, couldn't keep her team alive as the Cowgirls ended OU's season with a 89-80 comeback win in overtime.
Although Williams couldn't take her team to the NCAA Tournament, upset wins against Iowa State, West Virginia and Texas bode well for the forward's future. Williams, who remains as competitive as ever, has a chance to lead the Sooners to success in 2022 if she can recapture the magic they achieved in 2021.
In the end, she averaged a career high 21.7 points per game for most of the 2020-21 season. And though she primarily plays forward, Williams was named to the watchlist for the Ann Meyers Drysdale Award, which recognizes the best shooting guard in the country.
After a breakout junior year, expectations are even higher for her coming senior season. With Williams at the forefront of the Sooners' identity, they could make noise as one of the surprising competitors in the Big 12.
"A lot of people count her out, and that's a big mistake," Jerry said. "Never count Madi out."