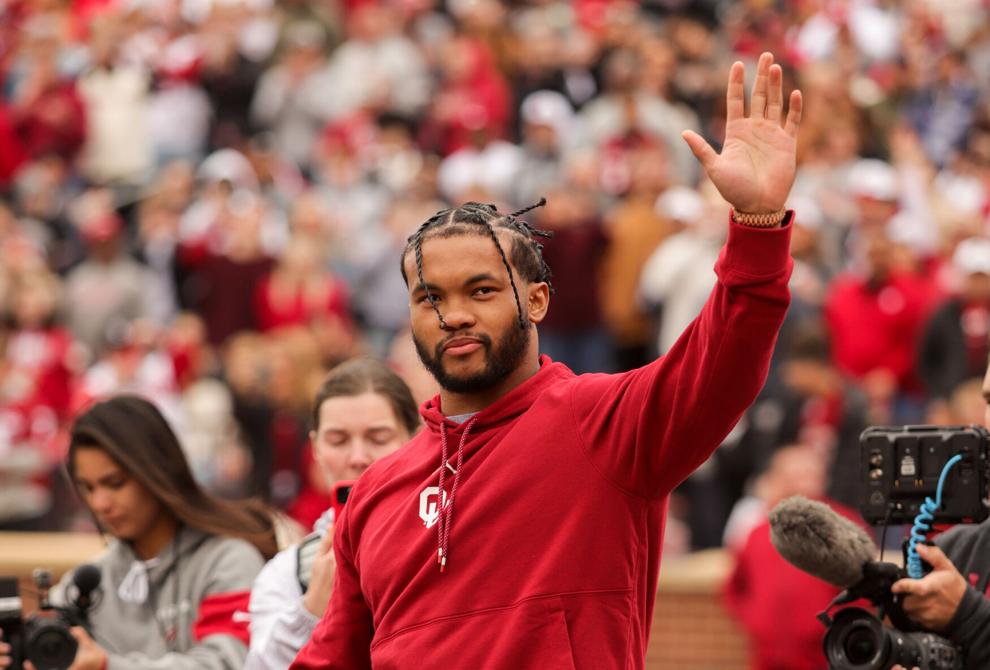 As Kyler Murray emerged from smoke to stand alone on OU's field, the 54,409 fans in attendance for Saturday's spring game were reminded the 2018 Heisman winner, who electrified Gaylord Family-Oklahoma Memorial Stadium over four years ago, is one of a kind.
Literally.
Murray is the only player named Mr. Texas football twice, the first player invited to both Under Armour's All-America football and baseball games and is the only athlete ever drafted in the first round of the MLB and NFL drafts. He also owns numerous OU and Arizona Cardinals records.
Before passing for 4,361 yards, rushing for 1,001 yards and becoming Oklahoma's seventh Heisman winner, Murray transferred from Texas A&M and starred in baseball for the Sooners. In the era of NIL and the transfer portal, it's unclear if Murray would have ever starred at OU as he sat behind Baker Mayfield for two seasons.
If you ask Mike Hawkins, who watched Murray star at Allen High School and is close friends with his father, Kevin Murray, it's a no-brainer he would've stayed in Norman.
"I think the way Kevin has always said, 'Drown out the noise,' I think he would have been there," Hawkins told the OU Daily. "I think he would have stayed because No. 1 his relationship with (former Oklahoma coach Lincoln Riley) was great … It's not about the money, you'll get the money. But I think relationships are more important than anything and I think that would've stayed true with (the Murray family) as well."
Before Saturday's game and one year after Mayfield's was installed, Murray's statue was unveiled at Heisman Park. While Murray's dedication came with less hype than Mayfield's, over 400 former OU players celebrated at a sneak preview of the statue's pose Friday night at the Omni Hotel in Oklahoma City.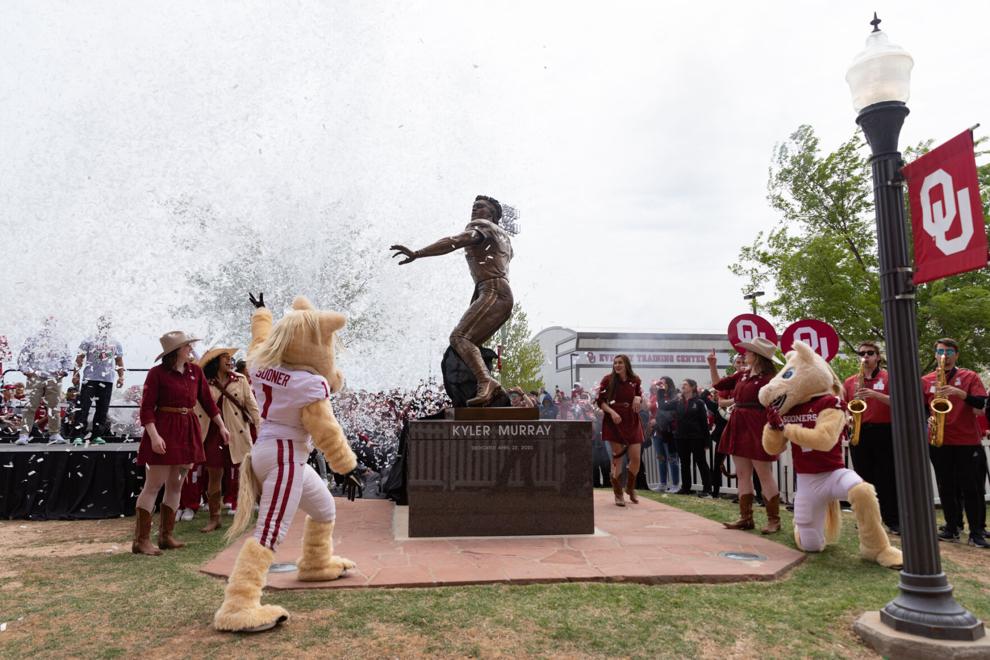 On Saturday, after strutting out to a video tribute narrated by his dad, the 2019 AP Offensive Rookie of the Year who is rehabbing from ACL surgery addressed the crowd at halftime, saying his college career got off to the wrong start in College Station and he "picked the wrong school."
Kyler Murray: "I had a rough start to my college career… I picked the wrong school." 😭😭 @K1 @boomersoonerIO pic.twitter.com/Ztb0FbTUXm

— Adam Breneman (@AdamBreneman81) April 22, 2023
What Murray enjoyed the most about the weekend was seeing his former teammates and Oklahoma alumni show him support.
"I've got a bad habit of downplaying things like this in my career," Murray said Saturday. "Because I'm used to success and I'm used to winning awards and stuff like that. But this is special just because of the many reasons this happened, the things that I had to go through and kind of keep sticking through it, being patient and trusting the process. And then on top, this place molded me into who I am today. So it's just special."
It's why he returned to Norman for Mayfield's special day last year and it's why he stayed on the field after his speech Saturday to sign autographs. He wants to give back to a place he deeply cares about.
While one of the closest people to Murray in the football world — Riley — didn't attend, the Sooners current coach Brent Venables offered Murray high praise.
"Obviously, he's one of the best to ever do it in high school and college," Venables said. "A Heisman guy and just an amazing football player, a humble young guy. A lot of people came back, we had several hundred former players here and he's a magnet for people.
"People love to watch him and his teammates love to play with them. And he's quiet to himself and to a lot of media but in the confines of the right places, man, he's a very loud guy. But it meant a lot, it was cool to be a fly on the wall to watch."
As he awaited Clemson's opponent in the 2018 national title game, then-Tigers defensive coordinator Venables remembers rooting for Alabama against the Sooners in the Orange Bowl so he wouldn't have to game plan around Murray.
Widely regarded as one of the most dominant high school football players ever, Murray won three straight state titles and finished 42-0 as a starter. Hawkins, whose son is committed to Venables and the Sooners and played for Murray's old high school last season, said he's the best he's seen.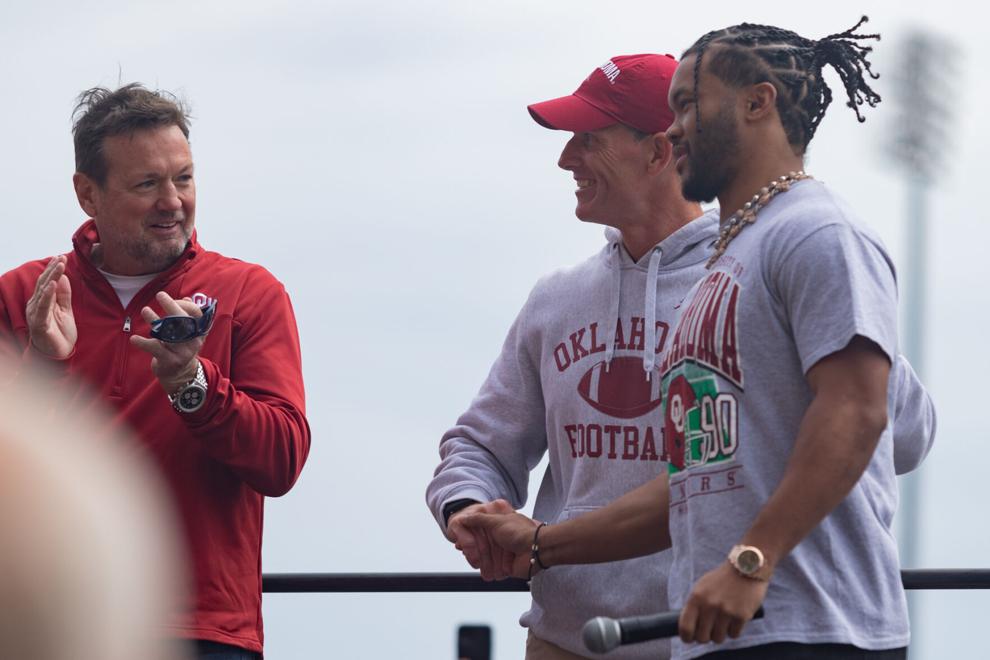 Hawkins, who played three years in the NFL, remembers watching a young Murray during a scrimmage before he was named a starter in high school and phoning his NFL buddies with rave reviews. He also remembers predicting Murray's Heisman win before he was named OU's starter.
"I said, 'He's not the biggest guy but man, this kid has the poise,'" Hawkins, who played with Aaron Rodgers and against Tom Brady, recalls telling his friends. "'He can flat out spin and he can take off and run. And I was like, yeah, no, this is by far the best. He's the best high school player I've ever seen. He's probably the most dominant player that I've ever seen in my life."
Murray signed a five-year extension with the Cardinals last summer worth $230.5 million, then the second most of any quarterback in the league. New coach Jonathan Gannon and general manager Monti Ossenfort traveled to Norman to attend Murray's statue unveiling.
Marquise Brown, Murray's teammate at Oklahoma and Arizona, was also in town and watched from the wings as Murray spoke to reporters after the game.
Sooners quarterback Dillon Gabriel, who threw three touchdowns Saturday, didn't get to connect with Murray before or after the game but said the Heisman winner has reached out to him before.
"(We've spoken) back and forth, and I've conversed with him," Gabriel told the Daily. "But yeah, he's just been so busy with this whole thing … I obviously root for him, because he's an OU quarterback and always watched him and knew of him. But finally being here and getting to know him and at least being his presence has been just really positive for everyone."
Murray was one of the last great college quarterbacks to not reap the benefits of NIL, while Gabriel was in college when it became a reality for student athletes. When asked if he thought Murray would've stayed OU if NIL existed back then, Gabriel was unsure but acknowledged it probably would have been a thought:
"I don't know," Gabriel told the Daily. "I think only that situation could tell us but it is a different time for sure. I'll say that."
While Murray is used to success, he took the time to soak the moment in this weekend. 
"It's a special deal," Murray said. "I was telling people that I envisioned winning the Heisman. Every kid dreams of winning a Heisman but to do it and then to be received this way by the whole town, the city, the school and teammates like, I mean the recognition was a surreal moment. Especially for me and my family, and it was a special deal."