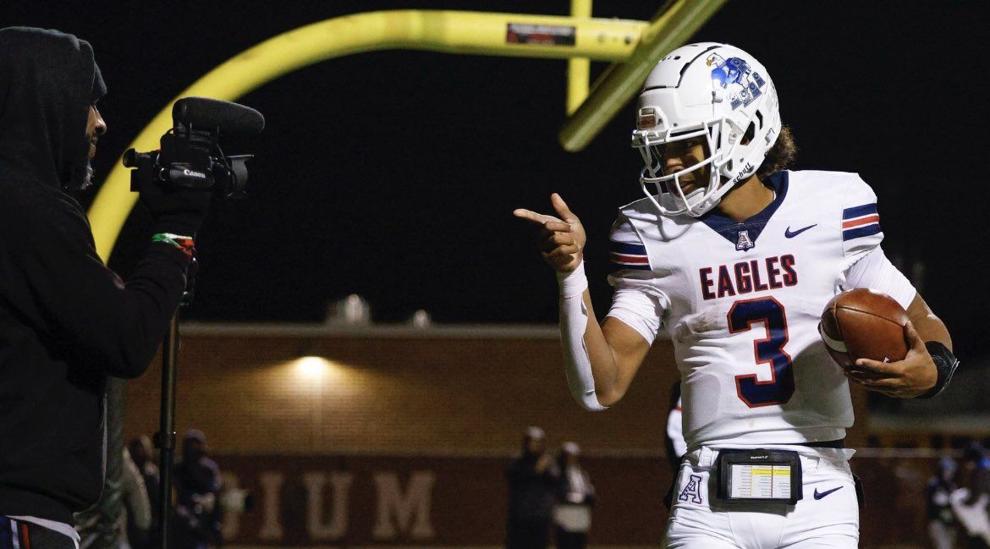 Mike Hawkins Sr. grew emotional as Jeff Lebby, then Mississippi's offensive coordinator, started recruiting Hawkins' son, Michael Hawkins Jr., a highly touted quarterback from the Dallas area.
Hawkins Sr. and Lebby hadn't spoken since they were members of the Oklahoma football program in Hawkins Sr.'s lone season with the Sooners in 2002.
The recruitment revived a dormant relationship, which eventually led to Hawkins Jr.'s commitment Saturday to OU, where Lebby is preparing for his second season as offensive coordinator. The Sooners beat out TCU for the 2024 four-star from Frisco Emerson High School who visited Norman on multiple occasions.
IM HOME!!! B⭕️⭕️MER S⭕️⭕️NER! pic.twitter.com/Pw0cnFR3Fd

— michael Hawkins (@mikehawkinsj) April 8, 2023
"When I saw Lebby for the first time after all those years," Hawkins Sr. told the OU Daily, "It was a special moment for me because me and Lebby talked and laughed and I almost teared up just because it was like we had just come to college together.
"It was easy to talk to him. It was like we had been talking for 20 years. So that was a unique situation. I thought it was really good."
Since Lebby was hired as Oklahoma's offensive coordinator in December 2021, he's helped secure Dillon Gabriel's transfer from UCF, signed 2022 five-star quarterback Jackson Arnold and 2021 four-star Nick Evers and earned commitments from Hawkins and 2025 prospect Kevin Sperry. All but Gabriel are from Texas, where Lebby was born and coached high school and college football for nearly a decade.
It's unusual in the NIL and transfer portal era for recruiters to sign as many consecutive top-ranked quarterbacks as Lebby has.
During Hawkins Jr.'s March 4 visit OU made a surprise offer to his brother Maleik, potentially further deepening the bonds between the program and the Hawkins family.
"I think it was great," Hawkins Sr. said. "I think coach Lebby has a unique way of connecting with the player from being a player and being a coach's son. I think he's seen both sides of the spectrum and being at OU, playing and how great a guy he is, I think it's pretty awesome."
We had an amazing time in OU! We are so grateful for the opportunity that was given to Maliek words can't explain how proud I am of you! THANK YOU🤍 @MaliekHawkins37 @mikehawkinsj @CoachVenables @JayValai @OU_Football @leewdavis17 #boomer pic.twitter.com/YrFaAZrz4B

— Annabelle Hawkins (@abhawkinss) March 5, 2023
What does it mean for Hawkins Sr. to know his son will learn from Lebby, don the crimson and cream and run out onto Owen Field like he once did?
"Being in Norman, playing there and knowing the love the community gives to you, I think it'll be phenomenal," Hawkins Sr. said. "When Michael got that OU offer, I teared up. When Maliek got his OU offer, it teared me up because it's a great thing. … From a place that you played and spent time, I think it's just phenomenal. It goes without saying what it means to any father that'd be in that position."
'Tough times build character'
In late December, trauma struck the Hawkins family.
A racial epithet was spray painted on the family's house in Allen, prompting Hawkins Sr. to unenroll Michael and Maleik and transfer them to Frisco Emerson, 10 minutes from their old school.
"I just think it was a great learning moment for my sons and my family," Hawkins Sr. said. "I felt like a lot was taken away from Mike, even though his commitment to the kids he's been playing with since he was 5 or 6 years old, that whole Allen area and kids that we have grown up with. Not being able to enjoy that moment in that setting is just disheartening to me.
"But the one message that I told Mike about that situation and Malik is don't let that taint your heart to how people are because all people are not like that, you keep the good hearts you have, keep being great people, but know that certain things can happen and hold your head up."
Tim Beck, Coastal Carolina's coach and Hawkins Sr.'s coach at R.L Turner High School in 1999-2001 gave his pupils simple advice following the racist incident.
"Tough times build character," Beck said.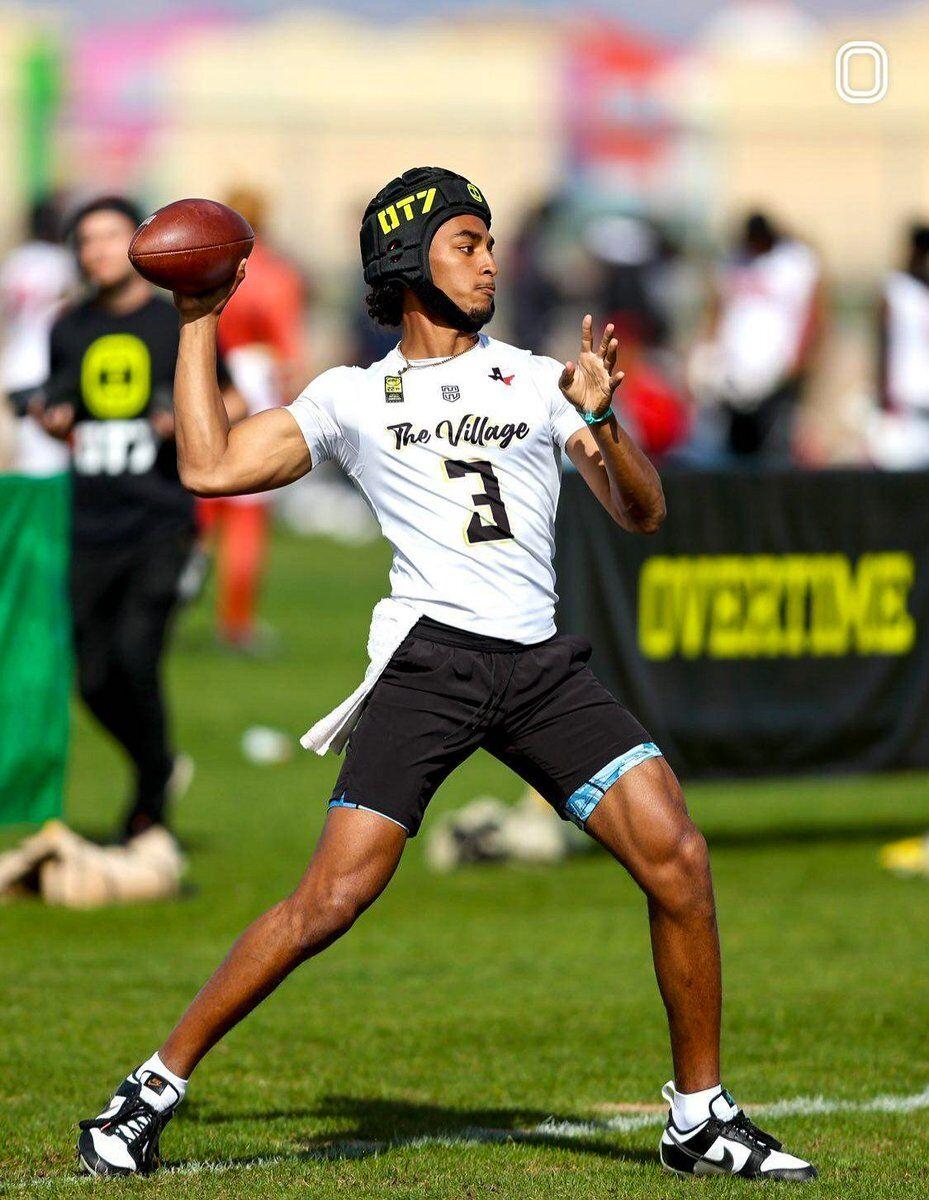 Beck helped develop quarterback Sam Ehlinger at Texas, worked with Joe Burrow, J.T. Barrett and Cardale Jones during his time at Ohio State and Devin Leary at North Carolina State.
While Beck has coached at nine college programs, four high schools and been around great quarterbacks, his best advice doesn't have to do with X's and O's.
"God pushes you and puts you in situations to build character," Hawkins Sr. said. "And show you that there's times to persevere and push through because you're gonna have those hard moments in college. That was the takeaway that we took as a family and what I pressed upon him was to go out and be great."
The racist vandalism occurred about a month after the Eagles' 43-18 loss to Lewisville in the first round of the Texas 6A Division I state playoffs.
Before the incident and his junior season had even started, Hawkins Jr. was battling adversity. When he arrived at Allen as a freshman, he was ninth on the depth chart behind eight juniors and seniors. By sophomore year, he'd gained the starting job, and with it the expectations that come with being QB1 at a school with five state titles and that produced OU Heisman Trophy winner Kyler Murray.
Hawkins Jr.'s biggest challenge in 2022 was learning a new offense. Allen hired Lee Wiginton as its head coach before the season. In July, the Eagles hired a new offensive coordinator, giving Hawkins about a month to learn the system before they took on California powerhouse St. John Bosco.
Allen annually schedules the best competition in the country and even faced Arnold and Denton Guyer, falling 49-7.
"Mike had been through some adversity with the political side of things," Hawkins Sr. said. "And then being a young guy coming in … and taking that spot over and being able to lead and having a whole organization on your back. That was tough this year."
Hawkins Jr. threw for 2,024 yards and 20 touchdowns as a junior with the Eagles.
Lebby had heard about the promising young recruit from defensive back Jaylon Jones, who used to play for Mississippi and now plays for the Chicago Bears. Jones had gone through Hawkins Sr.'s foundation and is considered a big brother figure to Mike's sons.
After Jones persuaded Lebby to review Hawkins Jr.'s highlight reel, Lebby was impressed. However, Lebby didn't realize it was his old friend's son until former Sooners wide receivers coach Cale Gundy reminded him of Mike Hawkins from his past.
Hawkins Sr., who helped coached Michael into the quarterback he is today, was selected by the Green Bay Packers in the fifth round of the 2005 NFL Draft, the same class as Aaron Rodgers. He played with Brett Favre, Tony Romo and Jamarcus Russell, and against Tom Brady, Drew Brees, Ben Roethlisberger and Michael Vick.
"I've studied quarterbacks my whole life so I can give my perspective from the defensive side of what we're trying to do to you," Hawkins Sr. said of his son, who began working with Kyler Murray's father, Kevin, during middle school, teaching him fundamentals and focusing on the nuances that go into playing the position. "And I've pressed that upon him since he was a little boy. The points of using your eyes, being able to escape and being mobile.
"Watching Aaron Rodgers and watching Favre, watching Brady, studying those guys, and watching their unique way of not being like (a 4.4 40) guy or 4.5 guy with being able to extend the play. So when you watch (Michael's) tape, that's why he's very good at when he escapes, he escapes the throw and he escapes the run. So that's been my perspective on it."
"Kevin is a technician." Hawkins Sr. said. "He's old school. He wants that Brady release, that Rodgers release. He wants you to start to throw with your lower body and so with him bringing that part of it, Kevin has done a great job with just pushing Mike and being able to take the expectations out of it. I've got to give all the credit and love to Kevin."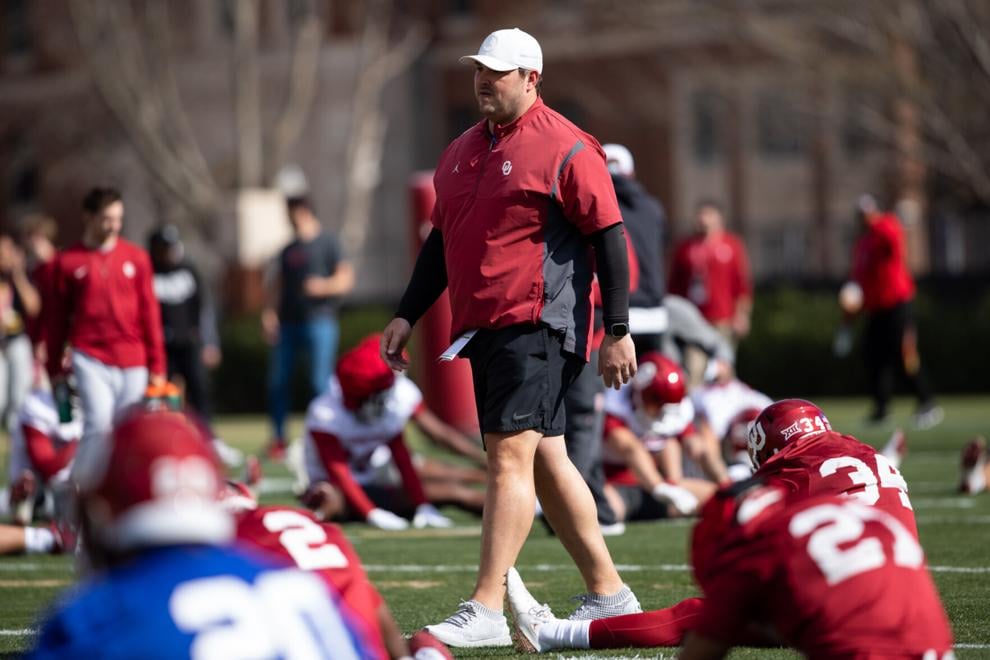 'He wants ball players'
Trustworthy and loyal.
Two words Dori Gabriel uses to describe Lebby, who first recruited her son Dillon to UCF in 2019, and then to Oklahoma in 2022.
"Dillon just felt so comfortable (when Lebby initially recruited him)," Dori said. "I feel like throughout the years we've known him since 2018, going on five years, my first impression of him was just his ability to really focus on visits and these young men he's recruiting.
"To understand them, understand how they were raised. He recognized the important people in their circle and he made himself available to them for any questions the whole way."
The Gabriel's and Lebby have maintained a close relationship throughout the years and Dori considers the quarterback whisperer family. When Dori attended a Sooners spring practice last week, before she left to head back to Hawaii, she and Lebby embraced for a giant bear hug.
Hawkins Sr. echoed Dori's sentiment. Lebby's consistency, brutal honesty and knowledge of the game sets him apart from other recruiters in the country. He also said he could tell Lebby would be a coach when he met him at OU over 20 years ago.
While they admired his personal touch with recruits, the Hawkins family was most impressed with Lebby's desire to find and develop great quarterbacks.
"He wants ball players, he wants guys who can make a play," Hawkins Sr. said. "He wants guys that are smart, physical and love to play the game. If you look back at OU in the glory days, it wasn't filled with a bunch of four and five-star kids, it was filled with football players. … That's the key."
April 8, 2023
Reed Heim, Arnold's coach at Guyer, was Lebby's roommate while the two were graduate assistants at Baylor. Heim had a front-row seat at his old pal's recruitment of Arnold and was blown away.
He marveled at Lebby's football intelligence when he coached with him in meetings, but also when he dissected games with Arnold, something Hawkins noticed during his visits to Norman as well.
"I think it's very hard to be a great recruiter," Heim said. "When the story that you're selling doesn't necessarily match up with who you are as a person. I think that the reason Jeff is a good recruiter, it's because he's a good person."
While most coaches follow a formula when recruiting quarterbacks, especially during the NIL and transfer portal era, Lebby's mantra is simple: go get the best players every year.
By contrast, former OU and current USC coach Lincoln Riley tended to recruit a top-ranked player every other recruiting cycle, sit them during their freshman season and then start them their sophomore year.
Riley signed five-stars Spencer Rattler in 2019, Caleb Williams in 2021 and Malachi Nelson in 2023. Lebby, however, doesn't settle for one difference maker every two classes. Even when Hawkins' commitment seemed imminent, fellow 2024 four-star quarterback Samaj Jones visited Norman on March 25 and lists Oklahoma in his top 4. He also plans to visit OU again in June.
"(He wants to) recruit the very best players that he can find," Heim said. "That's something he gets from his background. Go find the very best ones first. And there are enough really good ones that now I'm gonna go find the ones that I mesh with, I connect with but you've got to go, for you to be successful at that level, you have to go recruit guys that are freaks."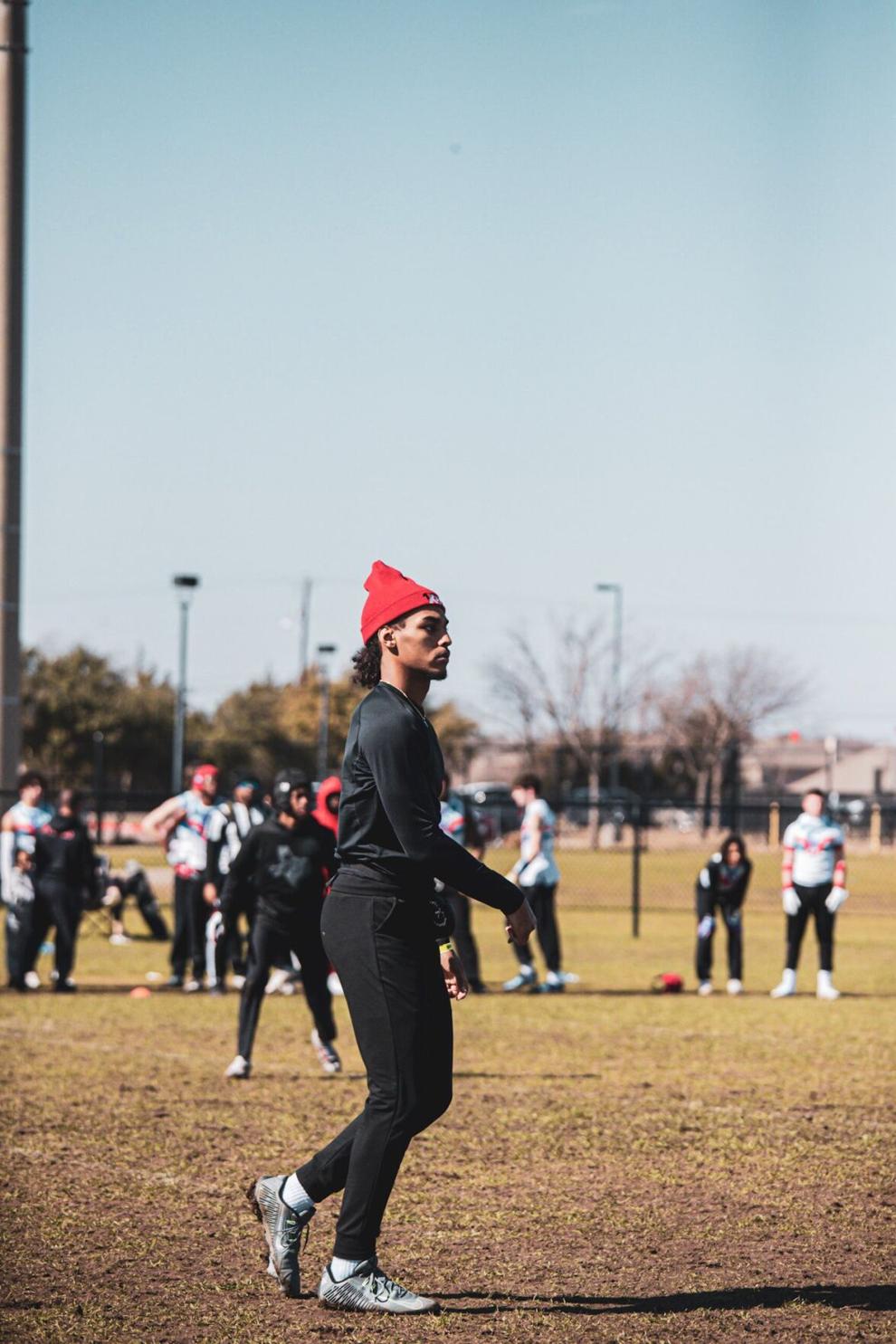 The Sooners seem to be set up for quarterback success for years to come with Gabriel, Arnold, Hawkins and Sperry in the fold. Now the question might be more of how long Lebby himself, who was reportedly a candidate for the UCF job before it hired Gus Malzahn in 2021, stays in Norman.
"I love (coach Brent Venables), I love sitting in the chair that I'm able to sit in every day," Lebby said on March 21. "And I don't take it for granted for a second. My family is unbelievably happy here and I've got a chance to go chase what I love doing every single day at the place where I went to school, and I just don't think that's very common.
"I get to do it with great friends every single day, with people that I trust. So I'm blessed to be here, I'm fortunate to be here and we're gonna get it right."
Lebby is transparent with recruits about his plans, including being up-front about his desire to always pursue the best players.
"He's very open. I mean, let's face it," Dori said. "There's decisions that need to be made by OU and by the student athletes, and it's not an easy decision to come by. But Jeff is very transparent about the opportunity to play, there's no guarantee. You have to earn it. And he's very up-front about that. You have the opportunity to play high-level football and you're gonna have an opportunity to push yourself and earn that spot."
'This is your life'
Mike Sr. couldn't help but smile as Michael pulled out a white OU hat Saturday and announced his decision on Instagram.
His son will be a Sooner. While Hawkins Jr. will follow in his fathers' footsteps after his upcoming high school senior season, Mike Sr. didn't put any pressure on him to choose his old school.
"I've told Michael a million times, this decision has to be about you," Hawkins Sr. said. "It's not about your dad, it's not about me. It has to be about you because you got to deal with it. You've got to go through this, this is your life. This is not my life."
Mike Hawkins Jr. has committed to Oklahoma. The Frisco Emerson four-star recruit chooses the Sooners over TCU. Another big-time DFW quarterback is headed to Norman. pic.twitter.com/7l49H9pEVC

— Shawn McFarland (@McFarland_Shawn) April 8, 2023
After a long, grueling recruitment, the Hawkins family can now focus on football. Michael, again, will be forced to learn a new offensive system.
The 2022 District 5-6A first-team honoree will lead Emerson into its second varsity football season since the school opened in 2021. Coach Kendall Miller has already gelled with Hawkins and the two have begun work on mastering the offense.
"Kendall Miller is one of the best high school coaches in Texas," Hawkins Sr. said. "I love what he's doing from an offensive standpoint and not only just from an offensive standpoint, how he is as a coach. He's very direct, he sets the expectation, he tells the kids what they want. He has unique development and an offseason track for what they're doing right now."
Hawkins' commitment started a social media frenzy, which included shoutouts from former Pro-Bowl receiver DeSean Jackson and Arnold. His decision will likely lead to an uptick in other 2024 recruits' interest in Oklahoma as he's already started recruiting via social media, urging 2025 five-star tight end Davon Mitchell to follow suit.
Make the move family!! @davonmitchell82 pic.twitter.com/J61Gr1VgVF

— michael Hawkins (@mikehawkinsj) April 10, 2023
Less than a year after returning to Norman and despite finishing with a disappointing 6-7 record in 2022, Venables and Lebby signed OU's best class of all time. Hawkins and Heim have noticed more family emphasis since Riley left for USC.
"I think the way (Oklahoma) mapped it out," Hawkins Sr. said, "it's been really one of the best ways that I've seen in college football from all the places that we've gone to."
I'm truly blessed! I wanna thank the entire OU football staff🙏🏽 @OU_Football @Coach_Leb @CoachVenables @CoachLWig @alleneaglesfb pic.twitter.com/JAbRn0PNKe

— michael Hawkins (@mikehawkinsj) September 1, 2022