Dakota Austin plays with a chip on his shoulder. A big chip. Much bigger than Austin's 5-foot-10, 170-pound frame should have to support. But don't tell that to Austin, who will become one of Oklahoma's most important pieces on defense if the Sooners want to make a return trip to the College Football Playoff. 
But Austin's chip doesn't come from his slight frame. It doesn't come from his frustrating recruiting process or his exhausting road to the top of the Sooners' depth chart, either. If you ask Austin, the chip has been there his whole career.
"I really just don't know another way to play," Austin said, just days before No. 3 Oklahoma's season opener against No. 15 Houston. "It's how it's been forever."
He plays with the aggression of a walk-on and with the discipline of a seasoned vet. He carries a burden of doubt, eager to shed its weight. His teammates see it, too. 
"Anyone with eyes will notice it," said Jeffery Mead, the Sooners' 6-foot-5 receiver who regularly clashes with Austin in practice. "He's very aggressive, even when the play is over. He's just really aggressive, so I guess that's why they say it, 'cause when you watch film you can just see it."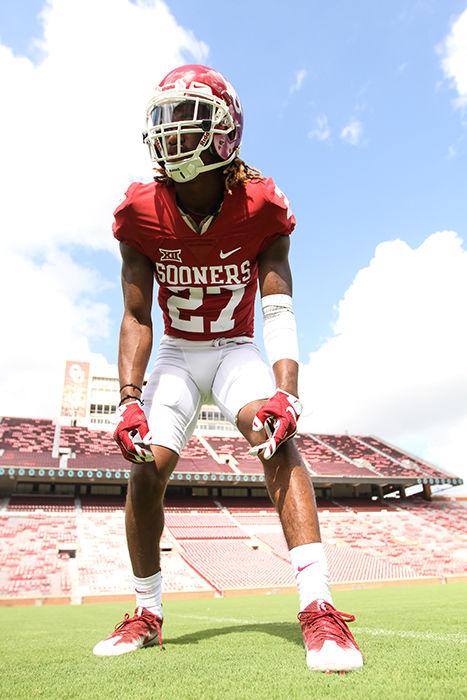 Limitations
Austin's biggest struggle on the field is his size.
Listed generously at 5-foot-10, 170 pounds, Austin's aggressive nature acts as an overcompensation for his stature.
On the other side of the coin is Austin's main competitor through fall camp, P.J. Mbanasor. In size, Mbanasor is a prototypical NFL cornerback at 6-foot-1, 193 pounds — making it all the more impressive for Austin to beat him for the starting spot.
"It doesn't matter necessarily about the height," defensive backs coach Kerry Cooks said. "Obviously you'd like longer guys, but if a guy's got ability and he's got competitiveness, at the end of the day he's got a 50/50 chance just like a 6-1 corner would. And Dakota, with his mentality, he's probably going to be a little bit more aggressive because he already feels like he's got a disadvantage, so he's playing with that chip on his shoulder.
"For his stature, going against the guys that are 6-3, 6-4, it doesn't matter. He's up in their face challenging those guys."
Austin is used to dealing with taller receivers — he says playing against bigger opponents is a skill he picked up in high school and continues to develop.
"It's really been like that since high school, so I've been used to it," Austin said. "Coming from Texas and coming from a really big passing league in Texas, you just get used to it, and you learn different techniques for bigger guys."
Starting with OU's opener against Houston, Austin will immediately become one of the most important players on the Sooners' defense.
OU was — in part — able to turn in the Big 12's best defense in 2015 because it had a pair of shutdown corners in Zack Sanchez and Jordan Thomas. With Sanchez gone, the onus shifts to Austin to limit the litany of the Big 12's heavy passing attacks. 
Austin, who's never lacked confidence, insists he's ready.
"It comes from inside, really," Austin said. "If you want someone else to think you're good, you have to think you're good. If I want someone to think I'm the best, I better already think I'm the best."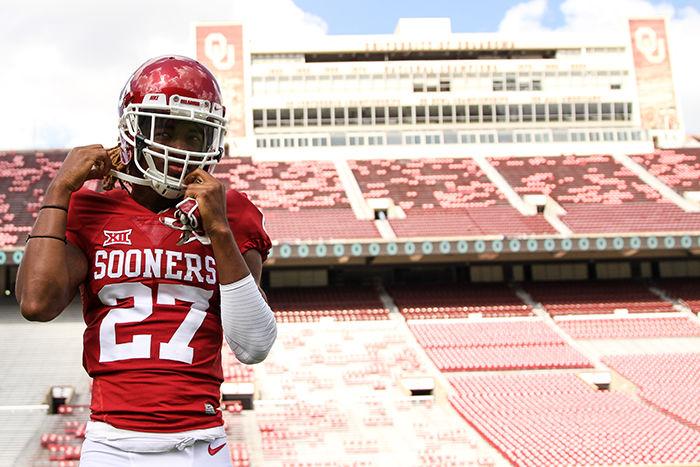 A new role
For maybe the first time since arriving to Norman, Austin found himself on an island one chilly October day last season.
Only 18 seconds remained in the half when the play started. Austin, a career backup to this point, had yet to prove himself on the big stage. But with Texas Tech knocking on Oklahoma's front door in an attempt to seize halftime momentum, Austin made a play.
Austin was filling in for an injured Sanchez when his moment came. The repercussions of that interception are still being felt today.
In the short term, the interception prevented the Red Raiders from narrowing OU's halftime lead to four points — OU followed it with a 46-second touchdown drive to start the third quarter, and the rest is history. 
In the long term, it gave Austin the taste of motivation he needed to win a starting cornerback job this fall.
"Dakota's (maturity) wasn't there last year as a junior," Cooks said. "But now as a senior, he got in, he played, he realized that everything we do in practice is important, and when we say you've got to be ready at the drop of a dime, you've got to be ready at the drop of a dime.
"Because when Zack went down, Dakota was up. So I think that kind of woke him up. From then on out, he's been on point."
But Austin's story doesn't begin with him cracking the Sooners' starting lineup.
Time and time again, Austin was passed on the depth chart by younger players. First, it was Thomas. Thomas began seeing regular playing time as a true freshman and then cemented himself in the starting role last season. 
Then, briefly, it was Mbanasor. Mbanasor started against Tulsa last season as a true freshman after Thomas was suspended for a violation of team rules. 
But Mbanasor played poorly, and Austin didn't stop working. One month later, Austin got his shot against Texas Tech — and he took it.
Despite the adversity, Austin says his confidence was never down.
"See, as crazy as it sounds, it was really never a rebound," Austin said. "I knew the whole time. If you know you can play … like if I tell you you're not a good reporter, and you know you're a good reporter, it's not really going to matter what I say. I knew I was good at football, so I knew time would tell." 
Confident. Aggressive. Feisty. These are the adjectives used by teammates and coaches to describe Austin. When he's on the field, he refuses to be overlooked — despite his relatively slight stature.
"One thing about Dakota is that he's a scrappy player," Cooks added. "He's going to fight, and he's always been a great competitor. And I think his attitude makes him a little bit of who he is.
"You've got to be able to reset your mind and come back, and Dakota is every aspect of that mentality that you need at corner."
Perhaps the reason Austin is so confident is that he's done this before.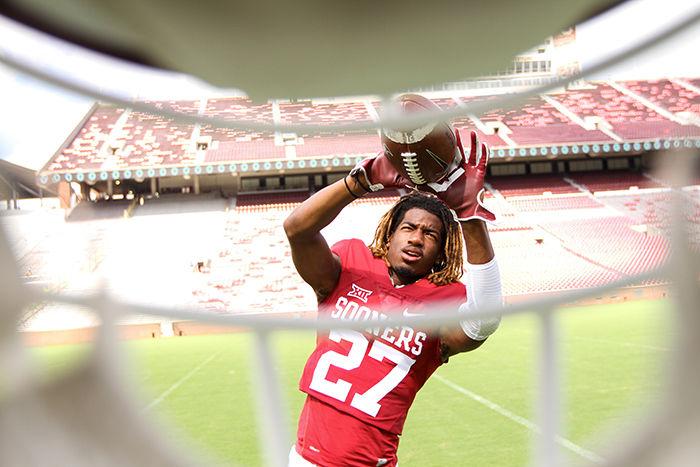 Something to prove
Austin showed promise from the start in Norman — but it took him a while to get there.
Austin's recruiting process started off strong before faltering due to an injury his sophomore season. After a so-so junior year, Austin entered his senior campaign at Lancaster High School in Texas without an offer from Oklahoma.
"I had to come out and have a really explosive senior year, which I feel like I did," Austin said. "I look back, and I don't know how I stayed so confident, but I knew the whole time. I knew something was going to happen; I worked too hard, and I was too good. I ended up getting it, and I wasn't that surprised. 
By the time Austin was ready to sign with the Sooners, he had earned the respect of defensive coordinator Mike Stoops for some of the same traits he's still known for today.
"I saw (Dakota Austin) in person with my own eyes,"  Stoops said after National Signing Day in 2013. "He's slender, but again, he plays a very physical game for a corner that's not that physically structured or as gifted as he's going to be once he gets in our program.
"Once I saw him, once I started to recruit the young man, I really started to get a good feeling towards him. I think he has a lot to prove to a lot of people that passed on him."
Austin followed up that praise with five appearances and an interception against West Virginia in his true freshman season.
However, similar to his high school days, his sophomore and junior seasons were largely a disappointment. Austin saw mostly mop-up duty as a sophomore and was buried on the depth chart before shining against Texas Tech in late October.
Despite his ups and downs, Austin's teammates say they never lost faith.
"He's a guy that's maybe been underrated or slept on because of dudes like Zack Sanchez and stuff like that," junior nickelback Will Johnson said. "And just 'cause a younger guy like Jordan Thomas passed him up, it made it seem like he wasn't as good as he was. But he's actually really good. It wouldn't surprise me if he made the most plays in the secondary this year.
"He plays with a chip on his shoulder even though he's the starter now. He remembers where he came from as far as having to fight his way into this position, so he comes out with that edge every day to prove to everyone why he should be this guy and it's not being given to him."