Every eye in the locker room was on Brady Manek.
North Carolina had just suffered one of its worst losses of the season, 98-76 to Wake Forest on Jan. 22. The Demon Deacons had routed the Tar Heels led by Manek's old OU teammate and friend, Alondes Williams, the ACC Player of the Year.
The loss dropped UNC to 12-6, with only one victory over an eventual NCAA Tournament team in its prior defeat of Michigan 72-51 on Dec. 1. On the other hand, North Carolina had been thoroughly dismantled by Kentucky, Miami, Tennessee and Wake Forest, the last of which failed to qualify for the NCAA Tournament.
After the team bus made the one hour and 15 minute drive from Winston-Salem to Chapel Hill, players held a meeting in the North Carolina locker room. The youthful Tar Heel roster freely discussed what it needed to do better. Then, standout forward Armando Bacot asked Manek what the team needed to improve, knowing he had the most experience of anyone on the roster.
Manek stepped up, offering advice from contracting COVID-19 and suffering a freak lung injury, and how he and his previous team, the Oklahoma Sooners, were able to recover to make the NCAA Tournament the season prior.
"There were times where people didn't believe in us (at OU)," Manek told his teammates. "There were times where people were all over us on every social media platform, they're tagging us and they're talking bad about us. We just gotta block it all out. You've got to go play and all we worry about is the guys in this locker room."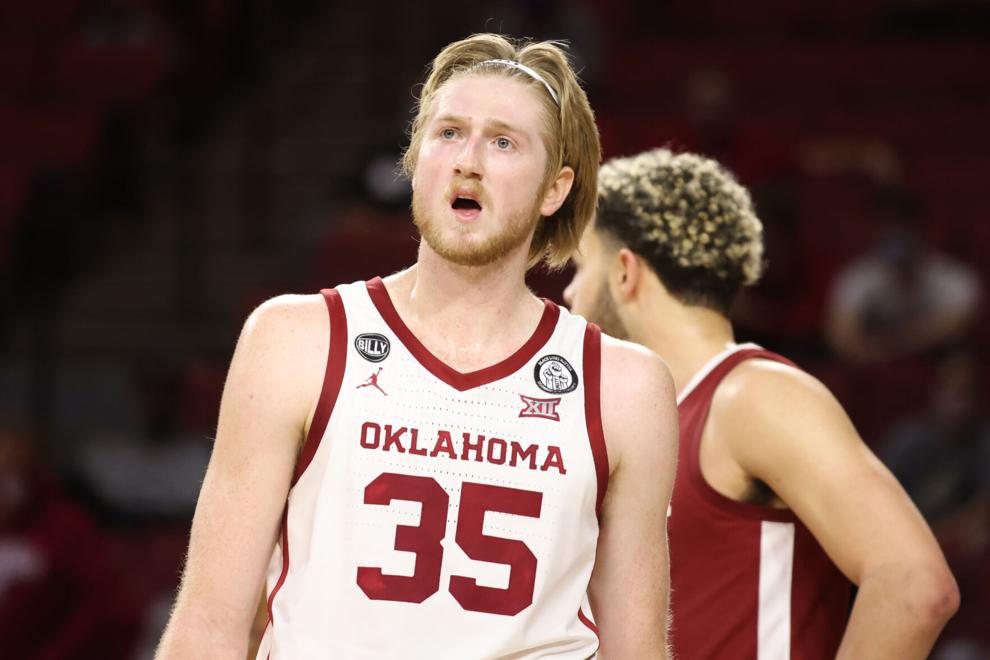 That message resonated for UNC, which proceeded to a scorching 16-3 stretch. The Tar Heels handed legendary coach and archrival Mike Kryzewski a loss in his final home game at Duke, knocked off No. 1-seed Baylor in the NCAA Tournament and became just the sixth No. 8-seed to reach the Final Four.
Now, North Carolina will face Duke again with a spot in the national championship game on the line in large part due to Manek's play and leadership since transferring from OU for his last college season. The senior forward has averaged 15.2 points and 5.8 rebounds per game on 39.8 percent shooting from 3-point range.
To understand how Manek and UNC have a chance to become just the second No. 8 seed ever to win the tournament requires understanding how Manek ended up in Chapel Hill as the veteran leader that has pushed them this far in the tournament.
The Harrah native first etched his name in the record books as a Sooner. He made the top-5 for 3-pointers made in OU history during his final season and finished as Oklahoma's No. 14 all-time scorer. However, he was somewhat a quieter presence behind current NBA guards Trae Young and Austin Reaves.
"When he was at OU the teams were different every year," Kellen Manek, Brady's brother, told The Daily. "Just with Trae being there that one year, and just things like that. And I think in a lot of ways, he's emerged as a leader on the North Carolina team specifically."
Manek helped the Sooners reach the NCAA Tournament in 2020, beating Missouri 72-68 before falling to the eventual national runner-up, Gonzaga, 87-71. Oklahoma faced tremendous adversity just to reach the tournament. The Sooners lost five of their last six games heading into March Madness, and dealt with a number of COVID-19 related absences throughout the year, including Manek's.
A hit sustained in a collision with Baylor guard Mark Vital caused multiple chest injuries for Manek, including a bruised lung. He then tested positive for COVID-19 and was out for nearly two weeks. Manek didn't get back to his normal minutes total until Oklahoma's upset 75-68 win over Kansas.
The challenges Manek and OU battled just to get to the matchup with Gonzaga gave him all the preparation he needed to lead North Carolina to the Final Four this season.
Following the Sooners' loss to the Bulldogs, head coach Lon Kruger announced his retirement after 10 years at OU and 35 years coaching. Kruger's decision prompted Manek to put his name in the transfer portal. After developing a strong relationship with first-year head coach Hubert Davis, Manek committed to Chapel Hill without visiting the campus.
"It was just a change of scenery," Kellen said. "He felt like he had done everything he could at OU. He had a good four year career and I think he was just ready for something new."
To those who know him, Manek is quiet, sometimes to the point he may come across as standoffish. However, he immediately clicked with Davis, who replaced longtime North Carolina head coach Roy Williams, and that made the decision to become a Tar Heel an easy one.
Throughout the 2021-22 season, Manek has displayed the leadership that helped flip the course of UNC's season. After a forgettable early season loss, Manek didn't hold back on how he felt he and his teammates played.
"He basically said in the press conference, out loud, that they had too good of players to not be playing very well," Chad Rochelle, Manek's former coach at Harrah High, told the Daily. "That they need to be playing better, just calling himself and his team out a little bit to say, 'Hey, we're better than this. And we gotta be better than this.' And I think his team took that and they took it well."
Manek's veteran leadership stands out on the Tar Heel roster. He's one of two seniors that receives significant playing time and is part of the four-headed monster alongside Bacot and sophomores Caleb Love and RJ Davis. The quartet combines to average 60.8 of North Carolina's 78 points per game and has driven UNC to the Final Four with stellar March Madness play.
Despite their combined talent, Manek was the only of the four to have won an NCAA Tournament game prior to this season. Bacot's first postseason was canceled in 2020 due to the emergence of the COVID-19 pandemic, and North Carolina was throttled 82-65 by Wisconsin in the first round of the NCAA Tournament a season ago.
That experience added weight to Manek's wisdom and he has embraced the role of vocal leader.
"That's where I've seen his role change," Kellen said. "The biggest is, it seems like, because of his experience on this team, with most of the guys being younger than him, he's been able to emerge as a vocal leader."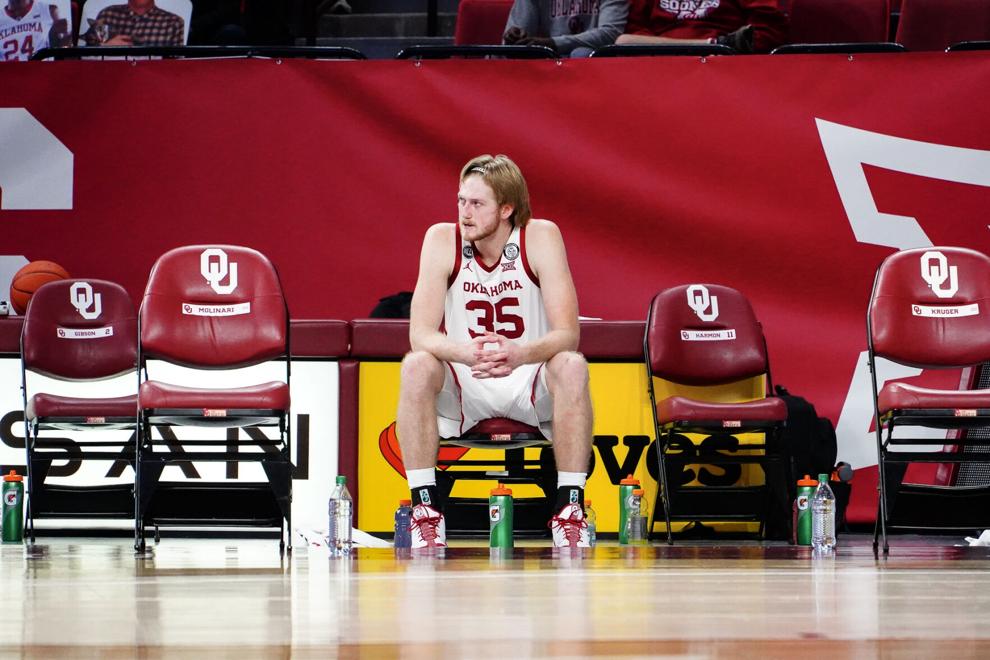 Now, as the first player from Harrah — a town 40 minutes from Norman with a population of 6,189 — to play in the Final Four, Manek has no desire to stop winning.
"Talking to Brady, they feel like they can beat anybody that they play," Rochelle said. "At this point, I think they've shown that beating Baylor, UCLA. And so their expectation is they want to play (in the national championship game)."
However, despite his wise words and competitive fire, Manek hasn't lost sight of the joy that this run has given him and he won't lose that anytime soon.
"We were just talking (on Tuesday night) about how crazy it is that he gets to go do this and how much fun it's gonna be," Kellen said. "I think he's got the right mindset going into it and that's all you can ask for.
"That comes with years of experience, just over the years realizing 'Hey, I'm in a very unique position that most people never make.' I think he realizes that and he's just gonna go enjoy it."