Trace Ford has fond memories at Oklahoma State, but each time he entered Boone Pickens Stadium, he was reminded of his traumatic injury history.
Last season, Ford suffered a fractured patella in OSU's loss to Kansas on Nov. 5.
Before, he tore his ACL in Oklahoma's State regular season finale against Baylor in 2020. He then tore the same ligament in the opposite knee in practice ahead of the 2021 season, ending his season again.
Ford knew it was time for a fresh start once the 2022 season concluded. He entered the transfer portal on Dec. 5 and later committed to the Sooners on Dec. 28, with two years of eligibility remaining. He finished his Cowboys career with 59 tackles, 8.5 sacks and 11.5 tackles for loss.
"I don't have a problem with OSU. It's all love," Ford said. "Sometimes you just have to move on. I've had so many injuries, and it was a mentally negative thing for me when I came into the stadium. I just thought about getting hurt and injured.
"It was scary, and it was just taking a toll on me. I thought I needed a refresh to restart."
OU coach Brent Venables described Ford's recruitment as low maintenance. Ford, an Edmond native, wanted to stay close to family and maximize his remaining eligibility.
"It was kind of simple," Ford said of Venables' recruiting pitch. "I saw the fit that he explained just on the field, what I could do at the competition level, and how I need to compete to earn a spot. I thrive off competition, I thrive off of knowing that I don't have a place on the field. I trust them, and I'm here."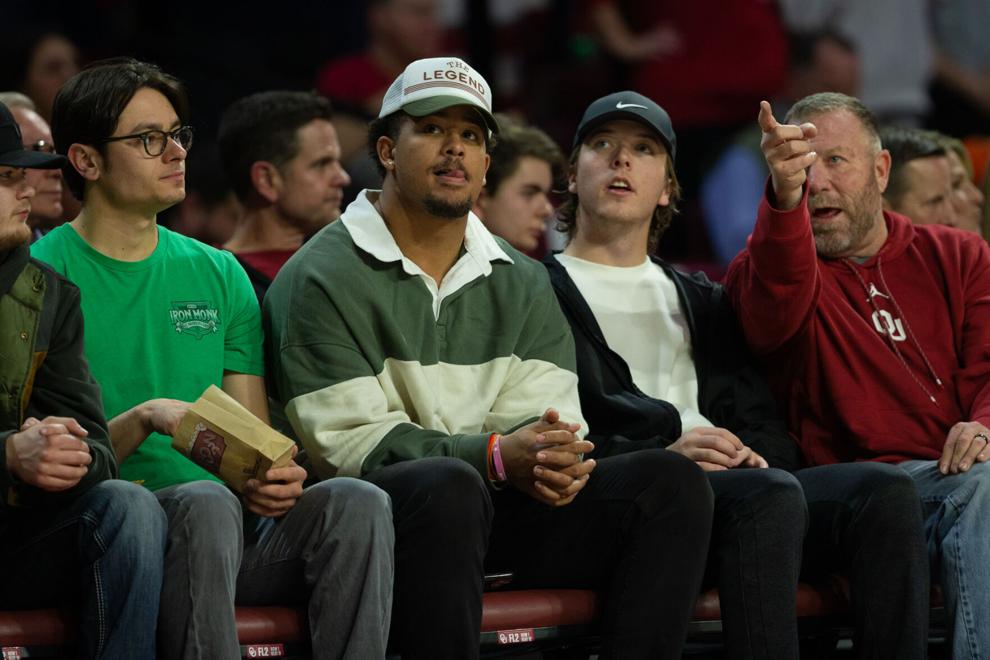 While Ford was skeptical of transferring to Oklahoma State's in-state rival, his mindset changed once he met Venables and the rest of the coaching staff, but he still didn't want to upset former OSU teammates and coaches.
Ford received support from fellow defensive linemen Brock Martin and Collin Oliver once he announced his decision. Ford's decision didn't go over smoothly with everyone, however, as he received negative backlash from Oklahoma State fans on social media.
Most people will never know the reason behind your decision, but I wish you nothing but success T!! Took you under my wing as soon as you stepped foot in Stillwater and I've loved watching you grow. I still hope you lose to the Cowboys twice next year😂🫶🏻 https://t.co/xKrYjcxWah

— Brock Martin (@btmartin40) December 29, 2022
"I had a lot of doubts coming here," Ford said. "But, I trusted the process. I know what's best for my career. Once I met the people here, my mindset changed about Oklahoma, and how I felt about them. At the end of day, it was kind of just a business decision for me, and I'm happy I'm here.
"I had some relationships that were probably kind of burned from my decision. But, at the end of day, we all have to do what's best for ourselves."
Ford still travels to Stillwater to hang out with his former teammates. He even noted, for the most part, he has good relationships with most coaches and players and is happy the social media reactions have died down.
A self-described introvert, Ford has found solace in Norman. His focus has shifted to rehabbing from injury— he's still not cleared for winter workouts.
new threads ⭕️ pic.twitter.com/mUsxQvGVyg

— Trace Ford (@traceford12) February 20, 2023
Nonetheless, he has the school's final Bedlam as Big 12 foes circled this season.
"Definitely the best day this year for me is going to be walking into Stillwater playing," Ford said. "I'm very, very excited about that day."