Hanging in Mark Rose's Oklahoma City office is his 1992-93 white, double-zero Oklahoma men's basketball jersey, the name "Top Daug" written across the back in crimson lettering.
The former mascot, who is now a financial adviser, will never forget his lone season as the famous OU basketball mascot, Top Daug. The belly slides. The yanking of his ears from side to side. The taunting of the referees and opposing coaches. The climbing on the top of the rim, rappelling from the scoreboard. And, of course, the games themselves.
"It was one of the best years of my life," Rose said. "I'll never forget my time as Top Daug."
Now, 16 years after his retirement, Top Daug is making a comeback after the team announced in a fun social media campaign Monday that he would appear at the Sooners' next home game on Tuesday, Jan. 14 against Kansas.
Rose is one of over a dozen people to have been graced with the opportunity of being Top Daug during its over 30 years of existence. The former OU mascot was an icon in the 1980s, 1990s and early 2000s before being replaced by Boomer and Sooner — costumed versions of the two horses that pull the Sooner Schooner — in 2004. Top Daug was beloved by Sooner Nation, becoming one of the most popular mascots in the university's 129-year existence.
i'm baaaaack!#boomersooner pic.twitter.com/X3NuLP6qYw

— Top Daug (@OU_TopDaug) January 6, 2020
"I love it. I love the idea. When they first took him away — I didn't want it to change. These stupid horse things, I didn't even know what that was. It was disappointing," said Rose, who graduated from OU in 1997. "But now that they're bringing Top Daug back, I think it's cool. It's nostalgia. People came to games year after year, and that was such a representation of school spirit and all the things that went into that. I think it's great to have him come back and combine the old with the new. There are parents out there that have told their kids about Top Daug, and now they can show them."
Top Daug has become an old campus legend over the years. Many current students, unless they grew up in Norman, don't know who Top Daug is.
But for many longtime OU fans, Top Daug will live in Sooner lore forever. The mascot is associated with some of the most successful years in Oklahoma basketball history. Many of OU's fondest basketball memories are paired with Top Daug's legacy.
To fans, players and coaches alike, Top Daug was more than just a mascot — he was a charismatic character that reflected the personality of an energetic and growing program.
"He was different than Boomer and Sooner," said Doug Kennon, who was a student trainer from 1984 to 1988 and still owns one of the former Top Daug costumes. "He was iconic. We were so great during those years in basketball. There was just a lot of passion around the team and program. 
"You look back at it now, and it was Billy Tubbs, Wayman Tisdale and Top Daug."
When Tubbs arrived at OU in 1980, the basketball team didn't have a mascot. But before the 1983 season, that changed.
"You couldn't really put a wagon on the floor," said Tubbs, now 84 and widely considered OU's greatest basketball coach in school history. "So it was brought to my attention that we were going to have a dog as a mascot ... And I said, 'I don't think it should be named Top Daug because right now we are the underdogs.' We were really just starting to build up the basketball program."
But "Under Daug" quickly became "Top Daug" after a few seasons under Tubbs' leadership, as he turned Oklahoma into one of the best college basketball programs in the country in the late '80s.
"I thought Top Daug was a big part of the program while I was at OU," said Tubbs, now retired and living in Norman. "I thought he added a lot of excitement to the game. Of course, I never really watched him because I was coaching, but I know he did a lot of tricks and a lot of fun stuff. He was a part of our team. Everyone really seemed to like and be impressed with Top Daug."
In his 14 seasons at OU, Tubbs held a 333-132 record and helped the Sooners to nine NCAA Tournament appearances, including a Final Four and national championship appearance in 1987-88.
It's no coincidence that the 1987-88 season was also Kenny Evans' first season as Top Daug. Evans, a mascot aficionado, is regarded as the greatest to ever don the dog's head.
"I still answer to Top Daug more than I answer to Kenny," Evans said. "I'll put it that way."
Evans took Top Daug to new heights.
He planned skits, dressing up like Elvis and Michael Jackson while also showing up to campus events unannounced, turning the mascot into an OU celebrity.
"For me, I just created a lot of stuff before, during and after the game," said Evans, who went on to be a mascot for 19 years, most notably as Globie for the Harlem Globetrotters. "I just made it to where children were always being entertained while parents were watching the game, or even parents watching me. People have told me so many times over the years that they were watching me perform when, say, Stacey King made a monster dunk — 'I missed that dunk because I was watching you.' I was just out there entertaining, whatever it took."
After Evans' graduation in 1992, Rose took his place.
Much like Evans, Rose was a mascot enthusiast. In 1991, during his senior year of high school, he won a national mascot competition, which led him to wanting to continue his mascot career in college. A native of Ardmore, Oklahoma, Rose chose between the two big in-state schools.
It was a clear choice in his mind.
"I chose to go to OU because of Top Daug. I figured Pistol Pete, with the big cowboy head, all you did was stand around and shoot guns," Rose said. "I figured, well, I could get more crazy with Top Daug. So my college decision was literally the mascot."
Rose has been inspired by Evans' time as Top Daug and eventually introduced one of the mascot's most famous tricks: rappelling from the scoreboard.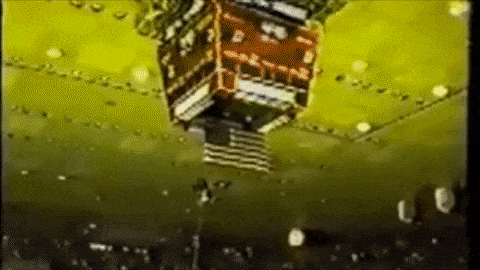 Unfortunately for Rose, due to how much time he spent being a great Top Daug, his grades suffered and forced him to give up the gig after just one season.
"You're a great Top Daug," his parents told him, "but we need you to get your grades up."
Rose went on to graduate with a business degree and continued his mascot career with the Oklahoma City Cavalry, a former semi-pro basketball team.
But not every Top Daug grew up or became a mascot connoisseur. For Zac Stevens, he was just a normal student who loved basketball.
Before the 1997-98 season, Stevens had joined the student group "Kelvin's Crew" named after then-head coach Kelvin Sampson. During one of the preseason exhibitions, Stevens and his friends were approached by then-spirit coordinator Lori Kemmet, who asked if any of them wanted to be Top Daug.
Stevens, who grew up a diehard Sooner fan, couldn't pass up the opportunity despite having zero experience as a mascot.
He went on to be Top Daug for three straight years before graduating in 2000. Stevens said being Top Daug changed his life, literally, because he met his wife while washing the costume in the bottom of Couch Tower in the spring of 1999.
"Being Top Daug has a much bigger impact on my life than I could have ever expected," said Stevens, who is now an assistant senior fellow for OU's Dunham College. "I think Top Daug was just really energetic. There was just this level of energy. And it really started with Kenny. Back then you had 'Billy Ball' and I think Top Daug kind of added to that, and it just left a lasting imprint on people. During my time, we weren't as highflying or high-scoring, but our football team wasn't as good, and basketball season kind of served as a rallying point for a lot of our students and fans. It was fun to be a part of that energy in that arena. And we still have it today when we get those big games, you still feel that electricity.
"But I think Top Daug, for so many people, is so closely associated with those memories from the '80s and '90s and those games and that intensity."
Stevens returned to OU in 2002 to pursue his master's. Of course, one of the first people to contact him was Kemmet, who asked him to be Top Daug once again. But this time, he'd be working alongside Evans, the legend himself.
Before the 2002 season, Sampson and his team were coming off a Final Four appearance and hoped to keep the momentum going. So, he and athletic director Joe Castiglione personally asked Evans to return. At 38, Evans came back to Norman and was Top Daug for the mascot's final two years alongside Stevens, who would do the women's games while Evans did men's.
"That was neat for me because he was probably the guy I was taking pictures with when I was a kid," Stevens said. "He's the best of them all."
Evans, Rose and Stevens have their favorite moments as Top Daug.
For Evans, he'll never forget being at the national championship game at Kemper Arena in Kansas City, nailing half-court shots at halftime. For Rose, he'll never forget famous NCAA official Ed Hightower yelling at him during a game at the Lloyd Noble Center for taunting him on the floor. And for Stevens, he'll never forget OU, a 13 seed, upsetting Arizona, a four seed, in the 1999 NCAA Tournament at Marquette University in Milwaukee.
"Everyone remembers a 'Top Daug' moment. Everyone," Evans said. "You get inside that costume, and you're a completely different person. Making people laugh has always been medicine. Laughter has no dialect. You can entertain people all over the world, everyone laughs the same."
The 2003-04 season would be Top Daug's last. The university wanted a universal mascot for all sports, naming Boomer and Sooner as the school's official mascots in 2004.
Come next Tuesday, Top Daug will make his glorious return. Evans, who now resides in Phoenix and works in sales for a nonprofit, will not be able to make the game. But the Tubbs family, along with Rose and Stevens, all hope to be in attendance at the Lloyd Noble Center.
They won't be alone, as many fans are excited for Top Daug's return.
"I think it's great. I think they've seen how much people care about him," Stevens said. "There will probably be people who come to the game primarily to see Top Daug. For me, it's cool. It's the Kansas game — I was going to go anyways. But I can bring my kid and have him meet Top Daug."
And this year's team might just need a little Top Daug come Tuesday night, facing No. 3 Kansas.
While Top Daug can't guarantee a big upset for the Sooners on Tuesday, he can help provide energetic and electric crowd at the LNC.
"He was as great a mascot as I've ever been around," Tubbs said. "Everybody loved him. He really became a member of our team and a staple of the program.
"I'm glad he's back. I hope he stays back."