One of Orlando Brown's first conversations with Bill Bedenbaugh came after he had recently lost his athletic scholarship from the University of Tennessee.
The 6-foot-8, 338-pound offensive lineman from Suwanee, Georgia, was regarded as one of the top tackles in the country. But, as the Volunteers told him when they revoked his scholarship offer, he didn't have the grades.
That's when Bedenbaugh, Oklahoma's offensive line coach, called Brown.
"How the hell are you failing financial literature?" Bedenbaugh yelled over the phone.
It was a full on ass-chewing, Brown recalled, and a much-needed one for the then-18-year-old.
Five years and a unanimous first-team All-American selection later, Brown is the starting right tackle for the Baltimore Ravens. He's one of 12 former OU offensive linemen to make an NFL roster after playing for Bedenbaugh.
Bedenbaugh is considered one of the best offensive line coaches in the country, if not the best. He's taken talented players like Brown, as well as walk-ons like Erick Wren and junior college guys like Ben Powers, and made them elite linemen. In his seven seasons at Oklahoma, he's turned Norman into an offensive line powerhouse whose players are known for their physicality, mentality and adaptability. Bedenbaugh's lines have been instrumental in creating the juggernaut that is Oklahoma's offense.
"A great O-line coach has to be able to scheme, to motivate, instill the toughness, the physicality, the fundamentals and understand the whole picture," Oklahoma head coach Lincoln Riley said. "It is a very difficult position to coach. There's not many people who can do it at a high level."
But what makes Bedenbaugh elite isn't just the type of player he produces on the field, but the men he builds off it.
According to those who have played for and coached alongside him, he teaches how to be a great man. He takes football and connects it to everyday life — whether you're protecting your quarterback or your family.
"For him, it's all about how you approach adversity. It's a lot of tying things back into life," said Bronson Irwin, who experienced Bedenbaugh's first season at OU in 2013. "If you can't do this, how are you going to be a good husband or father? If you can't handle your responsibilities in the classroom, how are you going to be able to achieve your goals in the job field?
"Tying those little lessons that football teaches you into real-life scenarios and situations. He shows that he's invested in you (as) more than just an asset on the football field, but as a young man."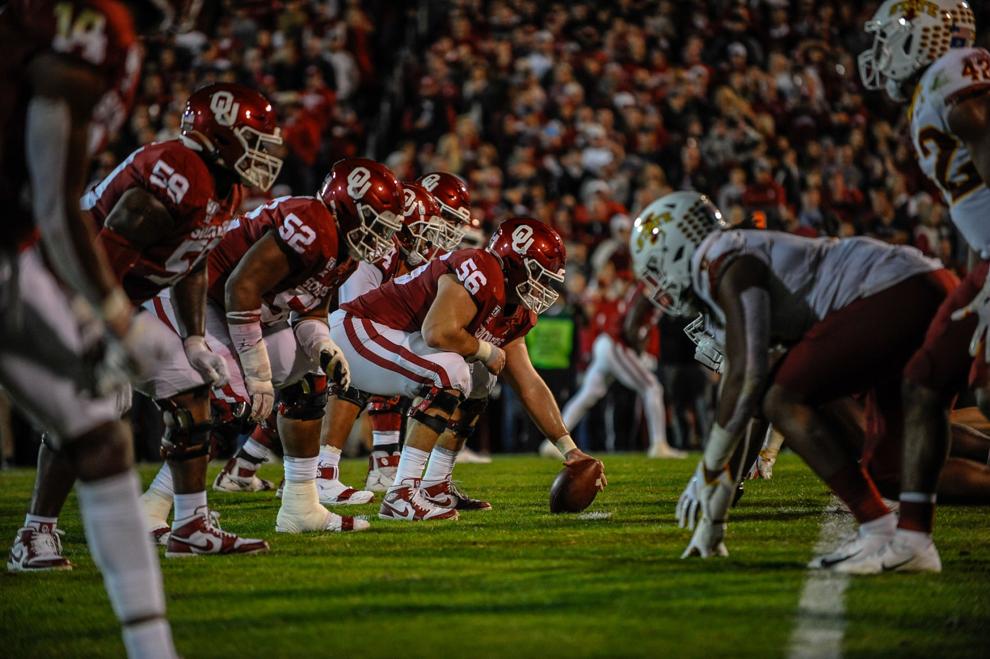 In a 2019 season where OU's offensive line is replacing four starters who were all drafted into the NFL, Bedenbaugh is facing maybe the toughest challenge of his time in Norman.
As players were hobbled with injuries early in the season, Bedenbaugh has used five different starting lineups in nine games. But as the season winds down and No. 9 Oklahoma is in the heart of "Championship November" with hopes of making a third consecutive College Football Playoff, Bedenbaugh's line needs to gel, similar to years past, at the right time.
Year in and year out, Bedenbaugh makes his offensive line elite by focusing on three areas: on the field, in the film room and as a man.
On the field, he instills physicality.
"We're going to whoop your ass. We're going to dominate you," said Adam Shead, who played for Bedenbaugh from 2013 to 2014. "That's the mentality he taught us every single day."
In the film room, he's precise.
"He's a football genius," said Tyrus Thompson, who played for Bedenbaugh from 2013 to 2014. "The depth of his knowledge that he tried to impart on us — I think that's what made us so great."
And as a man, he teaches life lessons.
"To be honest, Coach Bedenbaugh is like a second father to me. He taught me a lot about life," said Wren, who played for Bedenbaugh from 2015 to 2017. "We started every meeting with a life lesson on how to become a better man. He would always talk about jobs and how to treat your family. I really clinged to that tough love ...
"Coming across Coach Bedenbaugh changed my life forever."
On the field: 'We want to feel your soul wilt'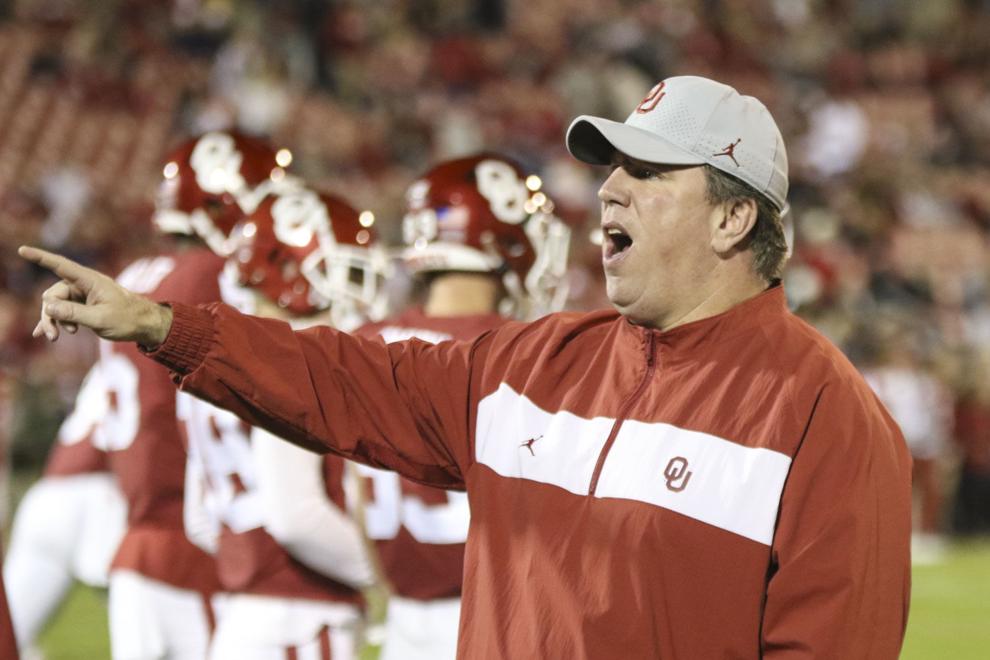 Rylan Reed could hear Bedenbaugh across the field.
Then a freshman tight end at Texas Tech, Reed knew little of Bedenbaugh other than his voice, often hearing screams 50 yards away during position breakouts at practice. That was until he moved to offensive tackle after his freshman season.
"Somebody was usually getting yelled at," said Reed, who played at Texas Tech from 2005 to 2008, of Bedenbaugh. "They were quite a bit different than the practices I was used to. He was no-nonsense. There wasn't much joking around. It was business. A lot of his sentences started in a normal tone and ended in a very high-volume scream."
Bedenbaugh, who was a four-year starter as a center at Iowa Wesleyan under Mike Leach from 1991 to 1994, has always been intense. And for him, that starts at practice.
"Bill wanted to instill in us that, if we can keep up that physicality for four quarters, then that's like body blows in a heavyweight match," said Louis Vasquez, who played at Texas Tech from 2005 to 2008. "By the end of the fourth quarter, we want to feel your soul wilt in our hands after we continuously kick your ass over and over again.
"'Just kick his ass' was Bill's thing. He wanted you to make them quit."
Irwin recalls Bedenbaugh's first practice at Oklahoma in spring 2013. Bedenbaugh succeeded James Patton, taking over a unit that had underperformed in years prior. The Sooners averaged 161.4 yards on the ground per game in 2012. In 2013, Bedenbaugh's first season at OU, Oklahoma averaged 223.9.
He set a new standard on day one.
"I figured some things would be different. But I remember we were very surprised at the level of physicality, even in a non-padded practice," said Irwin, who now coaches at Del City High School. "A couple days in, we were just sitting there wondering, 'Is this how we're going to practice every day?' Sure enough, all the way through that season, that's pretty much how we practiced every single day."
At the core of Bedenbaugh's physical mentality is dominating the man across from you.
"It was just always, 'Take all hope away. Go and take their f-cking will,'" Shead said of Bedenbaugh's approach. "It's intense. It's strong. It's intelligence. It's, 'We about to f-cking whoop everyone's ass.'"
"You want to take their soul essentially," Thompson added. "You want to crush them. That's Coach B's style."
But what makes Bedenbaugh's approach different from other offensive line coaches is the technique and consistency incorporated in drills he makes players do at every practice.
"Every offensive line coach in the country is going to tell you that physicality is important and, 'We're trying to kick someone's ass.'" Irwin said. "But with him, it was an everyday persistence in reinforcing that with words, and actions, and drills, and film study, and watching other linemen do the things he wanted us to do. There weren't really any drills that we did that weren't physical."
Irwin recalls a Bedenbaugh drill where "you set two (linemen) and then a third one would bullrush you, and you'd have to stop the bullrush and then work the 'choke' technique," which is when "you kind of slip your hand up there (on their neck) and slow their bullrush."
Bedenbaugh has taught such drills since his time in Lubbock.
"He's one of the best teachers of technique there is," Reed said. "I remember the first couple times in practice I went up against smaller defensive linemen and I got thrown around, and he was looking at me like, 'I'm going to make sure that doesn't happen again.'"
Talk to Bedenbaugh in person and this all checks out. He keeps a dip of Copenhagen Long Cut in his bottom lip and has worn the same gray Nike Air Zoom Pegasus shoes for four years. He's loud, blunt, in your face and a perfectionist.
Bedenbaugh tells the media exactly how he feels about his players and the way they're playing. Even last season, when the Sooners took home the Joe Moore Award given to the best offensive line in the country, Bedenbaugh remained unsatisfied, each week telling the media his group had to continue to improve.
At 47, he continues to be one of Oklahoma's most intense coaches. Riley, who has coached alongside Bedenbaugh at Texas Tech and Oklahoma, admires Bedenbaugh's approach, but also says he's cooled off since his early days.
"He's always had a natural intensity about him, toughness. He's always had that. But I think he's really, like anybody you would expect, matured, grown and become more well-rounded as a coach," Riley said. "I do think, like a lot of us, having family — especially having a little girl — has mellowed him out a little bit. I don't know if his players would believe that he's mellowed out. I have. I tell them I saw Bill 10 years ago, and you didn't."
Leach, now head coach at Washington State, admits Riley probably knows better, but he respectfully disagrees.
"His linemen right now are playing in a fashion that (shows) maybe he hasn't mellowed at all."
In the film room: 'We have to think like quarterbacks'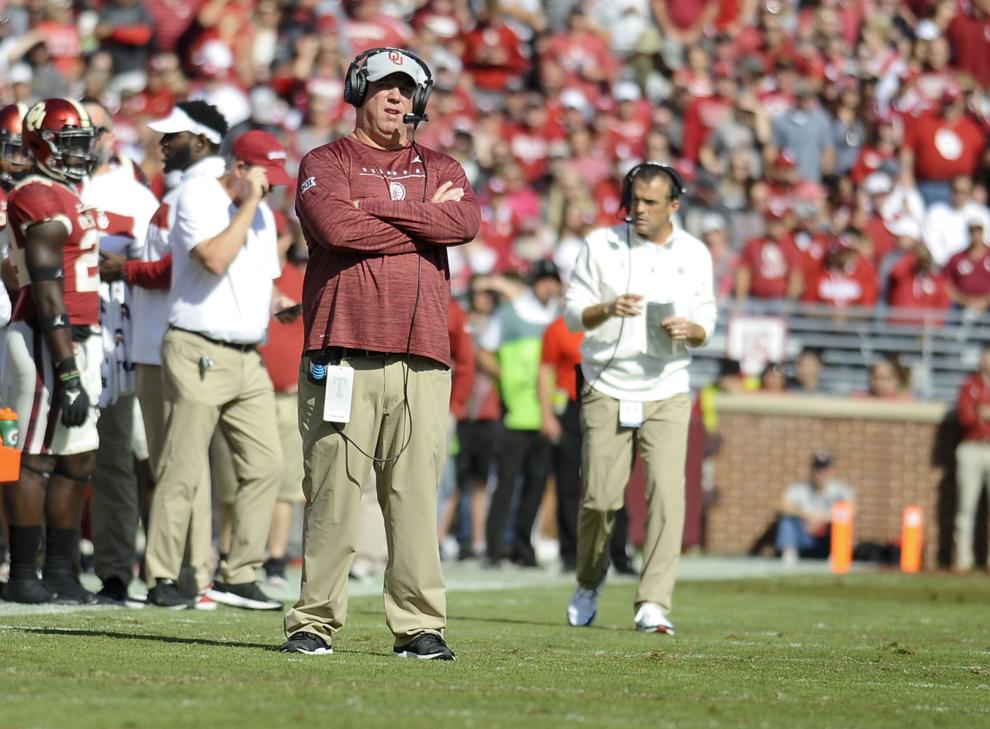 On Bedenbaugh's first day at Oklahoma, in February 2013, he asked a player to draw a formation on the whiteboard.
The player confidently walked up and drew the offense and the play perfectly, but he just put "X's" on defense instead of labeling exact positions.
A fatal mistake.
"Bedenbaugh got so mad because it was 'X's' instead of like, tackle, end, MIKE linebacker, strong safety," Irwin said. "Of course, after that, everyone labeled every single position with detail."
While Bedenbaugh is a master at instilling physical toughness, he's also a film room guru. He spends a few hours nearly every day watching film, his players say.
"After the freaking game, immediately after he's done meeting with his guys, he goes upstairs and starts watching film," said Shead, now an offensive line coach at Cedar Hill High School outside Dallas. "Then he watches again, and again. He watched so much doggone film, he knew what defenses were going to do before they even did it."
Much like his drills, this started in Lubbock with Leach.
"Neither of us are guys that immediately fall asleep after the game," Leach said. "We would have some just great talks about how we played, how we can improve. He was a great sounding board for a lot of that stuff."
Bedenbaugh isn't just paying attention to the defensive linemen when he breaks down tape — he's pointing out coverages and secondary formations that often indicate what the defense is planning up front. He drills this into his players, making them think like a quarterback rather than offensive linemen.
"The first thing that Bill taught me when he got to OU, believe it or not, was defense," said Gabe Ikard, who played for Bedenbaugh in 2013. "He made it clear that the more I understood defensive philosophy, alignment and adjustments, the better I would be. It didn't take me long to realize I was now playing for the best O-line coach in college football ... and we hadn't even started talking about offensive line play."
The offensive line meetings are sometimes like a math class, former players say — with tests.
Each Friday before a game, Bedenbaugh gives every offensive lineman a written test. It's not timed, but it consists of several pages of questions and must be turned in Saturday.
"We had to draw different plays and formations and defenses, and then we would turn those in and get a grade on them before the game," Irwin said. "They were typically questions like, 'Draw this play to this front,' or, 'If the defense shows this front, how would we execute this play against this front?' or, 'What does the defense typically do to this formation?'"
"If the weakside defensive end puts his inside foot even with his outside foot, what do you expect?" Thompson recalled of the questions. "It was precise stuff like that. We had to think like quarterbacks."
Bedenbaugh goes over the entire test the day of the game, making sure everyone understands each question and answer.
The tests also help many of his players when they get to the NFL. Pro coaches expect linemen to know defensive schemes beyond the trenches.
"We had no clue. We didn't know how to draw formations or a certain play, and he taught us all of that," said Daryl Williams, who is in his fifth season in the NFL with the Carolina Panthers after playing for Bedenbaugh in 2013 and 2014. "And that helped me tremendously going forward because, at the NFL Combine, they would teach you their offense and then have you draw it back to them."
Powers, now a rookie with the Baltimore Ravens after being drafted in the fourth round in 2019, said Bedenbaugh is the reason he's in the league.
"There's still guys in the NFL that don't know the things he was teaching us back then," Powers said. "It's impressive. We were learning how to read a defense, and it's really beneficial for preparing you for the next level."
As a man: 'We have to be accountable'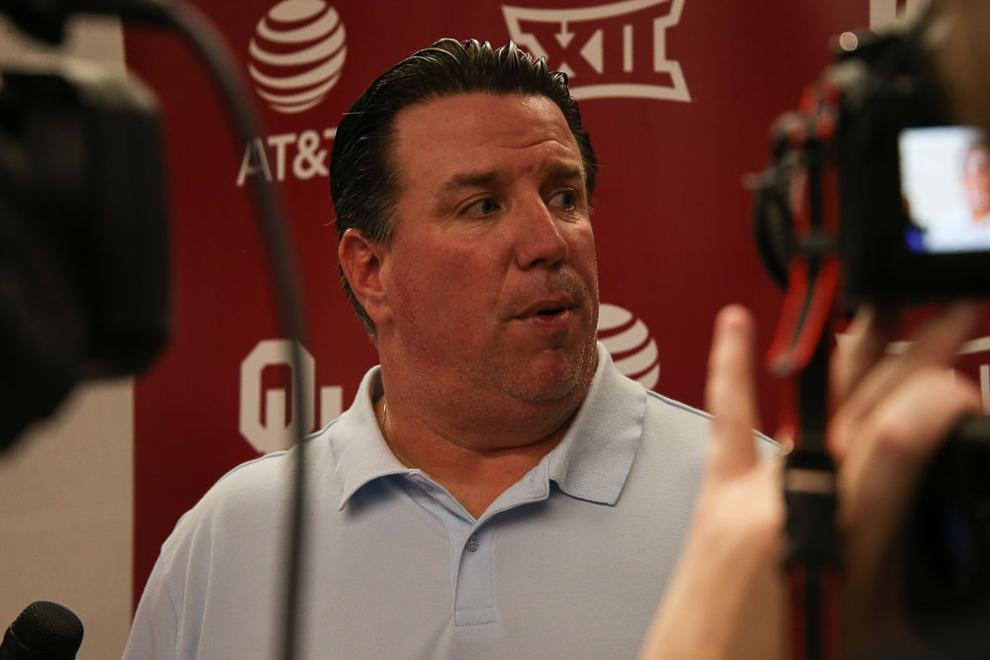 Bedenbaugh's former players say he has an aura — the way he walks with his chin held high, talks from deep in his chest and looks you in the eye when teaching you a lesson.
"He commanded the room. He was real intense. He was real stern," Shead said. "He made us better immediately when he stepped in the room."
Bedenbaugh is wired in a way that allows him to increase his natural intensity like a lineman exploding into motion at the snap of the ball. And that's not a bad thing.
"I think he's always a little bit mad, which is good," Irwin said. "He keeps you on your toes."
His former players each have stories of when they saw Bedenbaugh the maddest. It could be missing a zone block or messing up a drill. They remember those moments vividly, but they're often unwilling to share exactly what was said.
"I can't say that," Shead said with a laugh at his particular memory. "I ain't trying to get my man in trouble."
But the 2013 offensive line will never forget the day Bedenbaugh found out a teammate missed class.
"He was screaming, foaming from his mouth. He was shaking," Thompson said. "It was like, 'Oh my God, this dude is possessed.'"
After the group's workout, Bedenbaugh put everyone through up-downs — running in place, falling to the ground and jumping back up to your feet — for 20 minutes.
"The real reason behind that was accountability. We are held accountable by Coach B," Thompson said. "That was one of those life lessons — you have to be accountable. We are young men, but when you start a family, you have to be accountable. You've got to take care of your family. It's the same thing in the football world: you have to take care of the brothers beside you."
Many of those same players will never forget the moment they shared with Bedenbaugh after a 40-6 loss to Clemson in the 2014 Russell Athletic Bowl.
After the game, he called all of his linemen together. Instead of chewing them out for the loss after giving up nine tackles for loss, he shared a poignant moment.
"We didn't have the season we wanted to. We were supposed to be really good that year," said Shead, who missed the game due to injury. "He started tearing up and then bawling his eyes out, saying that he appreciates all the hard work we put in and how grateful he was for us buying into what he instilled. He apologized for not being able to help us be better.
"I'll always remember that because it was the most genuine moment I've had in a football setting."
That's the crux of Bedenbaugh's philosophy: connecting football to life.
Bedenbaugh understands he's at Oklahoma to win — he's getting paid $750,000 a year to do so — but, ultimately, he wants to see those guys have success in the rest of their lives.
"He's just a real 'do things the right way' kind of guy," Shead said. "I remember the one thing he used to tell me is, 'Be the best where you are and do things right where you are, and good things will happen.' And man, if that ain't the truth about everything in life, I don't know what is."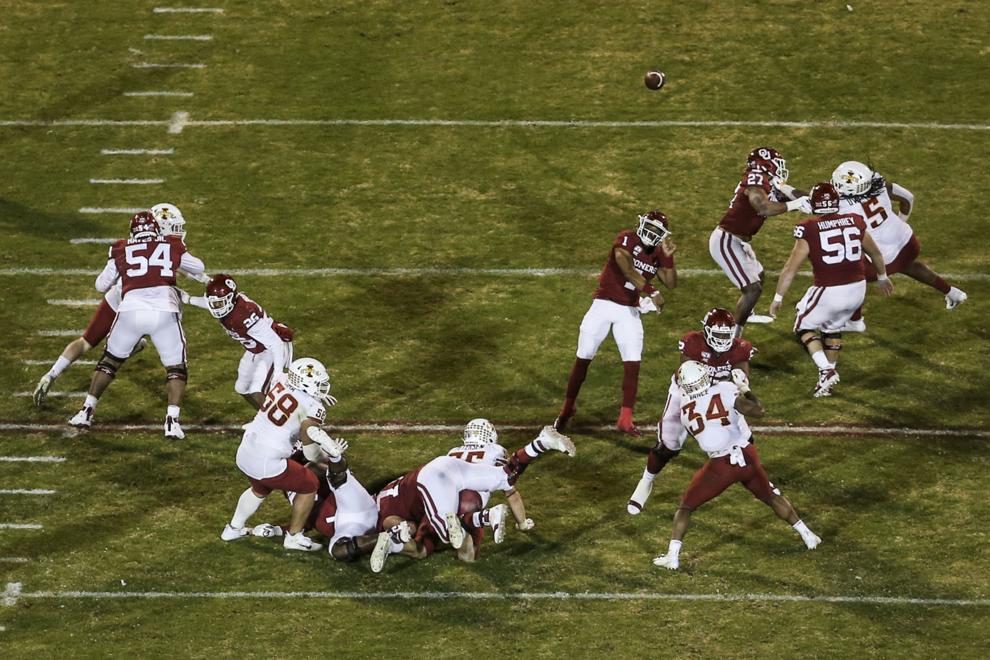 "That's why he's so detailed. That's why he's so passionate. That's why he demands so much of them," Ikard said. "I honestly think he's just more invested than a lot of other coaches out there."
To some, he's the perfect kick in the ass — someone who helps them mature on and off the field.
"As I walked out of the film room my first day, my pants were sagging, and he yelled at me, 'Pull your pants up!' That's when I knew what Coach B was all about," said Wren, who played one season with the San Diego Chargers after walking on at OU. "One thing he always preached was, 'Do your job.' When things got tough up front or in life, he wasn't a guy that was going to M-F you every play. He wanted to sit you down and find a solution to the problem. But it always came back to 'Do your job.'"
And to others, he's like a father — someone they look to as a role model, someone they can seek advice from.
"He played a really big role for me. He was someone throughout college who was always there. Somebody I could go talk to. I still talk to him now," said Brown, who passed financial literacy and now has a $3.49 million contract with the Ravens. "He's just a great man. He cares a lot about his players and is very passionate about what he does. I can't really put into words how much he means to me."
Last spring, Vasquez came back to visit an OU practice.
He watched as Bedenbaugh tried to piece together his next masterpiece after Powers, Dru Samia, Bobby Evans and Cody Ford had been drafted. He paid close attention to guys like Tyrese Robinson, Marquis Hayes, Adrian Ealy and Erik Swenson — Oklahoma's starting line now, along with Creed Humphrey, who missed the spring due to injury.
They were making mistakes on nearly every drill. Of course, Bedenbaugh was mad, but he also saw opportunity in their failure.
"Some of the guys were down on themselves, and Bedenbaugh said, 'This is the easy stuff. The hard stuff is out in the real world when you start a family and have to provide for others,'" said Vasquez, who played seven seasons in the NFL. "Doing things right on the field can carry over to doing the right things off the field. And that's where you build your character."
Vasquez smiled as he watched his old coach impart his most important lesson to another new group.
"Football, unfortunately, isn't forever," Vasquez said. "So what are you going to take away from the game when the game is taken away from you?"