After Mike Brown watched Iowa State score 20 unanswered points in the fourth quarter of OU's 42-41 win over the Cyclones in 2019, he thought it was a close game for the Sooners to be having at home.
So he texted then-backup Oklahoma quarterback Spencer Rattler, and let him know what he thought. 
"I said, 'Hey, that was a close game,' and he said, 'Yeah, Coach, if I had been in, we would've killed them,'" Brown remembers. "That's Spencer. He truly believes that, and that's a good thing."
Brown, offensive coordinator for Pinnacle High School, admits he was half-kidding, but the response isn't surprising to him. In coaching Rattler's junior and senior seasons at Pinnacle, Brown has witnessed Rattler's unflinching confidence and his ability to sometimes speak things into existence.
Former Pinnacle backup and Michigan commit JD Johnson is another witness to Rattler's abilities. Johnson, who sat behind and learned from Rattler for three years, was alongside Rattler in some of his most spectacular high school moments, and heard that kind of talk from him. 
Rattler's invite to the 2018 Elite 11 quarterback competition is just one of many examples of his determination.
"When he got invited to the Elite 11, he's like, 'JD, I'm gonna win it,'" Johnson said, "and he went there and lit it up and he ended up winning it."
Those who know him understand that Rattler's sheer belief in what he can do on the football field can be mistaken for arrogance. Rattler is possibly the greatest high school quarterback to come out of the state of Arizona and holds the state high school passing record, tallying 11,083 career passing yards. As a phenom who started on varsity as a freshman, the things he was able to do on the gridiron probably wouldn't have been possible without him first believing he could accomplish them.
"A lot of people take it that he comes across real arrogant. Spencer has moxie," Brown said. "You've got to have that, especially at that position. You've got to be a cool customer."
And now, having only played in three collegiate games, Las Vegas oddsmakers have Rattler third in preseason Heisman odds behind standout quarterbacks Trevor Lawrence, a national champion, and Justin Fields, who made the trip to New York for the Heisman ceremony in 2019. Rattler has yet to start a game for the Sooners.
But OU's recent history suggests the expectations of Rattler aren't totally crazy. Oklahoma head coach Lincoln Riley's offensive system has produced two Heisman winners, two No. 1 overall NFL Draft picks and, most recently, a Heisman runner-up. If Rattler is going to reach the heights the college football world expects of him early in his career, Oklahoma seems the likely place for making it happen.
On top of that, as the Sooners head into an still-uncertain future due to the COVID-19 pandemic, is the pressure of Rattler having big shoes to fill as a second-year Sooner quarterback. The last two Oklahoma redshirt freshman quarterbacks to be thrown into the starting spot were 2014 Sugar Bowl hero Trevor Knight and Heisman winner and No. 1 overall NFL Draft pick Sam Bradford, one of most storied OU quarterbacks in school history.
But Rattler spent his entire career up to this point jumping headfirst into challenges. Although Rattler hasn't officially been named OU's starter over quarterback Tanner Mordecai, those who know him best and have seen him play in Arizona say he's been preparing for the chance to be a starting quarterback for a blue-blood program.
And if Rattler believes he's winning the Heisman this year and fully embraces Riley's top-tier offense, he's likely not listening to any arguments or speculation against him doing so.
"I just think the mentality that kid has, I see very rarely," Johnson said. "And that kid's ability to run and make plays with his arm, and how smart he was on and off the field, watching film and in the classroom, I just think he's the all-around total package. 
"And I know that this year he's a top contender for the Heisman, and it absolutely would not surprise me if he won that."
'He's just better than everybody'
Rattler garnered attention early in his life. With his natural athletic ability and how he competed at his grade level with ease, he stood out.
Quarterback coach Mike Giovando was told he had to see Rattler play. He got a call from the Scottsdale Firebirds, a youth football team, asking him to come and watch a then-sixth-grade  Rattler. Giovando, who's been training quarterbacks for over 20 years, was set on training Rattler after watching him play for just one quarter. While noticing a natural throwing ability that superseded Rattler's age, Giovando can't forget the moxie and the confidence the young passer had, and still has.
Giovando approached Rattler's parents and invited the young quarterback to come train with him. Rattler trained with Giovando on a weekly basis until he got to OU. 
Giovando also saw pretty quickly that Rattler needed to be challenged to improve. Rattler, right out of elementary school, first started throwing with ninth graders. He flourished in that competitive environment, but the challenge still wasn't enough. By the time he was in seventh grade, Rattler was training with Giovando's high school varsity athletes.
"I thought pretty quickly, 'We're gonna have to move this guy up to the high school kids,'" Giovando said. "He's just better than everybody. I mean, he could throw the ball 20 to 30 yards further. He could throw the ball harder. He could just do everything. … We're gonna have to start challenging him pretty early on."
Because of his training, Rattler had a head start for high school football when he arrived at Pinnacle in 2015. But it still wasn't head coach Dana Zupke's plan to start a true freshman quarterback on the varsity squad. During preseason practice, Zupke had a junior quarterback on deck for the season. With just weeks before Pinnacle's first game, their starter quit for personal reasons, leaving Rattler, an inexperienced player, as the team's best option.
In his debut, Rattler threw three interceptions in a 56-10 loss to eventual state champion Chandler High School. Rattler's first taste of varsity football was his worst game statistically in his entire high school career.
It wasn't until he played his second game, against Saguaro High School, that he hit the ground running. Rattler was nowhere near putting up the best numbers of his career, but Zupke insists the transition from his first game to Pinnacle's 20-12 win over the Sabercats is one of his favorite memories of Rattler, who threw for 134 yards and two touchdowns that night.
"He did a complete 180," Zupke said. "(Saguaro) came after him, they were bringing pressure. … He looked like he'd been doing it his whole life.
"I was blown away. … Here's a freshman kid that's probably, at some level, he's got to be scared to death because I would have been. I think most freshmen starting on varsity would be, and he was sitting in the pocket, trusting linemen, taking shots and he's throwing the ball down the field. It was unbelievable to watch."
After the Saguaro game, Rattler was ready to take on the rest of his career with a bolstered confidence. In his freshman year, he tallied four separate games with more than 300 passing yards.
Fast forward to his senior year on homecoming night, in a game against Sandra Day O'Connor High School, a night where Rattler's legendary career reached new heights. It was Rattler's birthday and he was close to beating the all-time career Arizona high school passing yards record. Brown knew none of these things fazed Rattler, so he approached his quarterback and gave him another challenge.
"Before going into the game I said, 'Let's do something special,'" Brown said. "I said, 'Look, you're gonna throw for a few, you're gonna run for one and you're gonna catch one.'"
Rattler, never willing to back down from a challenge, accepted. He threw for 343 yards and three touchdowns, led the team in rushing with 84 yards and a touchdown and snagged a 4-yard touchdown pass. He broke the career passing record of 10,489 yards. Rattler finished his high school career with 11,083 career passing yards.
When asked if Rattler is one of the best high school quarterbacks to ever come out of Arizona, Johnson didn't hesitate to answer.
"Easily, I'd say the best."
'This kid's got it'
After the COVID-19 pandemic sent students home for the rest of the spring semester in March, Rattler returned to Phoenix and went back to training with Giovando two to three times a week.
Training alongside him were multiple high school and college quarterbacks like Purdue's Jack Plummer. To help train and catch passes were NFL running backs Jamaal Williams and Ronald Jones II. In his workouts, Giovando often has his quarterbacks make unorthodox throws under pressure to prepare them for uncomfortable situations in the pocket.
After training Rattler for approximately eight years, Giovando — and anyone who's seen him play — is certain Rattler can make any throw he wants. Whether avoiding a defensive end or having to use a side-arm pass, Rattler is known for making plays with his arm. 
Giovando knew Rattler was a once in a lifetime caliber of talent, but it wasn't until the last game of Rattler's freshman season that he felt compelled to put him on college coaches' radar. In Pinnacle's overtime loss to Brophy College Prep in the playoffs, Rattler threw for 420 yards and five touchdowns. Giovando started calling college coaches right away.
"I'm like, 'Alright, you know, this kid's got it,'" Giovando said. "'I got no problem picking up the phone and calling some of my contacts.'"
One of those contacts was former Oklahoma inside linebackers coach Tim Kish, a family friend of Giovando. Kish looked at the footage and reported his findings to Riley, who was in his first season as OU's offensive coordinator.
What they saw was a freshman making any throw he wanted. From long accurate throws under pressure to making quick short passes, Rattler had all the tools from what Brown describes as a "God-given, innate ability."
"There's a lot of people with a strong arm," Brown said. "There's a lot of people with an accurate arm. But his combination of it is just something that you can't coach, you can't teach.
"He can put the velocity on the ball and with accuracy where it goes exactly to where that guy is going to use his body and catch the ball, and nobody else can get to it. And he can make that decision within milliseconds. … You can't teach that. You can't teach that at all."
On top of Rattler's naturally athletic ability, Brown remembers when he learned a new offensive scheme on short notice multiple times. In his junior year, Rattler had to miss almost half a week of practice after getting his wisdom teeth taken out. At the same time, to prepare for a game against Desert Mountain, Brown drew up a scheme Rattler had never played with, while Riley, then going into his first year as OU's head coach, was scheduled to watch.
For most quarterbacks, Brown would've stuck with what they were comfortable with — but not with Rattler, who was already committed to OU. Brown knew Rattler would be able to put on a show in front of Riley and gave him a few days to prepare. Rattler threw for 393 yards and five touchdowns that evening. Pinnacle won, 77-29, as Rattler made his signature effortless-looking throws. Brown remembers Riley leaving the game being very impressed with his future quarterback.
"I'll be honest, I think he's the next Patrick Mahomes," Brown said. "He reminds me so much of him, just arm strength, the pocket presence, the accuracy. 
"And the swag, too."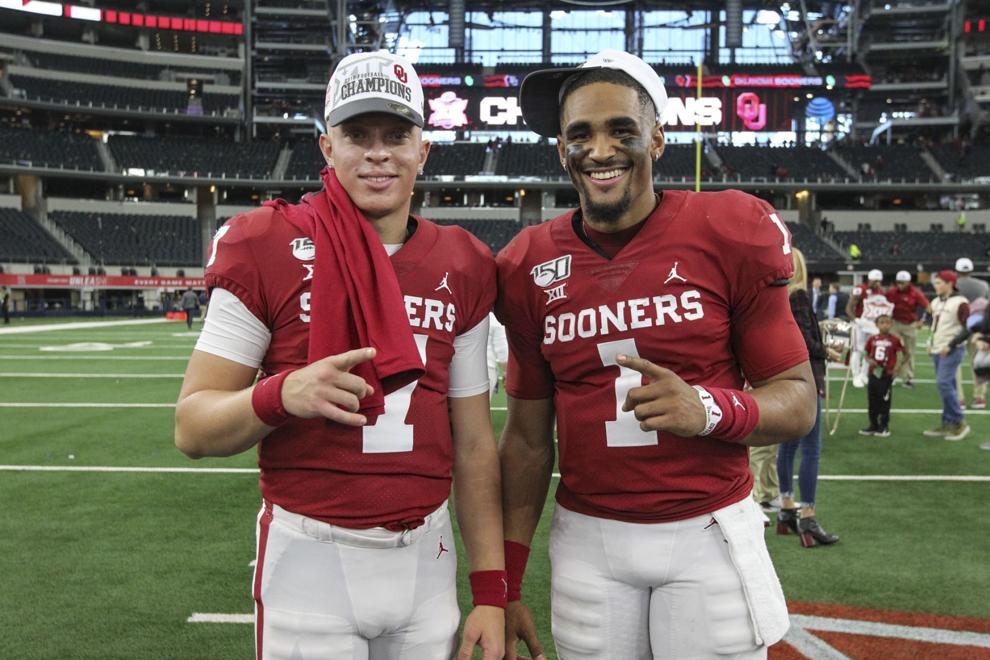 'Into the fire'
To warm up before every Thursday practice during the 2019 season, Rattler stood at the 50-yard line and threw balls at the goal post.
Attempting to hit one of the uprights, Rattler would throw 10 to 15 times, usually hitting it multiple times per session. In his first season with the Sooners, Rattler took any chance he had to either throw the ball or learn anything he could.
His efforts included soaking in everything Alabama transfer Jalen Hurts was doing in his lone season with Oklahoma, even if it just meant getting in a game of catch together before a game. The session would often escalate to the two standing 40 yards apart and using only one hand. 
Rattler's one season of learning under Hurts could prove to be imperative for his 2020 season. His predecessors Baker Mayfield, Kyler Murray and Hurts all had multiple years of playing at the highest level of college football, while Rattler has just three collegiate games to build off of.
Former Oklahoma wide receiver Lee Morris played with all three of those quarterbacks. Asked who had the most expectations and pressure going into their first season, Morris said it's close between Murray and Rattler — who's being thrown into a storm of high expectations at a much faster pace than the 2018 Heisman Trophy winner.
"I don't think Kyler had this kind of pressure that Spencer had this early," Morris said. "Kyler had a couple of years to sit out and wait behind Baker, but Spencer is now being thrown into the fire just after a year of college."
Rattler's one season with Oklahoma was behind the ever stoic Hurts, a national champion whose experience captivated a team that spent two previous years just one step away from a national championship.
"I'm sure he learned how to handle himself on and off the field from Jalen," Morris said, "because obviously Jalen's top tier when it comes to that — all business and staying focused on the goal, which is championships."
Rattler is a part of one of Oklahoma's best recruiting classes in recent memory. Ranked No. 5 nationally on Rivals.com, the 2019 squad featured four five-stars — Rattler and wide receivers Theo Wease, Trejan Bridges and Jadon Haselwood. All four have already seen playing time, with Rattler's first college touchdown being a 9-yard pass to Bridges in OU's 70-14 win over South Dakota.
#TBT to Spencer Rattler's first collegiate drive last season against South Dakota.Rattler was 4-for-4 passing for 50 yards, including a 9-yard TD pass, and also added 15 rushing yards on two carries.#OUDNA | #BoomerSoonerpic.twitter.com/CaZ2Y9gKOe

— Sooner Gridiron (@soonergridiron) May 14, 2020
Morris saw firsthand how the 2019 class molded together. An already talented class of players heading into their second season, Morris says the group can really turn into something extraordinary in 2020.
"I think (Rattler, Wease, Bridges and Haselwood have) the potential to actually be really special," Morris said. "Being all together in the same class and then just all the talent they have together. The potential they have, they can do something really special next year or year after."
Undoubtedly, Rattler will face obstacles in his second college season. OU's offense is down two experienced teammates to start the year, with Bridges set to miss multiple games to start the season due to an NCAA violation in 2019, and Haselwood expected to miss significant time with a lower-body injury in the spring. OU's schedule has also changed multiple times already, with its season-opener being moved up a week, then having its entire schedule changed and moved back because of concerns of the season's viability in light of COVID-19.
Though Rattler is looking straight into a year that holds unprecedented unknowns, OU has an unprecedented talent in its backfield — a talent that has convinced not just himself, but everyone around him he can do whatever he sets his mind to. 
"I think everybody who's ever seen him throw a football, they're like, 'Wow,'" Zupke said. "But what comes with that is the moxie, the confidence and the air that is Spencer Rattler. And there's a lot to be said for that. I don't think there's anybody that has more, you know, just (belief in) themselves and wants to win and is more competitive than somebody like Spencer."