Umoja Gibson stood at center court, holding one of his nephews' hands and soaking in what were potentially his last moments inside the Lloyd Noble Center wearing the crimson and cream.
Despite possessing one extra year of eligibility, Gibson decided to be honored during the Sooners' senior night festivities ahead of their final home game versus West Virginia on March 1. After the Sooners defeated the Mountaineers 72-59, he reunited with family members who stood by him during the pregame ceremony. His decision left fans and people close to him surprised.
Gibson's participation in senior night implies his career at Oklahoma is nearing its end. Already having played four full seasons of college basketball and having started on his master's degree, he will have plenty of options to consider following the season. First, Gibson and the Sooners are in the hunt for an NCAA tournament bid.
Nevertheless, the night was special for the Gibson family. His parents Nicole and Umoja made the trip to Norman alongside Gibson's aunt and two nephews. The senior guard stood proudly with the people who helped him get where he is today and honored some of the people who he'd lost along the way.
His game shoes read: "LLTWEET, LLJJ and LLGranny," with "LL" standing for long live, referencing two of his childhood friends and his grandmother, all of whom have died.
His friends from Waco and his grandmother were strong influences in his life and inspired him to thrive. It's that will to succeed that pushed him to become the gym rat he's known for being in Norman. Gibson is an East Waco guy through and through, and part of his motivation comes from wanting to give back to his community, so kids who grew up like him can know success is possible.
"I think part of it was him wanting to get out of Waco and do better," said Ricardo Felix, Gibson's former assistant coach at University High School. "I know as I talk to him now that he's older. He wants to come back and make a difference, and he knows that the only way he could do that is he had to put in a lot of time in the gym so he could have that opportunity to be able to come back and help out."
Amid Gibson's late-season scoring slumps, Oklahoma lost five of its seven games in February, putting it on the outside looking in of the NCAA Tournament. Gibson has had his fair share of struggles in basketball and in life. He's no stranger to having to fight to overcome adversity.
Whatever lies ahead, Gibson can rely on his grit, work ethic and determination, all of which has gotten him to this point.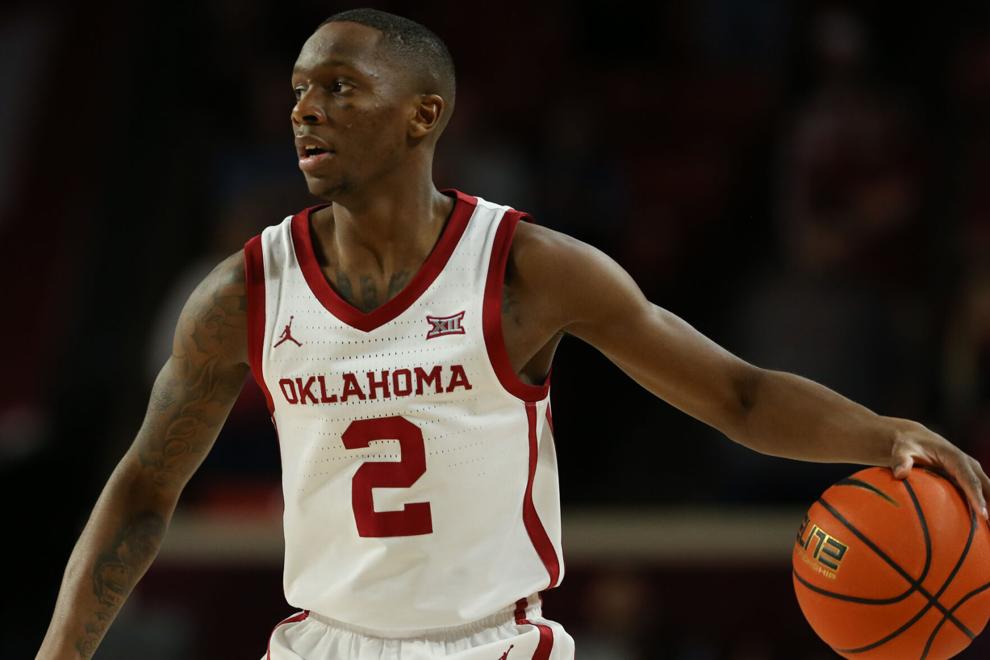 'He always stayed focused'
On a Friday night in fall 2016, University High was playing its homecoming football game. Felix remembers seeing Gibson, a senior at the time, perched in the stands with his teammates, taking in the game early in the first half. At halftime, Felix spotted the bunch again, only this time, Gibson was nowhere to be seen.
"Hey, where's Mo at?" Felix asked. 
The group informed its coach that Gibson left the game early to rest for the next day. On Saturday, the school had a preseason basketball scrimmage and Gibson wanted to be focused for the game.
"This was just a scrimmage, it wasn't even a real game," Felix said. "He's always had that mentality that basketball is important to him and he's going to do whatever it takes for the team and for him to be successful. He's always been like that since I've known him." 
That mentality made Gibson a star in high school and led to him being named the Waco Tribune's Player of the Year during his senior season, in which he averaged 22.4 points and 11.1 assists per game.
"He was just a kid that was really always about his business, real quiet," said Rodney Smith, Gibson's head coach at University High. "He was never real wordy. You wouldn't even know he was in the room … you didn't have to worry about him off the court. You didn't have to worry about him in the classroom. I really don't even think the kid went out." 
Gibson's father played football at North Texas. The two played football outside their home in Waco when Gibson was young, but basketball always caught his eye. Nicole remembers telling her husband their son wasn't going to take after him and play football, but he was surely going to be a basketball player. 
"He always kept a basketball in his hand," Nicole said. "Not only that, but some people are intimidated by people that are bigger than them. He played with a lot of older kids growing up. Height-wise that didn't intimidate him. It never intimidated him. 
"I wish I had some films from when he was growing up … I just knew he was going to the next level as far as college-wise because he always had his head on straight, he never drifted off. You know how some kids can get side-tracked, he never got side-tracked. He always stayed focused on what he wanted to do in life."
During his senior year at TCU, Kenrich Williams returned home to Waco where he engaged in a pickup game of one-on-one against an old friend. 
His opponent was Gibson, then a senior at University High, where Williams had graduated from three years prior. As the two were battling it out on the court, Williams, a second team All-Big 12 honoree, was playing his hardest to beat the young high schooler.
"I was giving it to him," said Williams, now a forward for the Oklahoma City Thunder. "That big brother, little brother type of game. And I was like, 'man I'm never going to play you again one on one because I know in a couple years you're going to be better than what you are right now.'" 
Williams and Gibson are cut from the same cloth. They were both born and raised in Waco as quiet and humble kids, brought up primarily by their mothers, and would do anything for their respective teams. Smith said both could have averaged 30 points a game in high school, but chose to share the ball in their teammates' best interest. 
"You talk about two of the same type of kids," Smith said. "(Most kids during games) are like, 'how many points do I have,' those kids aren't like that. It's all about the wins with those kids." 
Potentially because of that selflessness, Williams was under-recruited and ended up at New Mexico Junior College. He later transferred to TCU where he made a name for himself and signed with the New Orleans Pelicans after going undrafted in 2018. After being traded to the Thunder in 2020, Williams has turned heads, becoming a key piece to a rebuild in Oklahoma City.
Similarly, Gibson wasn't recruited by top Division I schools and had to fight his way to the highest levels of the sport. Even Smith and Felix admit they didn't know he and Williams would be as successful as they are — it comes from the work they've put in.
"We always work out, anytime I'm back home and he's back home, I know he's in the gym," Williams said. "He's usually in the gym before me. He gets up real early, gets in the lab. He's a gym rat."
Gibson wasn't recruited like Smith thought he should've been, especially by Smith's alma mater, Baylor, which is a 7-minute drive from University High. However, Gibson never took it personally and jumped at the opportunity he was given by North Texas. 
The 6-foot-1 guard didn't waste any time exploding onto the scene with the Mean Green, as he scored 19 points with four 3-pointers in his college debut against Eureka College in 2017. During his time at UNT he saw tremendous growth and made a Conference USA freshman record 99 3-pointers during the 2019-20 season.
Gibson decided to transfer to Oklahoma before the 2020-21 season. After working himself into the starting lineup last season, he has thrived with a new coach in Porter Moser, and is averaging nearly 12 points and over two 3-point makes a game. 
"He's grown (since being at OU), he's always been a little mature for his age," Nicole said. "He's even more advanced … throughout the years he's grown as far as where he's got his mindset and where he wants to be."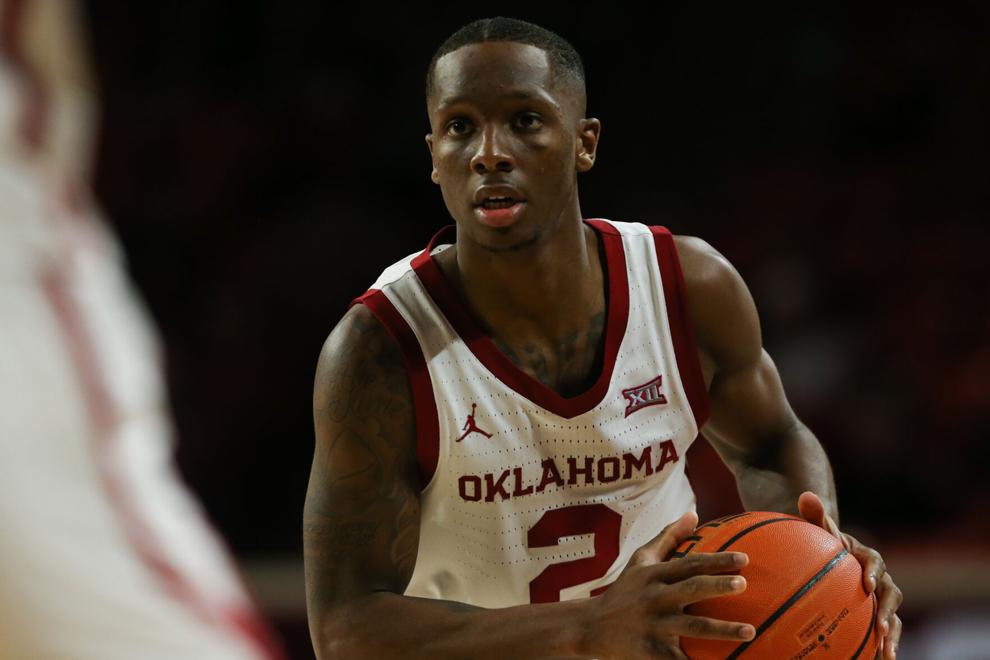 'I don't think there will ever be another Umoja Gibson'
Gibson's shootarounds have become something of folklore at Oklahoma.
Coaches and players rave about his work ethic and the time he puts in the gym. It's a common sight to see No. 2 in his practice jersey, alone with a trainer or manager to rebound, putting up shots more than two hours before games start. 
When redshirt senior guard Jordan Goldwire, a transfer from Duke, first arrived in Norman, he had only heard about the famous shootarounds. It didn't take him long to figure out they weren't a myth.
"He's a hard worker, he does whatever coach asks him to do and more," Goldwire said. "Since I got here, people do talk about him being a gym rat, but I really see it. We used to have lifts in the morning, he would be there shooting before lifts, he's shooting after practice, before practice. He's just a guy that wants to perfect his craft and I like to have a guy like that on my team."
Gibson's after-hours workouts didn't just start with his arrival to OU. They're what got him to this point in his career. Smith and Felix saw firsthand his dedication to improving his game every day at University High.
"He's the hardest worker I think we've ever had at University," Felix said. "I hear the stories about what he does at OU where he goes early in the morning and shoots and stays afterwards. He did a lot of similar things when he was with us in high school. (He's) the exact same kid."
Smith remembers once bringing a younger guard onto the varsity squad, where practices were grueling. After the scheduled practice time, Gibson stayed for hours after, often keeping young Derrick Thomas with him to shoot and improve together. 
Even now, when Gibson goes home for Christmas or just to visit, he can be found inside University's gym, doing what he does best — shooting hoops. 
"(The good ones) are basketball players with a ball in their hands every day," Smith said. "That's what type of kid Umoja is. He has a basketball in his hands every day because he's serious about it.
"Man, at University High School, I don't think there will ever be another Umoja Gibson, the way he goes about handling his business."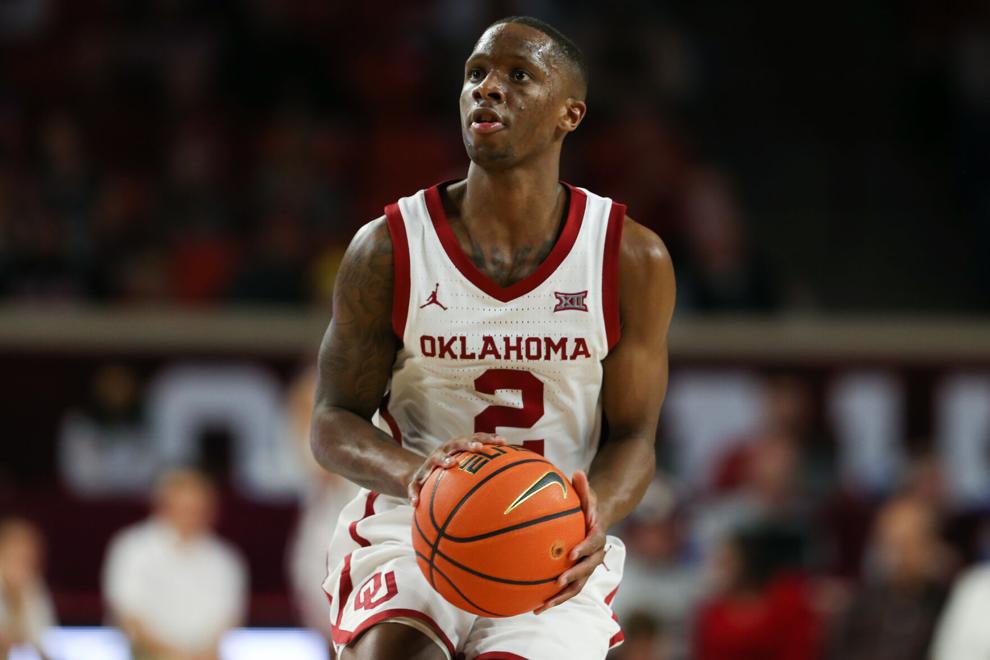 'If I have faith in anybody, it's Mo coming out of adversity'
Gibson stood alone on the wing inside the Lloyd Noble Center.
The Sooners were on the cusp of an upset win against then-No. 9 Texas Tech on Feb. 9 and the senior guard was waiting to cap a career night.
Goldwire drove the lane and, from the corner of his eye, spotted Gibson with his hands in the air begging for the ball. Goldwire's pass arrived to Gibson who loaded up and let it fly. As the shot swished through the net, Gibson held up "30" with his fingers, signaling his Sooners career-high in points. He finished the game 8-of-11 from 3-point range.
"I was so proud," Nicole said of her son's performance. "He'd been working hard at it."
Gibson's career-high came at North Texas in 2018 when he scored 32 points against Angelo State. His performance in the Sooners' win over the Red Raiders is his brightest moment of the season thus far, a season that has seen its ups and downs.
Following his 30-point showing, Gibson was held to just two field goal attempts and zero points at Kansas on Feb. 12. In six games after his big night, he only scored over 15 points once and he recorded less than five points three times.
"I know in high school he lost some pretty tough games in the playoffs," Williams said. "Man to be honest, just growing up in the environment that we grew up in, I can say this because Waco's small, but he's lost a few friends to jail, to death."
Gibson followed his February flounders with a marvelous March performance. He led OU to its first win over Kansas State in Manhattan since 2012, scoring 29 points including seven 3-pointers. He also surpassed 1,500 career points in the win. 
Despite working out together whenever they're both in Waco, Williams said when he and Gibson were home at the same time during summer 2021, he refused to play Gibson one on one to keep his winning record alive against his little brother figure.
Fast forward less than a year after Williams' rematch refusal, and Gibson's future hangs in the balance as he weighs his options.
"It's more of a just in case, we haven't really got talking about options after this (season)," Moser said about Gibson's participation in senior night. "But, especially for everyone around the country (who are) exploring to possibly go see what their options are in terms of playing pro, you want to at least (participate)."
Gibson and the Sooners aren't quite ready to put a pin in this season just yet. While they aren't included in ESPN's latest bracketology update, the Sooners still have opportunities remaining to improve their resume. Oklahoma's final push for March Madness consideration begins at 6 p.m. on Thursday in the Big 12 tournament in Kansas City. 
With a win over the Bears, a team that, again, didn't offer Gibson out of high school, in the tournament, it'd be tough for the committee to exclude OU from its pool of teams. Defeating the reigning national champions is a tall task, but it's one Gibson and company aren't backing down from.
"Adversity is just something he's had to deal with his whole life," Williams said. "Being under-recruited and going through all these challenges growing up, if I have faith in anybody, it's Mo coming out of adversity."